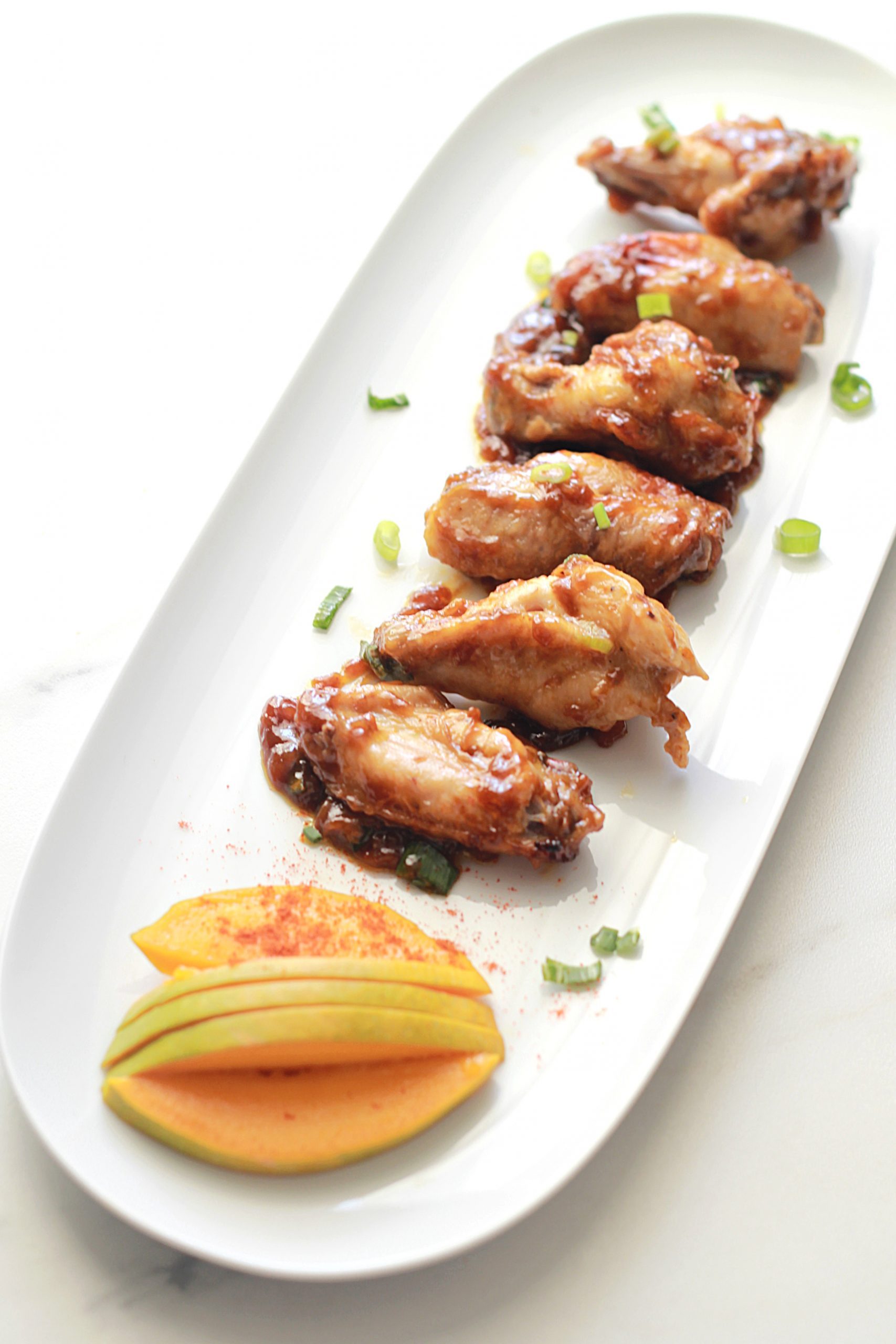 Pin
'Tis the season folks! Yes, I am talking about the mango season!! Being fans of this glorious fruit we make the most of the season's bounty every year. However, this year, thanks to the wretched Covid-19 we were unable to find any earlier. As we brought some good Alphonsos & Badamis home, our kitchen filled with the aroma of ripening mangoes and one day out of the desperation (or maybe greed) to eat them we cut open a couple and were dismayed to find them still unripe. We didn't want to throw them as we had obviously paid through our noses. The man suddenly said he'd make something out of them and off he started to experiment. I asked him if we should shoot a video. If the recipe flopped we could trash the video clips as well, but it was a hit! So I am sharing a quick video below to how we made it!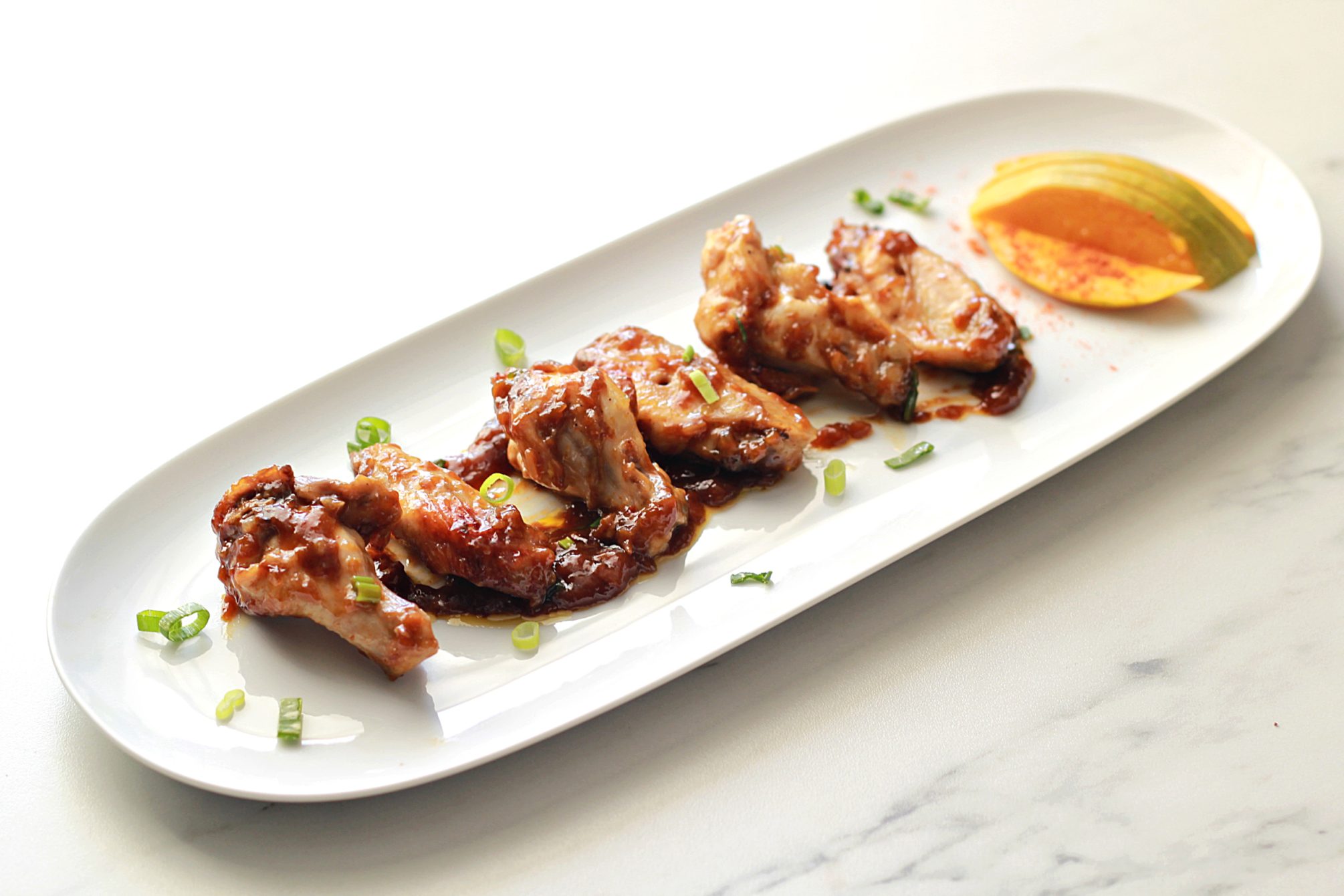 Pin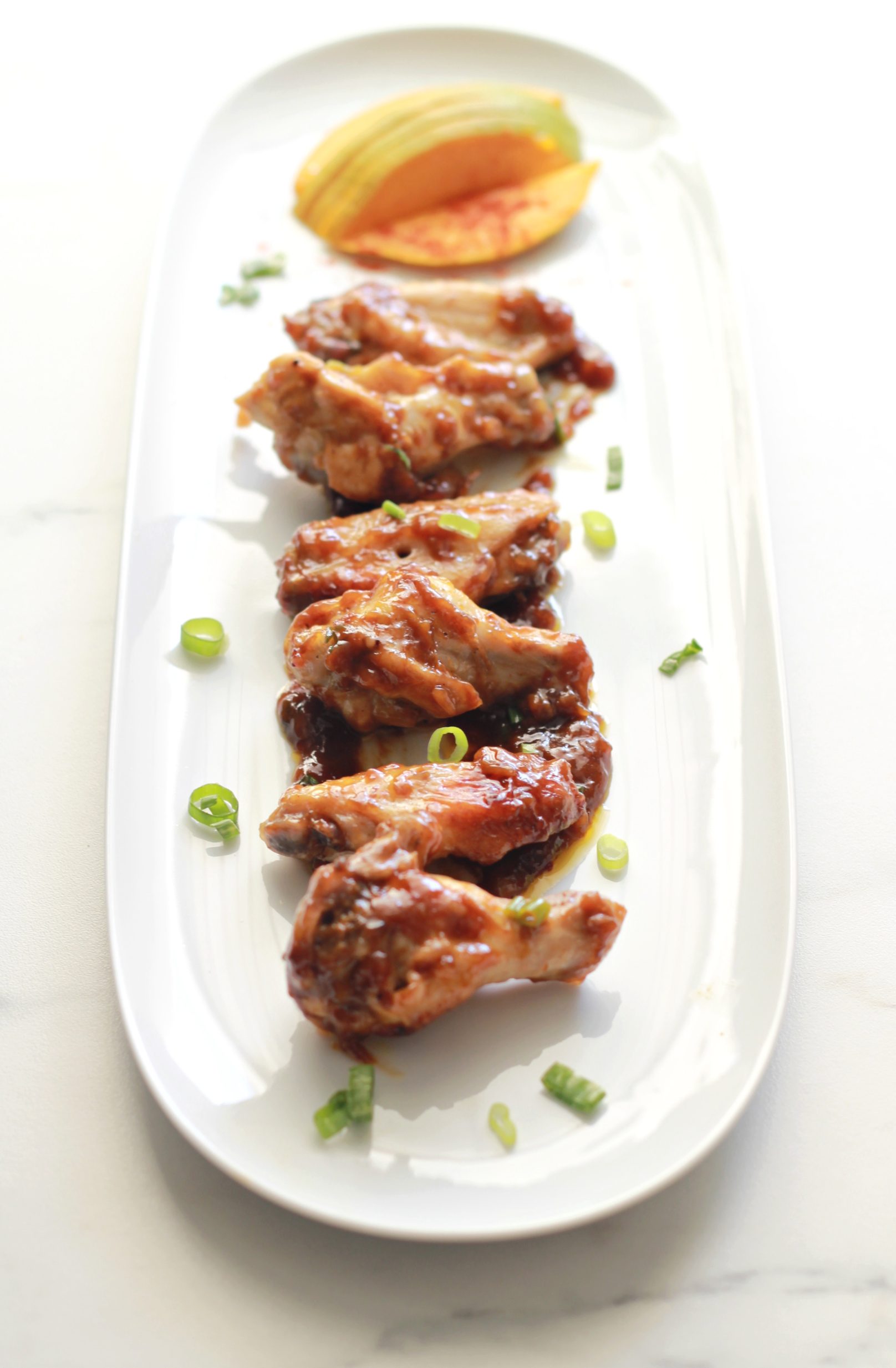 Pin
The flavours of the mango chutney paired very well with the chicken wings and that day we only ate this for lunch with some roasted potatoes. Unusual combination, I know! But Saturdays during Covid times is when the boys in my house experiment with their recipes. So while the big boy made these chicken wings, the little fellow wanted to try out some roast potatoes. Unfortunately I didn't get the pictures of his dish but I will soon.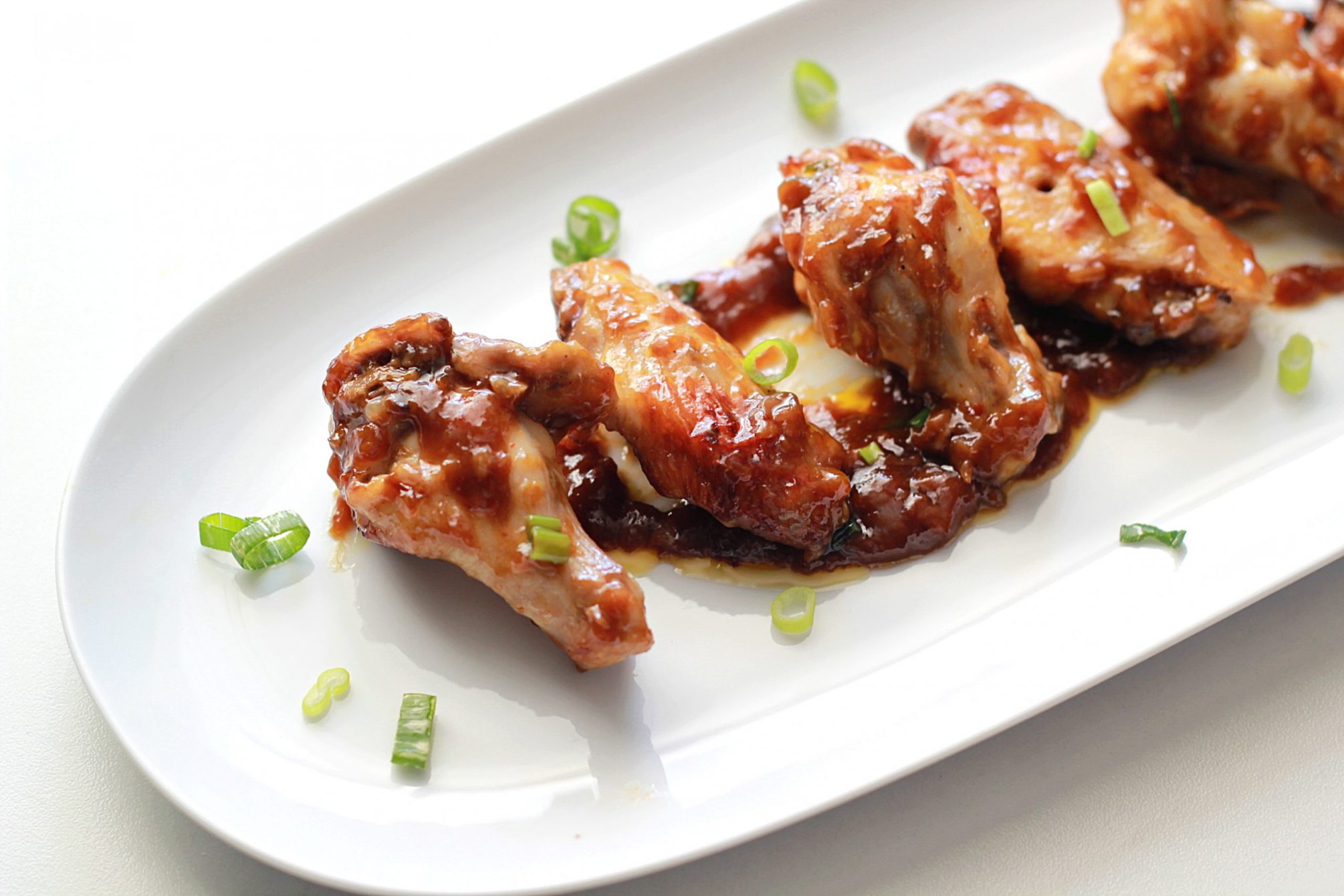 Pin
What if I don't have semi-ripe mangoes?
This is an appetizer that sure to become a party pleaser. You can make the mango chutney using raw mangoes as well. The cooking time may vary as raw mangoes tend to be firm. Use a grater to grate them if you wish or just chop them into smaller bits to speed up the cooking process.
Can I use regular, white sugar?
While we recommend you to use brown sugar, preferably muscovado (deep, soft brown) you can use white sugar as it is easily available. However, you may need to cut down on the quantity as white sugar tends to taste sweeter than muscovado which has a deeper, less sweeter & richer taste. Also, if you are using fully ripened and very sweet mangoes then you will need to cut down the amount of sugar used drastically.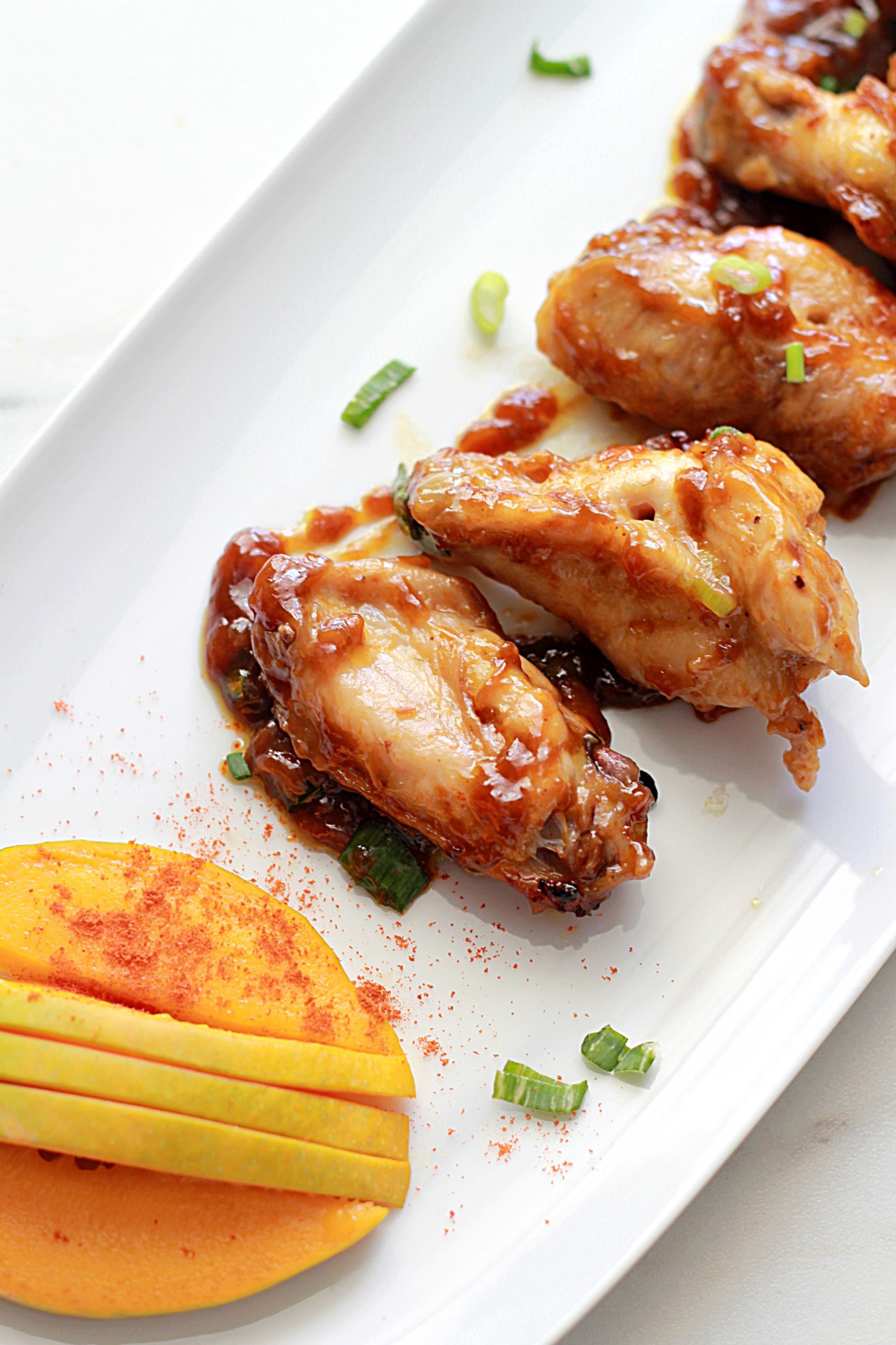 Pin
Does this recipe work for chicken thighs as well?
Well, yes! If you do not have chicken wings, use chicken thighs or just drumsticks. The baking time will need to be increased though as the chicken wings are smaller while thighs or drumsticks will be more meaty. You may need to bake them for 18-20 minutes. Check them half way and flip them if required.
I don't have the hot chilli sauce. Help!
Fret not people! We used the Pili Pili sauce that we got from our trip to Kenya just because we love to shop for wine & spices when we travel. You can use any hot chilli sauce of your choice such as Sriracha or Peri Peri. If you have none, just soak 12-15 whole Kashmiri or Bedgi chillies in a little hot water for 10-15 mins, drain & grind them to a fine paste. Use as required (start with 1 teaspoon and increase it according to your tolerance to spice)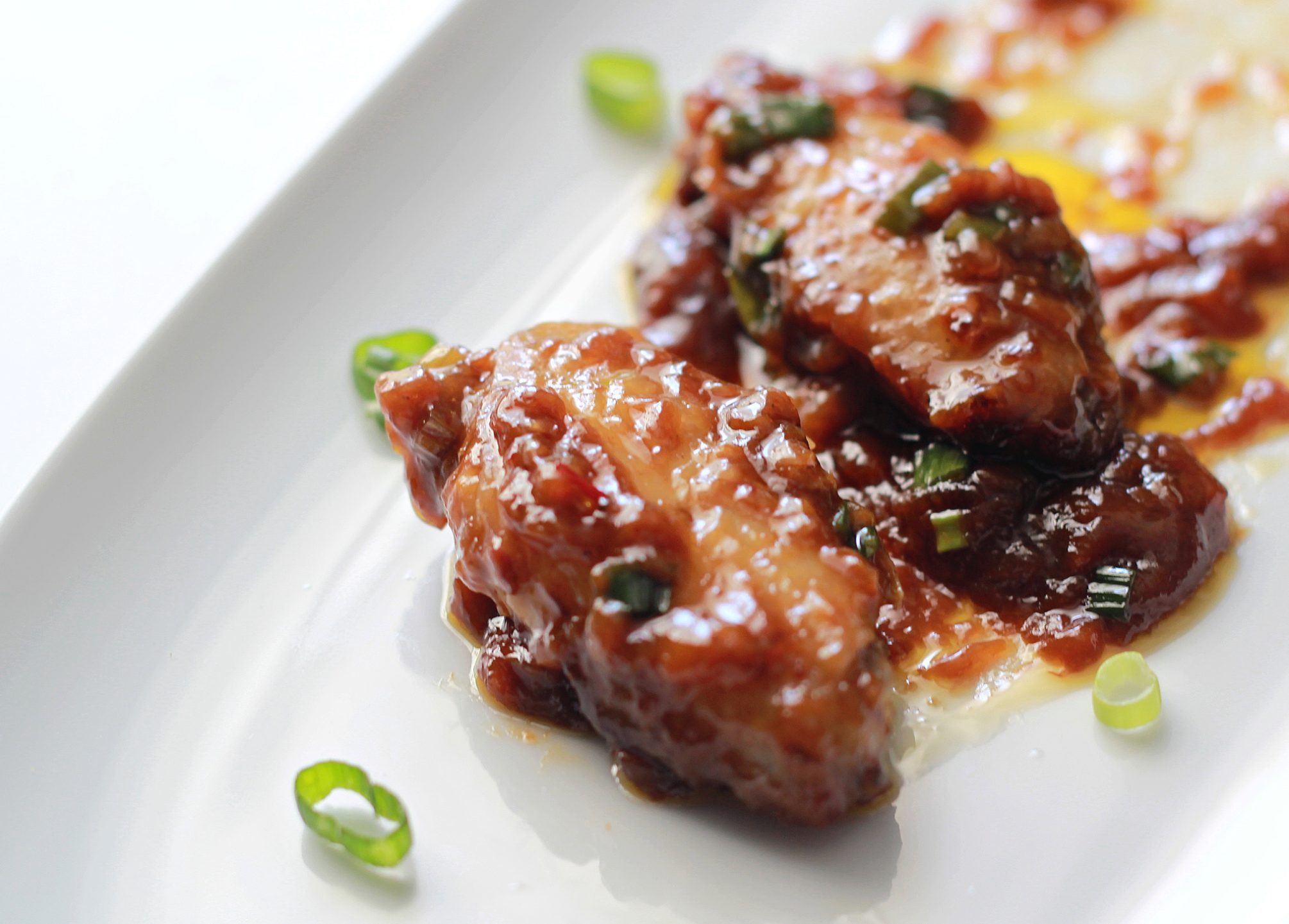 Pin
New here? Subscribe to my free newsletters with my latest recipes!
Click the image below to save this recipe for later on Pinterest!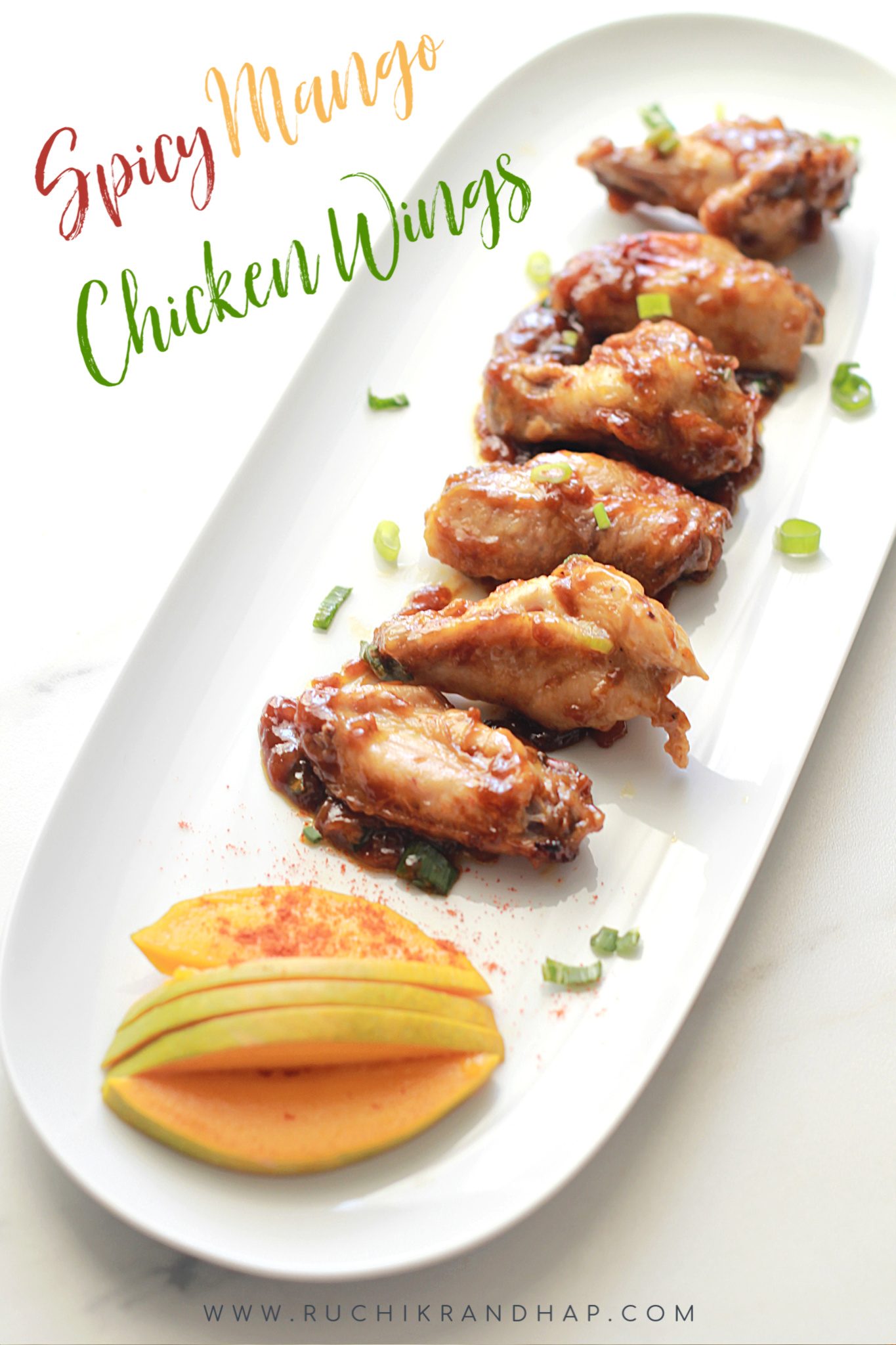 Pin
If you give this recipe a try do leave a comment on this post down below and don't forget to give it a star rating! It will really help more readers discover my recipes! Don't forget to check out my latest videos on my YouTube channel. If you like what you see, do give me a thumbs-up (like), share & comment and subscribe to my channel so that the gods of YouTube (a.k.a algorithms) recommend my channel to a wider audience with similar tastes and more & more people can discover my videos!
And while you're here, do follow me on Instagram, Pinterest,  Facebook and Twitter. If you'd like to say hello or have detailed queries do send an email at [email protected]. I'd love to hear from you!
Do check out the video of how to make this!! I hope you enjoy it!</p>
Spicy Mango Chicken Wings
Delicious, oven baked chicken wings with a glaze of spicy, sweet & tangy mango chutney is the perfect party appetizer!
Print
Pin
Rate
Ingredients
For the mango chutney
2-3

teaspoons

oil

3

teaspoons

chopped garlic

2

semi ripe mangoes

chopped (approx 1-1/2 cups)

3-4

teaspoons

of hot chilli sauce

pili pili/peri peri or sriracha * see notes

juice of half a lime

1

teaspoon

white vinegar

1/2

teaspoon

cayenne pepper

2-3

tablespoons

brown sugar

adjust to taste * see notes

1/4

cup

water

salt to taste
For the chicken
900

gm

2 lbs/26 pieces chicken wings

salt & pepper to taste

Juice of half a lime

2

teaspoons

light soy sauce

3

tablespoons

mango chutney

1-2

teaspoons

cornstarch

cornflour
For the glaze
1

tablespoon

butter

3

tablespoons

mango chutney

1

tablespoon

light soy sauce

1

teaspoon

brown sugar

1

teaspoon

cornstarch dissolved in 1 tablespoon water

1

tablespoon

spring onion greens
Instructions
Make the mango chutney:

Heat the oil in a saucepan and add the chopped garlic. Fry on a medium low heat for a couple of seconds or until the raw smell vanishes.

Add the chopped mangoes and fry until slightly mushy. Then add the hot chilli sauce, mix well and fry for a few seconds

Add juice of half a lime, white vinegar and the cayenne pepper.

Now add the brown sugar in parts. Start off with 2-3 teaspoons and increase it as you go. The amount of sugar used will depend on the sweetness of the mangoes so add it accordingly. You want a chutney that is sweet, tangy & spicy at the same time with none of the flavours overpowering the others.

Add 1/4 cup of water, salt to taste and mix and mash everything coarsely using a fork or a potato masher (or a stick blender on pulse mode)

Simmer for 2 minutes and then remove from heat. Set aside to cool completely

Marinate the chicken wings:

Wash and drain the chicken wings on a colander and pat them completely dry. Season it with salt & pepper to taste

Add the lime juice, soy sauce, mango chutney and cornstarch. Give everything a good mix so that the marinade coats the chicken wings evenly. Keep aside for 20-30 mins or overnight

Bake the chicken wings:

Thread the chicken wings through clean, dry metal skewers and place them on a baking dish.

Bake in a preheated oven at 200 degrees C for 15-17 minutes (depending on the size of each wing they could be done anywhere between 12-17 mins so keep an eye out after 12 mins)

Once done, remove into a serving bowl and keep the wings warm

Prepare the glaze:

Heat a small saucepan or frying pan and add the butter. Don't let the butter melt & sizzle as it will change the texture and consistency of the glaze. Add the mango chutney, soy sauce, brown sugar & mix everything together till well blended.

Let the mixture simmer for a few seconds and when little bubbles begin to appear, add the cornstarch mixture and mix everything quickly to avoid lumps. Stir till the glaze thickens.

Add the spring onion greens and mix everything once. Take it off the heat

Serve

Add the glaze to the chicken wings and toss them together until evenly coated.

Garnish with spring onion greens & serve immediately
Notes
1. If you don't have any of the hot chilli sauces you can soak around 12-15 Kashmiri or Bedgi chillies in hot water for 15 mins and then grind them to a fine paste. This is an easy substitute.
2. We used semi sweet mangoes that were slightly sour. So we used around 9 teaspoons of muscovado sugar which is not very sweet & has a deep, rich flavour. If you are using white sugar you will need lesser quantity.
3. You can also use raw mangoes for this recipe. Adjust the sugar accordingly.
Disclaimer
The nutritional values are only indicative.
Tried this recipe?
Please leave a comment & rate the recipe below or share a photo on Instagram and tag me @ruchikrandhap