One can create a myriad of flavours with a same set of ingredients ~ Mangaloreans are especially skilled at achieving this. The bounty of our Indian Coast has helped feed generation after generation and authentic recipes have been created, altered & mastered, each one redefined and tweaked to suit a palate or culture. Fish curries need a special mention as there are a zillion different ways to cook fish, curries especially are broadly classified into those that are coconut based and those that use other ingredients to create a base. Again you have a choice of picking a particular style of making a curry depending on what kind of fish you are cooking. Fresh water fish (river & lake) fish & Salt water fish (sea fish) are again the sub categories. For example, cooking Baby Shark (
Thato/Thaate
) which is a sea fish in a coconut milk gravy is unheard of (at least we don't make it). We have particular gravies that suit certain types of fish. Spicy curries that are loaded with spices, onions, ginger & garlic are married off to fish like Mackerels (
Bangde/Bangude
), Sardines (
Tharle/Boothai
), Shark (
Thato/Thaate
), Silverfish (
Erli/Yerli/Bolenjir
) to name a few. The more delicate flavoured fish like Pomfret, Tongue Fish (
Lepo/
) Lady Fish (
Kane/Nogli/Murdoshi
), Kingfish (
Surmai
) are often stewed in coconut or coconut milk based gravies. A few preparations include those made in a green masala base made with ground coriander leaves & green chillies. Last but not the least we also prepare salted & dried fish curries that are flavoured with spices & raw mango or bimblies (
bimbuli/vilimbipuli
) ~ the taste of these curries are simply out of the world!!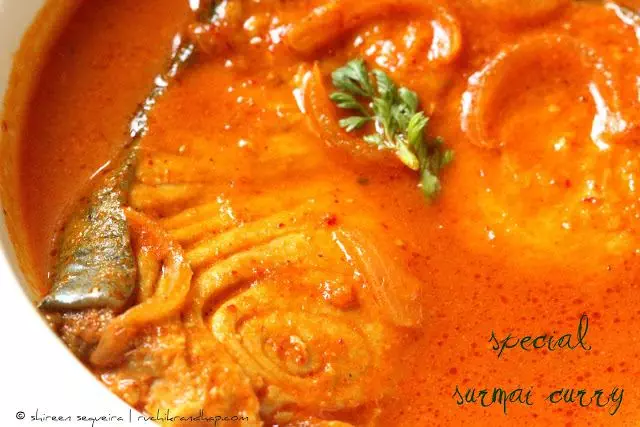 We Mangalorean Catholics usually prepare 6-7 specific types of curries that suit particular types of fish. We have the regular Geraal Kadi (Common coconut based curry for most types of fish), the Bafat Kadi (using the Bafat masala suitable for Mackerels, King Fish etc), the Shirko Shindaap (vinegar & sliced onions, ginger, garlic & green chillies), Amshi Thikshi (Hot & Sour curry), Rosachi Kadi (Coconut milk based curry), Losun Miri (Garlic & Pepper curry) and the Jeere Miri (Cumin & Pepper).Besides the above mentioned styles there are many types of curries that are either coconut based or onion based and their preparation varies from one family to the other. Undoubtedly I loved my mum's way of preparing fish curries. My MIL who is also a superb cook makes her signature dishes which are usually onion or coconut (grated & ground) based. My mum made a lot of Roce (coconut milk) based gravies which were finger lickin' good.That brings me to the part where I need to tell you from where I picked this recipe. Mum or MIL. Well, neither! In my quest to try out new recipes almost daily, I hunted through my trusted recipe books & randomly picked one from the book 'Ranpi' by Isidore Coelho who has authored many cookery books in both Konkani & English.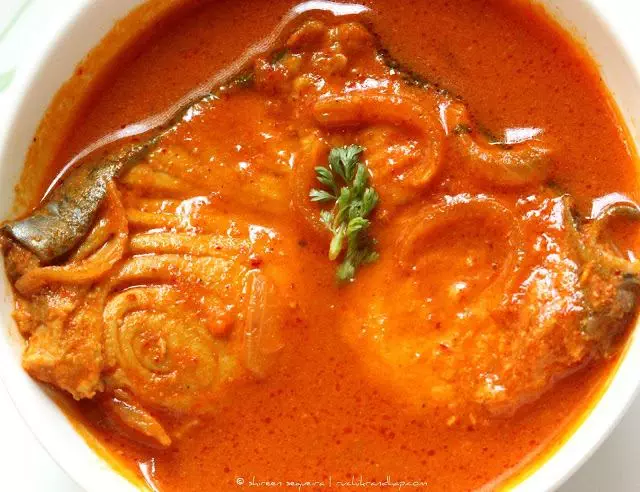 Today's recipe can be prepared with or without coconut/coconut milk powder. If you are brave enough to add the extra chillies that the recipe asks for, you can skip the coconut and enjoy a fiery red curry, otherwise simply add the coconut & enjoy the delicate flavour of this curry. This curry suits Surmai as well as Pomfret and is easy to make.
Special Surmai Curry
You Need:
500 gm (or 3-4 palm size slices) of king fish/surmai/iswon or pomfret
1/2 tsp tamarind paste or 1 marble size tamarind dissolved in 1 tbsp water
1 medium size onion sliced
1 green chilli (optional) * see notes
1 tsp vinegar (option) * see notes
2 tbsp oil for frying
1 tbsp chopped coriander for garnishing (optional)
For the masala
6-7 long dry red chillies (Bedgi), deseed if you wish * see notes *IMPORTANT*
5 peppercorns (kali mirch)
2 cloves (laung)
1/2 inch cinnamon stick (dalchini)
1 pod of cardamom (elaichi)
1/4 tsp turmeric powder (haldi)
1/2 tsp cumin (jeera)
1/2 tsp mustard (rai)
1/2 inch ginger
6 flakes of garlic (Indian) with skin
3 tbsp coconut milk powder or 3-4 tbsp grated coconut (optional) *see notes
1/2 onion (optional) * seet notes
Method:
1. Wash & drain the fish on a colander. Using a little water grind all the ingredients mentioned in 'For the masala' to a fine paste. Reserve the masala water from the mixer jar.
2. In a large pan or wok heat the oil & fry the sliced onion till golden brown. Add the green chilli (optional) and fry till it turns translucent. Add the ground masala paste & fry on a slow flame till the oil leaves the sides of the pan.
3. Add the reserved masala water, salt to taste, tamarind juice, vinegar (optional) and bring the gravy to a boil. Add the fish pieces gently and carefully cover them with gravy. Cover & cook on a medium flame for about 2-3 minutes.
4. Turn off the flame, garnish with chopped coriander & serve hot with rice
Notes:
1. I skipped the green chilli & vinegar and adjusted the tamarind juice as per my taste.
2. The original recipe asked for 10 long chillies and 10 peppercorns. I reduced these quantities as I prefer moderately spicy curries. However, you can add the extra chillies by deseeding them. Instead of doing this I added the coconut milk powder & onion (mentioned as optional items above) as they help in increasing the quantity of gravy.
3. If you are using very large slices of Surmai fish wash them carefully as they break easily.
4. If you like moderately spicy curries then make sure you add more than 3 tbsp coconut milk powder or grated coconut. Deseed the red chillies before grinding them. If the curry is still spicy add coconut milk to balance and reduce the spice. Once you do this you will have to check the taste and add more salt or tamarind juice if required.
Updated Notes:
I used 6-7 deseeded bedgi chillies and still found it spicy as the chillies were fresh (new crop). I added some coconut milk to the gravy before adding the fish to balance the spice. A lot of readers who have low tolerance to spice said that this curry turned out delicious but spicy. If you have low tolerance to spice please use just 3-4 Byadge chillies, all deseeded or Kashmiri chillies or a mix of Kashmiri and Byadge. Note that the seeds of the chillies are what give the maximum heat so when in doubt always remove the seeds and use just the skins. Byadge chillies give the traditional taste for curries while Kashmiri chillies are great for their colour but lower on spice than the Byadge variety.