Folks! Christmas is just 2 months away (I know, I know, its still a long time to go, but I just can't wait for it!) and there are so many recipes to be tried! Gosh! So many recipes and just one life! Time is just not enough what with all the school day madness that I find myself in. So this time, I have decided to take it easy and post as many festive recipes as I possibly can, well ahead of time so that those of you who like to try out recipes have ample time to do so. I am like that too. Imagine having to try out a new recipe on the day of a party – it's like taking a huge risk. I have been there, done that and sometimes things have backfired just too badly. So I always like to prepare ahead and get myself comfortable with the recipe and make changes if any. Planning ahead of any formal occasion or party is a must. What do you say?
Ok, now that I've finished my lecture, let me tell you, that although I like to plan ahead sometimes I get so caught up in the myriad recipes that I collect that I don't get the time to actually post the recipes that I've tried out! It is the case with this recipe too. I made it a few months ago and never got around to posting the recipe! Now I have decided that it's about time that I started posting recipes from my archives lest they get lost in time forever!
So here's today's recipe, a simple take on the Italian tarts but something that I made keeping my Indian taste buds into consideration. Its a basic tart recipe that you can tinker around with. Getting the base right is not very difficult especially because there is no blind baking involved (where you bake the base of a tart twice just to firm it up). You can also use the filling of your choice. I used soft, crumbled paneer as I had no feta cheese at the time I made them. Instead of basic you may use palak or coriander leaves. Add some warm or hot spices to give the tarts an Indian twist. You are in control here, just go beserk with the kind of fillings that you want to use.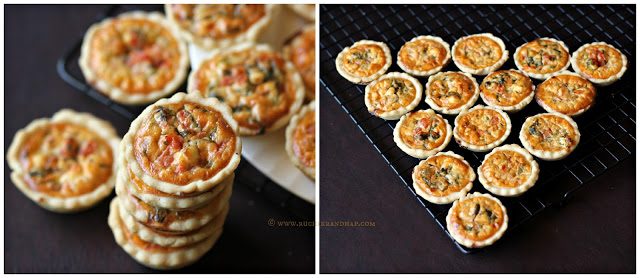 Pin
Oh yes! If you like to take a sneak peak into the festive cooking of the yesteryears I will be shortly sharing some of my favourite recipes on my
Facebook page
. So if you've not yet liked my page, I welcome you to do so. Stay tuned!
Savoury Tarts
Prep time: 20-30 mins | Baking time: 20 mins | Yield 12-18 tarlets (depends on the size of the mould)


Ingredients:
For the pastry dough (tart base)
190 grams (6-1/2 oz) plain flour
1/2 teaspoon salt
115 grams (4 oz) cold butter cut into cubes
2-3 tablespoons ice water
For the filling:
2 eggs
3 tablespoons heavy cream * see notes
3 tablespoons crumbled feta cheese or paneer
2 fat cloves of garlic, minced
225 grams (8oz) tomatoes, peeled, deseeded and chopped
12-15 fresh basil leaves cut in thin ribbons * see notes for substitute
a sprinkling of dried herbs (optional
salt & pepper to taste
Method:
1. Preheat oven to 200 C. Grease a 12 hole muffin tray with butter or Pam spray.
2. To make the tart base, sift the flour and salt into a mixing bowl. Rub the cubed butter into the flour mixture until it resembles coarse breadcrumbs. Now sprinkle in the water, about 1 tablespoon at a time, mix using your fingertips and knead into a soft dough ball.
3. Tip the dough onto a lightly floured surface and roll out thinly. Using a fluted, 6cm pastry cutter cut out rounds and line the muffin moulds. You may get more than 12 rounds, so you can bake them in the second round.
4. To make the filling, heat oil or butter in a saucepan and add the minced garlic and fry a bit. Then add the chopped tomatoes and basil. Toss in the dried herbs and simmer for a couple of minutes or until the excess water has evaporated. Remove from heat and cool.
5. In a bowl, beat the eggs and cream together in a bowl. Stir in the cheese, salt, pepper to taste. Add this mixture into the cooled tomato mixture and stir.
6. Divide the mixture equally between the pastry cases and bake for 10 minutes at 200 C. Then reduce the heat to 180 C and bake till the filling has set and the pastry is golden brown, about another 10 minutes.
7. Remove and let the tarts cool on a wire rack before serving. These tarts are best eaten fresh and warm as the tart shell is not double baked and hence soft. It may not stay very firm if you store it for longer than a day.
Notes:
1. You can use Amul Fresh cream if you live in India. You can even skip it and add more cheese if you wish to.
2. If you don't have basil you can substitute it with chopped coriander or even palak.
3. If you like the tarts slightly spicy you can add some chilli flakes.
4. I suggest you make the pastry cases first and make as much enough filling that is required. You may need to eyeball the measurements here. Perhaps one egg instead of two would suffice if you are going to add many more items to the mixture. You will need to use your judgement here.