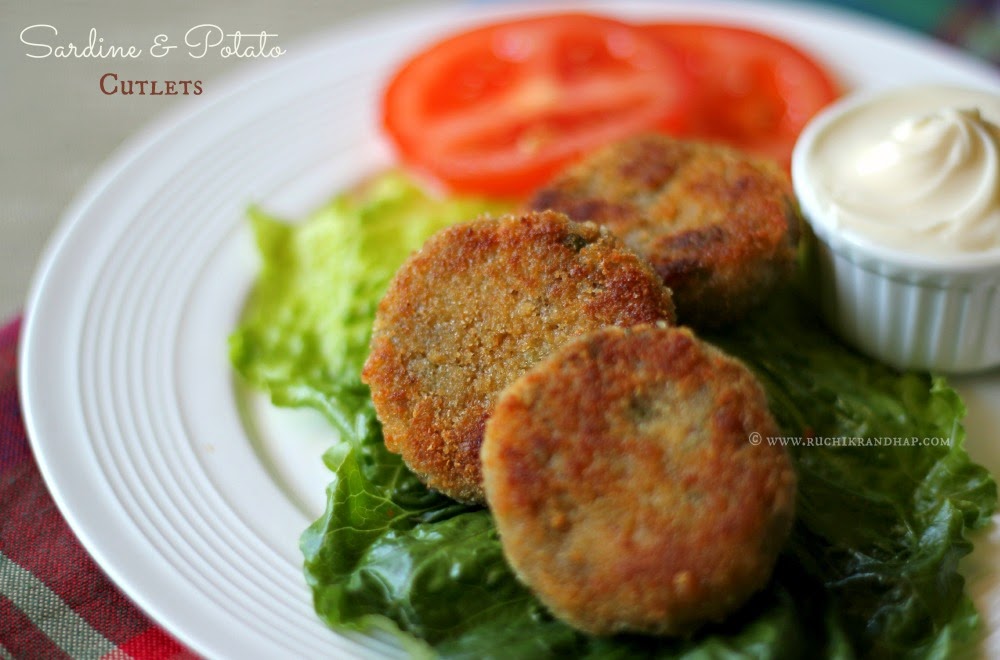 I love the fact that we are stepping into November in a couple of days. It is a month full of birthdays and planning for the upcoming festivities. During this time I also like to keep our meals at home as simple and easy as possible – just to gear up for the over load of calories that will happen soon. While flipping through my small treasure trove of recipes I found this interesting one that called for tinned sardines and I set to work. I had never used canned food my entire life except for sausages in brine. After coming to Dubai I have been buying canned pineapple to make
pineapple sheera
but that's about it. While I don't prefer anything that comes in tins I decided to buy the tinned sardines out of sheer inquisitiveness. I wondered how they were packaged. Were the bones removed before packaging them? If yes, how!!!?? I decided to go ahead and satisfy myself with the answers by just buying the tin. When Roshan and I opened the tin and peeped into it there seemed nothing unusual about it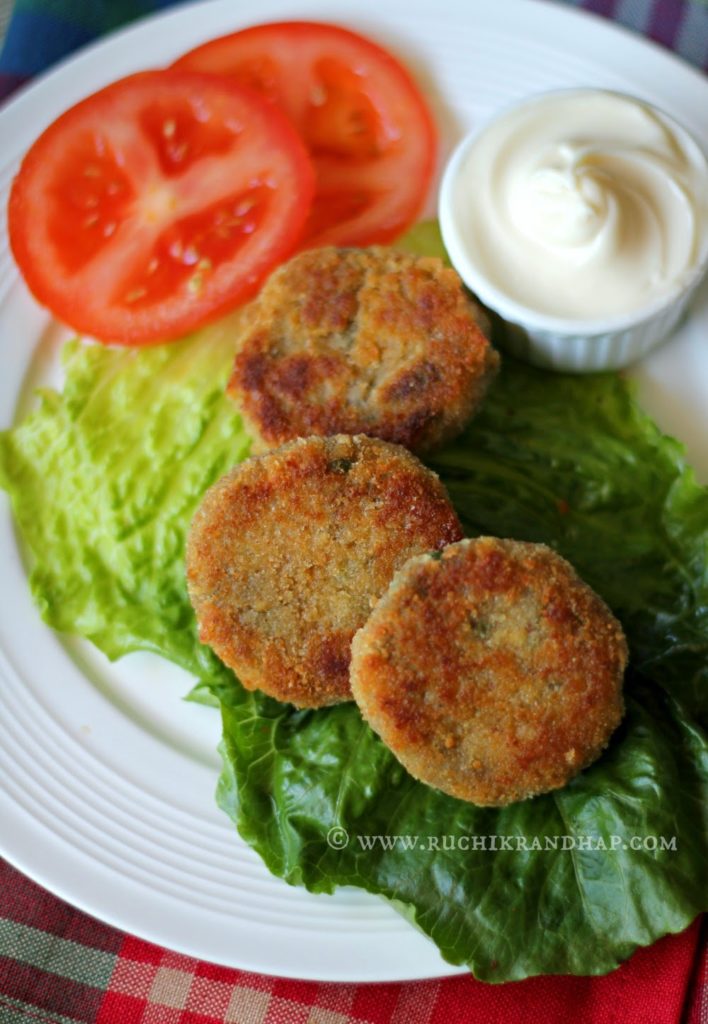 The sardines were intact, bones and all (minus the head of course) packed in oil. I drained off the oil and transferred them into the bowl and they began to crumble! and how! Every shred of the sardines crumbled like a sand castle. It was amazing. I quickly set to work adding the rest of the ingredients and shaped them into patties. When they were fresh out of the oil Roshan and I took a bite each and then there was no stopping us! The taste was absolutely unexpected and so delicious! Fish cutlets never tasted this good, trust me!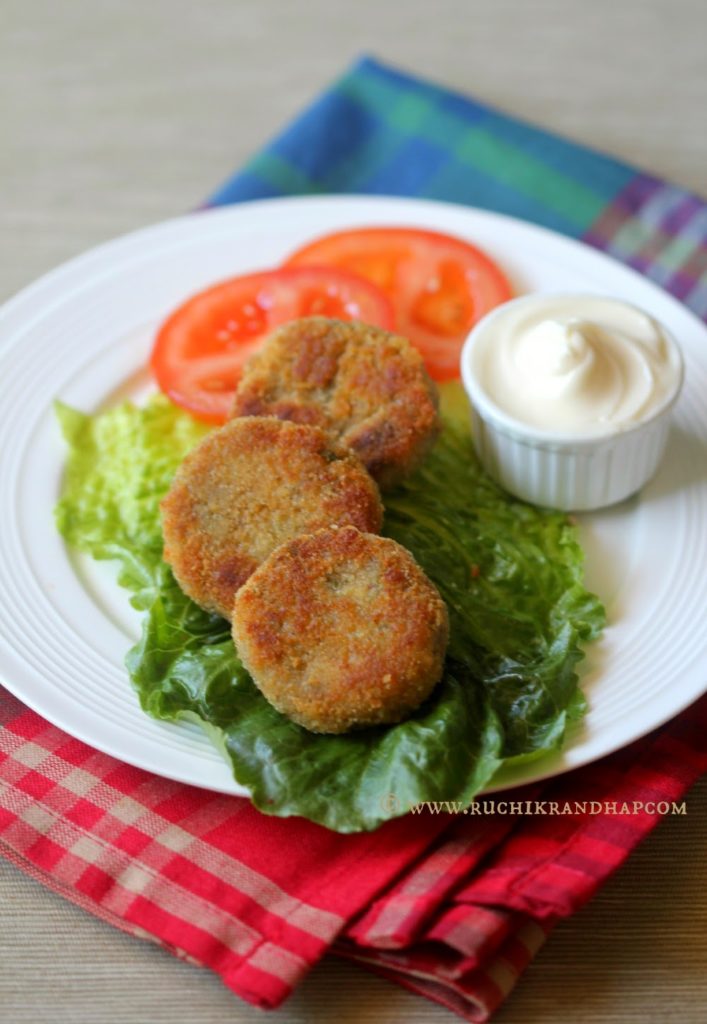 This is one helluva easy recipe for cutlets. The tinned sardines make it so easy to put some cutlets on the table in no time. This is a great recipe if you want to feed fish to fussy eaters (like my son). The frying of ingredients, especially the mint and coriander help to mask the fishy smell of the sardines (which is almost nil to begin with). My best experience with tinned sardines has been with the American Garden brand of sardines in sunflower oil as compared to those in olive oil by John West. However, go with the brand that is available to you or you have had the best experience with.
If you do try this out please take a minute to click a picture and send it to me on ruchikrandhap@gmail.com. I will upload the picture in my tried and tested folder on Facebook. Do have a look at all the pictures sent in by readers till date
here
I have also started a new series called as the '
Boshi
' which literally means 'plate' in Konkani. This series will feature plated meals of the simple, everyday meals that I have at home accompanied by recipes for each dish featured on the plate. This will help busy moms, bachelors and all those who are hard pressed for time to think and draw up meal plans for the week by giving you a fair idea of what you can make. Do check out my first 'Boshi'
here
. Please do like my
Facebook page
so that you don't miss any updates!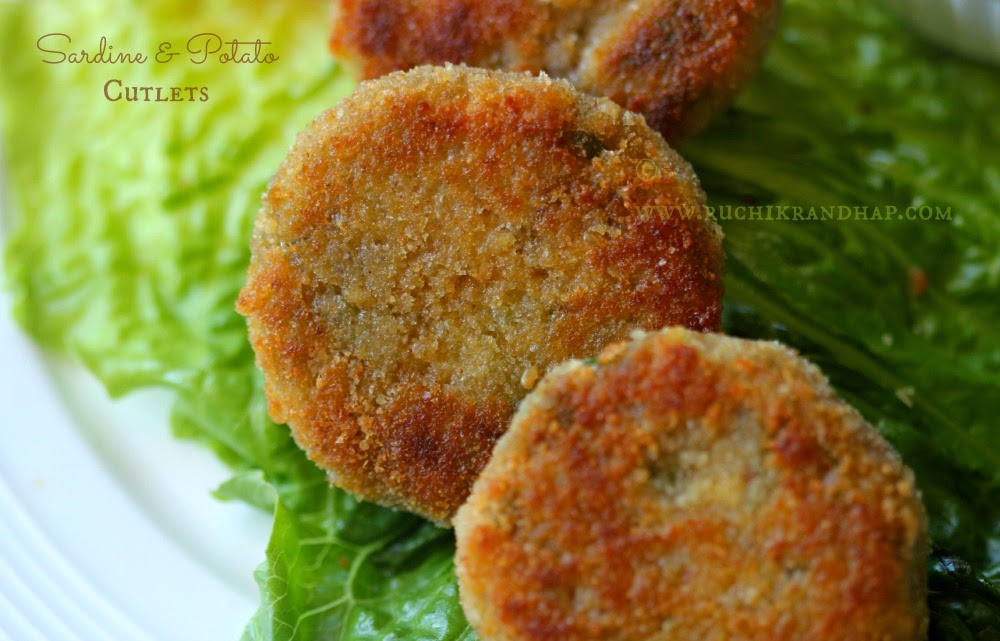 Sardine & Potato Cutlets
Prep time:25 mins | Cook time: 15 mins | Yield 15 medium sized cutlets
Ingredients:
2 tins of 120 grams each of sardines in oil * see note#1
400 grams (1 large) potato
2 small onions, finely chopped
1-2 small green chillies, finely chopped (deseeded if you wish)
3/4th cup coriander leaves or flat leaf parsley, finely chopped (leaves only)
1-2 sprigs of mint, finely chopped
1-1/2 inches fresh ginger, finely chopped
1 egg yolk, for the mixture
approx 3/4th cup plain flour for coating
1 whole egg lightly beaten, for egg wash
approx 3/4th cup breadcrumbs for coating
oil for shallow frying
salt to taste
Method:
1. Drain the sardines completely of their oil and crumble them completely into a bowl.
2. Boil the potato in plenty of water till tender. *see note#2. Remove, peel and mash it thoroughly and add it to the crumbled sardines.
3. In a heavy based pan or kadhai heat some oil and fry the chopped ginger, green chillies for half a minute. Then add the chopped onions and fry till they turn translucent/pale (but not brown).
4. Retain about 1 tablespoon of chopped coriander and mint and fry the rest of them along with the onions. Once the leaves wilt remove the pan from the heat and allow to cool.
5. Add the cooled onion mixture to the mashed potato and sardine mixture and mix well. Add the egg yolk and mix well. Taste and add salt as required.
6. Make lemon sized balls of the mixture and flatten each ball to form cutlets/patties. Cover with a cling film and place in the fridge for about 15mins to help firm them up a bit.
7. When you are ready to fry the cutlets place the flour, egg wash and breadcrumbs (in that order) in three shallow plates.
8. Gently coat each patty with the flour first and then dip it in the egg wash and finally coat with the breadcrumbs. Place on a large plate. Repeat the procedure until all the cutlets have been coated.
9. Heat a generous amount of oil for shallow frying in a large heavy based or non stick frying pan * see note#3. The oil needs to be maintained at a medium high.
10. Gently slide the cutlets into the oil until your pan is reasonably full. Don't overcrowd. You need to be able to comfortably flip them.
11. Fry until golden brown on both sides. Drain excess oil from the cutlets and remove onto an absorbent kitchen tissue.
12. Serve hot with ketchup or as a side with rice and dal.
Notes:
1. Since it was my first time using tinned sardines I am not sure how sardines in brine (salt water) would taste like. I used the ones in oil. Remember to adjust the addition of salt only after tasting as sardines in brine would be slightly saltier than those in oil. Brine or oil, do remember to drain the liquid very well and use only the sardines for this recipe. Extra oil will make the mixture too mushy and make it hard to shape the cutlets.
2. If you are pressure cooking the potato, you can let it cook for 4-5 whistles and then remove from heat. When the weight has loosened up, open the lid and poke it with a knife or skewer. If it has cooked, remove it immediately or put it back on the fire and let it cook until another whistle goes off. Once the weight has loosened up remove the potato quickly onto a plate – if you leave it in the pressure cooker even after the weight has loosened up it will begin to absorb water making it soggy. In turn the cutlet mixture will be a soggy mess – a definite flop!
3. If the cutlet mixture seems too soggy preventing you from shaping it into cutlets add a slice of fresh bread (trim the edges) or even a few bread crumbs. However, don't add too much bread as it will take away all the flavour of the mixture and perhaps make it bland.
4. When I say generous amount of oil for shallow frying I mean that the oil should be at least halfway upto the cutlets. Cutlets/patties are usually delicate and may crumble while flipping them, so to ensure that they are completely fried on one side before flipping them I use extra oil. This way, I don't need to toss them around in the pan or tilt the pan to ensure that oil reaches all the patties. When fried at the right temperature the patties won't absorb excess oil. Once fried, make sure you tilt the pan and place it on your kitchen counter or on the stove – all the excess oil will drain away. After this you can transfer the patties onto a plate lined with absorbent kitchen tissues. Try this method and you won't get oil drenched patties. I promise :-)Recipe adapted from Friday magazine
Like this post? Click to stay connected!