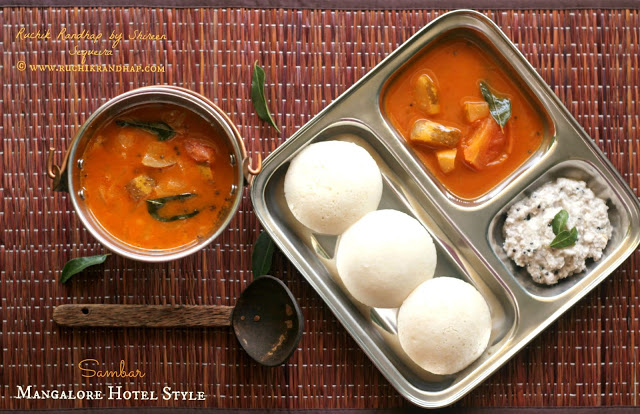 On every trip to Mangalore we love to eat at the local restaurants. Some of the absolute must have's on our list are the
Mangalore Buns
and Goli Baje and sometimes we end up ordering multiple things which we totally love to eat as the entire experience can only be enjoyed at the hotel. One such item is the sambar which comes along with most snacks you order, especially the Mangalore buns. A few months ago, on a whim the husband decided to recreate this dish. After a couple of attempts I can say that he has figured it out and the taste and aroma is bang on! Since then I have made this sambar a zillion times. The beauty of this dish lies in its simplicity, especially because it is a lot simpler in terms of process than its other sambar counterparts and the best part is that you can make the sambar pudi (powder) in advance and use it as required.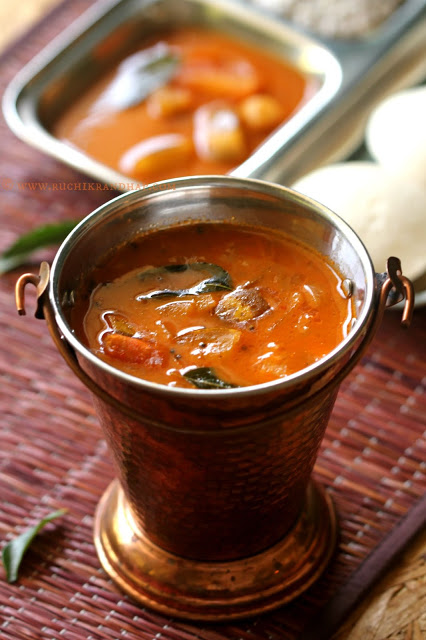 This sambar also uses just two types of vegetables – the field marrow (mogem/sauthe kai/malabar cucumber) and/or the brinjal. Brinjals definitely bring in that special flavour that is so inherent to sambars but the day I made this I didn't have any but you can choose to add them if you wish.
Since I love to cook easy during the week (on school days) this sambar is on my menu on most days as I can serve it along with rice for lunch and use the leftover as a side dish to idlies, dosa or Mangalore buns that I make for breakfast. This is mainly because it is hard to scale down the spices to a really small quantity due to the limitations of my mixer grinder and so I prefer making the full quantity and using it up in one way or the other.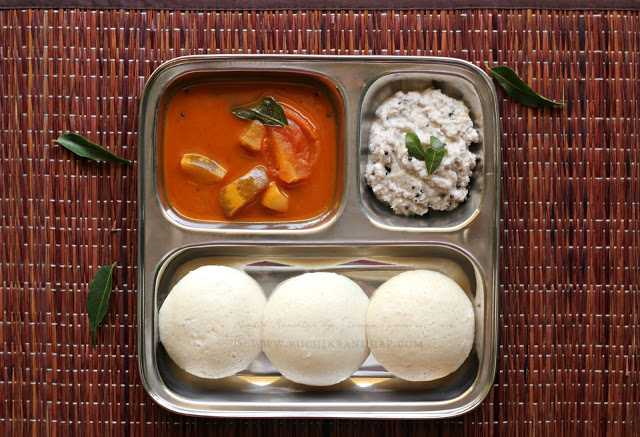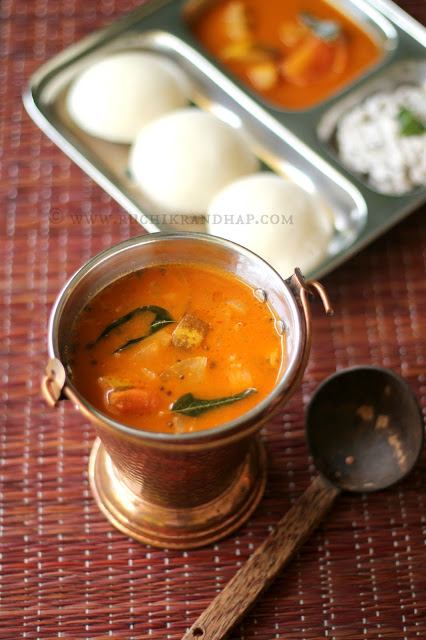 To make things easier for you, do consider making the spice blend in advance and store it in the fridge. What gives the blend its texture and flavour is not only the chillies that we use (the Byadge variety) but also the dals that add to the aroma as well. I do hope you give this recipe a try and enjoy it too. For more saars and dals (gravy based accompaniments) do check the list at the bottom of this post!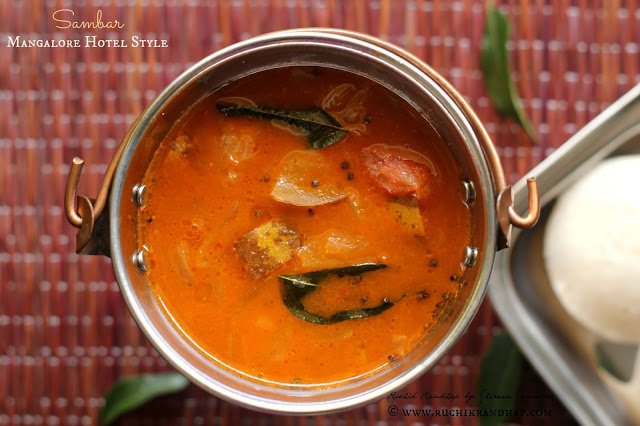 Sambar ~ Mangalore Hotel Style


Ingredients:
2 cups of water (plus extra to be added later if you want a thin/watery sambar)
1/2 of a medium sized Mangalore cucumber/Field Marrow
2 small brinjals, quartered (optional)
1 tomato, quartered
1 medium sized onion cut into large chunks
1 marble sized ball of tamarind soaked in 2-3 tablespoons of water and juice extracted
salt to taste
For the Sambar Pudi (Spice Blend):
3 long dry red chillies
10-12 fenugreek seeds (methi seeds)
1 teaspoon urad dal
1-1/2 teaspoons chana dal
2-3 teaspoons grated coconut
10 curry leaves
For the tempering:
1 teaspoon oil
pinch of hing (asafoetida)
1/4 teaspoon mustard seeds
5-6 curry leaves
Method:
1. Dry roast all the ingredients (make sure that the coconut is also well roasted and leaves no moisture) and grind them to a fine powder
2. Add all the ingredients in a pressure cooker and take 2-3 whistles.
3. Heat oil for tempering and toss in the mustard seeds, when they stop spluttering add the curry leaves and the pinch of asafoetida. Give it a quick stir and pour this into the prepared sambar. Close the pan immediately to trap the aroma of the seasoning.
4. Serve hot with idli, dosa or rice