Happy New Year to each one of you reading this! We are already more than a week into 2018 and I still haven't gotten out of my holiday mood! Last week we returned from our short, sweet but super hectic 3 week holiday in Mangalore that was packed with occasions like my cousin's wedding and related family gatherings, trips to Pabbas (the ice cream parlour) and other eateries, indulgences at the salon, meeting best friends and taking trips down memory lane by visiting our old haunts in the sleepy ol' town. I was there during Christmas time after several years and true to what people say, its a packed schedule for everyone with so many (way too many) weddings, roces, housewarmings, christenings etc to attend. People living in Mangalore eventually get tired of attending the functions but for me, it was a pleasure to meet family and friends, many of whom I was seeing after years. It was also lovely attending the mass on Christmas Eve as the mood was totally set by the lovely hymns and carols sung by the choir, taking me back to my childhood and the joy of Christmas.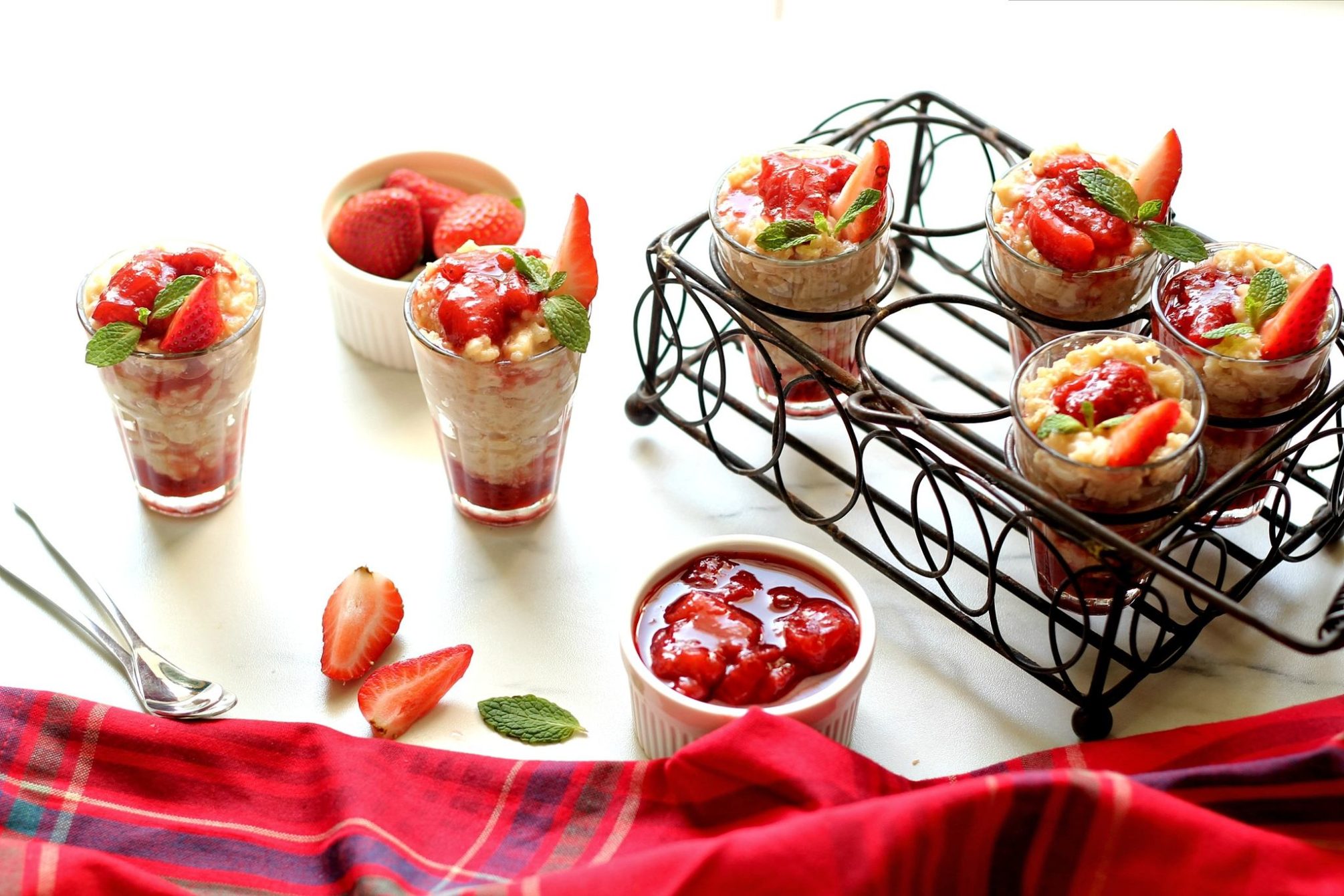 Pin
Sending and receiving Christmas greeting cards via snail mail (postal service), listening to Christmas carols (mostly sung by Jim Reeves before my collection progressed to other singers) on an old cassette player, setting up the crib (mini scene of the Nativity of Jesus) using sand, stones, bricks, hay and other random things from the yard, putting up decorations on a real Christmas tree (usually a casurina tree that grew in the garden), going to the church for Christmas choir practice, preparing the kuswar (Christmas goodies), making last minute trips to the tailor to get my outfit stitched, buying new shoes from one of the shoe shops in Hampankatta were amongst the things I totally loved doing. We do most of this today except sending greeting cards by snail mail, tailor and Hampankatta trips (haha!) and making the crib from scratch. That reminds me – I need to take the Christmas tree down today. Sigh!
Anyway, sorry to digress but I think I got lost in the Christmas mood again. I had a good start to the New Year. How about you? Have you made any new resolutions? I haven't made any yet but I do intend to form new habits for 2018. In the upcoming posts, I will share all about what habits I formed last year, the few resolutions I made and stuck to.
Pin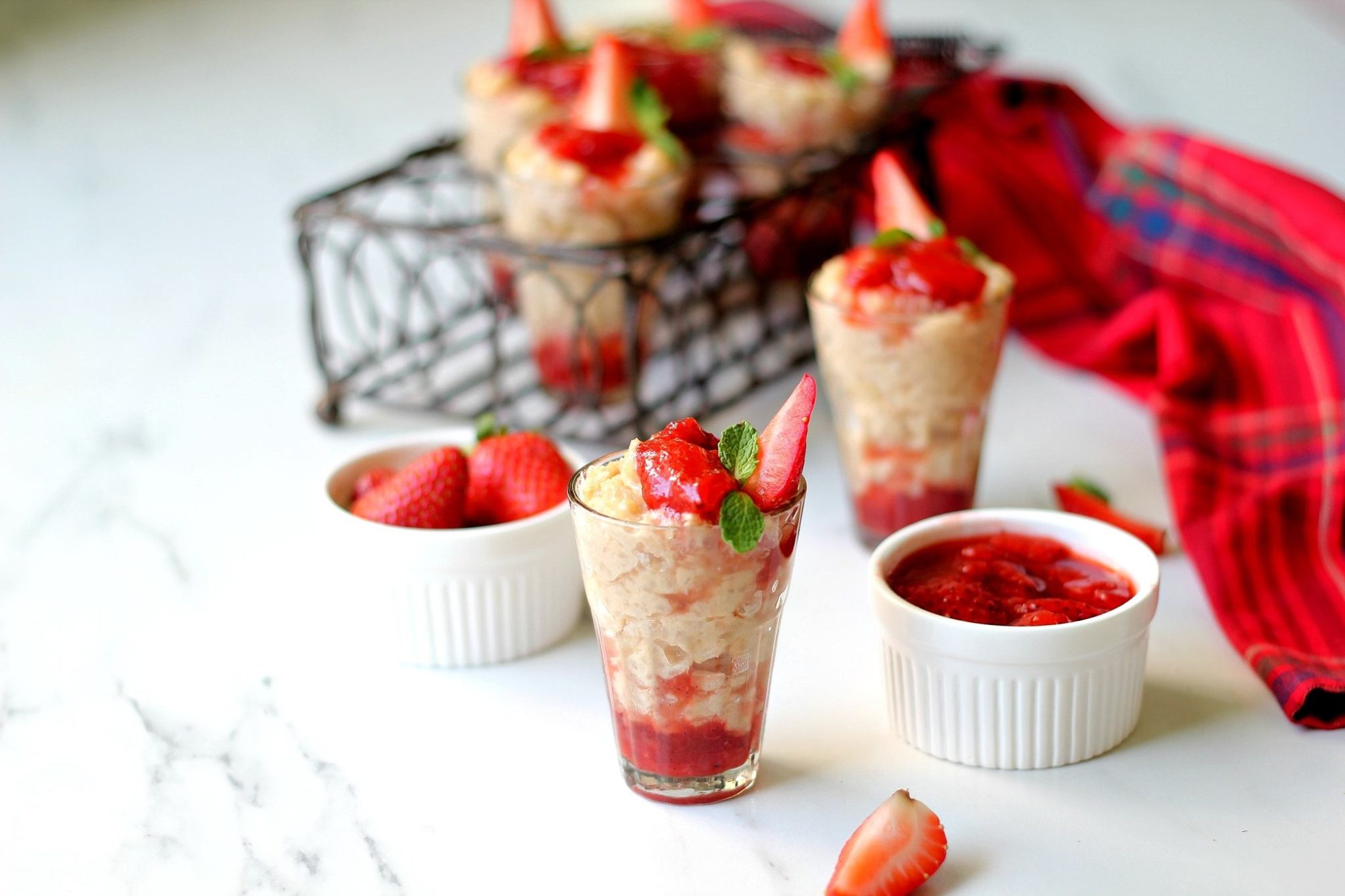 Pin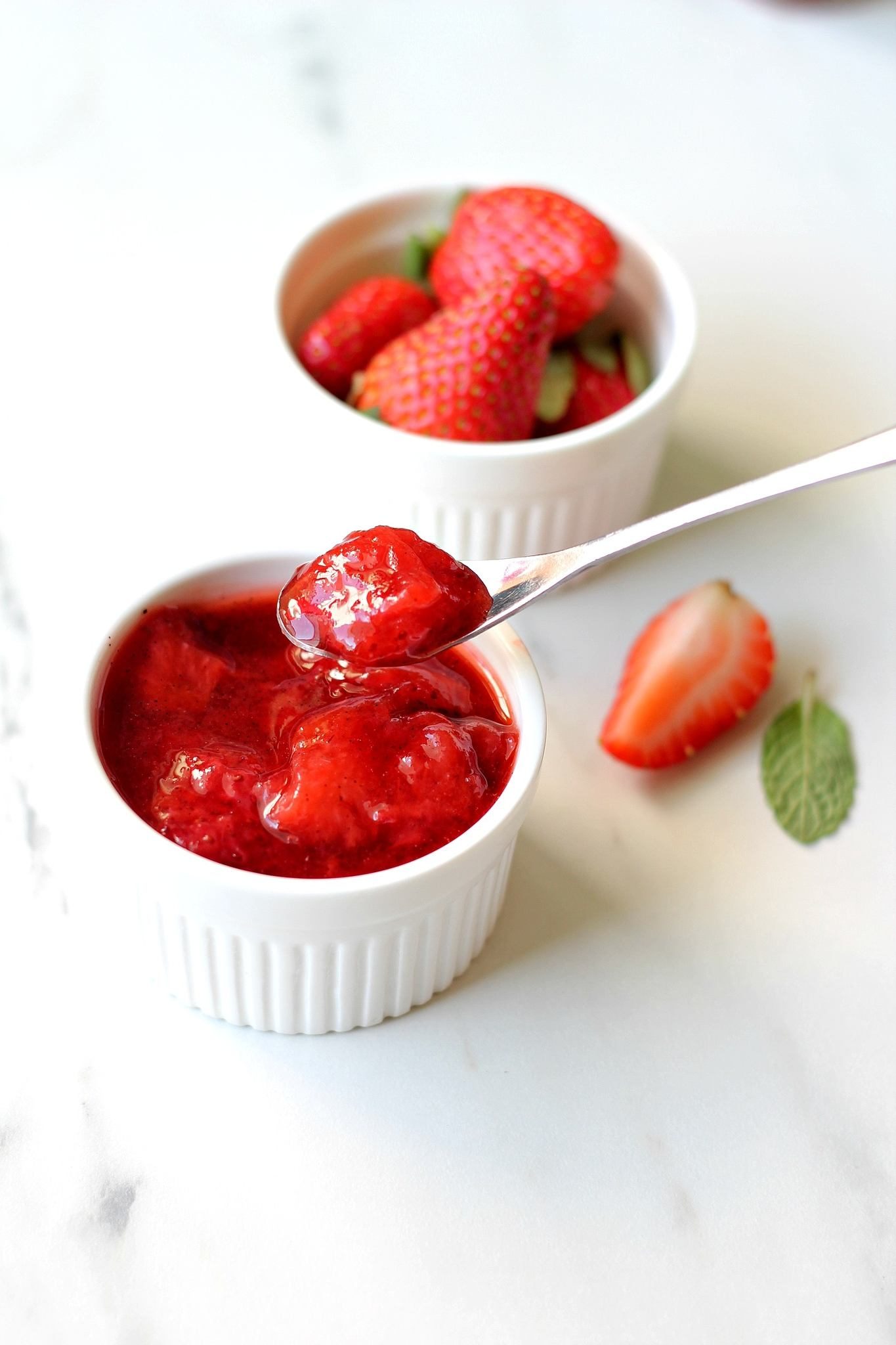 Pin
This year's resolution is a tough one and I hope to stay focused. Reading is one of my favourite hobbies but getting myself to stick to one book is really hard. I am so dependent on gadgets today and all my reading happens on them. When will I ever go back to reading good ol' books? Maybe the time to start is right here, right now! What say?
Anyway, in all the random discussion I have digressed again. Today's recipe is a lovely baked rice pudding that calls for eggs that give it the texture and amazing flavour. If you love strawberries and their tart flavour I recommend you serve this pudding with the compote. If you are not such a fan of pairing sweet and creamy with something fruity or sour, then please leave the compote for some other day. As always, more than the dish, I loved the pictures. Special thanks to my special friend Caroline Martis Radhakrishnan who besides being a goddess of baking and photography also loves to chronicle her tales on food & travel in her beautiful blog Currylines.com. Caroline's brilliant puns are always super fun and she is one of the few people who I know that We connected through Facebook and grew to be friends so fond of each other that WhatsApp is our lifeline. We met in Bangalore a couple of years ago where she very generously gifted me this beautiful and rustic, cast iron cutting chai carry case complete with Bombay style chai glasses. I have waited for an opportunity to showcase them and I hope I have done justice by using them to serve this pudding! Thank you so very much, Caroline!
Pin
Rice Pudding with Strawberry Compote
Deliciously creamy rice pudding  tastes yum when served warm with a small serving of strawberry compote
Print
Pin
Rate
Ingredients
For the rice pudding
1

cup

uncooked arborio rice or 3 cups cooked rice * see notes

2

cups

water

skip if using cooked rice

3

cups

milk

1/2

cup

lightly packed soft light brown sugar or caster sugar

2

eggs

separated

1/2

teaspoon

salt

2

teaspoons

unsalted butter

pinch

of cinnamon or 1 teaspoon vanilla

1/4

cup

desiccated coconut

optional
For the Strawberry Compote:
500

grams

strawberries

1/2

cup

sugar

adjust to taste

1

teaspoon

lime juice
Instructions
Wash the rice in 3-4 changes of water or till the water runs clear. Bring the 2 cups of water to a rolling boil in a pan and add the washed rice to it and let it bubble. Turn off the heat, cover with a well fitting lid and let the rice cook for 20 minutes.

To the same pan add the milk, sugar & salt and bring the mixture to a full boil. Reduce the heat completely and cook for about 18-20 minutes stirring occasionally till the mixture thickens and looks creamy. Beat the egg yolks together, add a little of the rice mixture to it. Mix and add back to the pot of rice and let it cook for a minute.

Remove from heat and allow to cool. Add the cinnamon or vanilla and mix. Now add lightly beaten egg whites and fold in.

Preheat oven at 170 degrees C. Grease a 9" square baking pan lightly with butter and pour the rice mixture into it. Sprinkle with desiccated coconut. Bake for 20 minutes or till the top is golden.

Remove and serve hot or chilled with strawberry compote (or any other accompaniment)
Notes
If you don't have arborio rice you can use regular white rice or even boiled rice variety of rice. The cooking time may vary as arborio rice requires more water.
Disclaimer
The nutritional values are only indicative.
Tried this recipe?
Please leave a comment & rate the recipe below or share a photo on Instagram and tag me @ruchikrandhap