Restaurant: Medley
Location: Hotel Pullman Dubai Creek City Centre, Dubai
Last week I was invited for the launch of the latest version of 'Art of Spice', an Indian theme night featuring the celebrity Chef Sweety Singh who was going to tantalize our taste buds with his slow-cooked Punjabi cuisine. While I have almost stopped accepting food invites as they are usually hosted during the week, I didn't want to turn this invite down. The primary reason for this is because my very 'North Indian-Mangalorean' son simply loves Punjabi food and plus the invite was for a Friday evening and the timing couldn't have been better. So without further delay let's dive straight into the menu. 
Medley restaurant is part of the Pullman Hotel at the Dubai Creek. You can get to the hotel from the Deira City Centre Mall. The ambience of the restaurant is pleasant and we were warmly greeted and escorted to our table. There was quite a variety at the buffet ranging from a separate counter for chaats to the grill for the kebabs and starters. As a welcome drink we were served a choice of sweet (rose lassi) or savory (plain lassi with a hint of cumin). My son and I picked one of each and enjoyed it. After downing our glasses we proceeded to sample the chaats.
From the live chaat counter you can pick from papdi chaat to pani puri or sev puri. The options were several but my son picked his favourite – papdi chaat.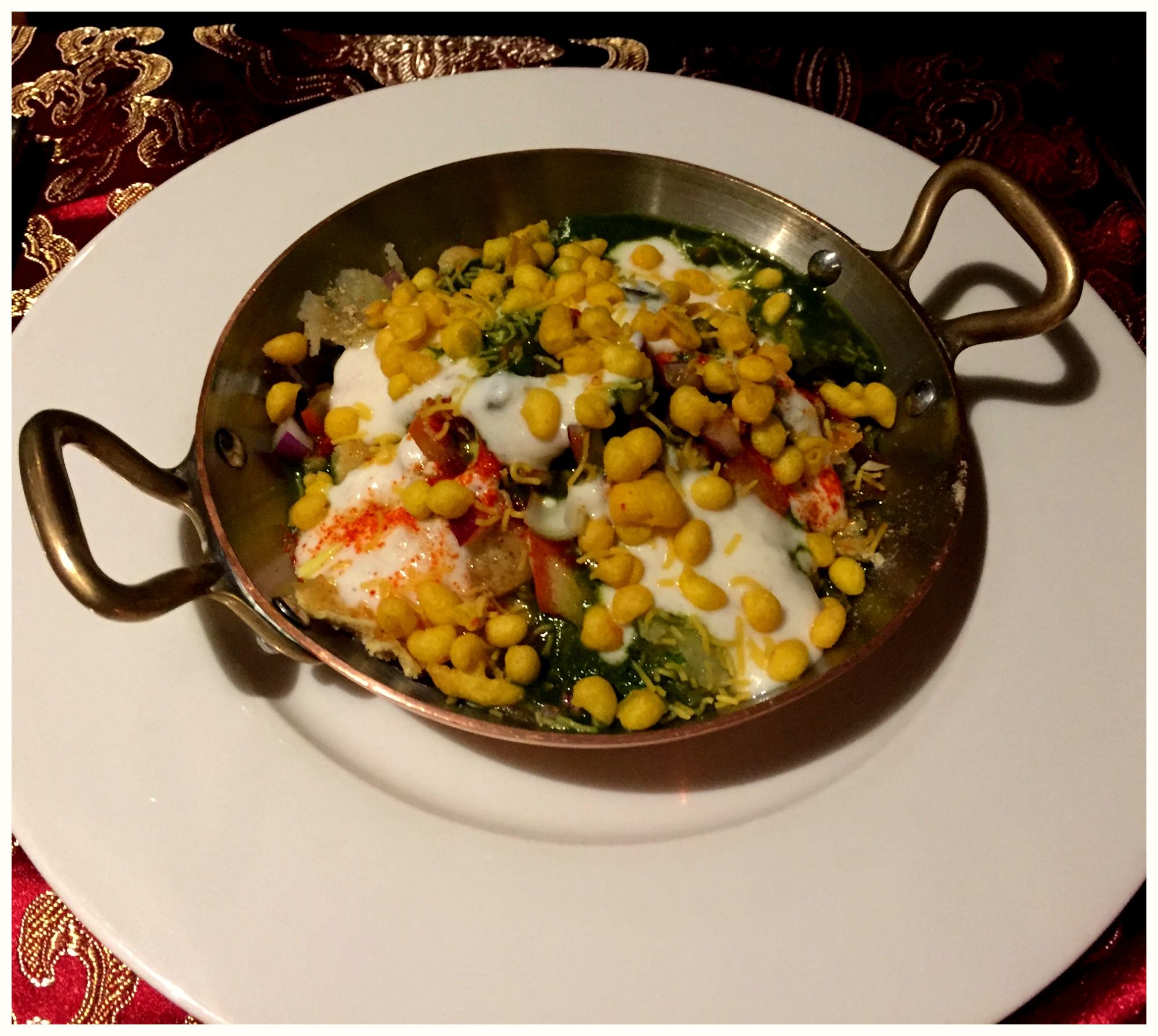 Since we got totally engrossed in our chaat and salads we kind of missed checking out the kebab counter till much later. Nevertheless we still had place in our tummies to taste a few things. The meat di tikki was by far my favourite. Crisp on the outside and juicy minced meat packed into a patty before being deep fried. Yum! What's not to love? The Amritsari machli ke pakode or fish fritters were super yum too albeit slightly crisp.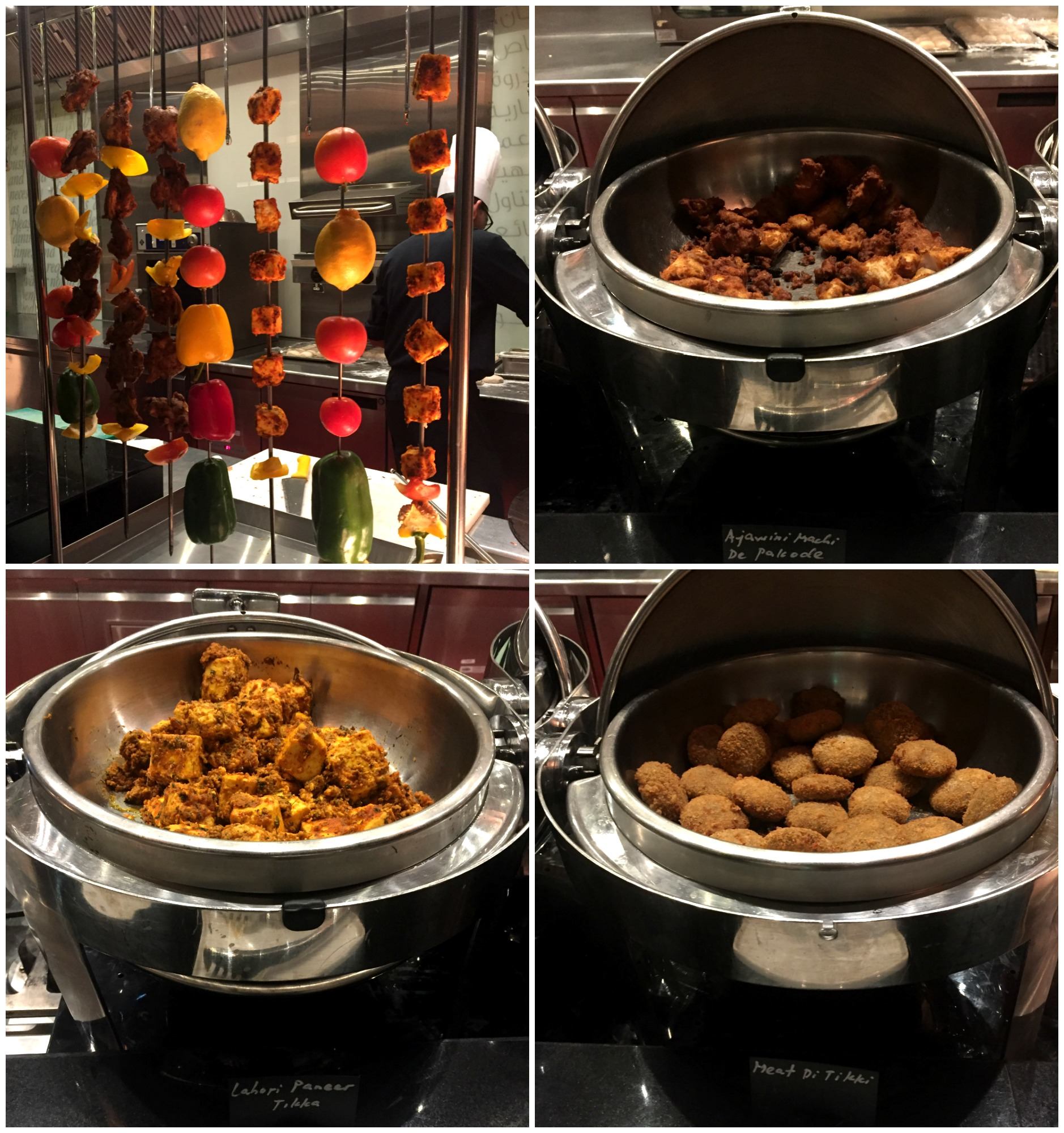 Top Right: Ajwaini Machli Ke Pakode. Bottom L to R : Lahori Paneer, Meat Di Tikki
Soups – something that I always skip as I prefer to reserve my appetite for more happening things. I wish I had tasted these soups cuz they sounded totally mouthwatering.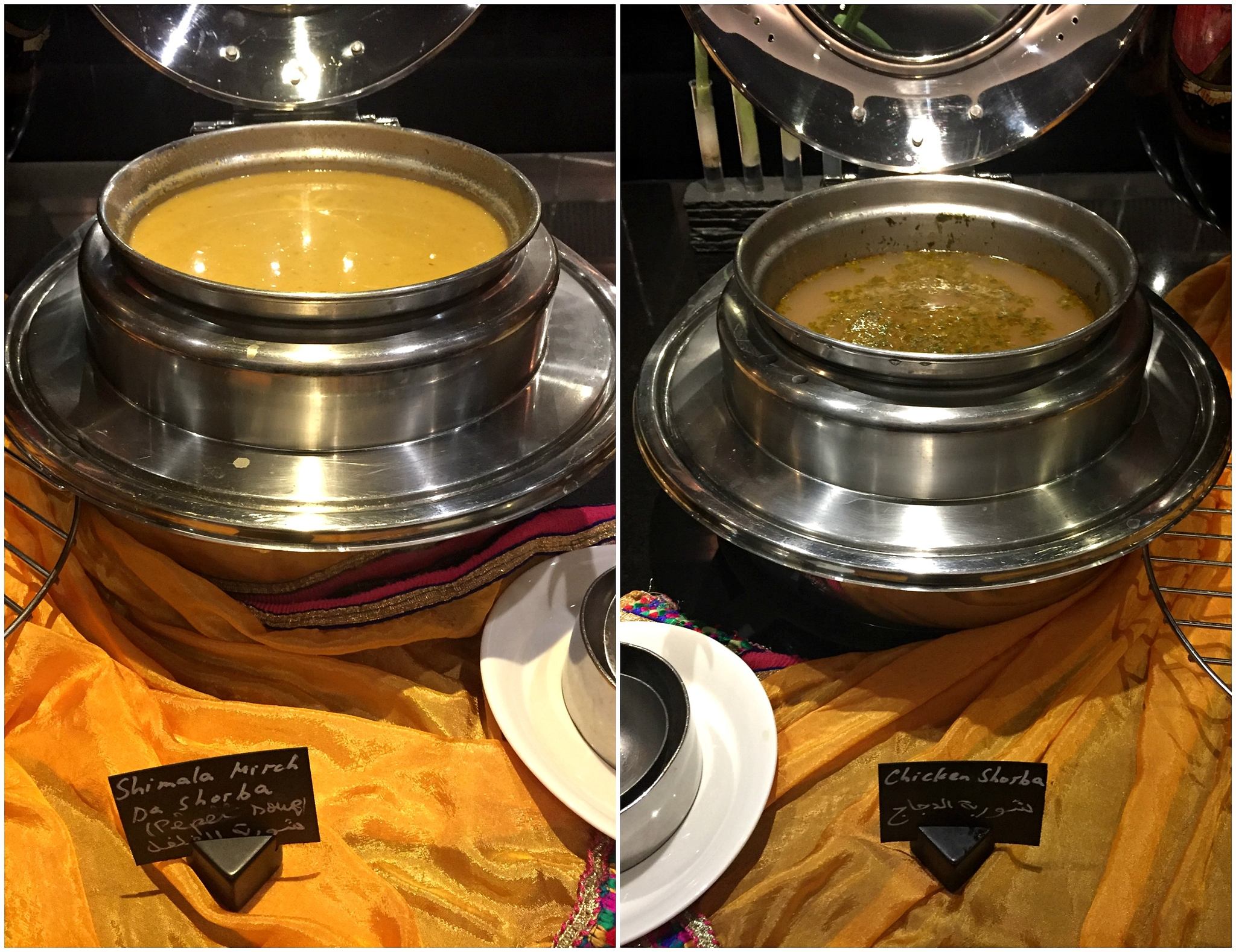 Below, you can see a wide variety of fresh salads, raithas, chutneys and pickles. A total delight for people who love to start their meals with something light. I would like to specially mention the bitter gourd (karela) salad that was so delicious. It definitely worked as a palate cleanser. Honestly, didn't think I'd go for seconds but I did!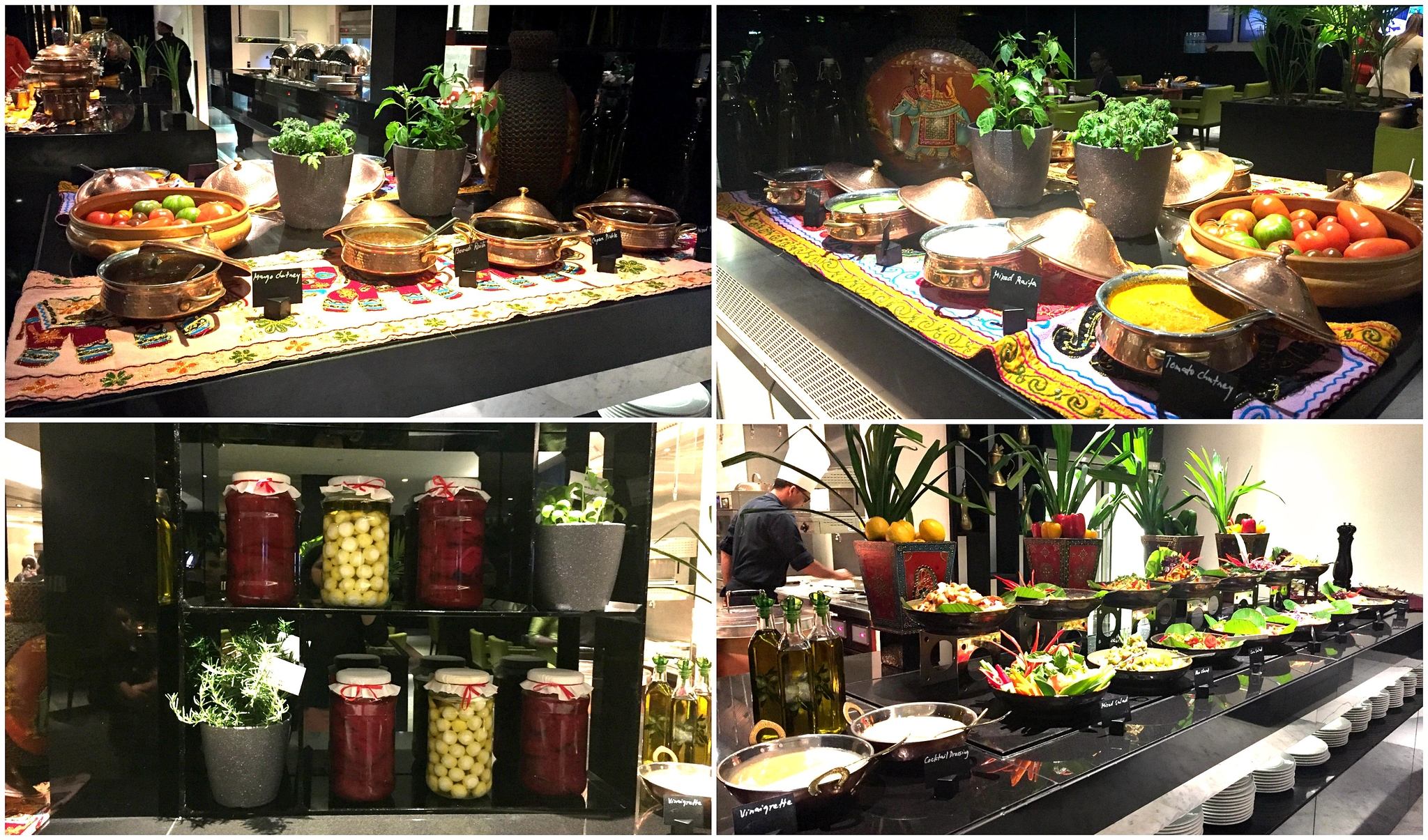 Now, on to the main course. The elaborate spread consisted of delicious items that were new to me such as the 'wadiyon wale chawal' – lentil rice and a dry dish made from taro/colocasia roots (I missed noting that down). Then there was the regular fare like the saag mutton (meat cooked in spinach) and butter chicken that tasted so simple and homely because there were no food colours used and neither were they greasy like the stuff you generally find at restaurants. The food reminded me so much of a home-cooked meal. This is something we would create at home for our kids so by that virtue I was so glad to have taken my son along for this meal.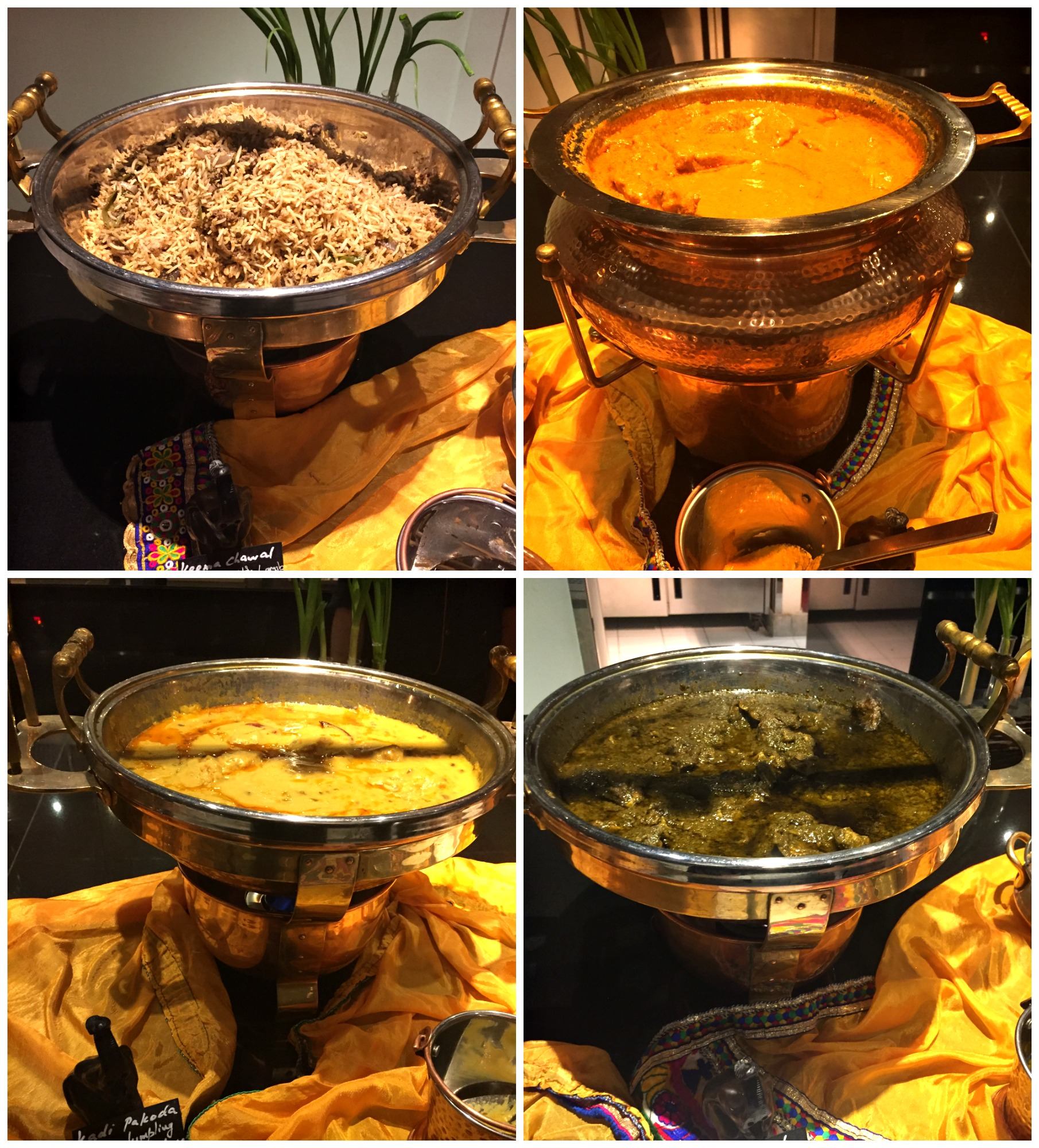 Left to Right: Keema Chawal (Mince Pulao), Butter Chicken, Kadi Pakoda (Fritters in Gravy), Saag Meat (Meat cooked in a spinach gravy)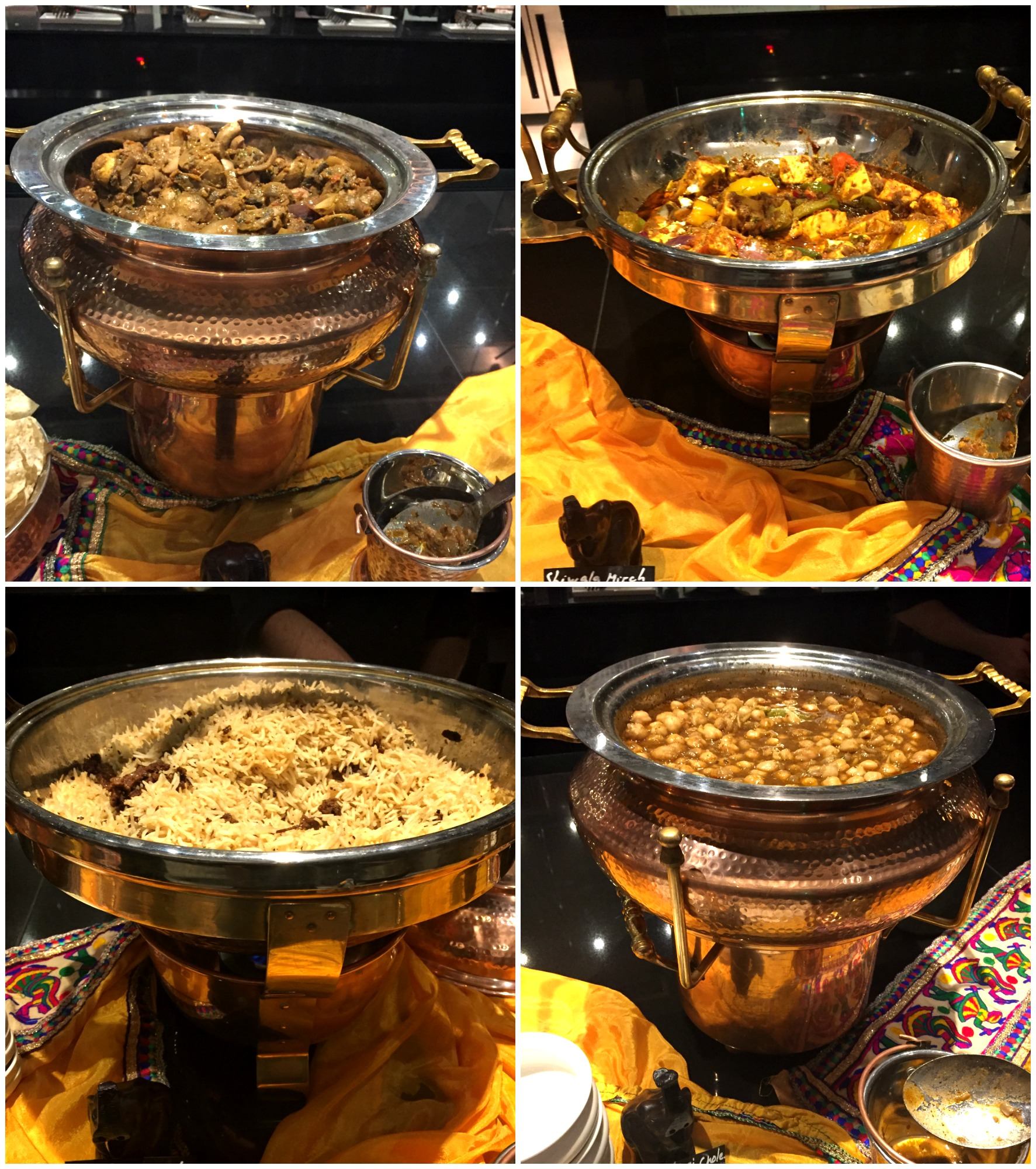 From Left to Right: Mushroom Do Pyaaza, Shimla Mirch Paneer, Wadiyon Wale Chawal (Rice with fried lentil fritters) & Amritsari Chhole
When there is a spread of desserts such as this one, who can resist? We looked forward to sampling a little of everything and as with the rest of the food, the desserts, especially the Indian ones were simply mouthwatering. The double ka meetha was perfectly crispy slices of bread dunked in 'rabdi' (thickened sweet milk). While everything looked tempting I hardly had any place in my tummy so I stuck to my all time favourite – gulab jamoons.
Semolina Halwa, Rice Kheer, Double Ka Meetha, Gajar Halwa & Gulab Jamoon
Rasmalai, fresh fruit & Western Desserts
The real icing on the cake was when we met the man himself! Chef Sweety Singh who met with us just before we left came across as a warm person who loved meeting people. Even though it was our first time there it felt as if we had known each other. It was a pleasure meeting him and enjoying the delicacies he had carefully curated.
The Verdict
My son and I enjoyed our meal a lot mainly because it was not heavy and greasy. The ambience is great and the spread is elaborate leaving you plenty of choice to pick from a variety of veg or non veg dishes. If you are looking to enjoy some great Punjabi food that is different then you must check out the theme night 'Art of Spice' at the Medley restaurant. For more details please contact Hotel Pullman Dubai Creek City Centre at +9714 294 1222