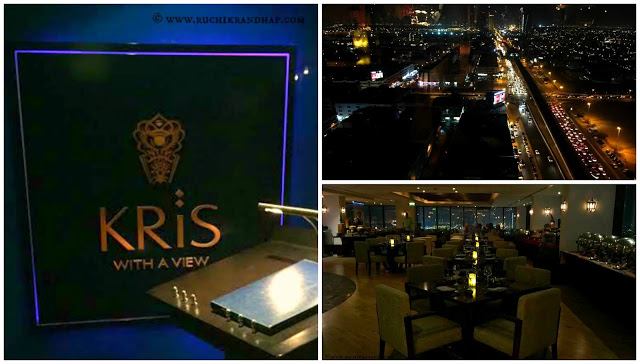 Restaurant: Kris with a View
Location: Park Regis Kris Kin Hotel, Dubai, U.A.E
Cuisine: Multi Cuisine restaurant with Theme Nights with an aim to showcasing Pan Asian cuisine
Price Range: AED 250-300 for two
THE PLACE
Early this month I was delighted to be invited for dinner at Kris with a View, a Pan-Asian restaurant located on the 19th floor of the Park Regis Kris Kin Hotel, Dubai. This restaurant offers a breathtaking panoramic view of the city as an accompaniment to a massive spread of Pan-Asian delicacies that are sure to delight every palate. The menu takes you on a journey of discovering some of the most popular dishes from Thailand, China, Malaysia, Japan, India and Arabia. This delightful array of delicacies is accompanied by live, popular music.
Kris with a View offers Theme Nights as follows:
Mondays: Pot Around
From steaming Asian soups and noodles to exotic Oriental curries and coconut-gravy sweets
Tuesdays: Ochi Sushi Night
Featuring a selection of sushi and sashimi accompanied with soups, Asian salads and sweets.
Wednesdays: Seafood Night
Offering a wide variety of seafood selection ranging from calamari, prawns, lobsters, oysters, crabs, shellfish to salmon, sea bass and many other fresh fish.
Thursdays: Pan Asian Night
Discover the very best of Pan Asian specialties buffet from Malaysia, Thailand, China, Japan and India surrounded by the unique panoramic views of Dubai.
Fridays: Indian-Malaysian Flavours
A buffet of authentic cuisines from India and Malaysia.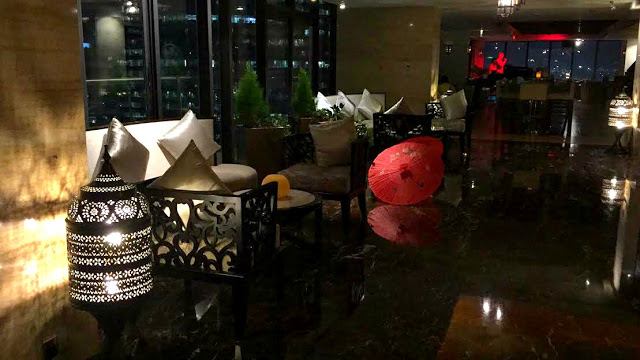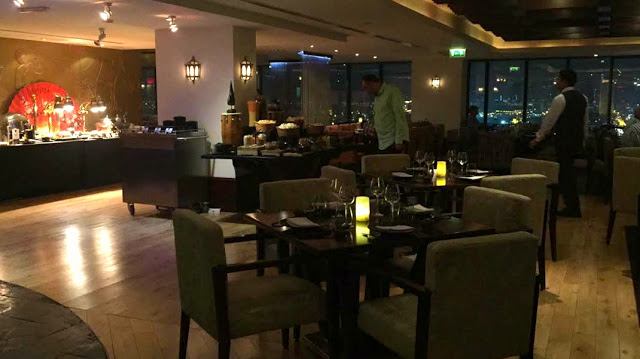 While each of these Theme Nights seemed really irresistible, I zeroed in on the Pan Asian Night on a Thursday a couple of weeks ago. I thought it would help me savour a bit of everything that different cuisines from across South Asia had to offer.
The interiors are tastefully done with a romantic dim light, fine dining setting that promises to woo your significant other if you are planning for a dinner date. We were seated at perhaps the best table at the restaurant from where we could directly see the Burj Khalifa, the tallest building in the world along with most of the skyscrapers on Sheikh Zayed Road that was dotted with busy night time traffic. Imagine dining at the restaurant on New Year's Eve! You can be sure to be dazzled by the mind blowing firework display happening from the Burj Khalifa (albeit from a distance!). So romantic!
The panoramic view from this restaurant is not just breathtaking but also forms a beautiful backdrop for your pictures. One can simply spend hours at any table by this view enjoying the music and savouring the spectacular array of dishes.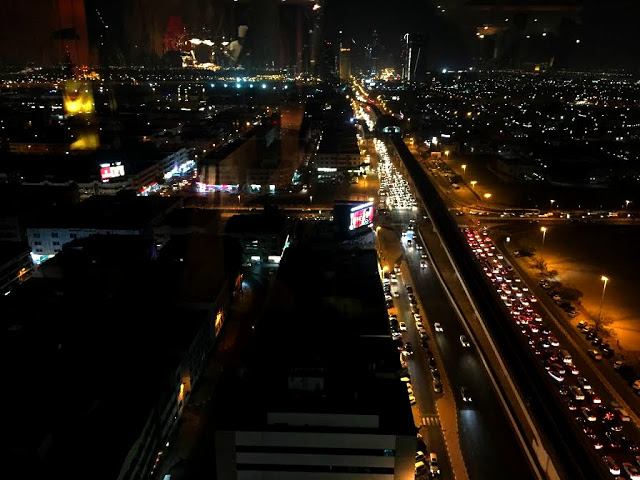 THE MEAL
DRINKS
Knowing that we were going to be tasting from a wide variety of dishes we chose our drinks carefully. We didn't want something that would fill us up and so from the rather long and impressive menu of alcoholic and non alcoholic beverages we picked the Tropical Fruit Soiree (pronounced as 'swo-ray') which is a medley of lychees, rambutan and coconut chunks swimming in an ice cold lemonade and Peach Black which is nothing but peaches plunged in a refreshing black iced tea infused with vanilla essences.
Both the mocktails were very refreshing, especially the Tropical Fruit Soiree that instantly perked me up after a long and tiring day.
When you are done with the starters there is a tiny dimsum station from which you can pick your bite sized steamed favourites – Chicken Siomai, prawn Har Gao or Vegetable Dimsums that are delicate, dough encased steamed dumplings steamed in little bamboo steamer baskets, waiting to be served with savoury soy based dipping sauce.
Right next to the dimsum corner is the condiment station with a spectacular display of all things condiment! From savoury nuts to dry and wet chutneys of all kinds, lentil and prawn fryums (mini poppadums) to herb and spice infused oils, sauces, pastes and pickles and what have you, this counter is sure to delight everyone who likes condiments to add some sparkle to their meals. The only catch was that since the condiments had no labels we spent some extra time figuring out what each one was. Nevertheless, most of what we tasted was tongue tickling and more than made up for the lack of labels!
There is a wide range of fresh salads for the health conscious. We somehow missed this counter (and no, we didn't dodge it deliberately!) I wish I had tasted some fresh and juicy raw munchies as a palate cleanser in between courses but we totally missed the bus. Alas! It's too late to lament now!
Being a recent sushi convert, I was enthralled by the variety on offer. There was an assortment of vegetarian and seafood sushi, spicy tuna salad and seaweed salad. What caught my attention in particular were these sushi rolls called 'Tobiko Gunkan' which in Japanese means sushi made from flying fish roe. The presentation made them look almost like little frosted cupcakes – a delight for the eyes and I am sure, for the palate of those adventurous enough to try it. Since I have begun experimenting with sushi since the past couple of years, this counter didn't disappoint me at all!
When we had embarked upon this culinary adventure with the starters we had promised ourselves that we would definitely stop by the noodle station as my cousin and I are huge fans of it. After debating on what to eat we picked the fine Malaysian rice noodles (from amongst three varieties of noodles) which the very pleasant & chatty chef quickly dunked in boiling water to cook them. Then she tossed them around with sauces and seasonings and suitably embellished with shrimp, egg and vegetables, my plateful of noodles was handed to me. I must say that it was one of the best tasting noodles I had eaten in a long time – so satisfying, hearty and packed with flavours!
While the maincourse included Indian, Arabic and Oriental flavours like Mutton Vindaloo, Lamb Sumok, Chilli Fish, Schezwan Squid, Tofu with Mushrooms, Grilled Chicken with Tamarind Sauce and Stir Fried Beef, Garlic Corn Fried Rice Jeera Rice and Steamed Rice, my personal favourites were the Stir Fried Mixed Vegetables with Soya Sauce and Udang Masak Lemak (prawns in coconut milk, a Malaysian dish) which I found to be so sublime in its flavours that I actually went back for seconds. Since I was making space for the desserts I skipped the Indian dishes on offer like the Paneer Makhani & Naan Bread.
The best part about any buffet is the delightful spread of desserts. Even though I may deny it, I do have a sweet tooth that voraciously springs up at the sight of a delectable spread of sweetmeats. The chefs, I am sure had a tough job handpicking what kind of sweets to offer to its guests. There was on display, the Indonesian Coconut Dadar (coconut and palm jaggery filled pancakes), Chinese Sweet Steamed buns, Jalebi (sweet, sugar filled spirals), Kola Bora (Bengali Banana Fritters), Sago (Tapioca Pearls) Pudding, Gulab Jamoon (Deep Fried flour balls dunked in sugar syrup) and Shahi Tukda (bread chunks, deep fried and soaked in sweetened, reduced milk) from the Indian subcontinent, the very Thai Jackfruit in syrup, fresh cut fruits and Crème Brûlée (pronounced as 'crem bru-lay') to add to the assortment of Western desserts such as Macarons, Black Forest, Banana and Mango cakes.
My personal favourites were the Crème Brûlée with a zing of citrus that the lime and orange zest provided (hadn't expected it when I was digging into the pot) and Coconut Dadar (reminded me so much of our coconut filled Mangalorean sweets). For the sweet lover, there is heaven in every bite!
It was a pleasure to dine at Kris with a View. The ambience is beautiful and the food is great.
The first thought that I had after seeing such a huge spread was that I would be stuffed to the gills at the end of it. Surprisingly and perhaps because we chose and ate wisely (portion control, people!) we didn't feel too full unlike at most other buffets I've dined at. What is worthy of mention is that the food is very light, fresh and delicious. The variety is large and is designed to cater to the international gourmand who likes to taste everything under one roof. The USP of Kris with a View would definitely be the panoramic view of the city and is best suited for a casual business meeting, that special dinner with your significant other or a fine dining experience with your family.
Full Disclosure: I was invited for a complimentary meal for two in exchange of a review of Kris with a View, Park Regis, Dubai. All opinions expressed above are my own.