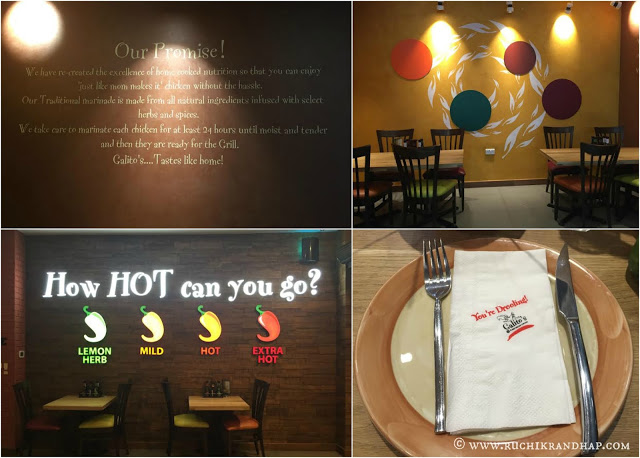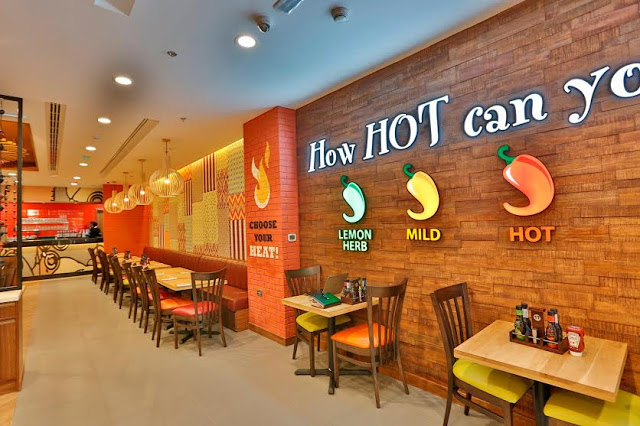 Image Courtesy: Golin Mena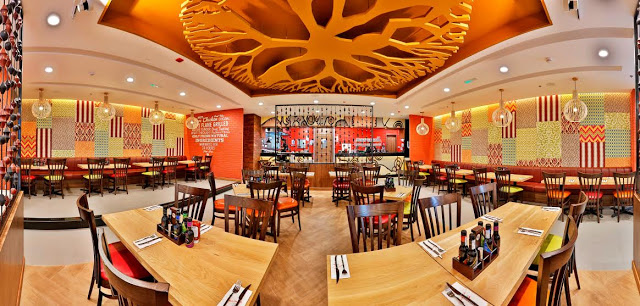 Image Courtesy: Golin Mena
Restaurant: Galito's
Location: Bay Square, Business Bay Dubai (UAE)
Cuisine: South African cuisine known for its flame grilled chicken and peri peri sauces.
Price Range: AED 150 – 200 for a meal for 2
Find Galito's Menu here
THE MEAL
After being greeted and warmly welcomed by the staff of Galito's we chose to sit by the window at a quaint little table for two. We were briefed about the restaurant, cuisine and also the levels of spice that one could choose from.


Drinks: 
Besides classic lemonade, iced teas, fresh juices and water (regular and sparkling), Galito's offers 5 mocktails that are made with a blend of two or more flavours.
Our Pick:
Kiwi Mojito & Laranja
The kiwi mojito was a light and refreshing drink with the regular mojito spruced up with the addition of kiwi. I thoroughly enjoyed this although I don't usually order drinks for fear that they will kill my appetite, but I am glad I chose this one.
The Laranja chosen by my brother who accompanied me, was a citrusy drink with a dash of strawberry. Very perky and refreshing!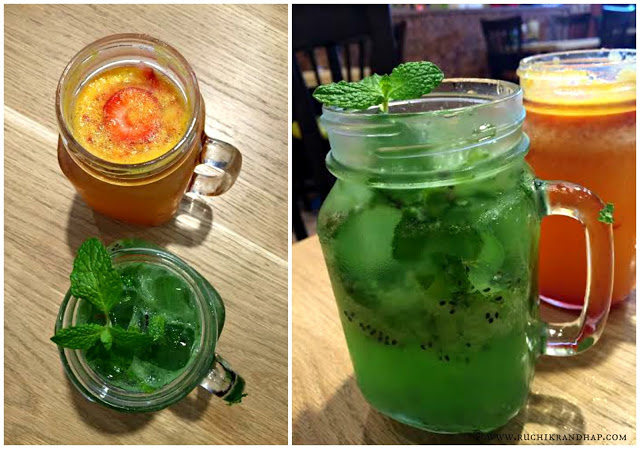 Peri Munchies(Starters) :
The menu was pretty enticing and we couldn't decide which one to pick for a starter. Initially we decided to go for the peri-peri chicken livers served with garlic bread but since it would fill us up we picked the chicken satay instead which is a popular oriental dish of marinated boneless chicken on skewers, often served with a peanut dip. The addition of peri peri into this dip sounded nice and the result was lovely. We picked the mild version of the spice which was perfect.
Our Pick:
Chicken Satay with Peri-nut dip: Juicy chicken skewers served with a peanut-peri peri dip
Galito's Specials
The special's section of the menu has a choice of espetada or combotada and beef boerewors (pronounced as boray-worz).
Espetada is essentially a traditional Portuguese dish of meat skewered on a bay leaf stick. Your choice of chicken or prawn espetada is served on a hook that is suspended with the help of a stand – truly a lovely presentation. Combotada is a choice of skewered chicken or prawns served with two sides.
Our Pick:
Prawn Espetada with Green Bean Salad & Grilled Mushrooms
The prawns were done just right, the spice level was perfect too. The green bean salad was a cross between a salad and a saute – which I truly liked. The mushrooms were grilled to perfection – not overcooked at all. This dish by itself is a complete meal if you are a small eater.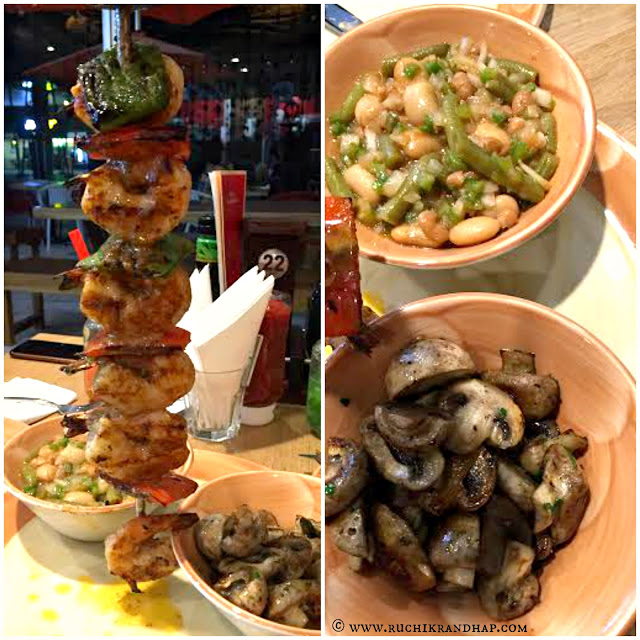 Our Pick:
Beef Boerewors (pronounced as boray-worz)
This dish was the first to catch my attention when I opened the Special's menu. My mouth watered at the thought of the boerewors which the steward said was procured all the way from South Africa. The word 'Boerewors' is derived from the Afrikaans words 'boer' (farmer) and 'wors' (sausage). These sausages tasted very mild in terms of spice but more strongly of the meat itself. The whole dish was really very filling as two boerewors were served with caramalized onions, sauteed garlicky beans and potato mash with a mild chakalaka sauce. This dish is for someone who loves sausages of all kinds.
Galito's Peri Peri Chicken
Half of a grilled chicken
This was perhaps the best of the lot as the chicken was so very tender and juicy. It was a pity that it came towards the end of the meal but nevertheless it was thoroughly enjoyed by us. The chicken that was marinated for 24 hours was grilled to perfection did not fail to impress. We picked the highest level of spice for this one so it was really spicy in a spectacular kind of a way! Loved it! (I'm going back for more!)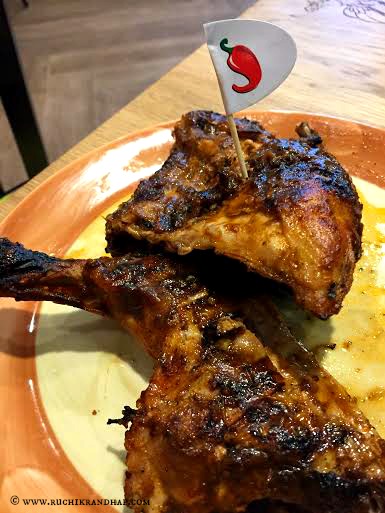 Desserts
Galito's offers some delectable and popular desserts such as the double chocolate fudge cake, leche flan (caramel custard) and the chocolate brownie with ice cream. After enjoying a giant meal we thought we would burst at the seams and didn't plan to have any dessert. However, upon insistence we happily settled for the highly recommended one – the sticky toffee pudding.
Our Pick:
Sticky Toffee Pudding with Vanilla Ice Cream
This dessert was truly the grand finale, an ode to a great meal and something that anyone with a sweet tooth wouldn't and shouldn't resist! The pudding was perfectly sweet and went really well with the vanilla ice cream. If you ever visit Galito's don't miss this dessert!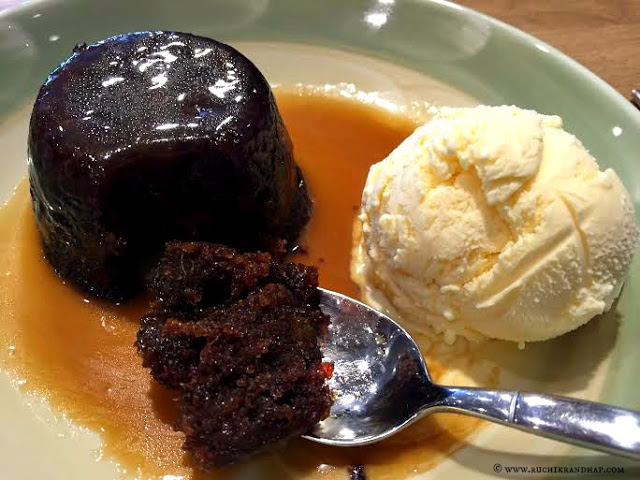 THE VERDICT
I have never really done restaurant reviews before although I have received many invites. Since there was no pre-condition to write a review I decided to give it a try.
I really enjoyed the experience at Galito's – the staff is friendly, the ambiance is nice and simple and the food is light and enjoyable. I have tasted Peri Peri style cuisine before but didn't enjoy it as much as I did at Galito's so I am definitely going back there again to taste the other items on the menu. All the dishes that we got to taste had subtle flavours of the peri peri spice which did not dominate the inherent nature of that particular dish.
Full Disclosure: I was invited, along with one guest, to try out the food at Galito's, Bay Square. While the meal was complimentary there was no compulsion to write about it. I am writing this review as I was happy with my experience. All opinions expressed above are my own.