One of the most versatile Mangalorean specialities is the Vegetable Gravy which is usually made during the week to break the monotony of eating seafood. Many Mangy Catholics make it most often during the Lenten Season when they abstain from eating meat. We have a designated day for vegetarian preparations – which is usually a Friday. It's neither for religious nor health reasons (err…partially, yes), but just to take a break from making non vegetarian food. This veg gravy can be made with a variety of vegetable combos. Usually in the form of leafy greens with legumes or root vegetables with legumes. My most favourite is the Valchebaji (Mangalore/Malabar Spinach) and Guley (Black Eyed Peas). You can also make this gravy with Soorn (Yam) and Black Chana (Bengal Gram) or Black Eyed Peas, Green Gram Sprouts (Moong Sprouts), Potato & Toor Dal, Mogem (Field Marrow) and Toor Dal/Moong/Black Eyed Peas (any of these three with Field Marrow) – so it's really upto you what combination you like best.The Vegetable Gravy is best eaten with brown rice (unpolished boiled rice) and whatever's remaining can be reheated & served with chapathis for breakfast the next morning.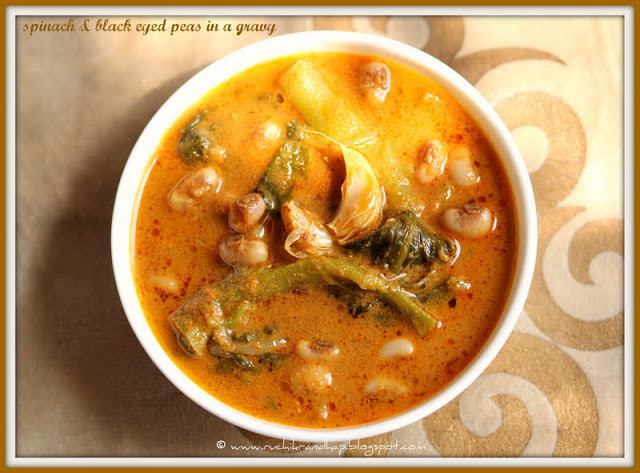 So, here's a little about my favourite type of Spinach – The Mangalore/Malabar Spinach does not actually belong to the Spinach family and is botanically called the Basella Alba. It thrives in hot tropical climate and growns on a vine. In Coastal India especially Mlore & Kerala you can see this Spinach being grown on make shift pendals in almost every home which has a backyard.
When this spinach is ready to be plucked, the vine is wound in the form of a wreath (round in shape) and sold or passed on to neighbours & friends if it has grown in excess. Every Mangalorean housewife will claim that she has grown the best Valchebaji and will go to great lengths to ensure it has the best manure ranging from kitchen waste including vegetable peels to dried cow dung & water in which fish is cleaned. So you see, in many homes it's a great source of free & organic leafy greens that are high in Vitamins C & A, Iron & CalciumNamed after the famous music band (ha ha, just kidding), the Black Eyed Peas are also my favourite among legumes. It is also called as the Black Eyed Beans (which is why if you Google 'black eyed peas' you'll get loads of information about the music band and not the legume 🙂 which is again a heat loving crop and hence is in great partnership with the Malabar Spinach in a gravy made by heat resistant people in sun kissed Mangalore :-)Black eyed peas or Chawli (and Guley/Alsando in Konkani) as they are called in India are of great significance in the Jewish tradition and is apparently eaten on New Year's day as a part of a good luck tradition which also involves bottle gourds, leeks, beets & dates.
Black eyed peas are rich in the best sort of fiber which is soluble fibre which helps to eliminate cholesterol from the body. They are an excellent source of Folate, Calcium and Vitamin A. So why don't we include this rich source of good health more often into our diet?
Pin
New here? Subscribe to my free newsletters with my latest recipes!
Tried my recipe? Do leave a comment on this post down below and don't forget to give it a star rating! It will really help more readers discover my recipes! Do share a picture on Instagram and tag me @ruchikrandhap and I will feature your post in my stories!
Don't forget to check out my latest videos on my YouTube channel. If you like what you see, do give me a thumbs-up (like), share & comment and subscribe to my channel so that the gods of YouTube (a.k.a algorithms) recommend my channel to a wider audience with similar tastes and more & more people can discover my videos!
And while you're here, do follow me on Instagram, Pinterest,  Facebook and Twitter. If you'd like to say hello or have detailed queries do send an email at [email protected]. I'd love to hear from you!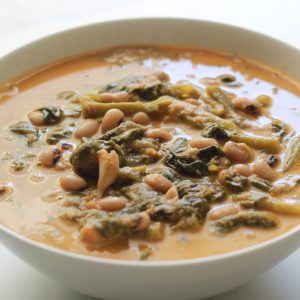 Valchebaji Ani Gule Curry
Traditional Mangalorean vegetarian curry made using Malabar spinach (basale soppu) and black eyed peas. Tastes best when served with piping hot rice.
Print
Pin
Rate
Ingredients
1

bunch malabar spinach with the stalks or 5 packed cups of leaves * see notes

3/4

cup

black eyed peas soaked overnight

salt to taste
For the masala
2

long dried red chillies (Byadge)

3

short dried red chillies (Harekala)

6-7

peppercorns

1/2

tsp

mustard seeds

1/2

tsp

cumin seeds

1

teaspoon

coriander seeds

1

small onion

4-5

cloves

of garlic (with skin for grinding)

1

cup

grated coconut

1

gooseberry size ball of tamarind
For tempering:
2-3

cloves

garlic for tempering

3

teaspoons

oil for frying
Instructions
Pluck the leaves from the stems, wash thoroughly & drain well. Set aside.

Select the very tender stalks and use them to cook along with the leaves. Select the not so tender ones and cut into 3" size pieces.

Discard the water in which the black eyed peas were soaked. Refresh with one change of water and then transfer them into a pressure cooker. Add 2 cups of water (approx) or enough to cover them. Add salt to taste & pressure cook for 2 whistles or till the peas are tender. Remove them and retain the water in the pressure cooker.

Add the spinach stalks and leaves to the same water, some extra water if required and pressure cook for only 1 whistle (if the leaves are big & thick). If the leaves are very tender then turn off the cooker before the whistle is let out (just when the hissing starts). When the pressure subsides, open the cooker and keep aside.

Dry roast the red chillies, coriander seeds, pepper, cumin, mustard one by one on a skillet till you get a nice aroma. Be careful not to burn any of the ingredients or they will taste bitter. Remove and let them cool.

To the same skillet add the onions, garlic and coconut and dry roast everything till you get a nice aroma. Remove and cool

Now grind the roasted spices, coconut mixture and tamarind to a fine paste using a little water. Remove the masala and rinse the grinder with a little water and set this water aside. This method of grinding the spices to powder first & then adding the wet ingredients ensures that your grinding process (if you are using a mixer grinder) is fast.

Add the ground masala to the cooked spinach and black eyed peas and adjust the consistency of the gravy by adding only as much reserved masala water as required. Simmer the curry for 2-3 minutes. Then remove the pan from heat.

In a smaller pan heat 3 teaspoons oil and toss in the crushed garlic cloves. Fry them till golden brown and pour this seasoning into the gravy

Serve hot with brown (unpolished) boiled rice and fish fry (optional).
Notes
In Konkani one batch of valche baji/spinach is called 'mouli', so if you are using a batch freshly plucked, you can use 1/2 of a large mouli of baji
Disclaimer
The nutritional values are only indicative.
Tried this recipe?
Please leave a comment & rate the recipe below or share a photo on Instagram and tag me @ruchikrandhap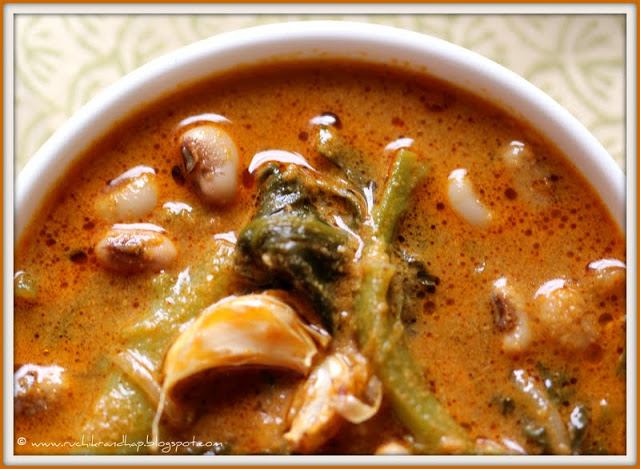 Pin
The gravy thickens the next day which makes it ideal to be served with chapathis for breakfast the following morning. We reheated the gravy & had it with steaming hot rice & sizzling fish fry 🙂 Take a look!
Pin