Biryanis and Pulaos are an elaborate affair. Well, so I thought, till I made this amazing Qubuli (or Kabuli) Pulao, the national dish of Afghanistan. It is believed that the Biryani which originated in Persia made its route to India via Afghanistan. By the time it reached India and had travelled down South, they were so many versions of making it. Traditionally the Biryani was made with rice and the leg piece of goat, however today we are familiar with Biryanis made of Chicken, Egg, Beef, Fish and Prawns.
The difference between a Biryani and a Pulao is the technique used to cook the rice. While a Pulao is made by cooking the rice using the absorption technique, wherein exactly measured water or stock of meat is used to cook the rice completely, the Biryani uses the draining technique where the rice is cooked al dente (par boiled) in plenty of water (unmeasured). This rice is then layered along with the meat, saffron milk, raisins & nuts etc and the vessel sealed and placed on dum (slow fire) till it is completely cooked.
Just like the Indianized version of Chinese food, we Indians love the Indianized version of Biryanis – the Mughlai Biryani which is rich in spices and is more elaborate a process than its Afghani version. I was in two minds whether or not I should try this simpler version of the Pulao as the recipe hardly had any spices. The source of flavour in which case would be carrots, raisins along with the stock of the mutton. What tempted me to go ahead and try it was that it was so simple and promised to go easy on my digestive system as well (especially since my dietician allows me one cheat meal a week – this was hardly an indulgence to be guilty about). Also, since it didn't ask for too many ingredients (especially expensive ones that Biryanis/Pulaos require), I thought it was worth experimenting with. The goodness of carrots makes up for the white rice if you are watching your diet.
I tweaked the quantities to suit the needs of my family of three small eaters so I drastically reduced the quantity of rice, increased the quantity of meat and reduced the other ingredients. Since I am married to a man who loves spicy food (and I like it moderate) I added a dash of chilli powder and ginger garlic paste after doing some research on the net if it was allowed. So you see, I haven't really gone off track and this version of mine will bring out the real taste of Afghan whilst taking care of your Indian palate.
I urge you to try it, you wont be disappointed. On the contrary you will be surprised at how such subtle flavours are brought out in this delectable one pot meal. It can be your favourite source of Carbohydrates made the healthier way (I made it with only 3 tbsp of Olive oil!), if you have unexpected guests, fussy eaters, those who don't like spicy heavy duty rice preparations or just crave for some Biryani/Pulao on a lazy Sunday without having to toil too much in your kitchen (you can cook the meat in the cooker!), this is your best bet!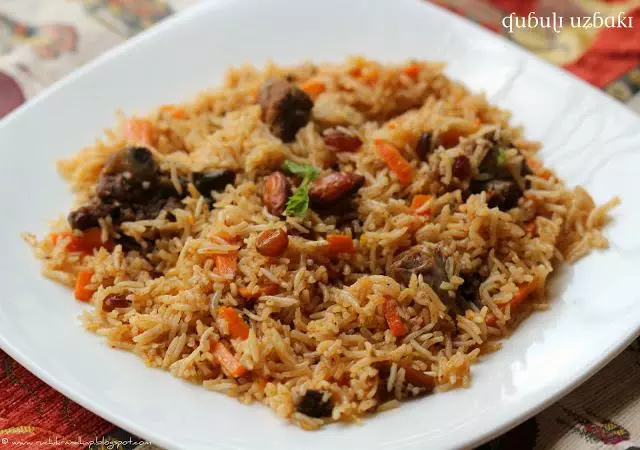 Pin


Qubuli Uzbaki
(Printable Recipe)
Preparation Time: 10mins, Cooking Time: 30minutes
Serves: 3-4
You Need:
350gms basmati rice (or about 2 cups) – see note below
750gms mutton (or chicken)
150gms (or about 1 large) onions sliced
1 pinch saffron
1/4 cup milk
20 gms raisins
20 gms pistas (shelled) (about 17-18)
20 gms almonds (about 15-16)
10gms garam masala (whole) or 1 level tsp garam masala powder
100gms carrots cut julienne (size of a matchstick)
salt to taste
4 tbsp oil for frying
water to cook the rice
Optional (not part of the original recipe source, but added to tweak this pulao to suit the Indian palate)
1 level tsp chilli powder
1/2 tsp ginger garlic paste
5 peppercorns
Note: If you wish to increase the rice upto 1kg, then go through the original recipe which is for 1kg rice and 500gms mutton. I have reduced the quantities to cater to my small family.
Method:
1. Wash and cut mutton into big pieces and allow to drain. Soak the saffron in 1/4 cup of warm milk.
2. Wash the rice and soak it in sufficient water with a little salt for about 10minutes, drain and set aside.
3. In a pressure cooker, heat half of the oil (about two tbsp) and fry the sliced onions till golden, toss in the ginger garlic paste and fry a little, reduce the flame and toss in the chilli powder, peppercorns & garam masala (or powder).
4. Add salt to taste and toss in the mutton pieces and 500ml of water (or enough to cover the mutton pieces).
5. Cook on full flame till the first whistle goes off. Reduce the flame and cook for a further 10-15minutes (depends on how tender the mutton is – we get good quality tender mutton, so I cook it for not more than 15minutes on a slow flame). Turn off the flame and wait till the whistle (weight) turns loose enough to be removed. Open and remove the mutton pieces and keep the stock aside.
6. In a large thick bottomed pan, heat the remaining oil and fry the raisins on slow fire – toss them gently & remove before they turn black. They should just turn a little plump but remain golden in colour. Fry the pistas and almonds in the same oil and remove.
7. In the same oil toss in the julienned carrots and fry a little and then spread them in the pan. Layer with half the soaked and drained rice. Next, layer the mutton pieces, pistas & almonds. Layer the remaining rice and lastly add the raisins.
8. Add the mutton stock, saffron milk and sufficient water (room temperature will do) to bring the water level to about 1/2 an inch above the rice & meat layers (if you are new to this – just add water little by little and then check the level). Check salt to taste.
9. Bring the water to a boil and then reduce the flame completely (to sim). Cover the pan with 2 sheets of aluminium foil and then a lid which covers the mouth of the pan completely. Keep a weight if you feel that the steam may escape.
11. Cook for 15minutes (set the timer!) and turn off the flame and leave it to cook for another 5-6 minutes. Open to check if the water is remaining, if it is, cover and keep it for another 5minutes before serving.
12. Serve it in a serving dish as this is a layered dish and you need to get everything on your plate – from the almost caramelised carrots, rice, meat to the dry fruits.
13. Serve hot with raita (optional) and wine (suggestion only). This dish is so succulent, you dont really need an accompaniment.