Let me begin the first post of this year by wishing each one of you a very Happy New Year 2012!! May you have a bright & beautiful year ahead filled with all good things and the very special gifts of peace, happiness & good health!
So I am back after a long break – vacation to be precise. Like I mentioned in my previous posts, I was all geared up to celebrate Christmas & New Year with my brother's family this time and was excited to meet the rest of my family complete with uncles, aunts, cousins, nieces and nephews. Family reunion was more like it and boy! do I love reunions! Meeting people you love every once in a while is a huge stress buster, don't you think? Throw in some retail therapy and you are all charged up like the Duracell battery to last another hundred months or till the next reunion 🙂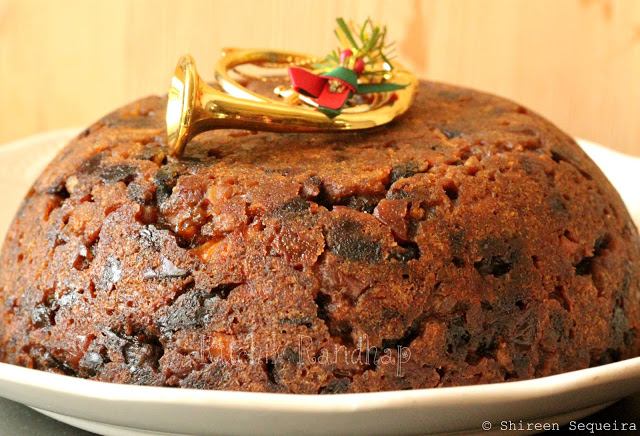 While I had planned to post a lot of 'Xmassy' recipes to last till the end of December, the last minute shopping, packing & a wedding in the family during mid Dec made it impossible for me to sit at leisure and post them. Which is why a couple of them including today's recipe is making an appearance just in time before the Christmas season officially comes to an end. Yes, today, the 5th of January is celebrated as the Twelfth Night – the traditional last day of Christmas, the night before the Epiphany (Feast of the Three Kings) that is celebrated on the 6th of January. The custom of celebrating the Twelfth Night which was popular across the western countries has largely died out now. The Twelfth Night used to be marked by baking of a special cake, laced with spices, remembering the kings who came from the East to see the new born baby in a manger – Jesus Christ. I am sure by now you have been reminded of the famous traditional Christmas carol '
The Twelve Days of Christmas
' which has been roughly interpreted which you can read
here
Although today's recipe is not a typical Twelfth Night cake, I thought it was the perfect day to wind up my Christmas recipe series with this perfect steamed Christmas pudding or 'Pudim' a recipe that I found in the BBC Good Food magazine and is claimed to be a part of the East Indian Christmas spread that celebrates the flavours of Maharashtrian-Portuguese fusion cuisine. Although I had only heard about Christmas puddings I had never eaten one, and this was a perfect way to savour a traditional pudding made by the local Christian community in a place I now call home – Mumbai.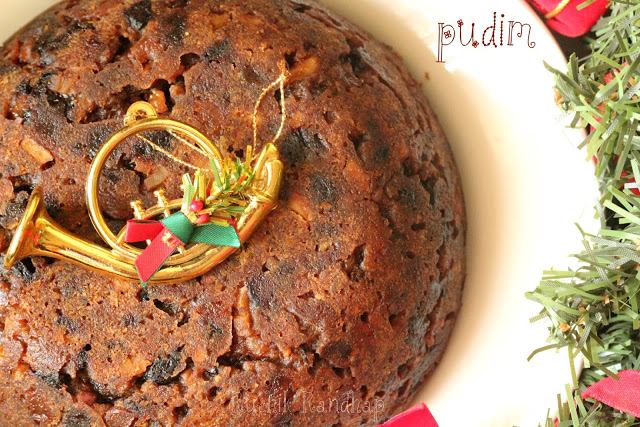 This rich pudding is a refreshing change from the usual Christmas goodies that are either baked or deep fried. It tastes great when eaten fresh out of the steamer and is sinful if eaten with a dollop of vanilla ice cream. The combination of the steaming hot pudding with the richness & tartness of all the fruit and the icy cold ice cream with the milky sweetness makes for one helluva Christmas dessert experience. It is the perfect dessert that doubles up as a Christmas cake for those who do not have an oven – all you need is a large steamer and a couple of hours on hand (you need not remain in the kitchen all the time)
Pudim
Servings 10-12
Preparation time: 20mins, Soaking time: 8-12 hours, Steaming time 2-1/2 hours
You Need:
110gm cold butter (unsalted)
1/3rd cup/50gm self raising flour *see notes
110gm white breadcrumbs (I used Panko)
1 tsp mixed spice * see notes
1/4 tsp salt
1/2 -1 tsp cinnamon powder
1-1/4 cups/ 225gm brown sugar
1/2 tsp nutmeg powder
1 tbsp lemon zest
2 eggs
150ml beer
50ml red wine
Fruits/Dry fruits/Nuts to be finely chopped
1 apple (the sweeter the better)
110gm raisins (brown kishmish)
110gm sultanas (golden kishmish)
275gm currants (black kishmish)
275gm prunes
25gm almonds
Method:
1. In a large mixing bowl grate the butter and sift in the flour. Add the bread crumbs, salt, spices and sugar and mix everything well. Add the finely chopped fruit, lemon zest and nuts.
2. Whisk the eggs and add them to the above mixture. Pour in the beer and wine and mix well. The mixture will be of a sloppy consistency which is fine. Cover the bowl and leave it overnight in a cool dark place.
3. The next day pour the mixture into lightly greased medium size glass or metal round serving bowl (or whatever shape you want the pudding to be). Cover the dish with greaseproof/parchment paper and then a sheet of foil over it.
4. Place sufficient water in a steamer and bring it to a rolling boil. Place the prepared bowl into the steamer, cover & steam for 2-3 hours. Top up with boiling water as required (check at frequent intervals if the water has dried up). Once done, remove and allow to cool. Replace the greaseproof paper and foil and replace with fresh ones. Store in a cool dark place, preferably in a refrigerator if you are not serving it on the same day.
5.Prior to serving, reheat the pudding by placing it in a steam bath (steam lightly for 10-15minutes). Serve generous helpings of the warm pudding – as it is or with vanilla ice cream.
Notes:
Since the recipe asked for self raising flour which I did not have, I used Maida and 1/4 tsp baking powder for the required quantity.
You can make your own breadcrumbs by lightly toasting bread slices on a hot tawa/skillet and then pulsing the chunks in a dry mixer grinder for a couple of seconds.
Mixed spice is a combination of powdered spices – cinnamon, clove, nutmeg, allspice, coriander & dry ginger. I will post the recipe shortly
Due to non availability I skipped the sultanas altogether – it did not affect the taste or texture of the cake. Feel free to dabble with the quantities as long as you preserve an approximate of the total required quantity of dry fruits.
Make sure the dry fruits are finely chopped which is what gives the dense texture to the pudding – I missed to take care of this which is why I got a slightly chunky pudding.