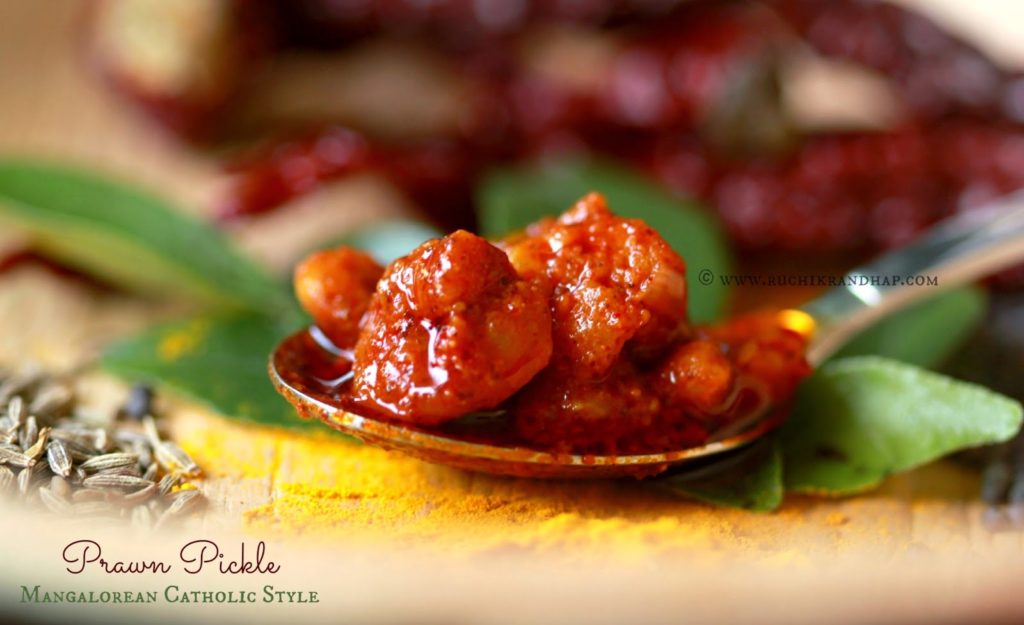 As the week draws to an end I have a special recipe for you – prawn pickle which is one of Mangalore's favourite condiments. It is a perfect accompaniment to your simple meals, especially during Lent when you have started including a lot more vegetables in your diet, like I have. People who usually don't like seafood will enjoy this pickle as there is absolutely no fishy smell to it and the prawns are tiny and very enjoyable to munch on. When I say 'people' I am actually referring to my son who doesn't like seafood but enjoys prawns, usually breaded and deep fried. He enjoyed this pickle too along with my brother's kids who had come to spend the day with us last week.
This pickle, as all pickles do, goes really well with coconut milk based gravies as the sweetness in the coconut milk is perfectly balanced by the spice in the pickle. I tried this combo last week when I had made the
Egg Roce Curry
 and I was literally licking my fingers (and my plate – errr, not really!) after I had finished the last few morsels. Don't believe me? Try it!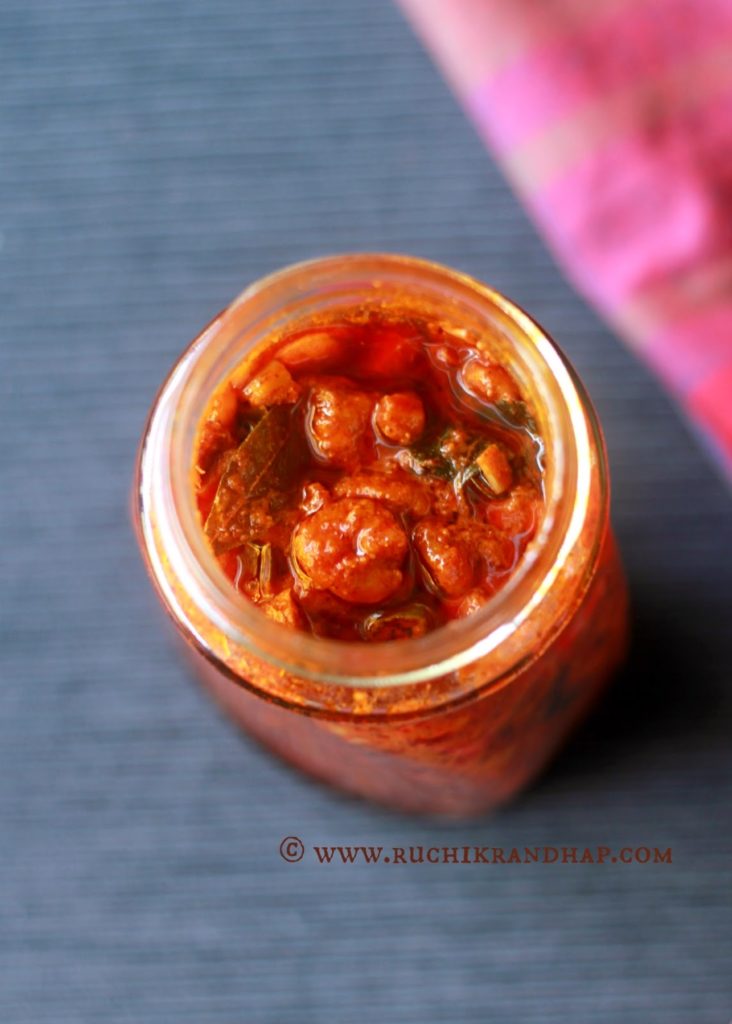 Since pickle making is Roshan's passion he set out to make this last week when we had thawed an extra packet of frozen prawns by mistake. Since he usually makes the prawns at home he was wondering what to do with the extra pack and quickly phoned up his mum to reconfirm the ingredients and quantities for the pickle recipe he had in mind. You see he has grown up watching pickles being made at home and almost knows all the ingredients that go into each type. I am happy that we now have a decent collection of pickle recipes although I haven't posted all the recipes yet as he still needs to tweak them.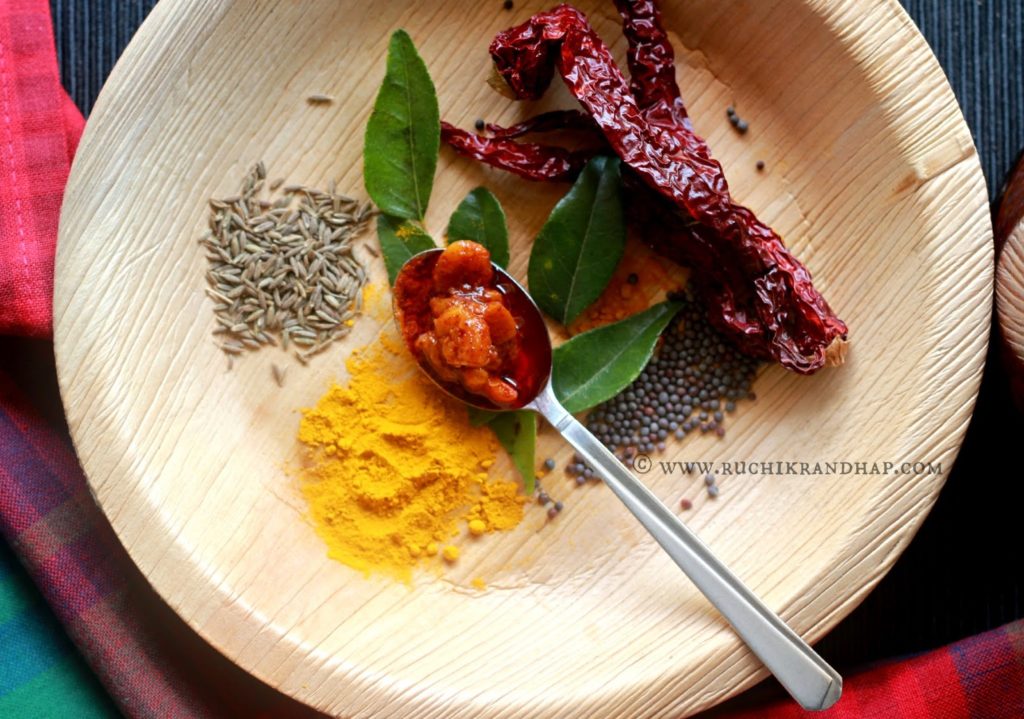 This pickle is a fairly quick one to make (as compared to the other recipes) as it does not require sun dried spices which usually takes many days depending on the availability of good sunshine. Instead you can just roast the spices on a tawa or even in a microwave and cool before powdering. However, it is not an instant pickle in the sense that you can put it together in 10-15 mins – no, this recipe calls for frying the prawns to get rid of all moisture as this is a big deterrent to longer shelf live. But thanks to refrigerators you can store this pickle for at least 4-5 months (I doubt it will last that long!)So enjoy this homemade pickle! Ta Da!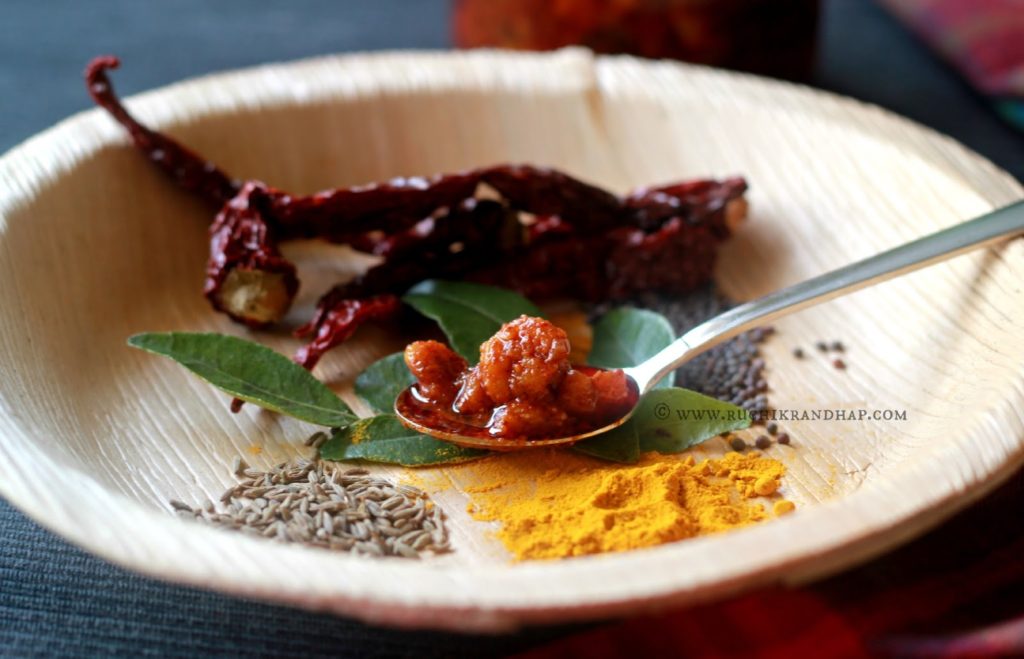 Did you try these pickle/preserve recipes yet?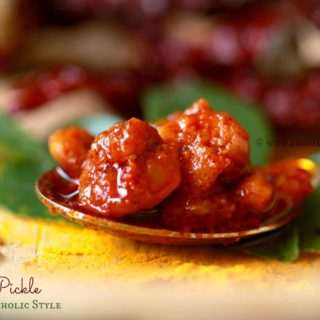 Prawn Pickle
Prawn pickle which is one of Mangalore's favourite condiments. It is a perfect accompaniment to your simple everyday meals!
Print
Pin
Rate
Ingredients
450 – 500

Grams

of small cleaned prawns

1/2

teaspoon

of turmeric powder

2

teaspoon

salt

2

tablespoons

mustard oil or gingelly

Indian sesame oil * see notes
For the salt & vinegar solution:
2

cups

of water

3-4

teaspoons

vinegar

2-3

teaspoons

salt
For the pickle masala:
15

long dry red chillies

Byadge or Kashmiri – deseeded

3

teaspoons

mustard

2

teaspoons

cumin seeds

1/2

teaspoon

of turmeric powder
For the tempering / seasoning:
2-3

green chilies cut into ¼ inch pieces

10-15

curry leaves

8-10

cloves

of garlic cut into pieces

1

inch

ginger cut into small pieces

1/2

teaspoon

of asafoetida

hing

2-3

tablespoons

of gingelly

sesame oil
Instructions
Remove as much moisture as possible from the cleaned prawns – you can use a kitchen tissue to blot out the excess moisture. Then marinate them with the salt and turmeric powder. Keep aside for 20-30 mins (the longer the better)

Heat the mustard/gingelly oil in a wide based frying pan and fry the prawns till there is no moisture (prawns will release some water so you need to fry until they are dry) and the prawns are golden brown. Remove onto a plate and allow to cool completely.

Next, prepare the salt & vinegar solution. Boil and cool all the ingredients mentioned under 'For the salt & vinegar solution

To make the spice blend, dry roast the red chillies, mustard seeds and cumin seeds one by one on a moderately heated tawa/skillet. Remove onto a plate and allow the ingredients to cool slightly. Transfer them into the dry grinding jar of your mixie, add turmeric powder and make a fine paste using 2-3 tablespoons of the prepared salt & vinegar solution

Prepare the tempering by heating oil in a wide based kadhai/pan on a moderate heat (so as to not burn the ingredients). Add the asafoetida, curry leaves, garlic, ginger, green chillies one by one and fry them for a few seconds between each addition. Once fried, add the ground pickle masala and fry till the oil separates from the mixture. This should take about 10-15 minutes on a slow heat. Remove from heat and cool completely

Once the mixture has cooled down mix it with the fried prawns and a little of the salt & vinegar solution (depending on the amount of gravy required in the pickle)
Notes
Please note that you will get two varieties of sesame oil – one is the Indian variety, labelled as 'gingelly', used widely in the preparation of Indian pickles. The other variety is oriental, used widely in the preparation of Chinese and other oriental dishes. Please buy the Indian variety which if you are living abroad should be available in most well stocked Indian stores.
Disclaimer
The nutritional values are only indicative.
Tried this recipe?
Please leave a comment & rate the recipe below or share a photo on Instagram and tag me @ruchikrandhap