I realise that as and how my little ones are growing up I seem to have lesser time for myself – more so for the blog. I just don't seem to find the time & inclination to sit at the computer anymore, well, at least not for more than a few minutes at a time which is hardly good enough to write a detailed post. However, write I must, for my own sanity which is hard to come by when kids are young. Doing their chores and picking up after them falls entirely – wholly and squarely on your shoulders. Just when the day is over and I get a breather & time to unwind I wonder what has hit me. Its been two weeks since my mum arrived and boy, is that a blessing! The two of us have not had a chance to sit and sip a quiet cup of tea (I don't imply that my cup of tea is noisy at the moment, but you get the drift, don't you?) as the day just flies past us and before we know it, its time to say goodnight & recharge our batteries for the next day.
In the midst of it all a real welcome change was a product review – a request sent to me by Sabina Lama on behalf of her client – Star Bazar, a Tata Enterprise, who wanted to know if I was interested in reviewing one of the several in-house food products that were recently launched. I welcomed this opportunity as it would give me a chance to escape from the mundane and try out new products and give my opinion on how I liked them. I decided to prepare something simple out of the two products that I chose to review ~ Star Saver Tibar Basmati Rice and Star Cow Ghee. This way I would be able to enjoy both the products in the same dish. No prizes for guessing what I decided to prepare. Yes! a pulao!
I have spoken high & low about my love and deep passion for all things rice, haven't I? To me basmati rice is  the go to comfort food as far as aromatic rice varieties are concerned. Three simple reasons why this is so. One, if you know the quality of your rice, you can never fail at how to cook it. Stick to the same variety/quality/brand and you have a winner on your hands – no matter what you cook, the results are almost 100% the same everytime. Two, if you know the trick of cooking it in the pressure cooker – using an accurate amount of water you can prepare a dish in half the time. Three, it is so very versatile that you can prepare anything ranging from a breakfast dish to a main course – any recipe that calls for raw rice can easily make use of the basmati if you have run out of your regular raw rice. Better the quality, better your meal experience. From a simple steamed rice to a rich and lavish biryani, the basmati caters to every need.
Star Saver Tibar Basmati Rice is a long grain rice of superior quality that is sourced from Punjab & Haryana. Since basmati rice is considered to be more healthy than its other raw rice counterparts special care is taken to process it using state-of-the-art technology that retains its nutritive value. It is GMO (Genetically Modify) free and has a delectable aroma and maintains a good length of the grain after cooking – important features of good quality basmati.
Well, when I prepare pulaos and biryanis I use generous amounts of ghee – clarified butter as it is called has a host of health benefits and is so aromatic that it simply lifts my mood – no matter how low I feel, a whiff of pure ghee that is being warmed up can do wonders to my mood and general well being. The sad part is that in the recent years Ghee has been made to look like a villain and people shun it as if it is the sole reason of bad health. However, it has so many medicinal, cosmetic and health benefits that it truly needs to be the star of your kitchen. It is one of the most healthy and beneficial by-products of milk and is excellent for brain development in kids. Pregnant & lactating women, the elderly and generally people of all ages stand to benefit from it. Unless you have been diagnosed with high cholesterol and have been strictly advised to avoid saturated fats, there is no reason why ghee should be avoided – ghee can only benefit you.
Star Cow Ghee
is an aromatic ghee that suits Indian cooking so beautifully. It is made with 100% fresh cow's milk and is rich in vitamin A and beta carotene. It has a granular texture with a fresh & authentic taste & aroma and is hygienically packed in a modern dairy plant. This ghee of superior quality is reasonably priced and is available in packs of 500ml and 1 litre respectively.


My verdict:
In order to review Star Saver Tibar Basmati Rice, I selected a very simple recipe that did not use a rich masala or ingredients that would possibly mask the flavour and aroma of the rice. I wanted to try out something simple that helped the basmati stand out and be the 'star' in the real sense. The pulao did just that. The addition of the peas did not hinder the actual flavour of the rice in anyway. The aroma of the rice personified by the ghee was really nice and filled up my home. The grains truly fluffed up without sticking to each other and imparted a beautiful aroma to the dish. This rice is reasonably priced and hence will be part of my grocery list from now on. Star Saver Tibar Basmati Rice & Star Cow Ghee are available at all Star Bazar outlets across India.
Peas Pulao
Prep time: 20 mins | Cook time: 25 mins | Serves 3-4
You Need
1-1/2 cups long grain basmati rice
3 cups water
1 cup fresh peas shelled
1 teaspoon cumin seeds
4 green cardamoms, bruised
5 peppercorns
3-4 cloves
1″ stick cassia bark or cinnamon
1 bay leaf
1 medium sized onion chopped
2 teaspoons ginger & garlic paste
2 teaspoons lime juice
1 teaspoon sugar (optional)
salt to taste (approx 1-1/4 teaspoons)
2 tablespoons ghee
Method:
1. Rinse the rice in a couple of changes of water and soak it for 20 mins.
2. Heat ghee in a large deep pan and toss in cassia bark/cinnamon, cloves, green cardamoms, peppercorns and bay leaf and let them sizzle for a couple of seconds. Add the cumin seeds and reduce the flame to ensure that they don't get burnt.
3. Toss in the ginger & garlic paste and let it fry lightly for about 10 seconds and then add the chopped onions and fry till they turn pale golden. Meanwhile in another pan bring the 3 cups of water to a boil and keep it ready.
4. Add the peas to the fried onions and fry for about a minute and then add the rice and fry on a slow flame for about 3-4 minutes or till the rice begins to feel heavy while stirring – this is a good sign that it is time to add the water. If you continue to stir the rice beyond this point it will begin to break
5. Add the freshly boiled water to the rice, salt to taste, sugar & lime juice and do a quick taste check. The mixture should taste sweet-salty and mildly sour in order to impart the right amount of flavour to the rice. Adjust the flavour if required. Bring the mixture to a rolling boil (let it bubble well), then reduce the flame completely to a sim.
6. Cover the mouth of the pan with a tightly fitting lid – ensure that no steam is able to escape. You may even cover it with aluminium foil & then place the lid over it and a weight (a heavy mortar & pestle will do). Let the rice cook for 14 minutes on this very slow flame (see notes). Don't forget to keep a timer!
7. On completion of  14 minutes, turn off the flame and let it sit for 2 minutes. Open the pan and gently fluff the grains with a fork and cover & keep for another 5 minutes.
8. Serve hot with raita or a veg or non veg dish of your choice or eat it plain!
Notes:
1. The cooking time of the rice greatly depends on the quality & quantity used. If you are using a superior quality of rice, it will take more or less 12-15 minutes to fluff up well (when cooked in a pan). Pressure cooking will greatly reduce the time taken to cook the rice.
Disclaimer: This is not a paid review. I have expressed my own personal views based on my experience of sampling the products sent by Star Bazar, Andheri, Mumbai.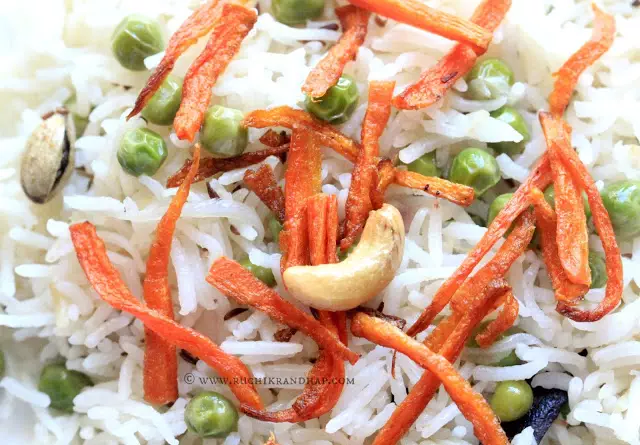 Pin