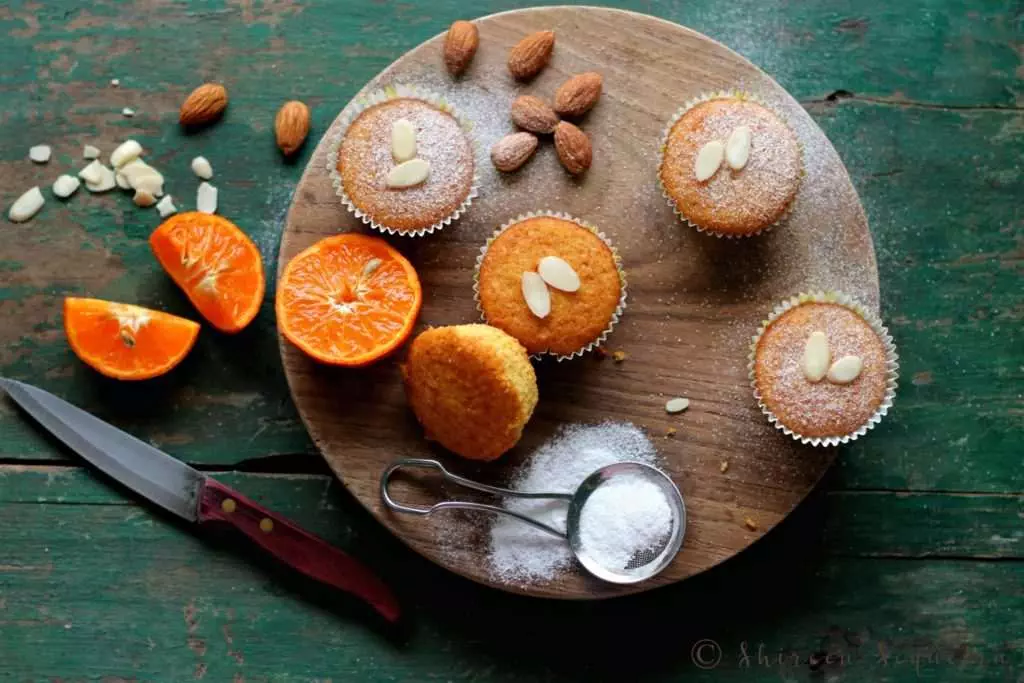 Pin
Hello my lovelies! Today I present some pretty and pretty delicious cupcakes 🙂 Well, you see, vacations are on here in Dubai and the kids are always ravenously hungry because, well, they are kids and then somehow they arm twist me into giving them TV time post lunch for 3 hours or so (strictly no screen time is permitted during the first half of the day). Screen time is usually accompanied by some goodie-munching and believe me, I am at my wit's end trying to think of different kinds of snacks to provide them with. I am trying to maintain the fine balance of stocking up on store bought snacks, fruits and making the rest at home so twice a week I try and bake something, not necessarily healthy but take consolation in the fact that at least it is homemade and not loaded with preservatives. So from cakes & cupcakes, bread & buns, cookies & biscottis, my oven is geared up to dish out all kinds of stuff that make little bellies happy. Since we aren't travelling anywhere and engaging little ones is also a challenge. Since my son just attended a month long summer camp at the church and has another 5 weeks of boredom to deal with I have upgraded his status to that of a sous chef. I have chalked out simple recipes to teach him and on some days will be including my little daughter, niece and nephew to join the fun.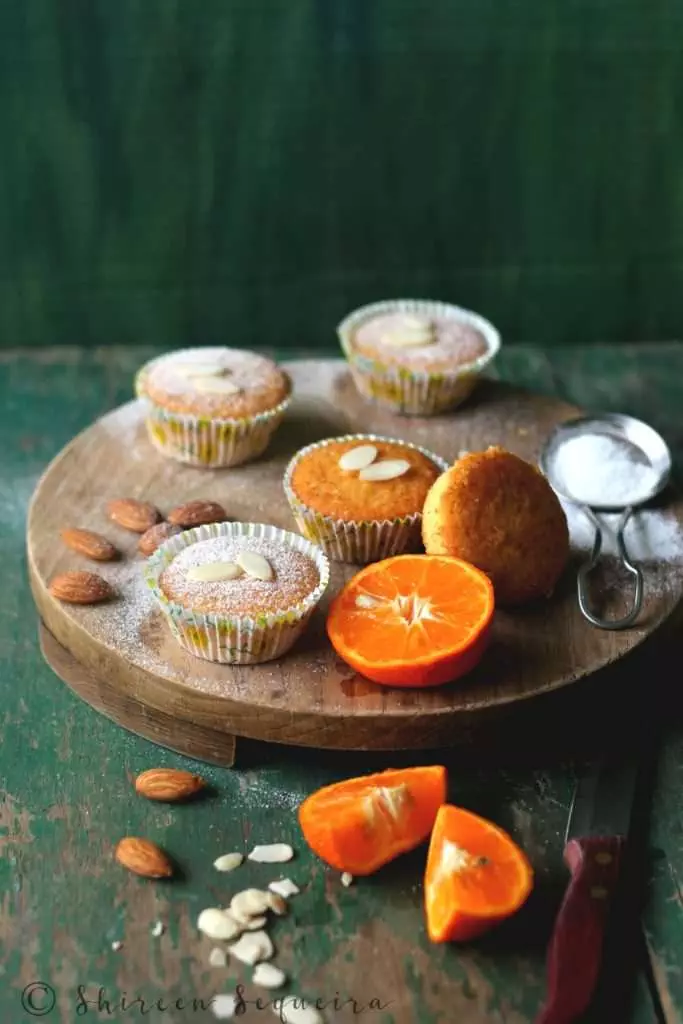 Pin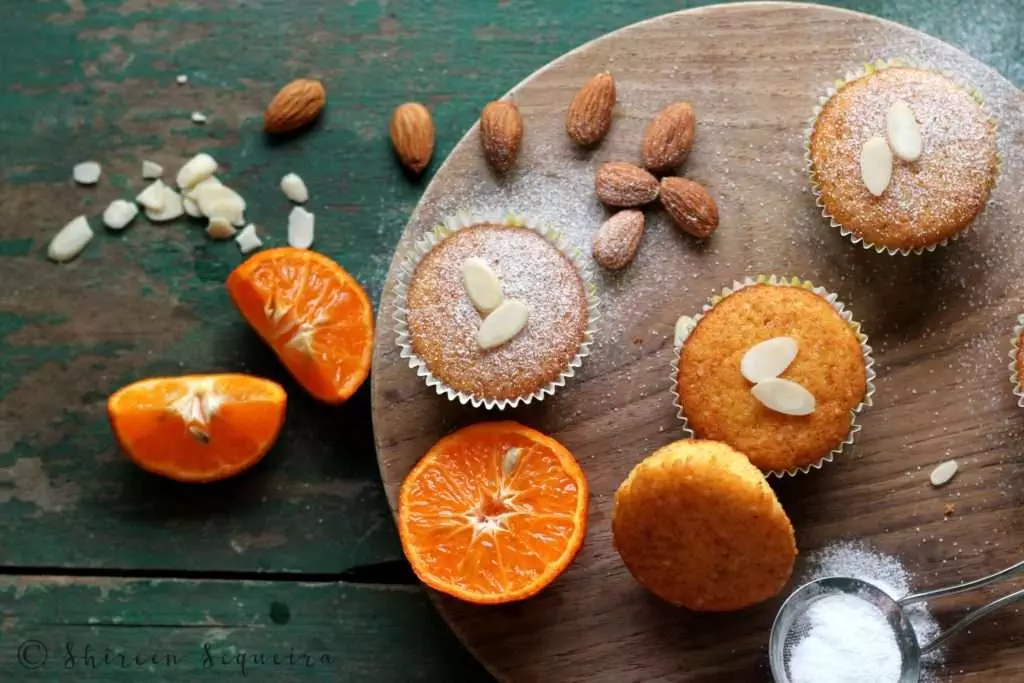 Pin
Now, the sous chef has also been given the task of maintaining my 'to-do' list. I have an ever growing laundry list of recipes to try and he is now in charge of striking off those that have been tried, reminding me which ones to try this week or next, what ingredients to stock up on our next visit to the groceries etc. Besides this, he also sifts through the various cookbooks we own and have borrowed from the library and bookmarks them. So basically admin work 🙂 Haha!
These cupcakes are a delight to have and since they look all dainty, make for perfect tea time accompaniments. The addition of almond flour makes all the difference as almonds are known to retain moisture in cakes, so the cupcakes taste just as moist after 2 days (if you are lucky to have any left!). If you wish to skip them though, just replace the quantity with all purpose flour or whole wheat flour. I added some orange blossom water as I had a bottle that was begging to be used. Sometimes I buy ingredients on a whim and then forget to use them.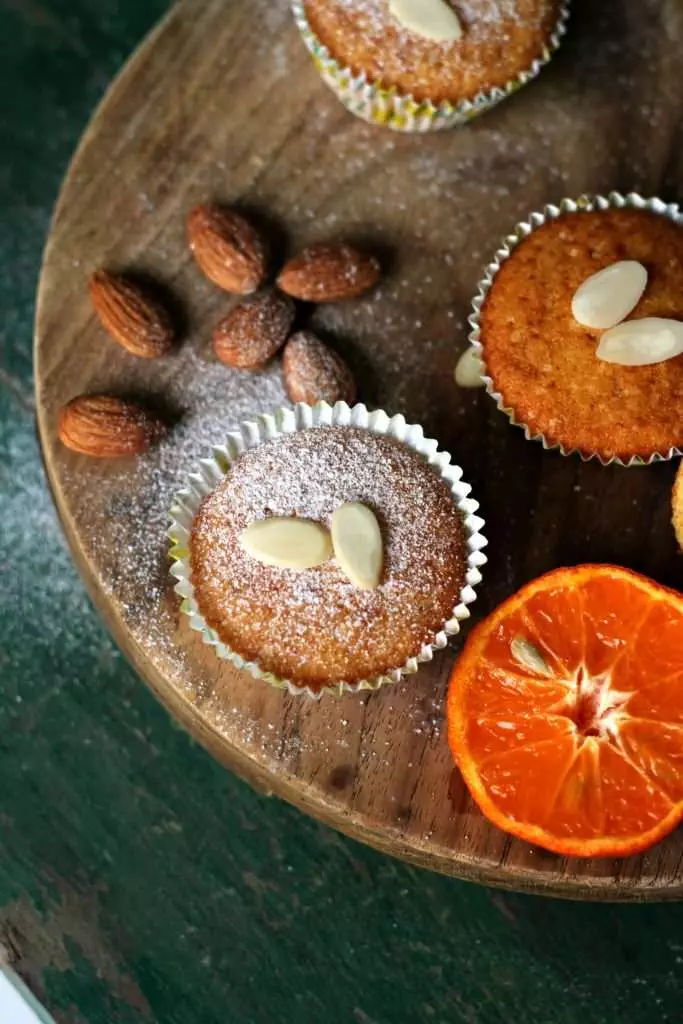 Pin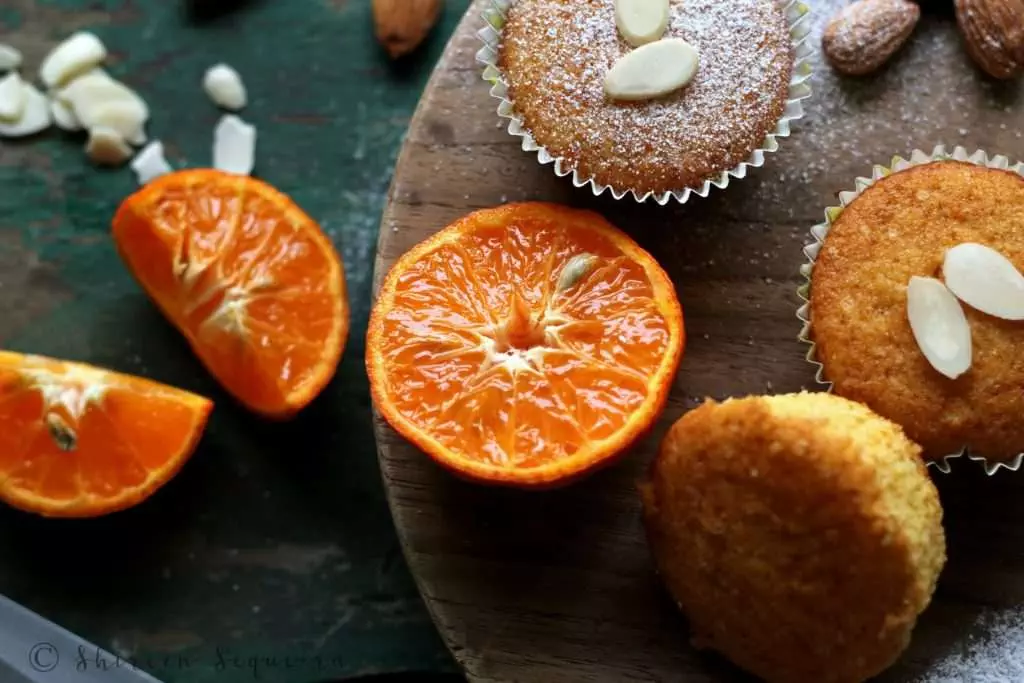 Pin
To describe the aroma of the blossom water to someone who has never experienced it, well, I would say it has the same use as that of rose water (not essence) and is used primarily in Arabic/Mediterranean cuisine. Orange blossom water, however, has a very strong scent and very little must be used. It smells like eau de cologne and believe me, it is the best perfume you can apply on your skin since it doesn't have any chemicals (unless you have purchased synthetic water). After the bottle expires and the contents are no longer fit for consumption I plan to dunk some of it on myself. I bet I will smell like a garden of oranges 🙂 Just kidding! Just buy a small bottle if you want to use some for this recipe or just skip it, the zest of the oranges will do the job anyway.
I hope you enjoy making these cupcakes. Dust them with icing sugar or drizzle some warm syrup over them (check recipe notes below) and enjoy them, taking in the refreshing aroma of freshly baked orange flavoured cupcakes! Mmmm!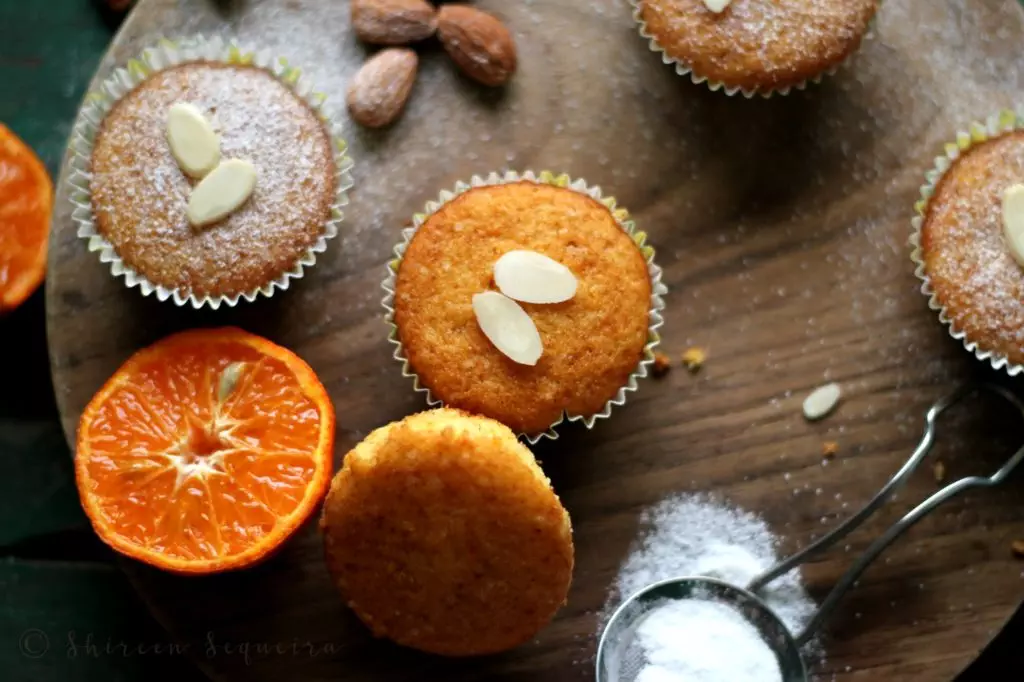 Pin
Orange & Almond Cupcakes
Ultra soft and melt-in-the-mouth almond cupcakes with the refreshing aroma & flavour of oranges
Print
Pin
Rate
Ingredients
90

grams (6 tablespoons)

unsalted butter at room temperature

85

grams

caster sugar

1

large

egg, lightly beaten

85

grams

all purpose flour

pinch of salt

25

grams

almonds, powdered

1/2

cup

freshly extracted orange juice

*see notes

2-3

drops

orange blossom water

*see notes

zest of 1 orange

1

teaspoon

baking powder
For the topping
icing sugar (powdered/confectioner's sugar)

toasted almond flakes
Instructions
Line a 12 hole muffin tray with cupcake liners. Preheat oven at 180 degrees C

Place the butter and sugar in a mixing bowl and beat until light and fluffy. Add the egg and continue beating

Sift in the flour, baking powder, pinch of salt, ground almonds and the orange zest and using a spatula, gently fold everything together till incorporated

Mix the orange juice a little at a time and fold. Spoon the mixture into the cupcake cases, about 2 teaspoons per case (fill up about 2/3rds full per case)

Bake for 18-20 minutes or till the skewer inserted comes out clean.  Place the muffin tray over a wire rack to cool for 10 minutes before gently removing the cupcakes out. 

Cool completely before dusting with the icing sugar. Decorate with toasted almond flakes and serve  
Notes
Notes:
If you don't have orange blossom water you may use orange essence or vanilla extract/essence or leave it out completely. Don't go overboard with the orange blossom water as it is a concentrate of orange blossoms (flowers) and hence very intense so just 2-3 drops will suffice. 
If you like sweeter cupcakes you can prepare a syrup of 1/2-3/4th cup orange juice (from one big orange) and 1/2 cup sugar. Just bring the orange juice to a boil in a saucepan, add the zest of the orange and dissolve the sugar in it. Simmer for 3-4 minutes. Remove and let it cool a bit. Once the cupcakes are out of the oven spoon a little of the syrup over them and then sprinkle the almond flakes. 
If you are using the syrup you can leave the icing sugar out.
This recipe yields 12 medium-small, flattish cupcakes. If you want large, dome shaped ones, you may get 6-8 and not 12 cupcakes.
Disclaimer
The nutritional values are only indicative.
Tried this recipe?
Please leave a comment & rate the recipe below or share a photo on Instagram and tag me @ruchikrandhap