I am back with another bread folks! This month's theme is oatmeal which I am sure everyone on our baking group welcomed. Since I had baked with oatmeal before I was looking forward to it using it again, this time in a bread. There were tons of recipes on the internet and I shortlisted two. The first one bombed very badly and with little time to experiment with the second recipe before I went on vacation I had to hurry up. The use of buttermilk in bread sounded so good to me that despite the numerous other recipes that I could have selected I decided to go with this one. Although I was baking bread two days in a row (which I rarely do), I had a gut feeling that this time my ingredients wouldn't go a waste and we'd have some delicious bread to munch on for the next few days. As expected, the combination of whole wheat and oatmeal was marvellous. I simply couldn't resist slicing the bread before it had cooled down – a big mistake! If you slice the bread too soon you risk them from drying up soon. The warm air that is trapped inside the loaf actually helps keep it soft and moist for longer. I quickly 'sealed' back the slice and crossed my fingers and hoped that it wouldn't be too dry. Luckily, the bread didn't last that long – we finished it off on the same day.
This was my second attempt at making a proper loaf and I am now determined to make more loaves and kiss the store bought ones goodbye. Can't wait to get back to my own kitchen to experiment with a few more recipes.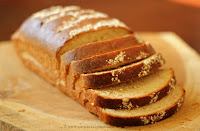 Oatmeal Buttermilk Bread
Incredibly soft & delicious loaf made from oatmeal & buttermilk – just what you need for breakfast or as an anytime snack
Print
Pin
Rate
Ingredients
Dry Mix 1:
3/4

cup

(65 grams) rolled oats * see notes

1/2

cup

(120 ml) boiling water
Dry Mix 2:
1/2

cup

(65 grams) whole wheat flour (atta) + upto 1/2 cup extra if required to knead

1-3/4

cup

(225 grams) all purpose flour (maida)

1

teaspoon

salt
Yeast Mix:
1

teaspoon

instant yeast

1/8

(30 ml / 2 tablespoons) warm water
Oil & Buttermilk Mixture:
3/4

cup

(180 ml) buttermilk * see notes for substitute

1/4

cup

olive oil or any odourless oil

1/4

cup

brown sugar

I used unrefined granulated sugar * see notes
Instructions
Using separate bowls mix the ingredients mentioned under each section above (Dry Mix 1 & 2). Mix the oats and water well and allow it to rest. Sift all the ingredients mentioned under Dry Mix 2 into a large bowl.

Activate the yeast by dissolving it in the warm water and keep aside till it froths up. If after 10 minutes the yeast hasn't frothed (turned foamy), discard it and try again with a new batch (old yeast is of no use, buy new a new package and start again)

Once the yeast has been activated make a well in the centre of the sifted flour (in the bowl) and add the oats mixture, the yeast mixture and the oil, buttermilk and sugar mixture and begin to form a dough. The mixture will be extremely sticky. When you get to a point where you cannot manage it, tip it onto a clean working surface that has been lightly dusted with the reserved whole wheat flour

Knead for a good 8-10 minutes using a dough scraper or a butter knife if it helps, until the mixture comes together into a smooth dough. Dust with extra flour if need be but do not exceed the amount of extra flour mentioned above.

Place the dough in a well oiled bowl and turn it over till it is evenly coated with oil. Cover the bowl with cling wrap/plastic wrap and keep in a warm place till the dough has doubled in bulk (it took me about 90 mins)

When the dough has doubled, gently punch it down to release the excess air and then flatten it into a rectangle – if you are using a loaf pan (approx 8×5) then shape it to size and gently roll the rectangle into a loaf and let it sit on its seam. Transfer into a non stick loaf pan lightly greased with oil or a regular loaf pan dusted generously with flour. If you like a rustic, free form loaf just place the log on a baking sheet lightly oiled and dusted with flour.

Cover with cling film and keep in a warm place for another 35-40 mins.

Preheat oven to 190 C. Brush the loaf with milk and sprinkle some oats over it. Bake for 30-40 minutes or until the surface turns to a golden brown and the loaf sounds hollow when tapped. Keep an eye on the loaf midway into the baking time and cover it with foil if the top is browning too quickly.

Remove from the oven and cool completely on a wire rack before unmoulding the bread and slicing it.
Notes
Rolled oats simply means oat groats (hulled grain) that have been husked and crushed between rollers and then dried. There are different varieties of oats depending on how thinly they have been pressed. Quick cooking (like the regular Quaker oats), instant oats (the ones that come in a sachet and can be added to boiling milk or water in a mug and eaten instantly), old fashioned oats (the same as rolled oats), steel cut oats (where the groat is simply split up – takes the longest to cook)
To make your own buttermilk take 1 cup of milk and add 1 tablespoon of white vinegar or lime juice to it. Stir and let it sit till the mixture curdles. Use as required. For this recipe only 3/4th cup is required so I used about 2 teaspoons of white vinegar.
If you want you can reduce the amount of sugar from 1/4 cup to a little less than that. Alternatively you may use honey but it will make the dough more sticky so try reducing the amount of buttermilk to maybe just 1/2 cup instead of 3/4th cup (only if you are using honey)
Recipe adapted from Clockwork Lemon
Nutrition
Nutrition Facts
Oatmeal Buttermilk Bread
Amount per Serving
% Daily Value*
* Percent Daily Values are based on a 2000 calorie diet.
Disclaimer
The nutritional values are only indicative.
Tried this recipe?
Please leave a comment & rate the recipe below or share a photo on Instagram and tag me @ruchikrandhap