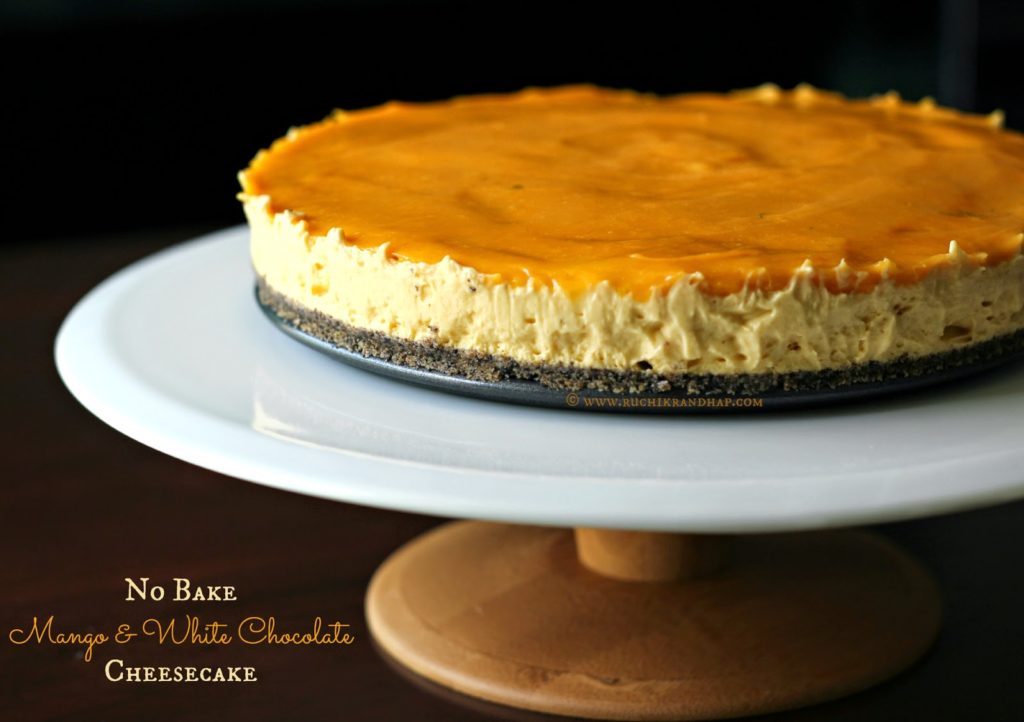 I thought I should make something out of mangoes and post it before the mango season gets over. Also, I have seen such wonderful pictures of desserts made with mangoes that it was impossible not to get influenced and tempted to try something mangolicious. Well, to be honest, making a cheesecake was never on the cards. I am not much of a cheesecake fan simply because I know how calorie rich it is and even if I am not counting calories, I think it is an expensive dessert to make if you are buying imported stuff. So it is definitely not something you would want to indulge it on an ordinary day. But if you are having company and some nice company at that, then why not?
If it wasn't for Roshan coaxing me to give this dessert a try I probably would have never attempted making it. I Googled a bit and found a recipe on the Philadelphia Cream Cheese website for a recipe and then there was Siba's own
recipe
. So I adapted the two to arrive at my own measures that would put all the stuff in my pantry and fridge to good use. I am glad I did because not only did I realise how ridiculously easy it is to make a cheesecake, it was also delicious and an easy dessert option to make when you are expecting guests. Just make it the previous day and chill it overnight in the refrigerator and you have one less dish to make on the D-day. One less headache to take care of at the last minute. I guess you can use pretty much any fruit you want. Just replace the mangoes with your choice of fruit and follow the same recipe. What's more, you can make this dessert in individual serving bowls if you don't have a springform pan. Wine glasses look very beautiful and everyone can tuck into their own individual dessert bowl.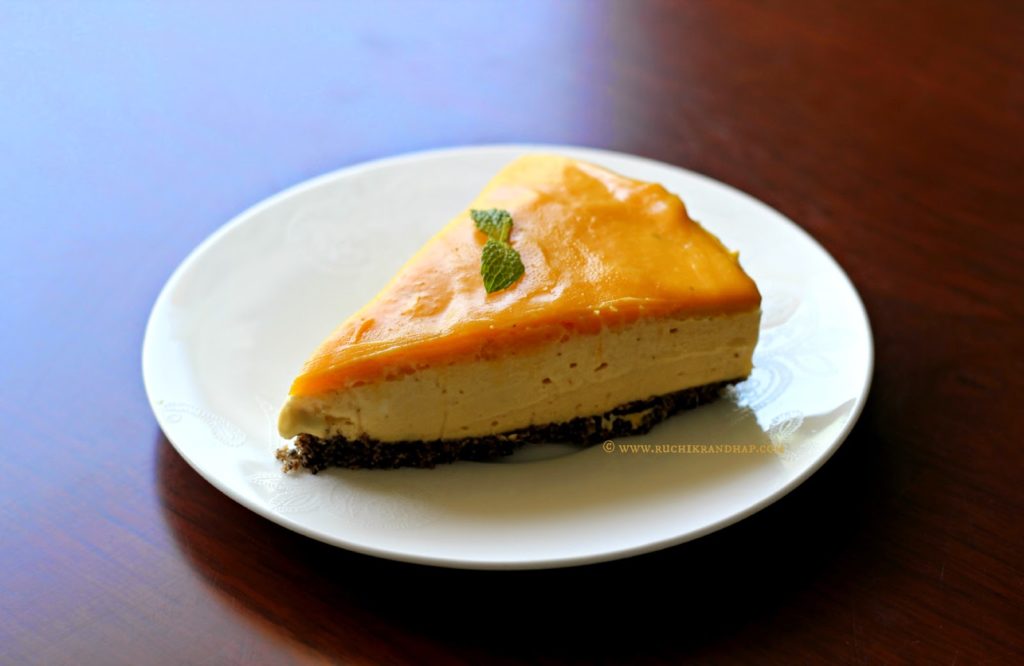 I wish I could have taken more pictures but I had to click a few quick shots and then proceed to serve the guests. If you notice, the cream cheese had started to melt a bit thanks to the very hot weather outside. The best part about this cheese cake is that it does not require gelatin or agar agar to be used to help firm up. The chocolate does that for you. It helps the cream cheese set into shape. Unless you place the cake out for too long the shape will remain fine until you serve it, so make it quick! Take the cake out of the fridge only when you are ready to serve it. Bon Appetit!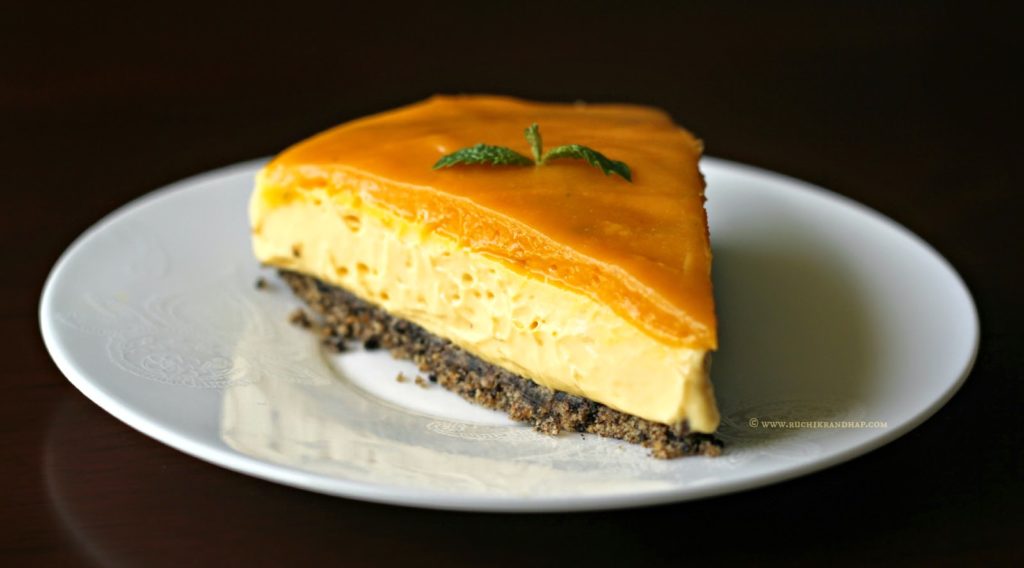 No Bake Mango & White Chocolate Cheesecake
Prep time: 15 mins | Chilling time: 12 – 24 hours | Servings 8
Ingredients:
150 grams oreo or digestive biscuits (I used a combination of the two) * see notes
50 grams butter, melted
175 grams mango pulp, fresh or frozen (I used 2 alphonso mangoes)
300 grams cream cheese (I used Philadelphia) * see notes
300 grams plain white chocolate, roughly chopped * see notes
150 ml thick fresh cream (double cream/heavy cream preferably)– I used Almarai, you can used tinned cream like Nestle too
90 grams sweetened condensed milk (smallest tin available)
1 teaspoon lime juice and zest of 1/2 a lime
Other things:
an 8″ round spring form pan or a cake tin with a loose/removable bottom * see notes
zip lock bag & rolling pin to crush the biscuits (optional)
hand or electric whisk
Method:
1. Place the biscuits in a zip lock bag, seal the open end and crush them using the rolling pin until the biscuits turn into sand like texture. Empty into a bowl. Pour in and rub the melted butter into it.
2. Grease the base of the spring form pan and press the biscuit crumbs firmly and evenly using the back of a spoon, the base of a flat drinking glass or your fingers. Place the pan in the fridge to chill until you prepare the rest of the mixture.
3. Puree the mango pulp along with the lime juice and zest. Divide into two parts.
4. Place a small bowl containing the white chocolate over a saucepan of simmering water. Take care to see that the base of the bowl does not touch the water. Also, be very cautious and don't let even a drop of water come in contact with the chocolate or it will harden and turn into a lumpy mess. Gently simmer until the chocolate has melted into a creamy sauce.
5. In a large mixing bowl, whip the cream until stiff, add the cream cheese and whisk until well mixed. Add half the mango puree and the condensed milk and three fourths of the melted white chocolate. Mix everything well.
6. Pour this mixture into the prepared springform pan and spread it out gently using a spatula. Even out the surface.
7. To the remaining half of the mango puree and the reserved white chocolate mixture and mix well. Pour this over the cream cheese mixture and use a clean spatula to even out the surface.
8. Cover the pan with a plastic/cling film and place in the fridge to chill overnight.
9. To serve, carefully remove the base of the pan and cut the cake using a sharp knife dipped in hot water and wiped clean or a sharp edged spatula. Serve carefully onto a plate. Decorate with fresh mango slices and mint leaves if desired.
Notes:
1. You can use any kind of biscuits for the base of the cheesecake – Graham Crackers, Marie Biscuit or Oreo. I used Weetabix breakfast biscuits which were lying around, some Mc Vites digestive biscuits and added some oreo biscuits without the cream. Use any combination you like.
2. If you are in India, cream cheese may not be easily available. Please note that cream cheese (what is used for cheesecakes) has a different texture than 'creamy cheese' or 'spreadable cheese' like Amul cream cheese or Brittania or Kraft cream cheese – these are of spreadable variety and more salty too – not suitable to make cheesecake. You need to look for 'cream cheese' which is available in the form of blocks or tubs, preferably Philadelphia, but since it is imported it may be very expensive (a tub of 200 grams can set you back by like Rs 350-400).
3. Depending on the sweetness of the mangoes and white chocolate you may need to adjust the use of condensed milk. If you are using eating chocolate try using the best quality. If you are using cooking chocolate do check if it has sugar added to it, in which case you will need to adjust the amount of condensed milk used
4. If you don't have a spring form pan you may prepare this cheese cake in individual servings by using any serving glass of your choice. Vodka shot glasses, wine glasses, ramekins, dessert bowls all work very well. The method of layering remains the same.