This recipe was first published on 4 Nov 2015. Recipe Updated on 28 Oct 2021 with a new video
A couple of years ago my childhood friend Veda shared her recipe for the nankhatai, a lovely Indian sweet biscuit that is usually prepared during the festive season. In India we use the term 'biscuit' for cookies and these little melt-in-your-mouth wonders are pretty much like shortbread cookies but slightly differ in taste and texture owing to the use of ghee (clarified butter) instead of butter. During my growing up years the nankhatai was available at most bakeries in Mangalore and was prepared in homes especially during Deepavali and Christmas. Although the nankhatai is not a traditional item on the Kuswar (a Mangalorean collection of Christmas sweets & savouries) platter it is served in many homes along with other non traditional sweets such as coconut burfi and marzipan etc. While across India they are called as the 'nankhatai', in Mangalore they are also known as the Narayan Katar (in bakeries and such) and Nan Cuts (mostly by Catholics who make it during Christmas)
Ok, so now coming back to the nankhatai, when I made these a few days ago I was wondering why I sat on the recipe for two whole years before trying it out. Since Veda and I are chaddi-buddies who cannot start the day without chatting with each other on Whatsapp, sharing recipes on a daily basis is a natural occurrence, pretty much like the rising and setting of the sun.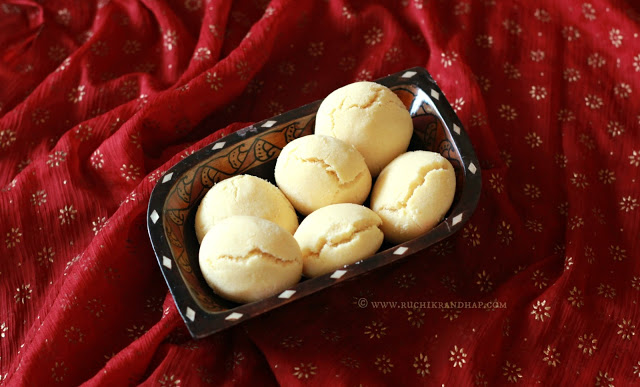 When she showed me pictures of the nankhatais she made a couple of weeks ago I thought it was high time I tried making them. I was bowled over by the simplicity and taste of this marvellous invention of some genius mind. This was simply one of the best recipes that I've ever tried till date especially because nankhatais are so very easy to make! The only reason that I tried them thrice over a span of a few days was to master the technique of  getting the cracks on top as this is how I remember eating nankhatais back home in Mangalore!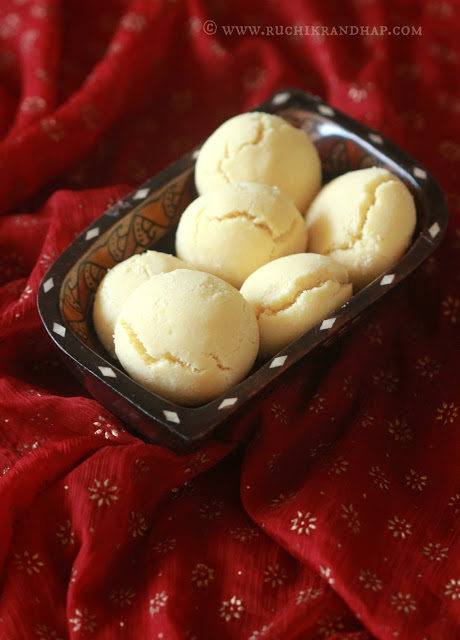 What I love about these nankhatais is that the addition of salt not only brings out the flavour but you actually get to taste the grains of salt that shine through the cookie. Every now and then you will get to taste some salt that balances the sweetness really well. The cookie, if made as per the instructions is meant to have a hollow in the centre and is pretty soft to the bite yet has a crunch of its own. Once it begins to crumble it melts into your mouth in a glorious way, you just can't stop with one, I can bet!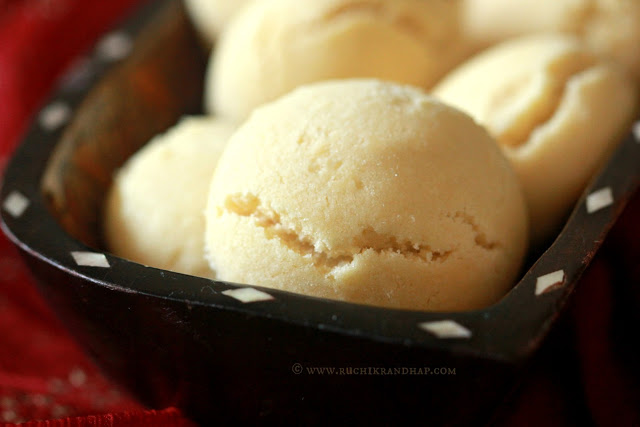 These are such a festive treats that you can even gift them to your loved ones. Make them pretty by adding saffron to the ghee before kneading the dough – this will result in beautiful, pale yellow nankhatais that are aromatic too. Alternatively you may add food colours but I wanted them to be pure white devoid of any colours or flavourings.
So a big thank you Veda from the bottom of my heart – May God bless you always with health and happiness! Looking forward to many more ravishing, gorgeous & mind blowing recipes from you!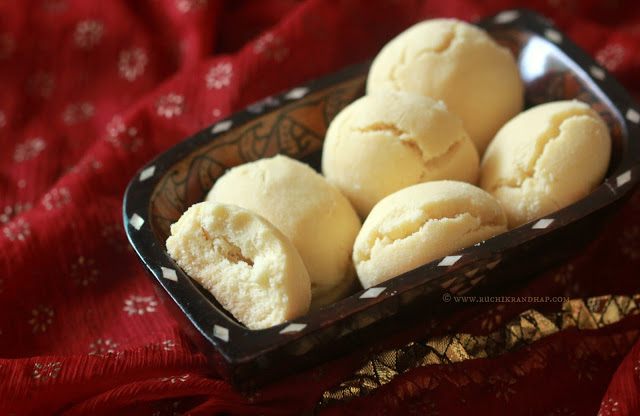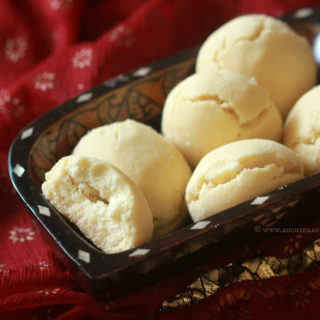 Nankhatai | Indian Shortbread Cookies
Nankhatais are lovely Indian sweet biscuit/shortbread cookies that are usually prepared during the festive season. They are round, dome shaped with a crack on top and hollow inside. Buttery, delicious and melt-in-the-mouth treats!
Print
Pin
Rate
Ingredients
150

grams

approx 1-1/3 cups all purpose flour (maida) plus a tablespoon or two extra if required * see notes

100

grams

1/2 cup granulated sugar, powdered to a fine texture after measuring * see notes

100

grams

1/2 cup hot ghee (melted)

1/8

th teaspoon salt

1/2

teaspoon

soda bi carb

baking soda

a large pinch of saffron strands

optional

a few drops of food colour if desired

a pinch of cardamom

optional

slivers of almonds or pistachios

optional
Instructions
Place the melted ghee in a bowl (if you are using saffron or any food colour add it to the ghee) and add the sugar powder a little by little till it is well mixed.

Mix the flour, baking soda and salt together and sift it part by part into the ghee and sugar mixture. Use a spoon to mix well. If you feel that the dough is spreading too much (paste like) then it could be because the ghee was too hot and the sugar has melted in it leading to excess moisture. If you wish you can add an extra 1-2 tablespoons of flour until you are able to get a kneading consistency.

Lightly knead the dough till it is smooth, place it in clingfilm (plastic wrap) or cover the bowl with cling film. Keep aside for 4 hours for best results.

After 4 hours, the dough ball may have hardened a bit (if you live in cooler climates). Gently knead it for a couple of minutes until it is soft and pliable.

Preheat the oven to 170 degrees C. Line a large baking sheet/tray with parchment and keep it ready.

Divide the dough into 12-16 equal portions (I usually get 16 equal portions) and roll each portion into a ball and gently flatten the sides only - let the shape remain more like a mound (dome) than flattening them into patties/cutlets. The dome shape helps create cracks on the surface when the heat tries to escape each cookie during the process of cooking. This is how traditional cookies look like but if you want them flatter and without cracks you can flatten them.

Place each portion on the prepared tray and bake for 18-20 minutes or until just light golden in colour and the cracks appear. Do not overbake as they will brown fast.

Remove the tray out of the oven and let the nankhatais cool on the tray for 10-12 minutes. Then gently transfer onto a wire rack to cool completely. Store in an airtight container.
Notes
1. I have tried this recipe thrice before posting it and the second time I made it was the best in terms of taste, however, in terms of appearance the cookies didn't crack on top. I would say, refrain from using beyond 150 grams of maida if you like melt in the mouth kind of cookies. But if you like your cookies to have a bite (slightly hard base) then add the additional 2 tablespoons of maida (or a little sprinkling of it until you are able to form a proper dough)
2. Since I was specifically asked to use sugar powder (granulated sugar measured and then powdered in the dry jar of the mixie) I stuck to the same. I have seen many recipes asking for the use of powdered sugar which in US jargon refers to icing sugar (also called as confectioner's sugar). Do note that icing sugar contains cornstarch (cornflour as we say in India) that acts as a stabilizer while the icing is applied to cakes etc. You could substitute the sugar powder with icing sugar to simplify things but I am not sure of the results.
3. If you don't like very sweet nankhatais just reduce the sugar by 10 grams (use 90 grams sugar for 150 grams maida). Since you will not know how the dough will turn out until you mix the ingredients together I suggest you hold back around 10 grams of the sugar powder and add it only after you have mixed in the additional 2 tablespoons of maida (if required). This is just a minor act of balancing the sweetness.
4. Traditionally nankhatais have cracks on top and hollow inside however there are many variations to this and by all means you can make the ones that don't crack up on top. No matter what they taste delicious!
5. When powdered, 1/2 cup of granulated sugar results in approx 3/4th cup of sugar powder.
Disclaimer
The nutritional values are only indicative.
Tried this recipe?
Please leave a comment & rate the recipe below or share a photo on Instagram and tag me @ruchikrandhap
Pin