How many of you believe in numerology? I don't, but I do have a favourite number – it is the number of letters that make my name. 7 it is. It is not that this number is lucky for me but I quite like it irrespective of what luck it brings me. In the Bible, this number has been mentioned several times over in different contexts and is very significant. Hey, wait a minute, I am not getting religious here, I am just happy to present 7 dumplings as you see in the picture below to celebrate 7 lakh page views that my blog has just received!
Thank you to each and every reader – the new and the old, family, friends (and foes!) and friends of friends who have made this possible.
I did intend to create a special post for it, but then I would be missing to post the recipe of the Mutlim or Mutlin as we call rice dumplings in Konkani. Somehow I felt that these 7 dumplings sitting on a kurpon (platter woven out of reed) were apt for today's occasion. This recipe was part of the Indian Food Trail series hosted by Sailaja of Sailu's Kitchen where I presented Mangalorean cuisine with a focus on Catholic cuisine as a guest blogger.
Read all the three parts here: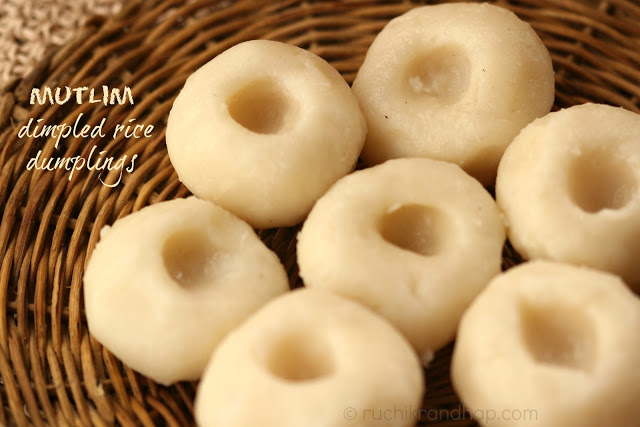 Mutlim / Mutlin (Dimpled Rice Dumplings)
Prep (soaking) time: 4 hours | Cooking (grinding+steaming) time 30-40mins | Yield 15-17 dumplings
You Need:
1/2 kg white or red boiled rice (ukda chawal) * see notes
1-1/2 cups grated coconut
salt to taste
Method:
1. Wash and soak the rice for at least 3-4 hours (for best results). Drain and keep aside. If you are using a traditional grinding stone, grind the rice and salt to a slightly coarse, thick & dryish paste. Add the coconut towards the very end (the coconut should not be fully ground). If you are using a mixer grinder you may need to add some water (sparingly) to grind the rice & coconut – the batter may be slightly thinner in this case.
2. If you have a bit of a thin batter, transfer it into a non stick pan and cook on a medium low flame stirring until all the excess moisture evaporates and you have a lump. You know it's ready when the base begins to brown slightly. Turn off the flame and transfer onto a large bowl. When it is cool enough to handle, quickly knead to achieve a smooth surface.
3. Grease your palm with oil if required and pinch out lemon sized balls of the dough. Roll to form a smooth surface and form a dimple with your thumb. Continue until all the dough is used to make mutlims.
4. Transfer all mutlims into a bowl, cover with a cloth and steam for 20-25 minutes. The mutlims are done when their surface is no longer sticky.
5. Serve hot with chicken or mutton curry of your choice.
Notes:
1. Boiled rice is different from cooked rice. Boiled rice is a variety of rice that is involves partial boiling of paddy before it is de-husked and sold. Boiled rice with bran is called as brown/red boiled rice and that without the bran is called as white boiled rice available at most grocers by the name Ukda Chawal (in Hindi) or Katsambar (in Kannada) or Ukdo Tandul (in Konkani)
2. You can make the sweeter version of these dumplings by stuffing a jaggery & coconut mixture into the dough just before steaming. These are known as god mutlim.