Did I ever tell you that I am raising a little chef at home? His enthusiasm in cooking amazes me & pleases me too. Since I definitely don't subscribe to the old school of thought that parents should let their kids play with gender specific toys, I went ahead and bought him a toy kitchen set some time ago. Although a lot of those 'utensils' are lost by now, he borrows my kitchen utensils especially my bake ware (his favourite are the balloon whisk and the bundt pan) and 'bakes' all day long. My guests are often entertained with some fresh from the (imaginary) oven bites that range from pita bread to cupcakes with ginger garlic paste as one of the key ingredients. Lol! Innocence at its best. However, even my baking efforts to entice him to eat what I bake has been falling flat. I have been trying to come up with all kinds of recipes with fruits or veggies sneaked into them so that he gets his dose of nutrition at least from my baking if not otherwise. So these days I simply conjure up an exotic name for a simple dish and hope he will eat it. Most times the trick works and I am happy.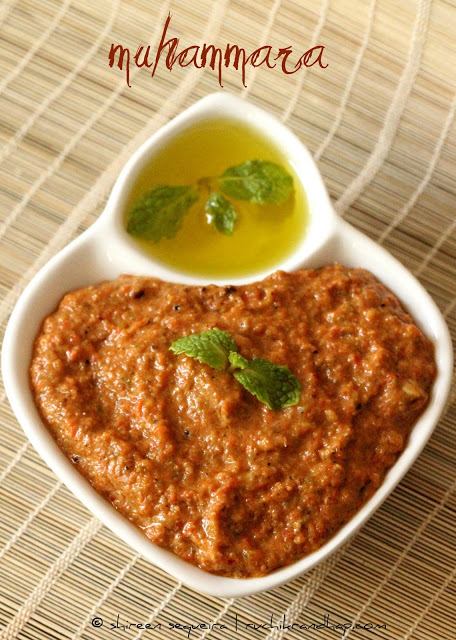 When I picked up the Supermoms' Recipes, a book full of child friendly recipes put together by the moms and for the moms, I found this lovely mediterranean dip called the Muhammara which is a popular condiment & dip in Lebanon, Syria and Palestine, I knew I had to try it for my little fellow. I love making simple eats whenever R travels as it gives me a much required break from the kitchen and I can indulge in some non Mangalorean food. This dip is so easy to make and is lip smacking delicious. Take my word for it. Be generous with the olive oil and you will wipe your plates clean. I say this because my picky eater loved it so much.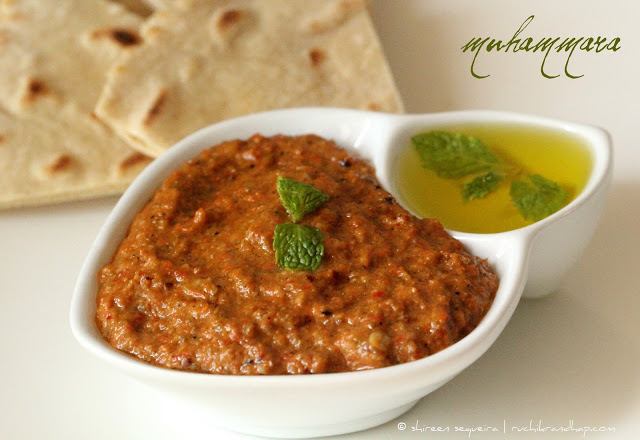 Bell peppers are a great source of Vitamin B6, Folic Acid and Beta Carotene & Vitamin C both of which are powerful antioxidants. Walnuts are a rich source of amino acids and Omega 3 which is key in brain development. Adding the french beans or any other green vegetable like spinach or green peas is just an option to make kids eat healthy – you may skip it if you wish & increase the amount of breadcrumbs.
Muhammara can be served along with grilled meats or fish and kababs. Works best as a spread for a bread  sandwich or a dip for pita bread as well. By the way, I tried making my own pita bread and it turned out fab, but didn't have the courage to click pictures as I am terrible at rolling out dough in perfect rounds – so you see I cut them into triangles for the sake of presentation 😀
This dip is especially for my two childhood friends Veda Pai & Lakshmi Bhat who had asked me to post some child friendly recipes which are suitable for the lunch box as well. Hope your little ones enjoy this dip!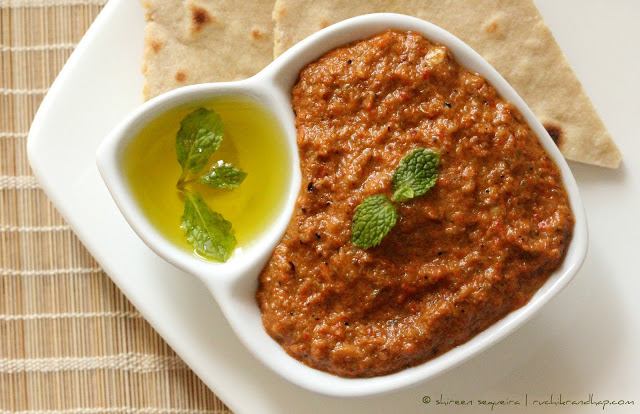 Muhammara
Serves 2


You Need:
2 red capsicums/bell peppers
1/2 cup walnuts
2 small cloves of garlic
1 tbsp lime juice
2 tsp red chilli flakes/paprika
100 gm french beans or any green vegetable (optional)
1/4 cup breadcrumbs * see notes
1/2 tsp cumin powder
1 tbsp extra virgin olive oil
salt to taste
For garnishing
mint leaves
1 tsp extra virgin olive oil
Method
1. Place the whole capsicums over a stove top flame and turn frequently until the skin has turned black uniformly – similar to how the brinjal/baingan's are roasted for the bharta. Once done, transfer to a large bowl, allow to cool off a bit before peeling off the blackened skin. Remove the stem & the seeds as well. Roughly chop the peppers & keep aside.
2. Heat a skillet/tawa & toast the walnuts for a few seconds and then roughly chop them. Steam/pressure cook the french beans for about 1-2 whistles, remove & refresh with cold water & drain on a colander.
3. Place all ingredients into a food processor and pulse it for a few seconds. Do not make a purée or a fine paste, you need to retain a grainy texture (almost like a coarse coconut chutney).
4. Transfer contents into a serving bowl, garnish with mint leaves and drizzle extra virgin olive oil. Serve as is or chilled with pita bread.
Notes:
The original recipe calls for breadcrumbs, so if you wish you can skip the french beans and add more of the bread crumbs.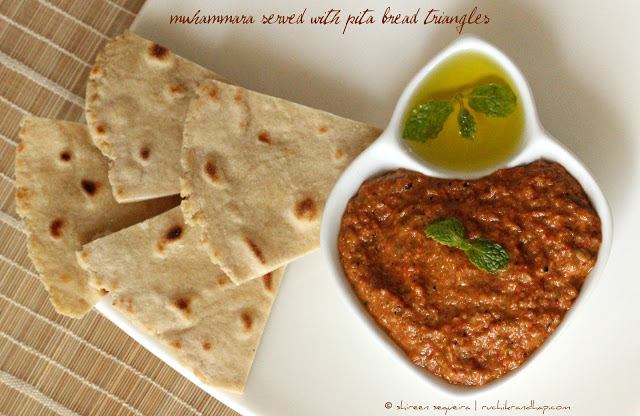 Pin