There are no prizes for guessing why I am adding another banana bread to my collection. Bananas that have no takers usually find their way into Mangalore buns or banana breads at my place. This time its a bundt with some ganache on it. And did I mention coffee? Well, its the perfect addition to this wonderful cake as it takes the cake to another level of deliciousness! My little daughter couldn't stop herself from this rare indulgence – she enjoyed the ganache more than anything. Since I love banana breads I literally wolfed down most of the pieces, the son and the husband limited themselves to a few pieces as one is not a fan of bananas in cakes and the other is not fond of chocolate frosting. Sigh! It's hard to please everyone these days!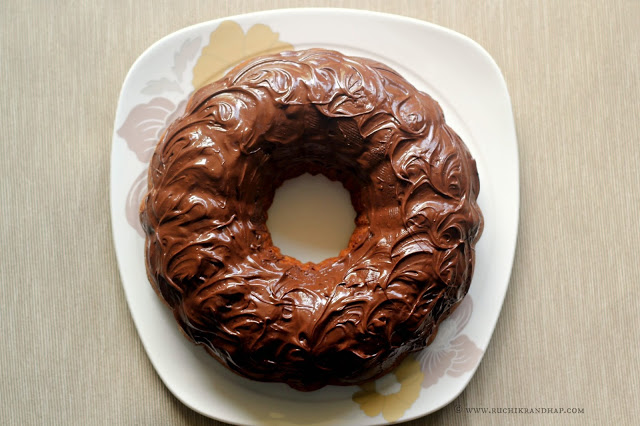 The best part about this cake is that I added some whole wheat flour, ragi and oats – in very little quantities as I ran out of all purpose flour (maida) and I believe that it gave a wonderful crumb and texture to the cake. It was moist and crumbly – the kind of a cake that makes you hungry at the very sight of it. This is a kind of a cake that goes very well with tea or coffee and also as a midnight snack! I've tried munching on a piece as a dessert after lunch and I can bet that it will taste wonderful if it is warmed slightly in the microwave and served with a dollop of vanilla ice cream!
Mocha Banana Bundt Cake
Prep time: 20 mins | Bake time: 45-50 mins | Servings: 12-14
Ingredients:
225 grams plain flour * see notes
2 teaspoons baking powder
3 eggs
200 grams soft brown sugar or caster sugar, separated
200 grams unsalted butter at room temperature
3/4th cup ((2 medium (cavendish/golden banana) or 4 small (elaichi) (150 grams peeled weight)) bananas, mashed
2 tablespoons water
1 tablespoon instant coffee powder
For the chocolate ganache:
15 grams unsalted butter at room temperature
85 grams plain chocolate (or chips)
1/4 teaspoon instant coffee powder
Method:
1. Preheat oven to 160 C. Grease a 2 litre bundt pan with a little butter and dust with flour. Keep aside
2. Place 2 tablespoons of sugar, water and coffee powder into a small saucepan and simmer for 2 minutes until it thickens up and turns syrupy. Remove from heat and allow to cool
3. In a large bowl beat the butter and sugar till fluffy. Then add one egg at a time and beat well between each addition.
4. Add in the mashed bananas, the cooled coffee syrup and mix well.
5. Sift in the flour in parts and fold the batter to incorporate. Pour mixture into the prepared bundt pan and bake for 45-50 mins or until the skewer inserted comes out clean
6. Remove and place on a wire rack to cool. After 10-15 mins invert the cake carefully on the rack to cool completely.
7. To prepare the frosting, place the butter and chocolate in a heat proof bowl over a saucepan of simmering water such that the water does not touch the base of the bowl. Mix until the chocolate has melted completely. Stir in the coffee powder
8. Spread the frosting over the cake allowing it to drizzle down the sides. Make swirls for added effect. Serve
Notes:
I used approx 175 grams of plain flour and substituted the remaining 50 grams with a blend of whole wheat flour, ragi flour and oats that not only enhanced the flavour but also gave the cake a great texture and crumb.Recipe adapted from Coffee, 100 Everyday Recipes