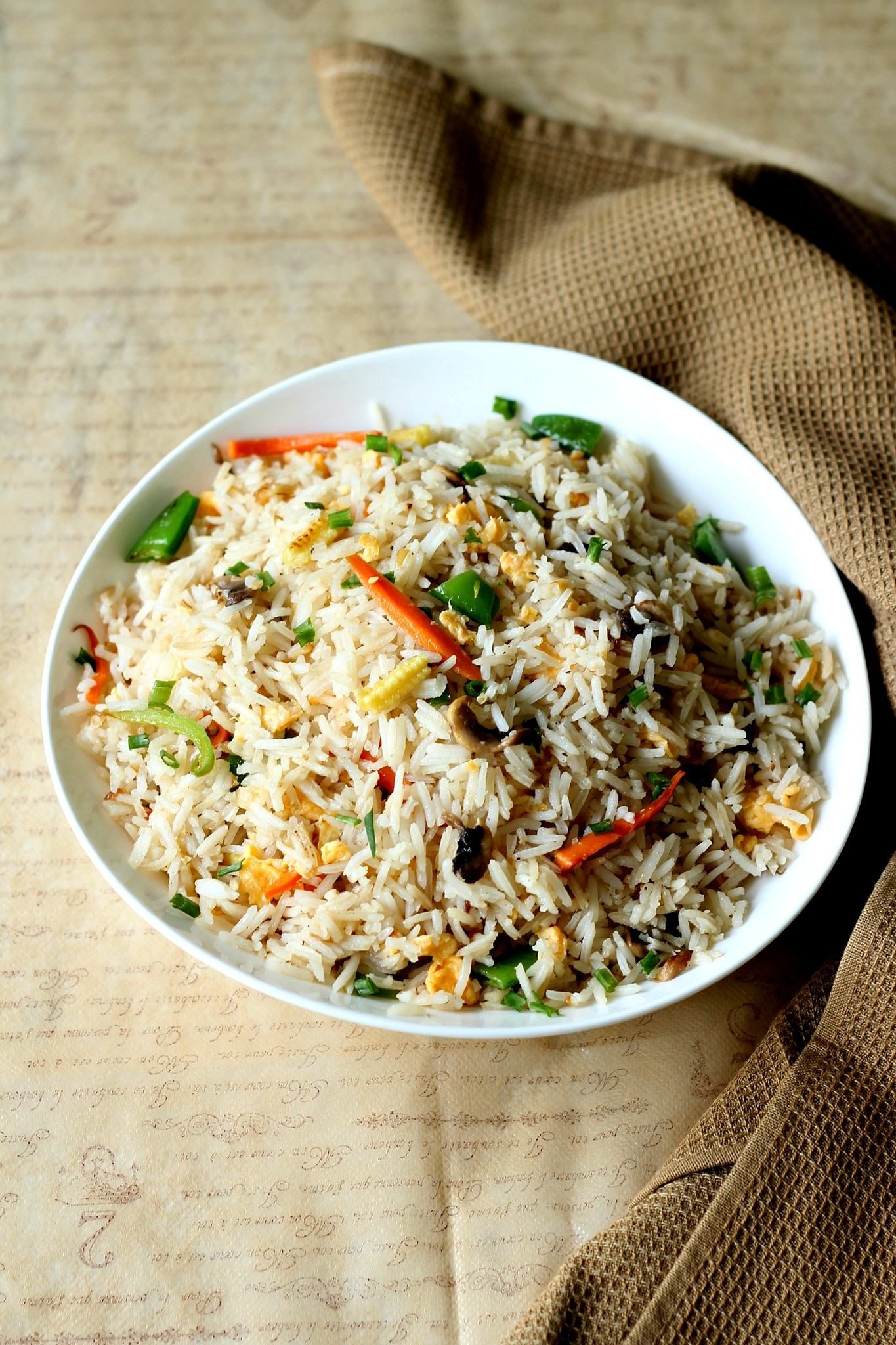 Pin
Mixed Vegetable Fried Rice ~ A quick and easy way to sort your weekday meals!
So I have been a little quiet on the blog all these days. I had a super busy week before the school closed for the spring break. Now my kids are at home. Running around wild & free and demanding my time more than ever before. But then this is something I am always geared up for as their school does have plenty of breaks throughout the year. The best way to keep them busy and out of my hair on most days is to make them do their homework. If that doesn't work I just ask them if they'd like to help me with the household chores and watch them as they slide away quietly. Homework or other quieter activities like colouring or craft is chosen. I then reward them with some homemade bakes and we are one happy family after that. Errr! No! I am just kidding! There's never a dull moment when kids are at home and so plenty of times even the baking doesn't help. So while I go figure out how to engage them in some fruitful activity this spring break you should totally go check out my recipe of the day!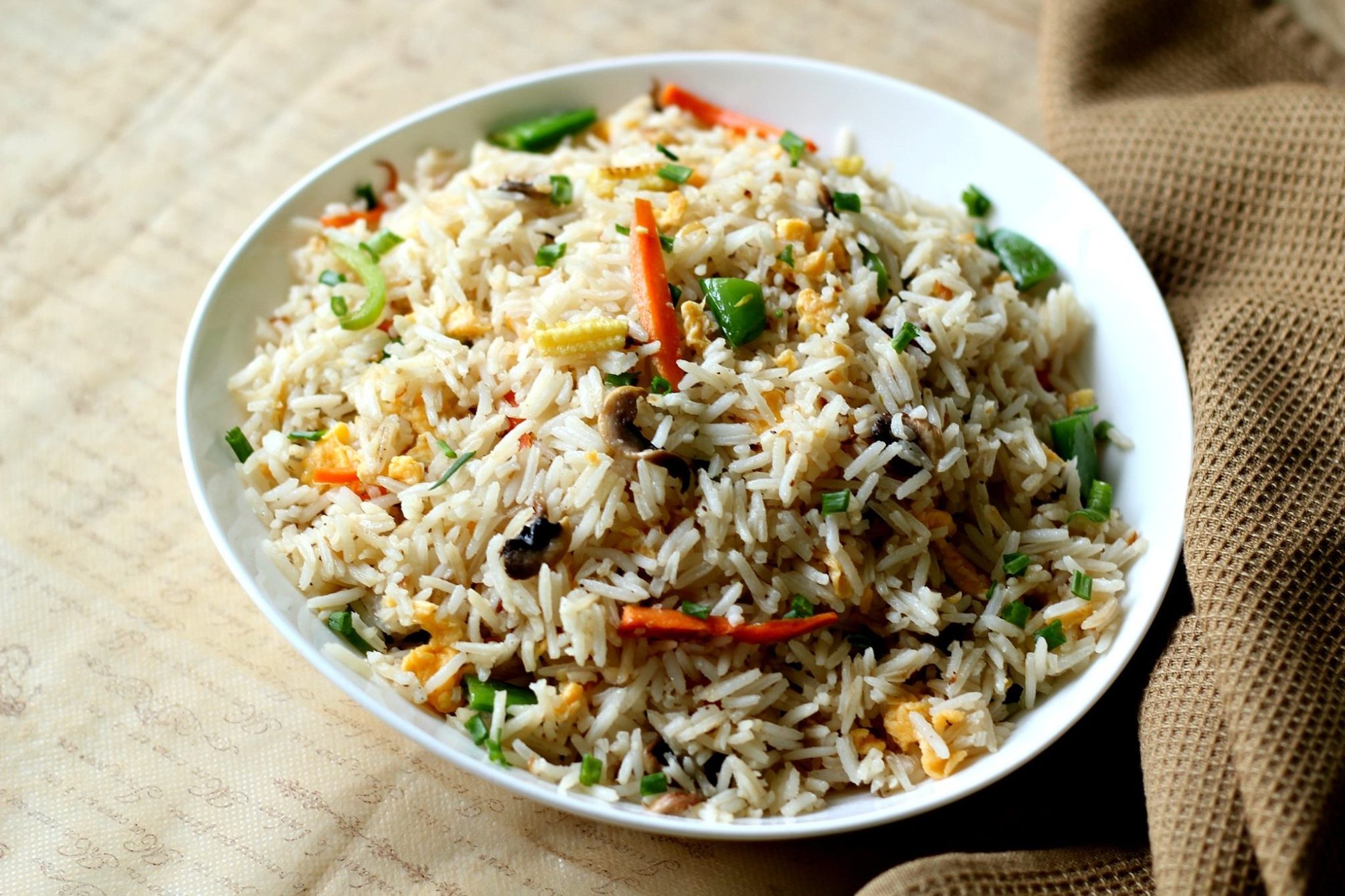 Pin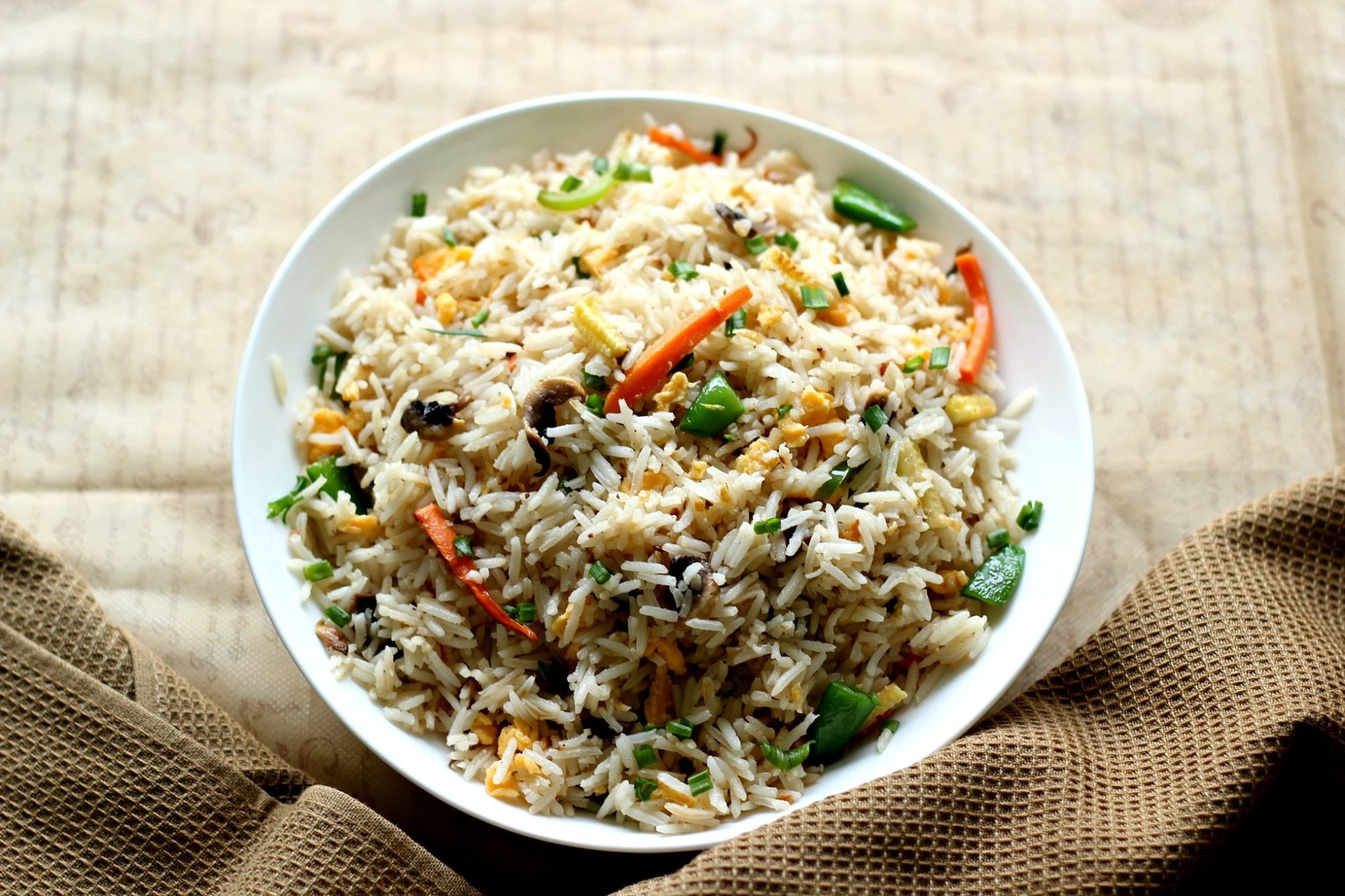 Pin
This is just the perfect kind of rice you want to make and eat on a weekday and especially if you are looking to make something healthy that can also double up as your lunchbox option. You should totally make it when you want to get rid of some veggies. And yeah, if you want to add some protein, this rice welcomes a scrambled egg too. I added it and cleverly passed it off as a mixed veg fried rice to my egg-hater of a son. Yeah, whattodo men? We are like that only. When we become moms of fussy eaters we turn into cheaters and sneak in veggies into non veg dishes and non veg into veg dishes. We become very clever that way. So on the day I made this one pot meal I had a small piece of capsicum, some baby corn and sugar snap peas (which I totally adore! but they are expensive and so a rarity in my kitchen). I threw in the other usual ingredients – carrots, mushrooms and some spring onion greens from my very own kitchen garden (which is parched by the way and I dread keeping it alive during the upcoming summer). Anyway, long story short. Make this rice please, and tell me how you liked it. I'll be so pleased to hear from you.  Write to me at [email protected] Do pin this recipe on Pinterest and follow all my boards too while you're at it! Show me some love peeps!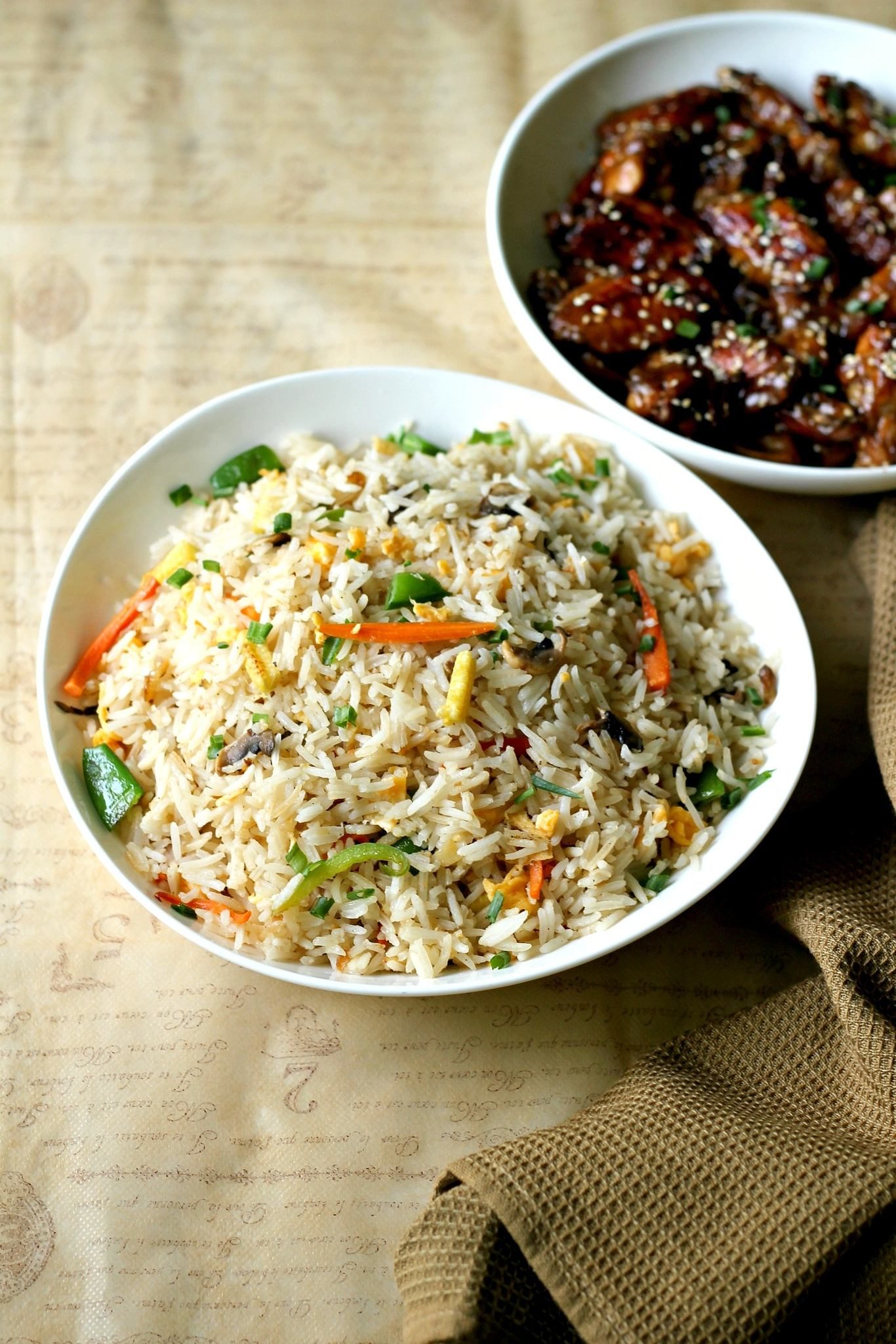 Pin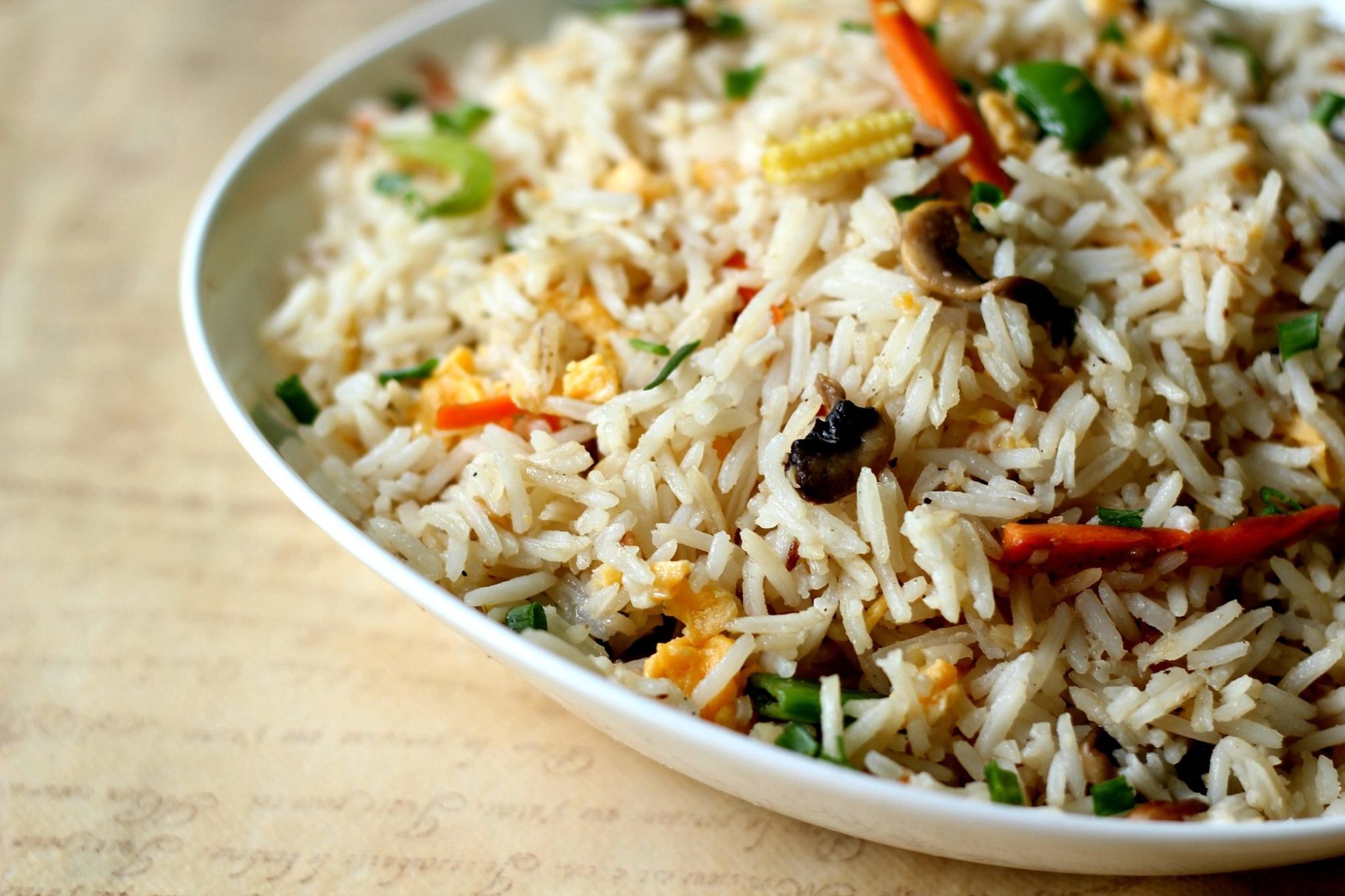 Pin
Mixed Vegetable Fried Rice (With or Without Egg)
Super easy, delicious & nutritious one-pot meal that is perfect for kids. Serve it for a party or pack it in your lunch box!
Print
Pin
Rate
Ingredients
3

fat cloves of garlic

finely minced

1

egg

lightly beaten (optional)

1/4

cup

carrots

cut into thin strips

1/4

cup

baby corn

cut into strips

1/4

cup

button mushrooms

sliced

14

cup

green bell pepper

capsicum, deseeded and cut into thin strips or finely chopped

1/4

cup

sugar snap beans or french beans

cut into 1" pieces

1

tablespoon

spring onion greens

5

cups

cooked

white rice (a day old works best)

1/2

teaspoon

rice wine vinegar or regular vinegar

1

teaspoon

light soy sauce

1

teaspoon

sesame oil

2

tablespoons

vegetable oil

salt & pepper to taste
Instructions
Heat oil in a wok or kadai and on a medium-low heat, fry the beaten egg and quickly scramble and cook it until just done. Do not overcook. Remove on a plate.

Add some more oil to the wok and on a medium heat fry the garlic for a few seconds before tossing in the carrot strips. Fry on a high heat till the colour changes from bright orange to a paler shade.

Toss in the baby corn and sugar snap beans or french beans and continue to cook on a high heat for another minute.

Finally, add the mushrooms and the bell peppers and fry for about half a minute.

Add the cooked rice, salt, pepper, sesame oil, soy sauce and vinegar and toss everything together on a high heat till everything is mixed well.

Garnish with spring onion greens & serve hot with any accompaniment of your choice
Disclaimer
The nutritional values are only indicative.
Tried this recipe?
Please leave a comment & rate the recipe below or share a photo on Instagram and tag me @ruchikrandhap