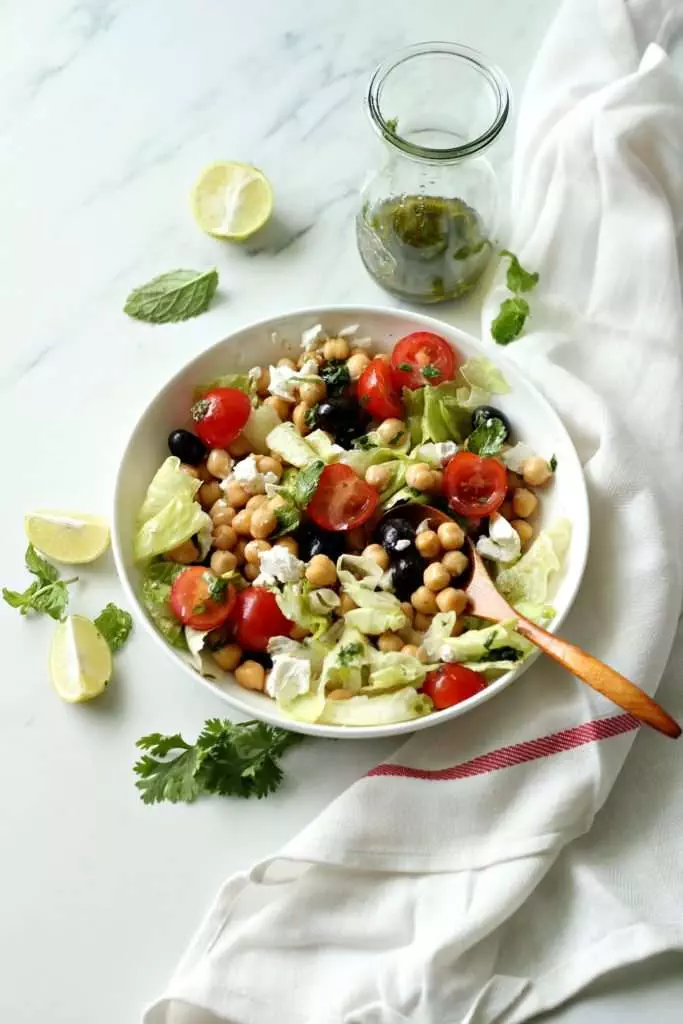 Pin
I used to have a love-hate relationship with salads. From totally disliking them during my growing up years to thoroughly enjoying them now, I can say that I have come a long way. While I do enjoy eating salads if they are offered to me on a platter I dislike the job of having to prep them up myself. Ever since my kids were born I have had this great desire to get back into shape. I sometimes go on a healthy diet for a few months and soups and salads automatically become a staple dinner option. While I no longer obsess over my weight I do like to include salads in our daily diet even if it means a mere bowl of sliced cucumbers. This is what my dietician friend used to always say "don't put off eating salads because you are too lazy to make them, just grab a cucumber or carrot and munch it as you go. Raw foods are essential for our health". Now that her words are stuck in my head I better make and eat more salads!
So, another reason why I am inspired to eat more salads is that I saw that I barely have any salad recipes on the blog. This is because most of our salads are eaten as an evening meal. I really dislike shooting pictures at night and have given up many an opportunity to take pictures of the many glorious salads we consume. To kickstart the season of salads, I decided to make a bowl for lunch last week. This is my all time favourite salad that is made with a whole bunch of delicious ingredients – chickpeas being our favourite.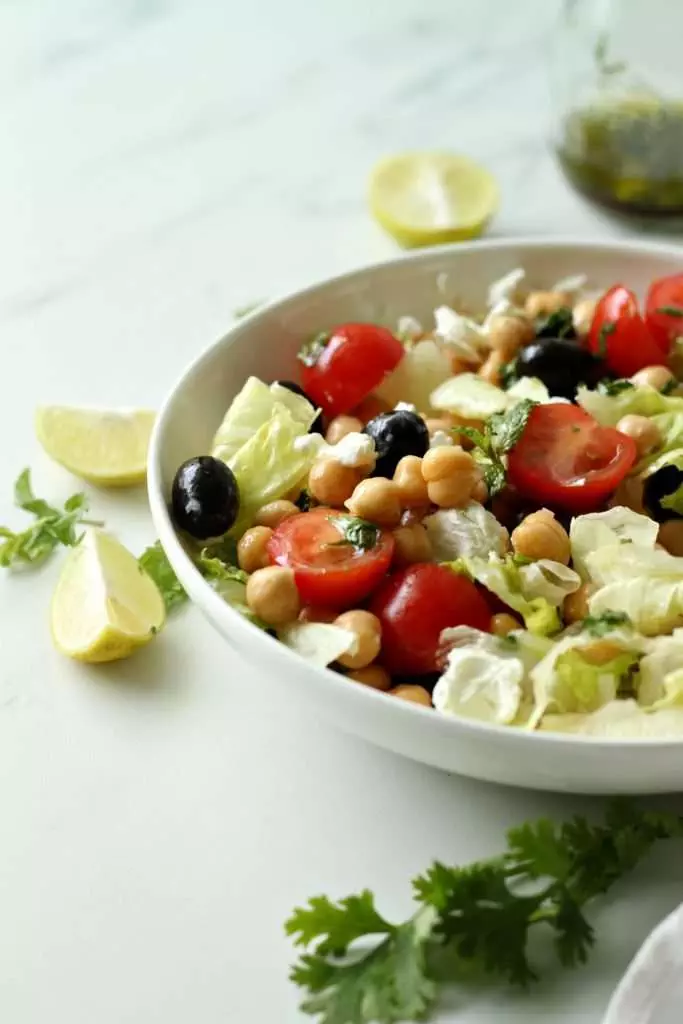 Pin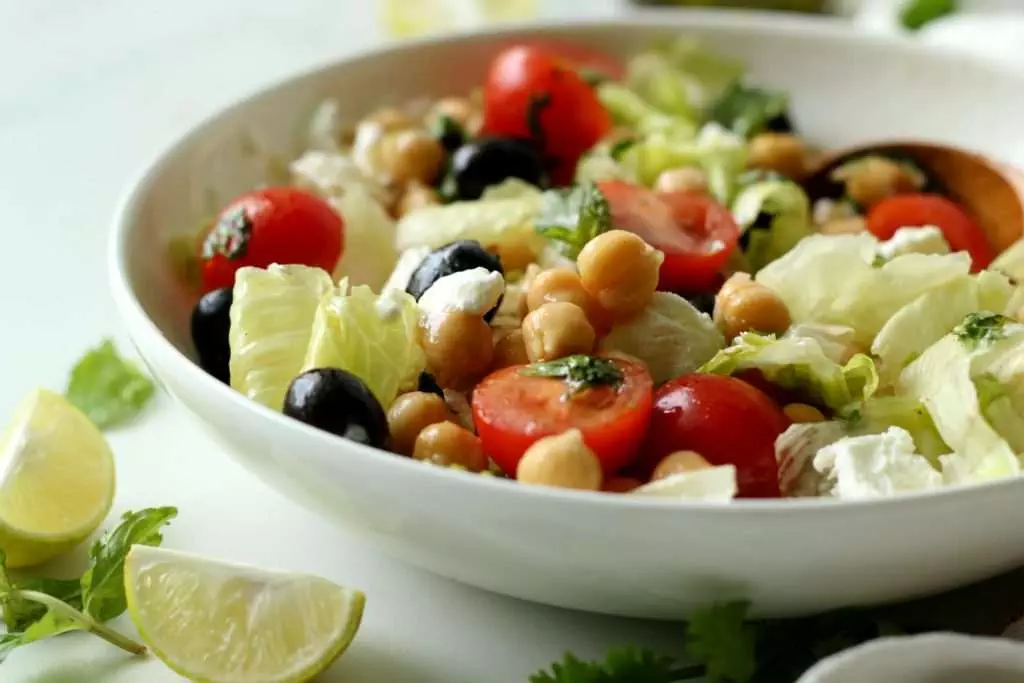 Pin
What I really love about this salad is that it is high in protein and refreshing because of the flavours brought in by the dressing. You don't need fancy ingredients to make this. If you don't have cherry tomatoes, replace them with regular tomatoes chopped up. Throw in your favourite herbs and skip the feta cheese. Olives are not too rare anymore but if they don't come cheap in your part of the world you can skip them too. This is supposed to be a Mediterranean salad but when it comes to salads, you make the rules and play along!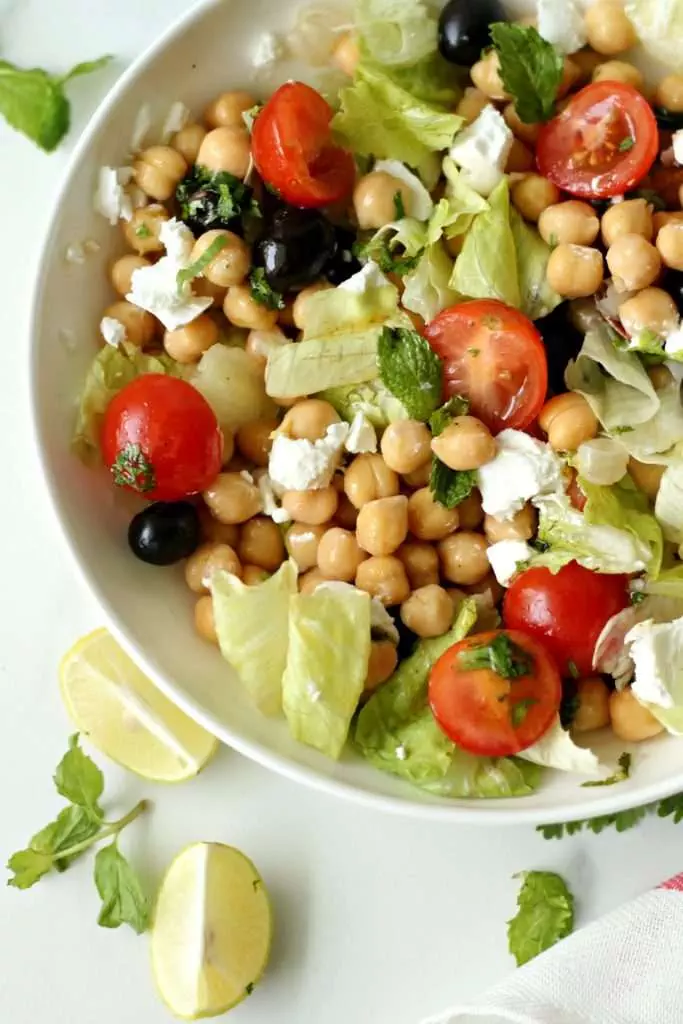 Pin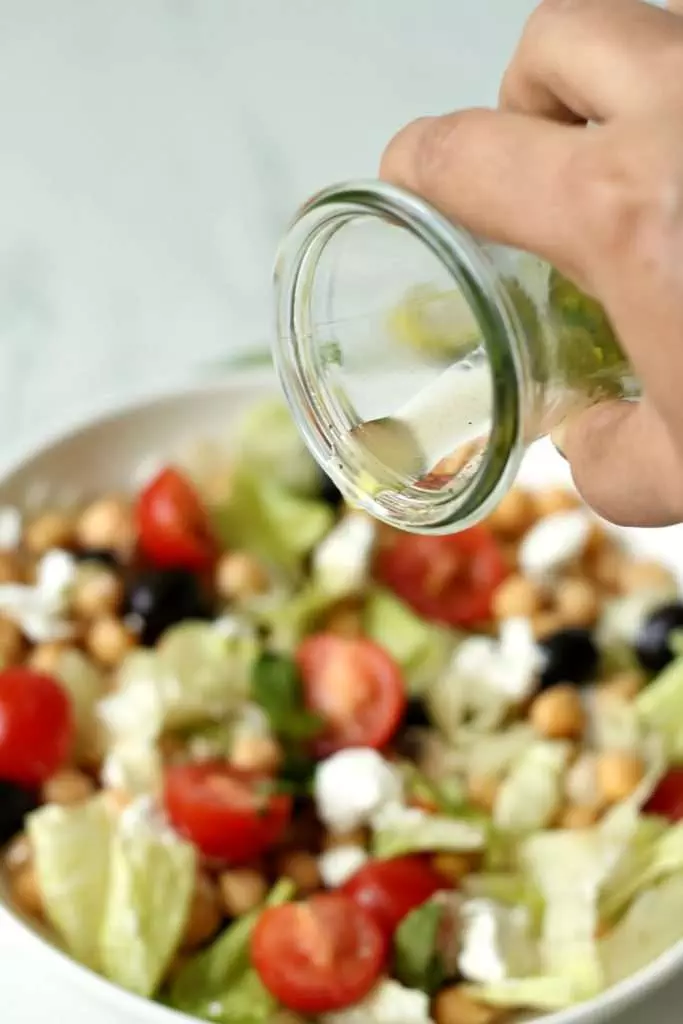 Pin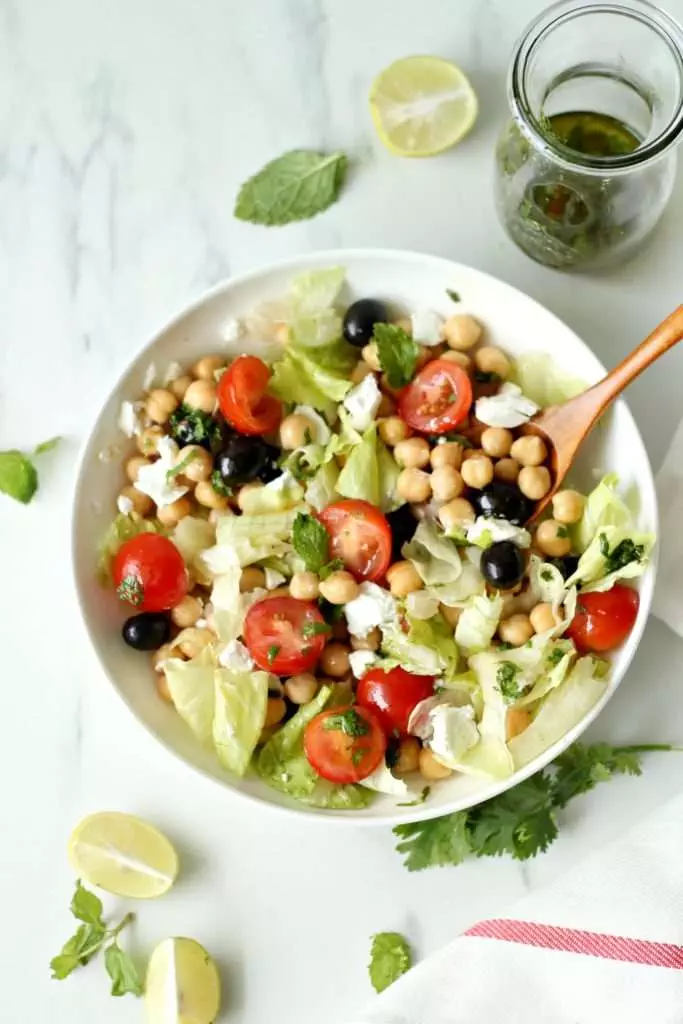 Pin
Mediterranean Chickpea Salad
A refreshing & summery salad dressed with a vibrant mixture of olive oil, honey & lemon
Print
Rate
Ingredients
1-1/2

cups

boiled chickpeas * see notes

2-3

large lettuce leaves

shredded

2

tablespoons

sliced black olives

4-5

cherry tomatoes halved

or a small tomato, chopped

feta cheese, crumbled (optional)
For the dressing
1

tablespoon

crushed mint leaves

1

tablespoon

crushed basil leaves

substitute with chopped coriander

1/2

tablespoon

extra virgin olive oil

1/2

tablespoon

honey or date syrup

1-2

teaspoons

lemon/lime juice

salt & pepper to taste
Instructions
Place all the ingredients except the feta cheese (if using) in a bowl and mix well. Crumble the feta cheese over them

Prepare the dressing by placing all the ingredients in a small bottle or a bowl. Give everything a good shake/stir. When you are ready to serve, just pour the dressing over the prepared salad and give it a good mix.

Serve immediately
Notes
Soak 3/4th cup of chickpeas in plenty of water for 8-10 hours (or overnight). Pressure cook (with a little salt and enough water to cover it) for 3-4 whistles or till tender but not mushy. Don't discard the water (cooking liquid/stock). You can use it to flavour soups or pulaos.
Disclaimer
The nutritional values are only indicative.
Tried this recipe?
Please leave a comment & rate the recipe below or share a photo on Instagram and tag me @ruchikrandhap

Pin