The month of December has always been my favourite month. It brings with it this certain charm of festivities & good cheer. Its also the time to make loads of Xmas goodies and indulging in them ofcourse 🙂 Being a Mangalorean, it is customary to make the traditional 'Kuswar' (Mangalorean Christmas goodies) at home. My mother used to prepare some of the many sweets at home but as the years passed by it became increasingly difficult to set aside the required time to prepare the tedious fare. While I will try & post some recipes of Nevris, Keediyo, Guliyo, Kokkisan, this Christmas is going to be celebrated only with some delightful & easy to make German Zimtsterne, the recipe of which was shared by my friend May. While my cookies are not star shaped as they should be (pls refer to
May's blog
for the actual picture), it would be a pity if I dont share this gorgeous recipe cuz its just soooo easy to make. If you are still wondering what to bake for Christmas that is healthy (no flour – just pure nuts)…try this!PS: You can bake these cookies any time of the year cuz they are simply yummilicious!! (and kids will love them)
Zimtsterne
You Need:
300gms almonds with skin
3 Egg whites
1 tsp lemon juice
1 tsp grated lemon rind
250gms powdered sugar
1 tsp ground cinnamon
1/2 cup (approx) extra powdered sugar for rolling
1 tbsp vanilla sugar or few drops vanilla essence
Method :
1. In a blender grind the almonds along with the skin to a fine powder & set aside
2. Beat the egg whites along with the lemon juice till very stiff (the mixture starts to look opaque)
3. Now to make the meringue, add the sugar and mix it well until it is fully dissolved.
4. Keep aside about three fourth of this meringue.
5. In a large bowl add one fourth of the meringue and fold in the almond powder, cinnamon powder and vanilla essence.
6. Knead it into a smooth dough (similar to the chapathi dough) and set aside covered for about 30mins
7. Preheat the oven to 150 degrees celsius for about 6 minutes. Line 2 baking sheets with parchment paper
8. Now sift some powdered sugar over a working surface/wooden cutting board
9. Divide the dough into two and roll out half of it into a thick sheet (about a quarter inch thick)
10. Use a star shaped cookie cutter to cut out star shaped cookies (I didnt have a star shaped one so I used a regular flower shaped cutter)
11. Place the stars on the baking tray and brush them with some meringue ensuring that it does not dribble down to the sides*
12. Bake stars on the lower and middle racks for 25 minutes, switching the sheets about halfway through baking time.
13. Remove from oven & cool them off on a wire rack. The base of the cookies will be sugar coated and the top would be glazed
Note: You can also apply the meringue on the baked cookies and leave them in a cool place to dry – this gives the glaze effect which you currently cannot see on my cookies.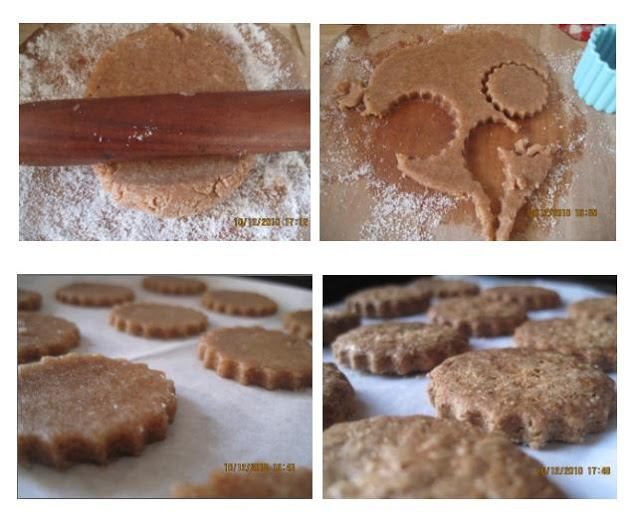 Pin