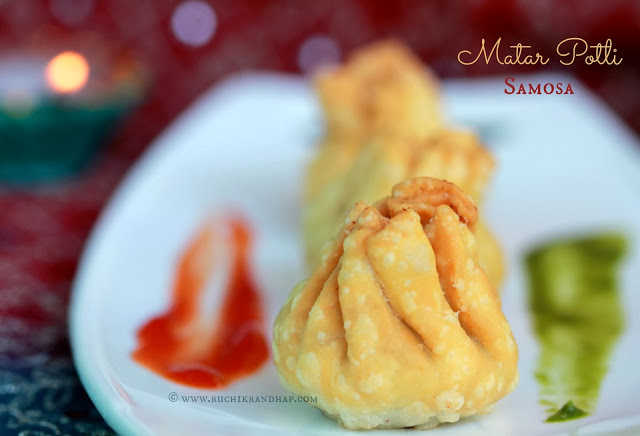 Another special treat for you to enjoy this Diwali. Matar Potli or Potli Samosa is an interesting variation to the usual samosa. The difference being the outer casing of this samosa which is in the shape of a 'potli' or a money pouch that is so common all over India. I know a lot of grandmas who still have some moolah safely stashed away in an innocent looking purse made out of cloth. The more fancy and decorative ones are part of ethnic wear too. I have a couple which I sport when I am all decked up in a saree or a chudidar kameez.
When I recently came across this recipe in a weekly news magazine
I went ga ga over the idea of trying out these simple yet unique samosas and since I have not yet mastered the art of making actual samosas with proper samosa 'patti' and all, I thought this was my best bet.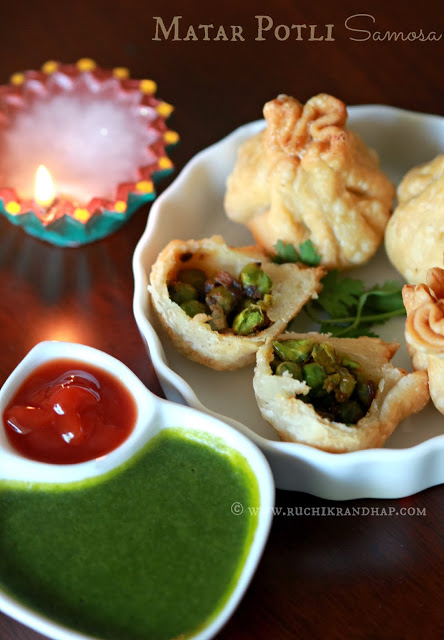 I am sure that you can alter the recipe of the stuffing to suit your liking. Add a few more ingredients if you desire or simply add some boiled potatoes to the mixture. A non veg filling is also a great idea if you want to make these as a party starter. For this Diwali I hope you make these with whatever filling you want – sweet or savoury. The little ones will definitely find them interesting and cute.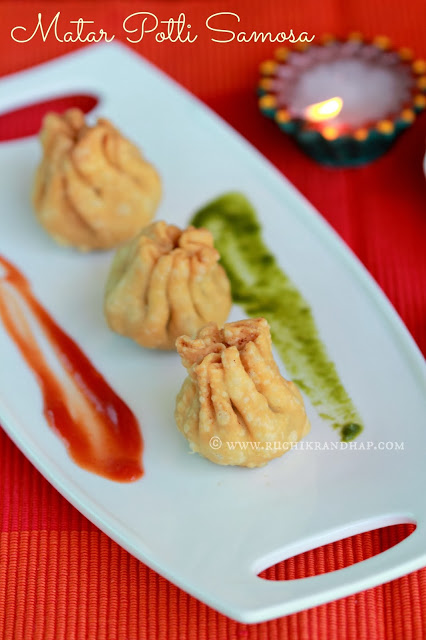 Matar Potli Samosa
Prep time: 30 mins | Cooking time: 10 mins | Makes 24
Ingredients:
For the pastry dough (samosa casing):
250 grams all purpose flour (maida)
2 tablespoons melted ghee
salt to taste
For the Stuffing:
150 grams frozen peas, thawed and lightly crushed
1/2 teaspoon fresh green chillies minced (adjust to taste)
1 teaspoon ginger finely chopped
1 small onion finely chopped (about 1/4 cup)
a pinch (1/8th tsp) of ajwain/carom seeds/bishop's weed
a pinch (1/8th tsp) of jeera/cumin
1 teaspoon coriander powder
1/2 teaspoon red chilli powder (adjust to taste)
1/8th teaspoon chat masala powder (or you can use 1-2 pinches of dry mango powder (amchur))
1/2 teaspoon garam masala powder
1/2 teaspoon kasuri methi (dried fenugreek leaves) (optional)
2 tablespoons finely chopped coriander leaves (optional)
2 tablespoons oil for frying
Method:
1. To prepare the dough, take the maida in a wide bowl, add the salt and ghee and mix until the mixture resembles bread crumbs. Add enough lukewarm water (I used approx 8-9 tablespoons) and knead (for at least for 3-4 minutes) into a smooth, stiff dough. Cover the bowl with a clean tea towel and let the dough rest for 15-20 mins.
2. To prepare the stuffing, heat 2 tablespoons oil in a pan and toss in the cumin & carom seeds. After a couple of seconds add the onions and fry till they turn translucent. Add the ginger, green chillies and salt and saute for a few seconds. Then add the crushed peas and mix well.
3. Add the powders – red chilli, coriander, chat masala, kasuri methi, garam masala and fry on a medium high heat for half a minute. Toss in the chopped coriander. Remove from heat and allow to cool.
4. To prepare the samosas, knead the well rested dough once more before you begin. Divide the dough into equal sized portions (the size of small limes), roll them into balls and flatten them slightly with your palm to form discs.
5. On a slightly floured surface roll out the discs into small pooris – take care to see that you roll from the centre outwards (flatten the edges of the poori and leave the centre slightly thick as it will carry the stuffing)
6. Place the poori on your palm and place 2 teaspoons of stuffing in the centre – don't overcrowd as it will be hard for you to form the pleats of the pouch. Gently pinch together the edges of the poori to form pleats and cover them with a slight twist to resemble a cloth money pouch.
7. Heat oil for deep frying in a heavy based kadhai/wok and drop the samosas one by one. Don't overcrowd the pan. Fry until golden brown. Remove with a slotted spoon to drain excess oil and place on an absorbent kitchen towel. Allow to cool a bit.
8. Serve with green chutney and tomato ketchup
Notes:
The oil needs to be hot but not smoking hot or else the insides of the samosa (the pleats) won't cook. They will only brown quickly and you will be forced to remove them out. So keep it on a medium high heat.