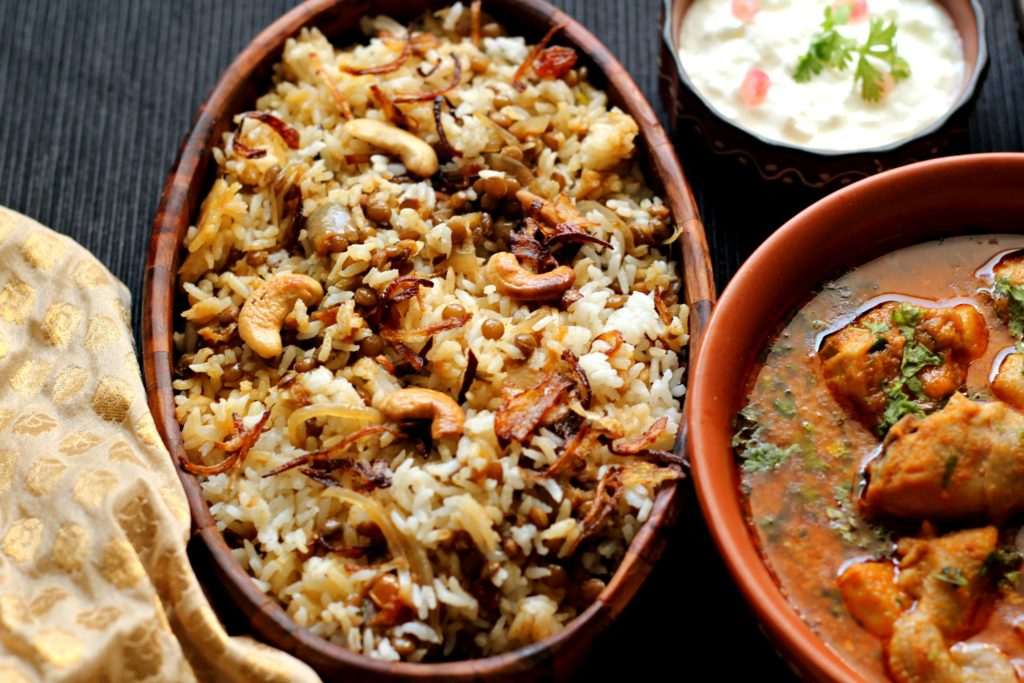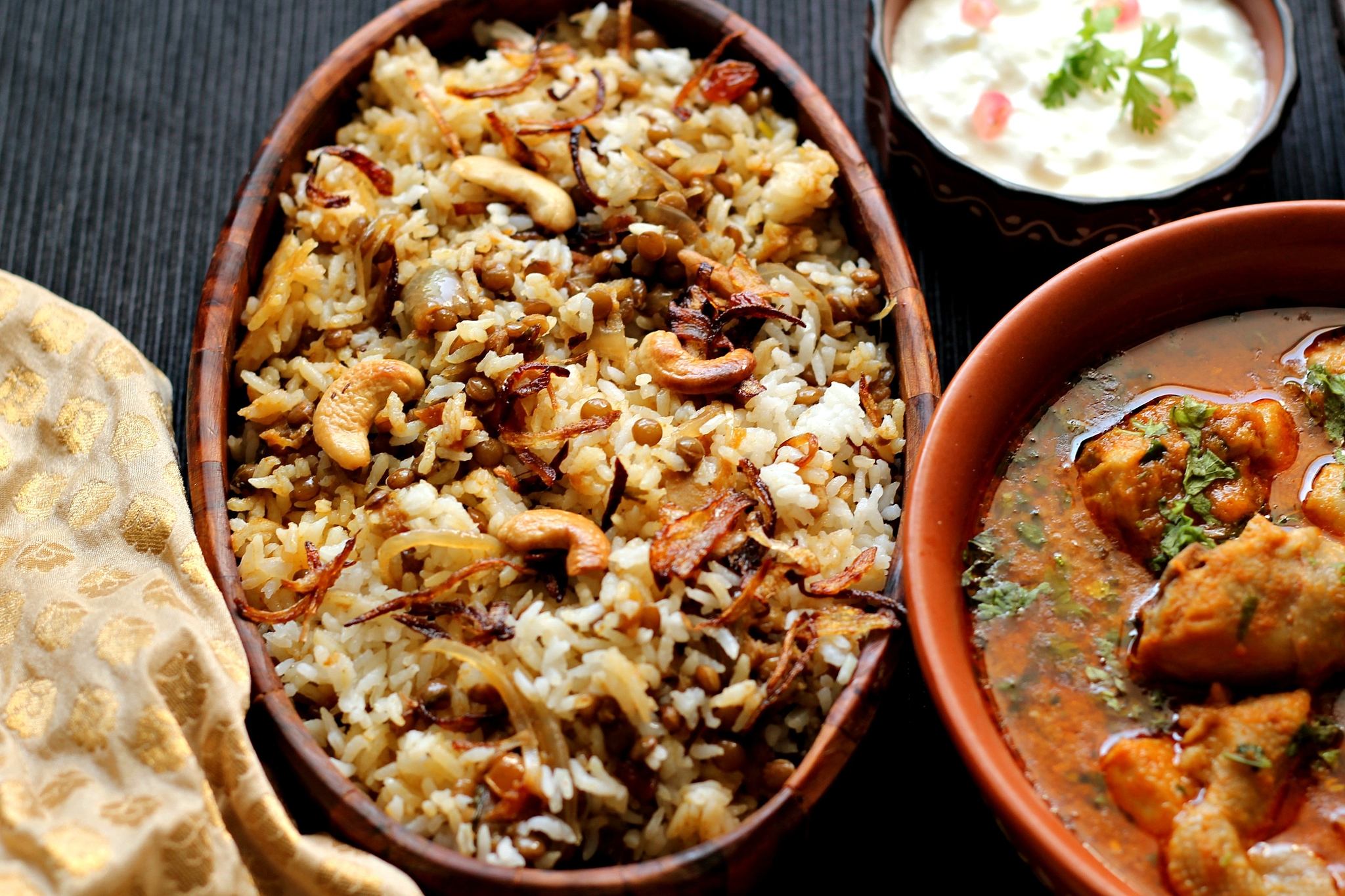 Pin
Sometime last month I made a super delicious and wholesome pulao with the goodness of red lentils (masoor) and paired it with a super quick chicken curry, the recipe of which I developed over the years. Necessity is truly the mother of all inventions and so it was, the chicken curry I meant. The pulao is something I first learnt from a cook who briefly worked for us when we lived in Mumbai. Again, the book which I wrote her recipe in is lost and I tried to recreate it from whatever I remembered so it is largely my own experiment. Sometimes the most basic of recipes turn out to be super duper hits and I have my family literally eating out of my hand! Some of the pictures below show you a glimpse of what I served that day and I promise you that I will post the recipe of my 'jhat-phat' (super quick) chicken curry recipe in a couple of days. Till then let's head over to the masoor pulao recipe shall we?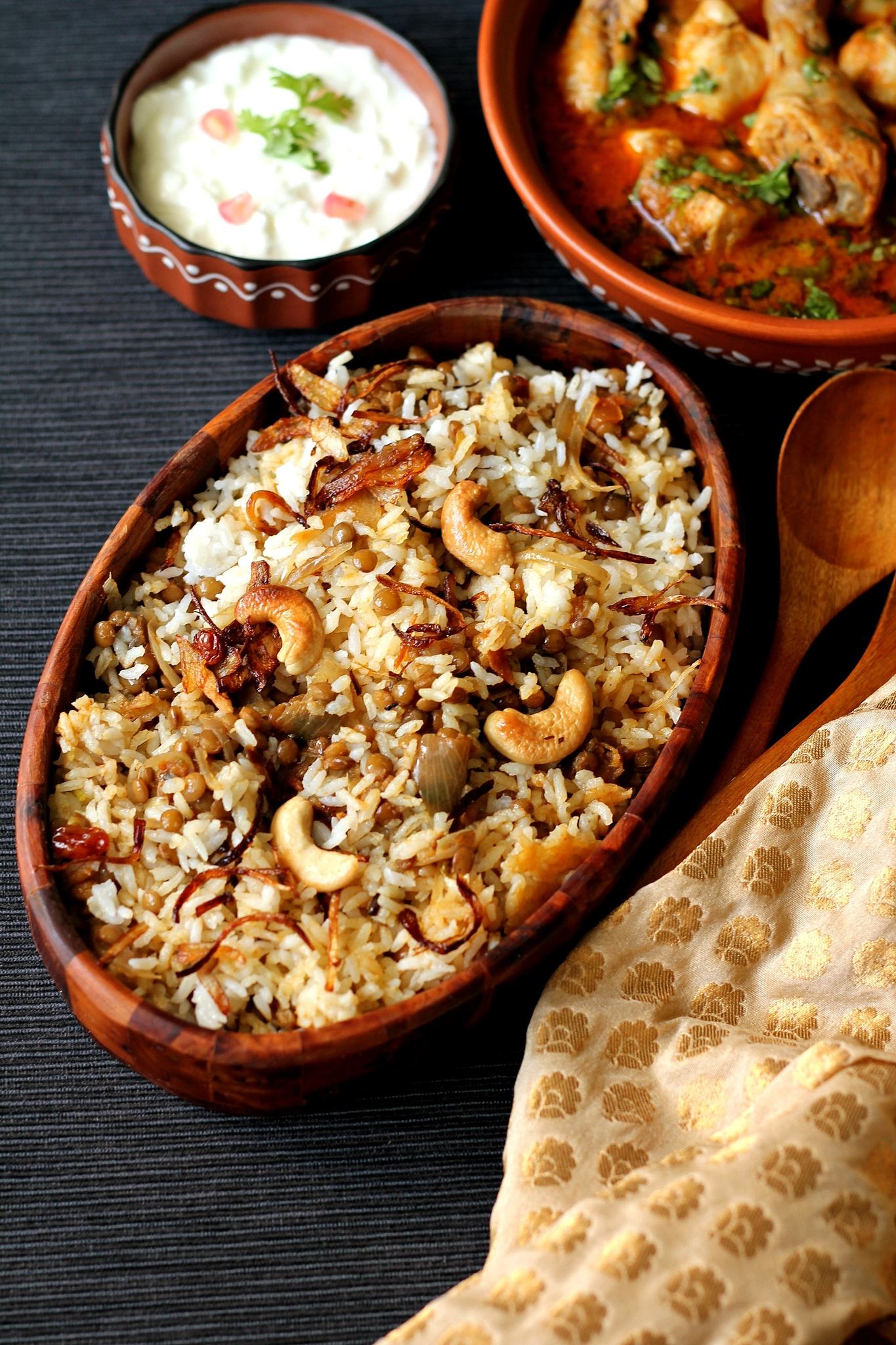 Pin
There was this time when I was so obsessed with veg pulaos that I would try out almost every recipe I had in the book. Since I totally totally love one pot meals, veg pulaos are usually what I prefer to make. I like to pair them with a non vegetarian side, a curry or a dry dish. This pulao is super simple and needs a few basic ingredients. The only extra effort involved is the soaking of the whole masoor for at least 8 hours. This will speed up the cooking and even more so if you use a pressure cooker. You can use the rice of your choice – basmati is something everyone will have, use it if you prefer. My personal choice these days is the jeerakasala rice which is an aromatic short grained rice that packs a punch in any rice dish you make.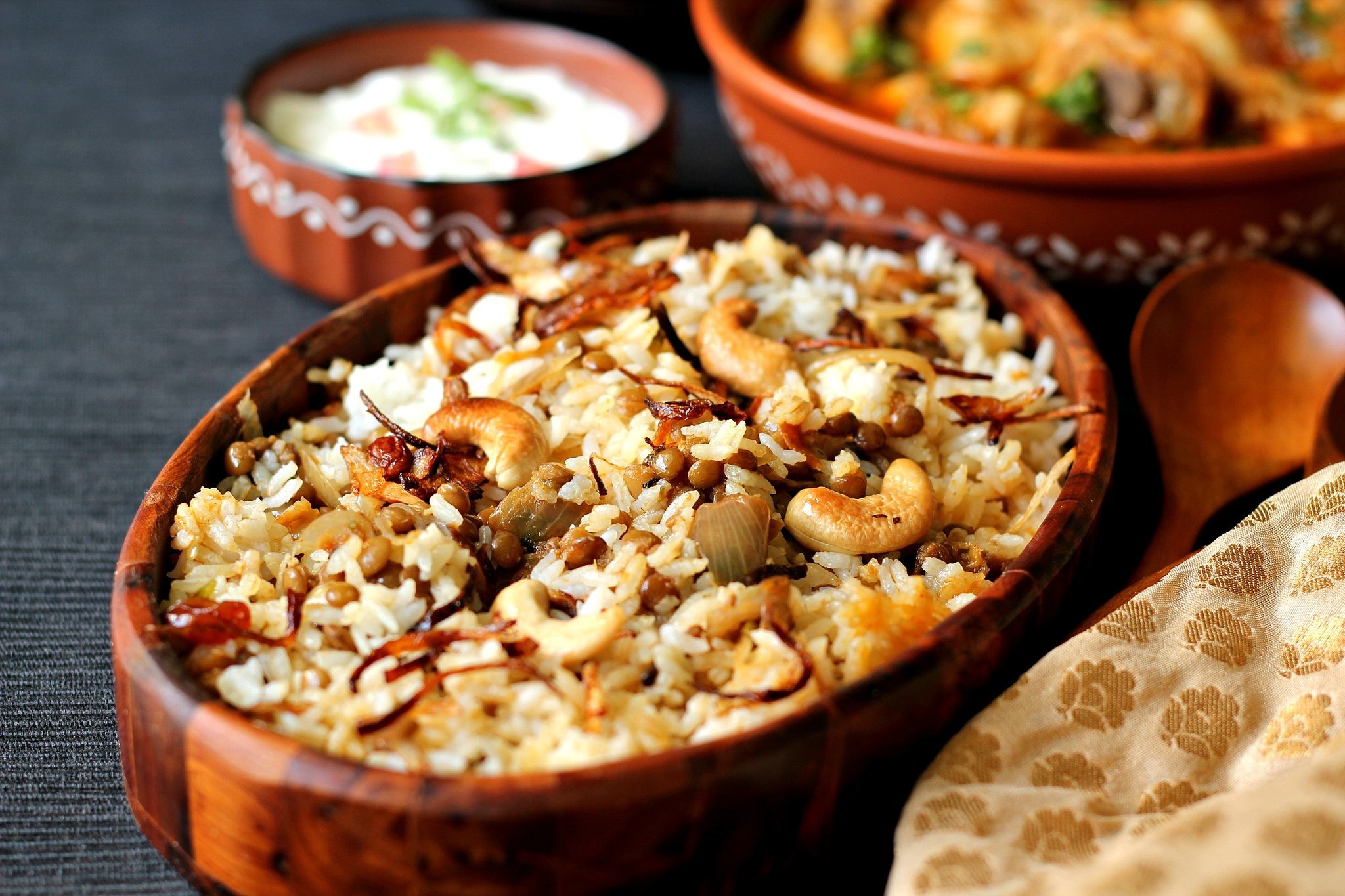 Pin
You can make this for a special meal or whenever you get bored of your everyday meals. You can definitely give it a go this festive season when you want to try out something new, especially if you are inviting people who prefer a vegetarian meal.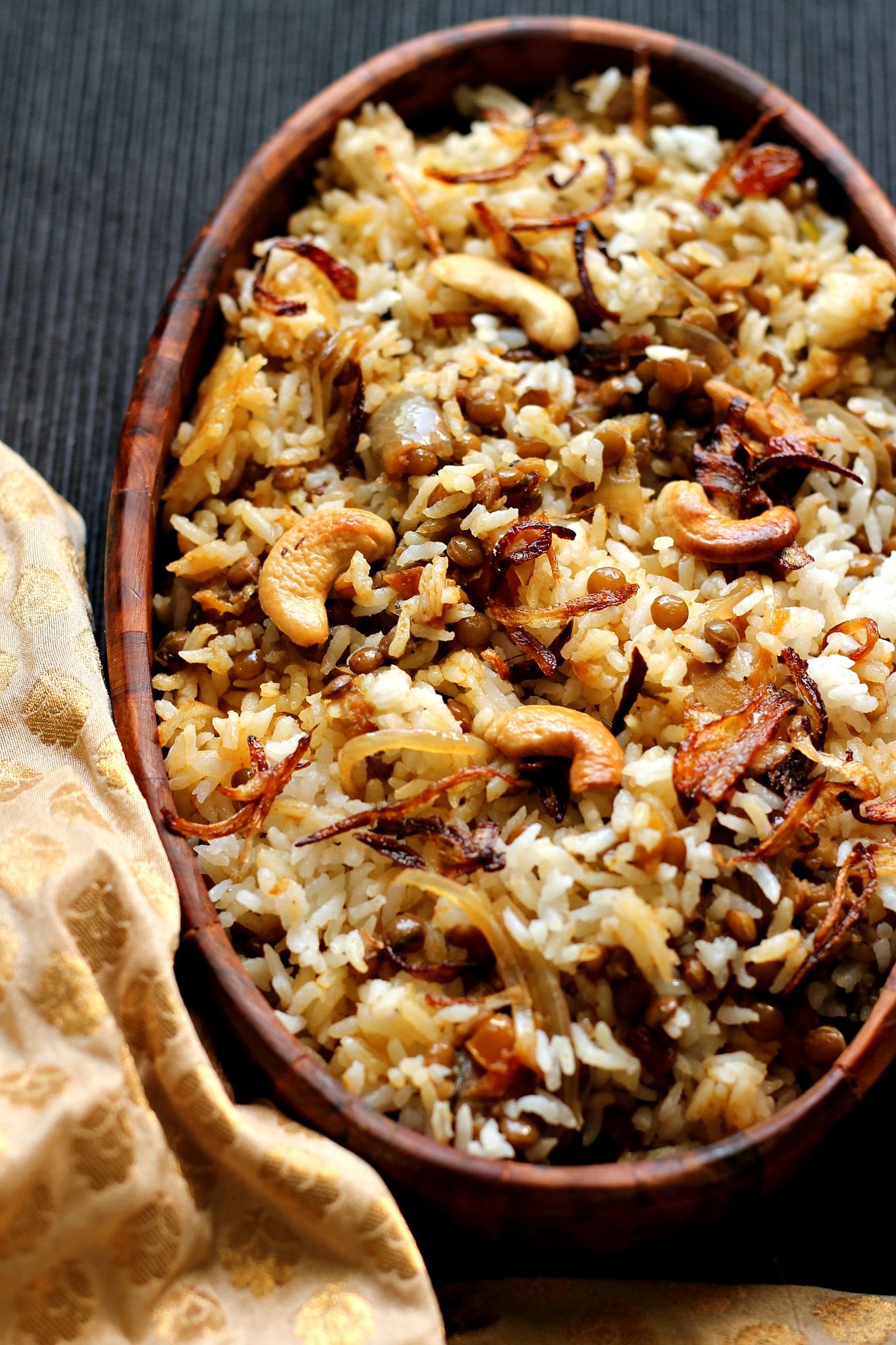 Pin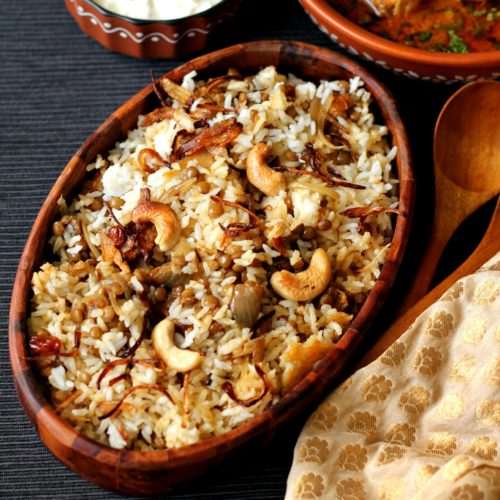 Masoor Pulao
Say yes to this pulao if you are a lover of rice & lentils 'cuz this pulao will totally perk your mood & jazz up your meal! Pair it with a simple raitha or an elaborate veg or non veg curry and you are sorted for the day (moodwise of course) 🙂
Print
Pin
Rate
Ingredients
For the masoor curry:
1/2

cup

whole masoor

red lentils

1

green chilli

slit (adjust to taste)

2

teaspoons

ginger & garlic paste

2

medium onions

finely chopped

2 to

matoes

finely chopped

2-3

teaspoons

red chilli powder

adjust to taste

2

teaspoons

coriander powder

1

teaspoon

cumin powder

1/2

teaspoon

turmeric powder

oil (or ghee for a non vegan version)

salt to taste
For the rice:
1-1/2

cups

basmati (or jeerakasala) rice

4

cloves

1

" stick cassia bark or cinnamon

1

bay leaf

2

cardamoms slightly bruised
To garnish:
1

medium-small onion, finely sliced

1/4

cup

cashew nut halves

optional

1/8

th cup raisins

optional

chopped fresh coriander

oil (or ghee for a non vegan version) for frying
Instructions
Wash and soak the masoor in plenty of water for at least 8 hours or overnight, then discard the water and refresh with fresh water.

In a pressure cooker, heat the oil or ghee and fry the slit green chillies. Cover the pan to prevent oil from spluttering. Add the ginger-garlic paste as well and fry it on a low heat for half a minute or until the raw smell vanishes

Toss in the sliced onions and let them fry till translucent. Then add the tomatoes and salt and fry till they turn mushy and oil begins to separate

Add the turmeric, coriander, cumin and red chilli powders and fry for half a minute. Drain the whole masoor completely and add it in. Give everything a good mix and add a cup of water. Check salt and bring the mixture to a boil.

Cover pressure cook on full heat for two whistles. Remove the cooker from the heat and leave it undisturbed until you are able to remove the whistle easily. Open, stir and keep aside (if it is not yet tender, put it back on the heat and give it another whistle). The masoor dal should be tender but not overcooked or mushy.

To make the rice, first wash the rice in 2-3 changes of water, drain and keep aside. Bring 3 cups of water (double the quantity of the rice, using the same cup/measure) to a boil. You may use plain water or chicken or vegetable stock (or bouillon (stock) cube dissolved in water)

Heat the ghee or oil in a heavy based kadai/wok and add the whole spices - cloves, cinnamon or cassia bark, bay leaf and cardamoms. Let them sizzle on a low heat for a few seconds.

Add the washed & drained rice and fry it for a couple of minutes. When the ladle begins to feel a little heavy add the freshly boiled water/stock mixture and turn up the heat. Give the mixture a good boil - let it bubble for a minute or so. Then reduce the heat completely to a sim and cover with a well fitting lid so no steam can escape. Keep a timer for exactly 5 minutes. Then turn off the heat and let the rice cook undisturbed for 15 minutes. After the time is up, open the pan and gently fluff up the rice using a fork. Cover and keep aside

While the rice is cooking you can heat oil or ghee in a small pan and fry the items for garnishing. First fry the sliced onions till they turn golden brown and remove on a plate lined with kitchen tissue. Next, fry the raisins & nuts separately until they turn golden. Remove on the plate.

Once the rice is ready, layer 1/3rd of the portion in a serving dish. Top it with a layer of cooked masoor dal mixture. Add another layer of rice and then a layer of the masoor dal. Continue till all the rice and masoor dal have been used up. Garnish with the fried onions, raisins & nuts. Sprinkle with chopped coriander and serve hot with raitha or salan (or curry)
Disclaimer
The nutritional values are only indicative.
Tried this recipe?
Please leave a comment & rate the recipe below or share a photo on Instagram and tag me @ruchikrandhap