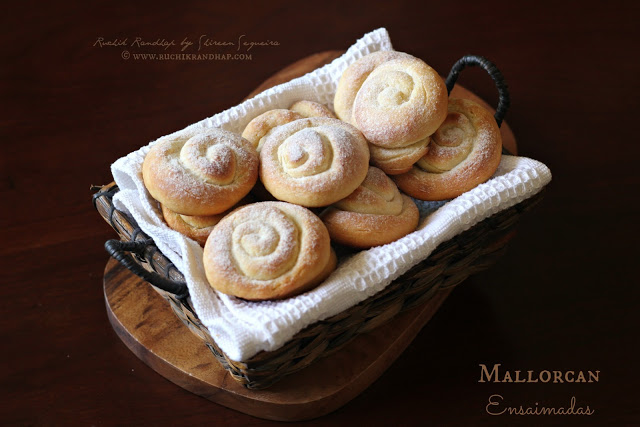 I am back with another beautiful bread this month – the very Spanish Ensaimadas which is a sweet, spiral shaped pastry made with flour, eggs, milk and lard (replaced by butter in the modern version).
This month avani Nandula of 
Cook's Hideout
 chose 'Family Feast Breads' as the theme for Bread Bakers, a group of bread enthusiasts with whom I bake every month. Pavani suggested that we bake loaves, rolls or any sort of bread that we'd like to bring to a family celebratory dinner or feast. Now since the festive season is on and Christmas is just around the corner I wanted to pick a bread that was celebratory enough but not too rich, complex or fancy as these breads are rarely eaten by my family. I had to choose something that would be enjoyed by them and could be made easily and I chanced upon this recipe in The Bread Bible by Christine Ingram & Jennie Shapter. I had bookmarked it a while ago simply because these rolls looked so beautiful. I am so glad that they turned out just as beautiful and delicious! These are definitely something I would make for a celebratory meal or eat for breakfast when I am in the mood to indulge. So yeah, it fits the theme so perfectly today! Thank you Pavani for this lovely theme! If you'd like to see what the other bakers are baking today, scroll down to the bottom of this post to access the links to their posts!
Ensaimada (pronounced as 'en-sai-ma-dha') is a popular breakfast/snack or a dessert bread that is pretty popular in countries that were prior Spanish colonies so you will find variants of the traditional pastry in Philippines and Puerto Rico as well. They are also called as Ensaïmada de Mallorca which means the sweet bread of Mallorca, an island off the coast of Spain. And by the way, Mallorca is also spelled as Majorca but is pronounced as 'mah-york-ah' as the as the double L in Spanish is pronounced like the English 'Y'. So now that I've given you your grammar/pronunciation lessons let's proceed 🙂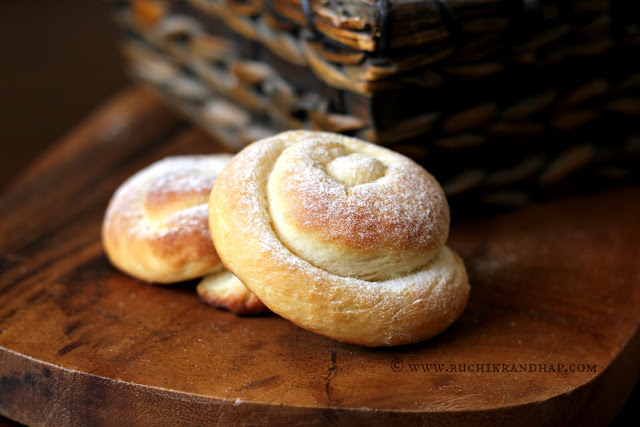 The ensaimada derives its name from the Catalan word 'saiim' which means pork lard (from the Arab word 'shahim' meaning 'fat') that was used in making the roll. It is believed to have been brought to the Spaniards from the Moors, as the coiled shape resembles the Moorish turban. The Moors by the way, were medieval Muslim inhabitants of the Maghreb, Iberian Peninsula, Sicily and Malta, who invaded the Iberian Peninsula, an area which is today Gibraltar, most of Spain and Portugal and parts of Southern France.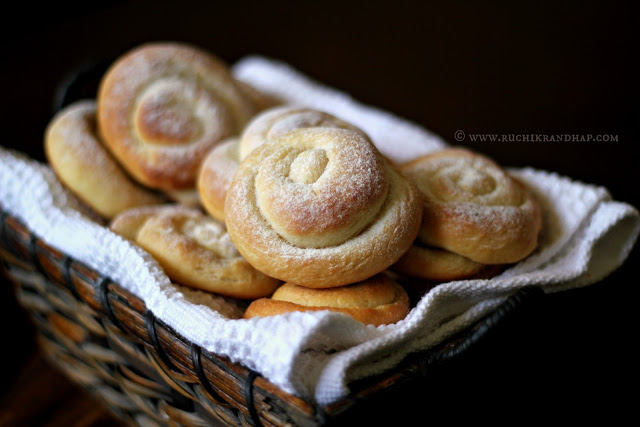 There are times when I am not very sure if my family will like the sweet breads that I make especially because they either like plain ones or the stuffed/savoury ones but I was completely surprised when the hubby said that these were so delicious, among the best he'd ever eaten! "Likewise", I said! These were definitely the nicest kind of rolls/buns that I had ever eaten. The addition of egg definitely added to the taste and texture and the icing sugar simply complemented the existing sweetness without overdoing it.
If you like to try out something new and pretty, you must make these buns. The snail-like shape will delight little ones and so with its taste. I am definitely going to add them to my favourites and will make them again. Do note that they taste best when fresh and warm (if you want to enjoy the texture). The taste however does not get affected if you keep it overnight but it is best to enjoy them while they are still warm.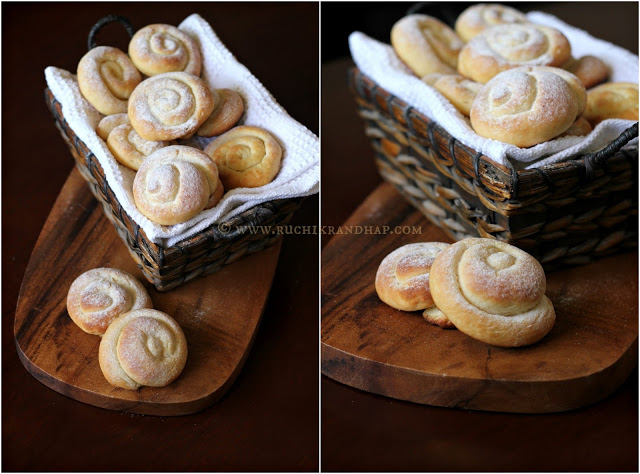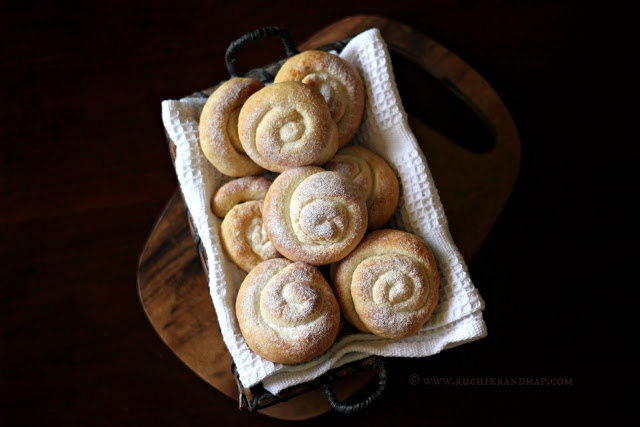 Mallorcan Ensaimadas
Prep time: 15 mins | Proofing time: 1 hr + 45 mins | Baking time: 10 mins | Yield: 16 small buns


Ingredients:
225 grams (8 oz) all-purpose flour (maida)
1-1/2 teaspoons instant yeast
1/2 teaspoon salt
50 grams (2 oz) caster sugar
75 ml (5 tablespoons) warm milk
1 egg, beaten
30 ml (2 tablespoons) sunflower oil
50 grams (2 oz) butter, melted
Icing (confectioners) sugar for dusting
Method:
1. Sift the flour and salt into a large bowl. Add the caster sugar and mix well. Make a well in the centre.
2. Place the yeast in a small bowl and pour the warm milk over it. Cover with cling wrap and keep in a warm place till the yeast froths up, about 10 minutes. Then pour this mixture into the flour mixture .
3. Beat the egg and oil together and add it to the flour mixture and mix until it forms a ball.
4. Tip the dough ball onto a clean surface dusted with flour and knead for 8-10 minutes or until nice and smooth.
5. Place the dough ball in a bowl greased with oil. Cover with cling film and keep in a warm place till doubled in volume, for about 1 hour
6. Grease two baking trays with oil and keep it ready. Place the melted butter on a plate.
7. Punch out the excess air from the dough and divide it into 16 equal pieces.
8. Roll each of the 16 pieces of dough into smooth, round balls and then shape them into a sausage. Place your index fingers in the centre of the sausages and roll outwards to form ropes about 14-15 inches long
9. Roll the ropes in the melted butter then place them in spirals on the greased baking trays. Tuck in the loose ends under the spiral. Cover lightly with cling wrap and let the spirals rise for another 45 minutes.
10. Preheat oven to 190 C. Gently brush the tops of the spirals with water and then dust with a little icing sugar.
11. Bake for 10 minutes or until golden on top. Remove and let the ensaimadas cool on a wire rack. Dust more icing sugar and serve.Let's take a look at what my fellow bakers have baked for this month's Family Feast Breads event:
#BreadBakers is a group of bread loving bakers who get together once a month to bake bread with a common ingredient or theme. Follow our Pinterest board right here. Links are also updated each month on this home page.
We take turns hosting each month and choosing the theme/ingredient.
If you are a food blogger and would like to join us, just send Stacy an email with your blog URL to foodlustpeoplelove@gmail.com.