Phew! Last minute Christmas Cake is best for those in a rush…like me…I made this at the last minute before I set out on a travel and I am posting the recipe while sitting in a hotel room. I hope you are able to make it and enjoy it too. I have not cut the cake yet, can't wait for Christmas.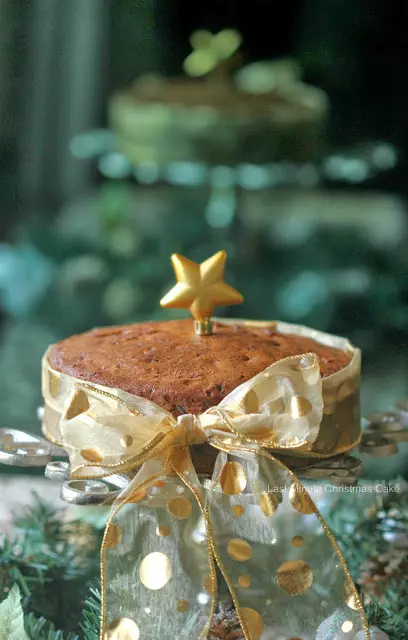 Have a Merry Christmas!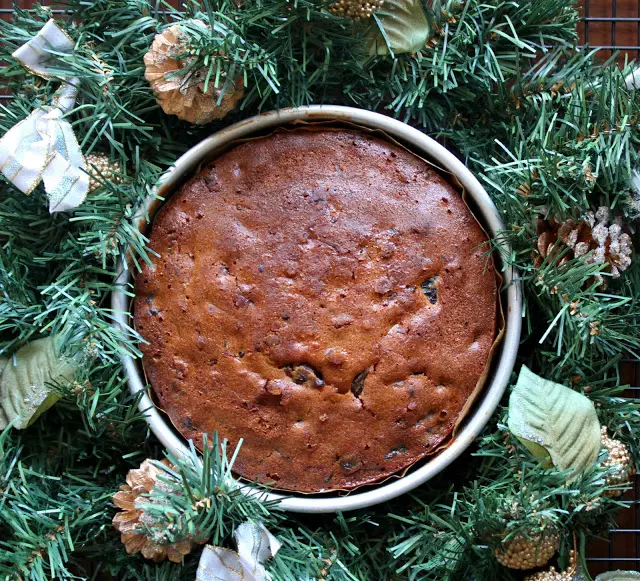 Last Minute Christmas Cake
Prep time: 20 mins | Bake time: 1-1/2 hours | Yield: 8 inch cake
Ingredients:
350 grams mixed dried fruits * see notes
80 grams / 3 oz butter at room temperature
1/2 cup dark brown sugar
2 eggs at room temperature
1/2 cup Irish Cream or fresh cream for an alcohol free cake
1 cup self raising flour * see notes
1/2 teaspoon nutmeg or cinnamon powder * see notes
2 tablespoons rum * optional, see notes
Method:
1. Chop the dried fruit into as small pieces as possible and keep aside. Sift the flour and nutmeg/cinnamon powder.
2. Grease and line an 8 inch round cake tin with parchment paper and keep aside. Preheat the oven at 160 degrees C for 15 minutes.
3. In a large mixing bowl beat the sugar and butter until well mixed. Add one egg at a time and beat. Pour in the Irish cream or the fresh cream and blend. Add the sifted flour and nutmeg/cinnamon mixture and mix until well incorporated.
4. Add the chopped fruits and give it once last mix. Pour the batter into the prepared tin, smoothen the surface with a spatula and bake for 1-1/2 hours or till the skewer inserted comes out clean. The top of the cake should be nice and firm and darkish brown in colour
5. Remove and cover the pan with a piece of foil to retain all the moisture.
Notes:
1. I used a blend of tutti-fruitti, raisins, black currants, dried chunks of fruit (papaya, pineaple), dried ginger. I recommend you use a  fewer dried fruits that are not so tart/sour (like black raisins or cranberries) and more of sweeter ones like dates, figs & prunes.
2. To make your own self raising flour sift flour into a cup (1 cup = 237 ml) and then add 1-1/4 teaspoons of baking powder and 1/4 teaspoon of salt and sift it well together.
3. You may use any spice blend of your choice if you don't like nutmeg or cinnamon. You can use all spice (a kind of spice that looks like peppercorns) or mixed spice (a blend of spices like garam masala but without the chillies/pepper and is used in the preparation of fruit cakes)
4. If you are using fresh cream instead of Irish cream due to lack of availability of the latter try adding a bit of rum or red wine for that bit of alcohol flavour.