So I am back after another nice break. This time it was Mangalore – and before those of you living there reach out to strangle me for not having made the time to meet you – I offer my apologies. It is just not easy travelling with a young kid and especially if one has to juggle between places. This trip was an unplanned one and we are glad we were able to beat the Mumbai heat because the weather was definitely more pleasant in Mangalore. A few showers during the start of our trip and towards the end made it more bearable to spend our time there sans the AC. The heat & humidity can kill you otherwise!
It was great meeting the whole family and celebrating a small get together with some lovely food that was catered by Mangalore's most renowned and oldest caterers – M.D Souza & Sons (I'll call them M.D). We were delighted to know that unlike other caterers they now cater to very small parties with as few as 5-10 people. What was remarkable was that not only the food arrived on time as promised but was delicious as always – all the items (all Mangalorean dishes) especially their signature dishes had the same taste and quality that they have managed to maintain over the decades. Also, in typical M.D style, they always send more food than you have ordered – '
unay zaunozo
' (must not fall short) being their motto. The
Sweet Pulao
and
Plum chutney
that has always been on my list of favourites was simply delicious and the leftovers were eaten for breakfast the next day. The Plum chutney (or the dates & beetroot chutney as some call it) tasted exactly the way it should taste. Trust me, I have eaten some pretty crappy versions made by other caterers that is not even close to the original – neither in taste nor colour nor aroma. It does take a master chef to replicate all elements of a dish perfectly each & everytime. So yes, thank you M.D for maintaining the quality in a time and age when there are a million little catering companies that have mushroomed in Mangalore giving you tough (price) competition.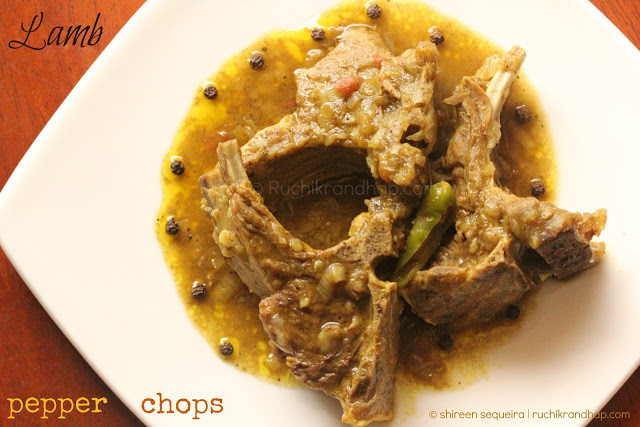 So let's talk food! The Schezwan Pork, Pepper Chicken, Mutton Curry and
Sheviyo
(stringhoppers/rice noodles) were to die for. I specially wished to eat (and hence ordered) the plantain (raw banana) sukka that is served during Mangalorean Roce (pre-wedding ceremony) functions  – the one with large chunks of plantain slowly cooked in a medley of aromatic spices, fried onions and roasted coconut gratings. The traditional Moong Dal (Split Green Gram) and Sago (Sabudana/Tapioca Pearls) 
Vorn
was the grand finale in the real sense. Honestly it's not everyday that we get to eat such stuff – not in Bombay at least. I know that those of you (especially Catholics) who live in Mangalore are fed up of eating from the same menu offered by caterers for every party – be it a Christening ceremony, an Engagement, Wedding or a Communion party. Now I really miss such stuff – I crave to see some typically Mangalorean dishes on the buffet table at parties here and all we get is a choice of North Indian or Continental fare (a mind boggling spread at times) but nothing that can satisfy you at the end of the meal. There was a time when I wanted to get out of our small town and experience the 'real' world for very many reasons, but today I really miss the myriad of things that make Mangalore what it is. Food especially.
Anyway, moving on to today's recipe (and I am not done with my stories yet- will keep some for next time!), I have for you a delectable lamb pepper chops recipe. I call it 'lamb' chops because ideally you need to use lamb for it, but you can use goat meat too. Cooking time may vary though – so please use your judgement. If you do not have chops, you can cook regular mutton (or goat) with this recipe. It tastes great with brown/boiled rice or white rice and although I have never tried it with chapathis (chops may be a bit of a struggle to eat), I am sure it tastes just as great.
Lamb Pepper Chops
Prep time: 10mins | Marinating time: 30mins-1hr | Cooking time: 20mins | Serves 3


You Need:
800gm-1kg lamb chops *see notes
3 medium onions finely chopped
1 big tomato finely chopped or 1/2 cup thick curds
salt to taste
ghee or oil for frying
For the marinade
2-3 tsp peppercorns (adjust to taste)
2 small green chillies (skip or adjust to taste)
1 tsp cumin seeds/jeera
1/2 tsp turmeric powder
1 inch cinnamon
2-3 cloves
1 pinch saunf/badi shep (optional)
1 inch ginger
1 small pod or 10-12 flakes of garlic (Indian)
1/4 cup coriander leaves
Method:
1. Grind all the ingredients mentioned in 'For the marinade' to a fine paste. Reserve the masala water.
2. Wash and drain the chops well. Marinate them with the ground masala, salt to taste & 1/2 cup curds for a minimum of 30mins – 1 hr.
3. In a pressure cooker, heat the ghee or oil and fry the onions till tender (golden brown). If you are using tomatoes, you can add them next and toss in a little salt so that they soften fast. Skip the tomatoes if you have marinated the meat with curds.
4. Add the marinated meat, mix well and 1/2 cup water (or masala water), check salt to taste and close the lid. Cook on a full flame until the first whistle goes off. Reduce flame and continue to cook for 10-12 minutes (cooking time may vary depending on the quality/tenderness of the meat).
5. Turn off the flame and allow the whistle/weight to loosen up on its own. Open the cooker, stir well and serve hot with rice.
Notes:
Lamb is tender/meat of a sheep less than 12-14months of age – mostly available abroad. In India goat meat is often sold as mutton. You can use tender chops of either mutton or goat meat.
Although marinating the meat ensures that the meat absorbs all the flavours, you may skip the marinating part and directly pre-cook the washed & drained meat with salt. Thereafter follow step#4 onwards using a heavy bottomed pan/kadhai instead of a pressure cooker.