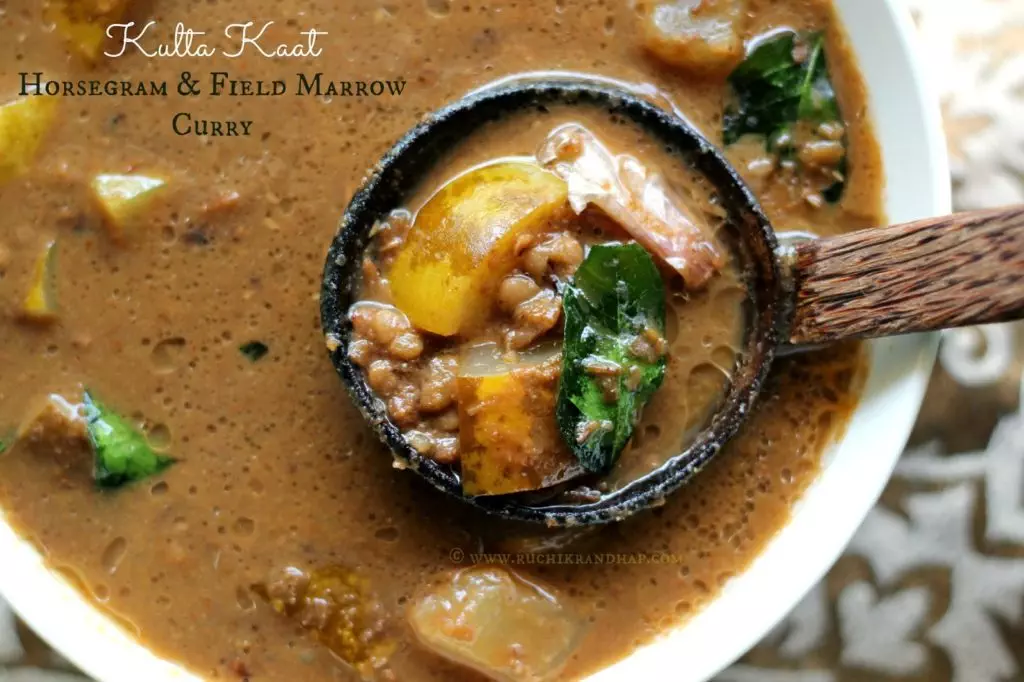 One of Mangalore's traditional dishes that I believe is almost on the verge of extinction is this delicious masterpiece, a curry made of horse gram and field marrow. Field marrow, also known as the Mangalore/Malabar cucumber is native of coastal Karnataka and Kerala and hence found as a regular item on the menu of these local cuisines. In Mangalorean cuisine there are plenty of preparations that call for the field marrow but not as many with horsegram. At least not that I ever know of. Not until I found this recipe in the Mangalore Ladies Club Cookery Book a few years ago. I believe that every community in Mangalore (ex, the Catholic, Konkani, Bunt, Brahmin etc) have their own mild variations of this curry and since I had never eaten it before, I have adapted this recipe to create my own family favourite.
Today I am reposting my old recipe which I had published in May 2010. I feel that this lovely curry has been lost somewhere in my archives and deserves to be dug out and put on a pedestal.
It is one of the recipes that talks volumes about the simple middle class life of Mangalore a few decades ago. From what I have gathered, a few decades ago horse gram or kulith as we call it in Konkani was only used as cattle feed and the cream of the society didn't eat it or maybe not as much as the people from the lower strata of society. Pretty much as wholemeal which was considered to be food of those who couldn't afford to buy the deceptively 'clean' and whitened flour (maida). Over the years however, this thinking has changed and people have come to recognize the health benefits of this humble legume.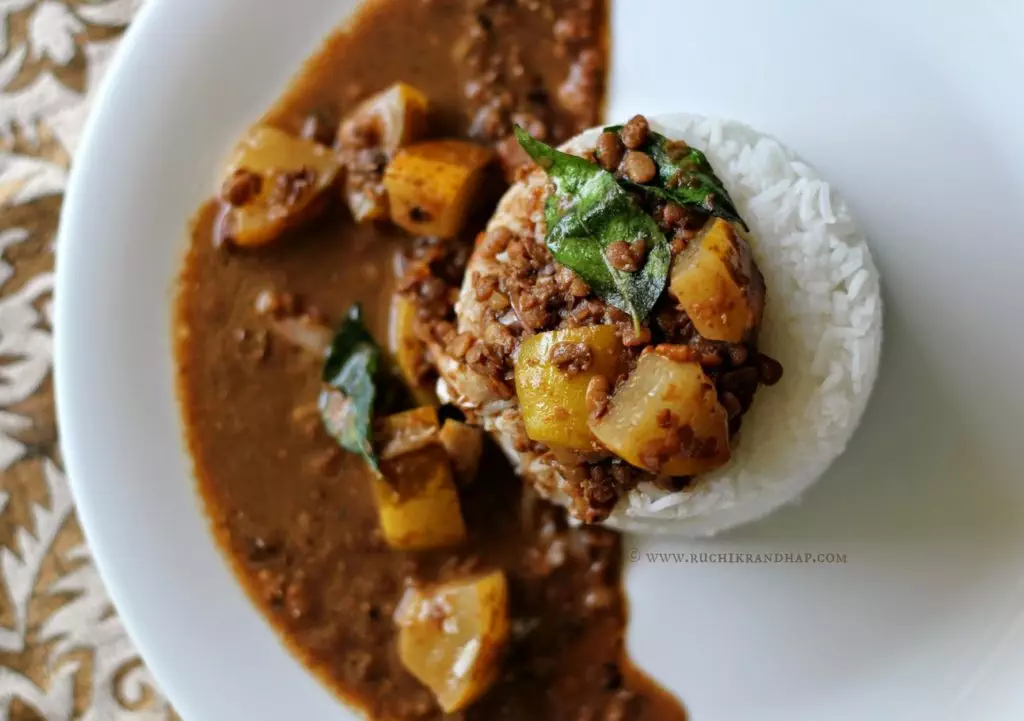 In the olden days most vegetables that have a long shelf life were harvested and stored carefully before the monsoons began. Veggies such as pumpkins, ash gourd (winter melons), bottle gourds and field marrows were tied with jute strings and hung from the ceiling in the corridors that connected the kitchen to the dining area of traditional Mangalorean homes.

This was such a wonderful sight that people still fondly remember them and try to replicate this scene during the 'Roce' function (pre-wedding ceremony) in Mangalore. A simple 'kulta-kaat' served with steaming hot red boiled rice and perhaps a papad and pickle completed a weekday meal.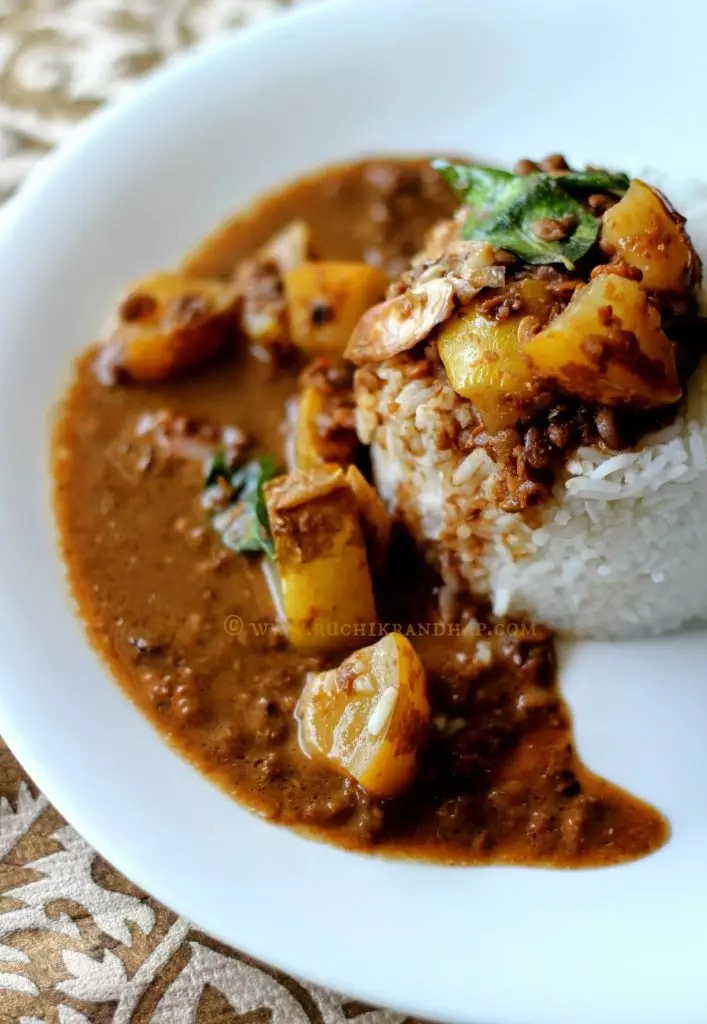 I really hope you try this recipe and enjoy the pleasures of eating a simple Mangalorean meal 🙂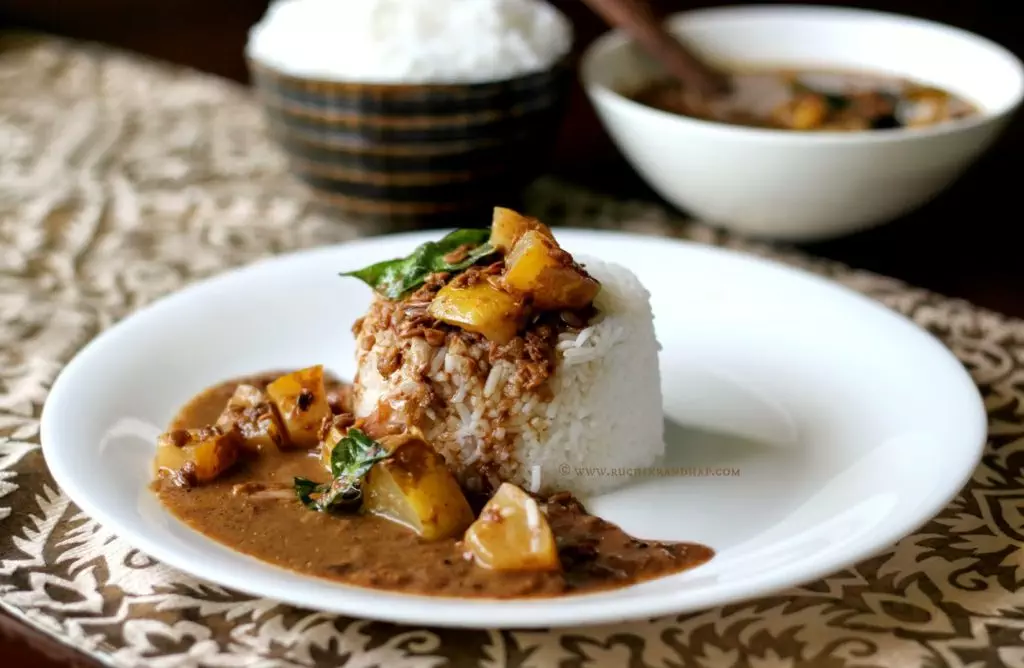 Kulta Kaat (Traditional Mangalorean Horse Gram & Field Marrow Curry)
Prep time: 20 mins | Cook time: 15 mins | Serves 4-6


Ingredients:
1 cup horsegram (kulith/kulath)
1 small field marrow/ Mangalore cucumber/ mogem/magge/sauthe kai
4 cups water
2-3 teaspoons of powdered jaggery (adjust to taste)
salt to taste
For the masala:
4 long dry red chillies (Byadge/Bedgi variety) * see notes
5 peppercorns
3/4th teaspoon mustard
4-5 garlic flakes
2 teaspoons grated coconut (optional)
1 marble size ball of tamarind (adjust to taste)
For tempering:
1 sprig curry leaves
3 garlic flakes with skin, lightly bruised
1-2 tablespoons ghee or oil (preferably coconut)
Method:
1. Wash and cut the field marrow in quarters. Scrape off the pith and seeds ('girope' in Konkani) and cut into medium sized cubes. Keep aside.
2. Heat a skillet/tawa and dry roast the horsegram for a few minutes on a low heat till you get a nice aroma. Take care not to burn it. Remove, allow to cool and then coarsely pound till they are broken lightly. This is an optional step.
3. Transfer the horsegram into a pressure cooker. Add 4 cups of water and salt to taste and pressure cook for about 5-6 whistles. Remove from heat and let the cooker cool down. Open and check if it is tender, if not, place it on the heat again and let it cook for another 2 whistles.
4. When the horsegram is cooked, you can remove 2-3 tablespoons aside on a small plate and spread it out to cool – we need to grind this as it will give some texture and thickness to an otherwise watery gravy. When it is cool enough, grind to a smooth paste. Again this is an optional step.
5. To the cooked horsegram add the chunks of field marrow and cook till tender. You can also cook it under pressure but be careful to remove the cooker from the heat as soon as one whistle goes off or else the the field marrow will overcook.
6. When the field marrow is cooked add the ground masala and a little extra water if required (about 1/2 cup), adjust the salt to taste. Add some more tamarind juice if required and bring the mixture to a boil.
7. Add the ground horsegram (step#4) to the curry and simmer for a minute. Add the jaggery if using and adjust the flavours (salt & jaggery). Remove the pan from heat.
8. In smaller pan heat the coconut oil for tempering. Add the crushed garlic and the curry leaves and toss them around for a few seconds. Pour this into the curry and cover the pan immediately.
9. Serve hot with rice
Notes:
1. This curry is medium spicy, if you want to tone down the spice use chillies without their seeds. Use the Bedgi/Byadge/Kumti variety of chillies for authentic taste.