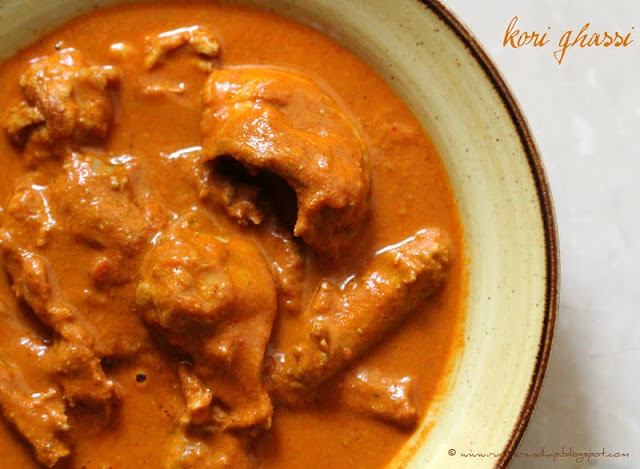 Any Mangalorean will find it easy to slide into a new cosmopolitan city – ready to mingle and blend into the crowd. This is simply because Mangalore itself has always been such a cosmopolitan place in its own special way. No, I am not talking about pubs or malls – both of which have been mushrooming in the past decade or so, but about the cultural influences that have shaped each of us since decades. Like I mentioned in so many of my previous posts, Mangalore is a small place with so many cultures, languages and religious beliefs all of which are tightly interwoven into the fabric of our lives and have a great impact on our cuisine as well.
I can't stop comparing Mangalore's cultural heritage to the lovely 'garam masala' which is a blend of different fragrant spices, unique in their own way but all the more charming as a mixture – so also, in Mangalore you can find different communities which in so many ways contribute to our beautiful town – the Tulu speaking Bunts and non Bunts, the Kannada speaking Brahmins, non Brahmins and Protestant Christians, the Konkani speaking Catholics and GSBs (Goud Saraswat Brahmins) and non GSBs (with influences from North Canara), the Beary Bashe speaking Bearys (also known as Byari – the local Muslim community), the Malayali, Gujrati and Marwadi traders and business communities settled in Mangalore all influence our culture. Irrespective of whether they are locals or those settled in Mangalore since centuries, each one takes great pride in being called a 'Mangalorean'
So it goes without saying that those born and brought up in Mangalore have definitely savoured a meal speciality of any one or all of the above mentioned communities – Sanna & Pork, Avial, Dalitoy, Mutton Biryani (Muslim wedding special) to mention a few. I hope to be able to revisit those memories by recreating some of those meal time experiences in my own kitchen. For now, I'd like to share my favourite Bunt style Chicken Curry. 'Kori' means Chicken in Tulu – the local language of Mangalore and 'Ghassi' means a spicy thick gravy. I have always loved the way it was made and was delighted to find the recipe in a nice blog –
Cherie's Stolen Recipes
recently and 'stole' the recipe from there. Thank you Charishma 🙂
The Bunt community is known for their tongue tickling spicy delicacies, well groomed, mannered and classy men & women – not to forget the beautiful & talented women risen up to international fame and  became global icons of fashion & beauty – yes, our very own Aishwarya Rai, Shilpa Shetty and a whole lot of gorgeous women. The Bunts have also been pioneers in the hotel industry with humble beginnings with the Udupi (also known as Udipi) restaurants across the world, predominantly in Bombay.
I remember having my first breakfast in Bombay in a small Udupi restaurant near my place and my hubby told  me that the best way to know if it was being run by a Mangalorean was to notice that besides great service, you get your glass of water within 2 minutes of being seated at a table.
I think I need to keep some stories for next time, for now, enjoy this spicy, authentic Mangalorean Bunt Chicken curry!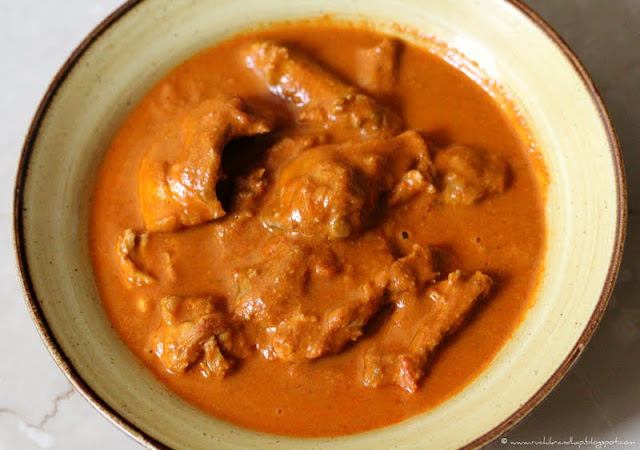 Kori GhassiServes: 6-8



You Need:
 For the masala (ingredients to be roasted)
1 tbsp ghee
1 onion – sliced
1 tsp poppy seeds (optional)
3 cloves
1 inch cinnamon
2 cups grated coconut
1/2 tsp turmeric
8 long red chillies (for colour) – I used 6 kashmiri chillies to tone down the spice
6 short red chillies (for spice) – I used 5 long red chillies (kumti) as I ran out of short chillies
3 tsp coriander
1/4 tsp jeera
8-9 peppercorns (increase it upto 15 if you like it spicy)
1/2 tsp fenugreek (methi)
4-5 cloves of garlic (Indian ones)
1 marble size ball of tamarind
For the gravy:
1 tbsp ghee
1 onion chopped
2 tomatoes chopped fine
2 cups coconut milk
For the tempering (fon/tadka/bagar)
1 sliced onion
1 tbsp ghee
Method:
1. Heat a large thick bottomed pan and add 2 tbsp of ghee and fry the sliced onion, poppy seeds, cloves and cinnamon till the onions turn golden brown. Toss in the grated coconut and fry for about 2 minutes till you get a nice fragrance, add the turmeric powder and toss for about 6-7 minutes and the coconut looks well toasted.
2. Add the chillies, coriander seeds, cumin and peppercorns, fenugreek seeds, tamarind and garlic and roast for another 2-3 minutes. Turn off the flame and allow to cool. Grind to a fine paste using little water.
3. In another large pan heat some about 1 tbsp ghee and fry 1 chopped onion till golden brown and toss in the chopped tomatoes and continue to fry on slow flame till they turn to a paste. You can add some salt at this point which helps the tomatoes to turn into a paste faster.
4. Add the chicken and about 4-5 tbsp of ground masala and salt and mix well. Cover and cook till 90% done.
5. Add the remaining masala and the coconut milk and a little water to adjust the consistency of the gravy and bring it to a boil.
6. In a smaller pan heat 1 tbsp ghee and fry 1 sliced onion and when it turns golden brown, add this mixture/seasoning to the chicken curry.
7. Serve hot with the accompaniment of your choice – Rice,
Neer dosa
,
Sannas
or
Kottige 
(idlis steamed in jackfruit leaf baskets)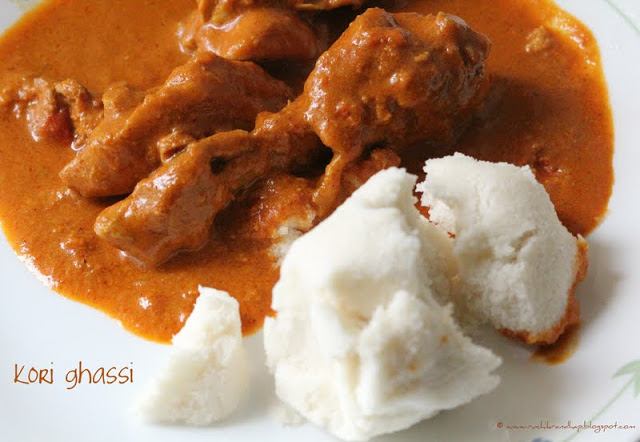 Kori Ghassi Served with Kottige (Idlis steamed in Jackfruit Leaves)