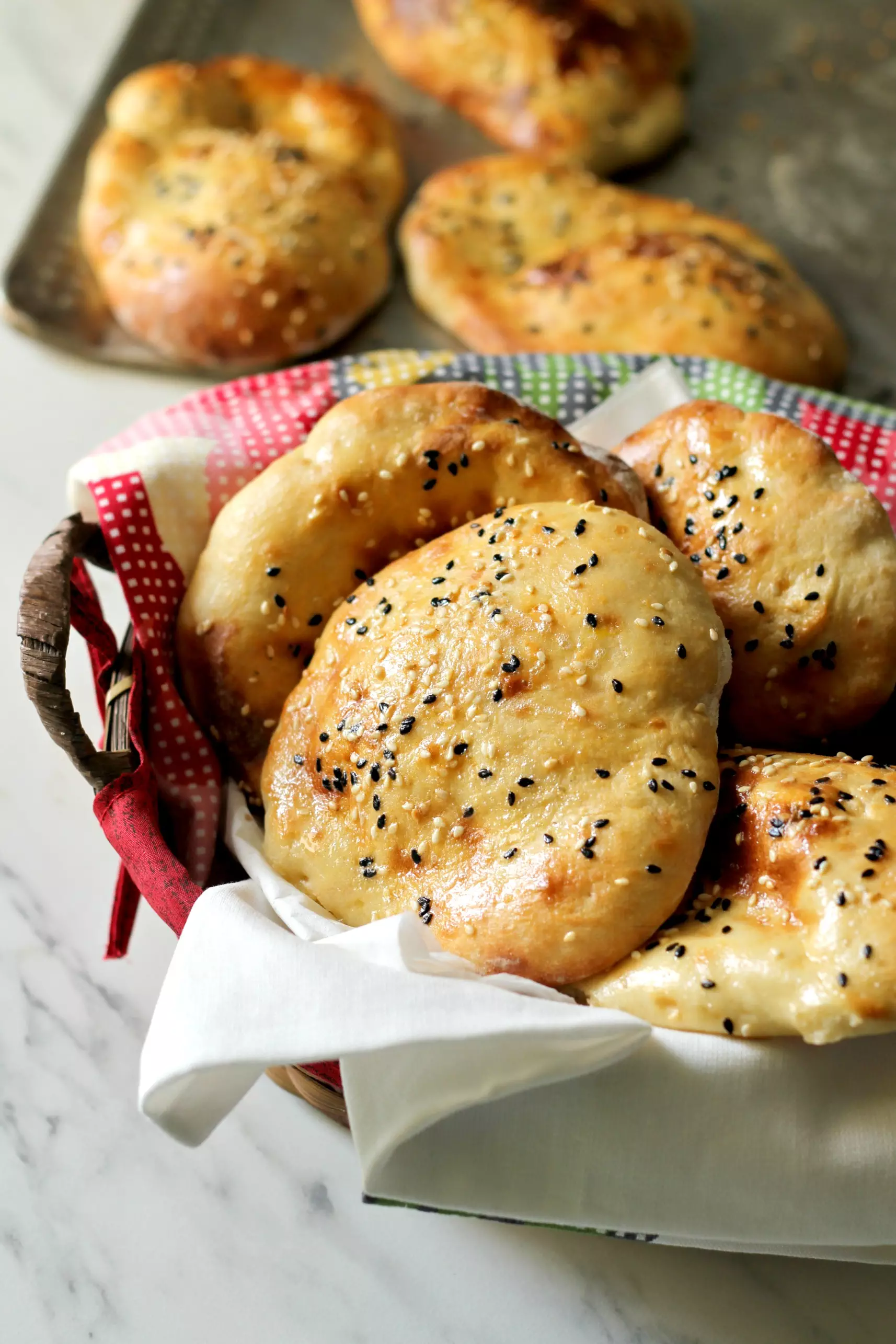 Pin
I just went through my archives to see my last post for Bread Bakers – a lovely little baking group that I have been a part of since early 2015. I realised that my last post was dated Oct 2016! Oh boy! It's been two years since I last took part in the monthly challenge. This group has helped me learn so much about baking bread by simply being a part of it. I am not sure where the two years have flown by. It seems like just yesterday that I was hunting for a suitable bread recipe to post. Somehow I guess life got in the way and I didn't quite make the effort to post along with the group. A few days ago when I was on Facebook I got notified of some upcoming themes for their monthly challenge and that's when I realised that I hadn't baked bread in a while. I decided to accept the invites for the upcoming months and hopefully I will post regularly henceforth. It is always fun to be given a theme for the month and look for recipes, it truly helps widen horizons. I totally enjoy this process.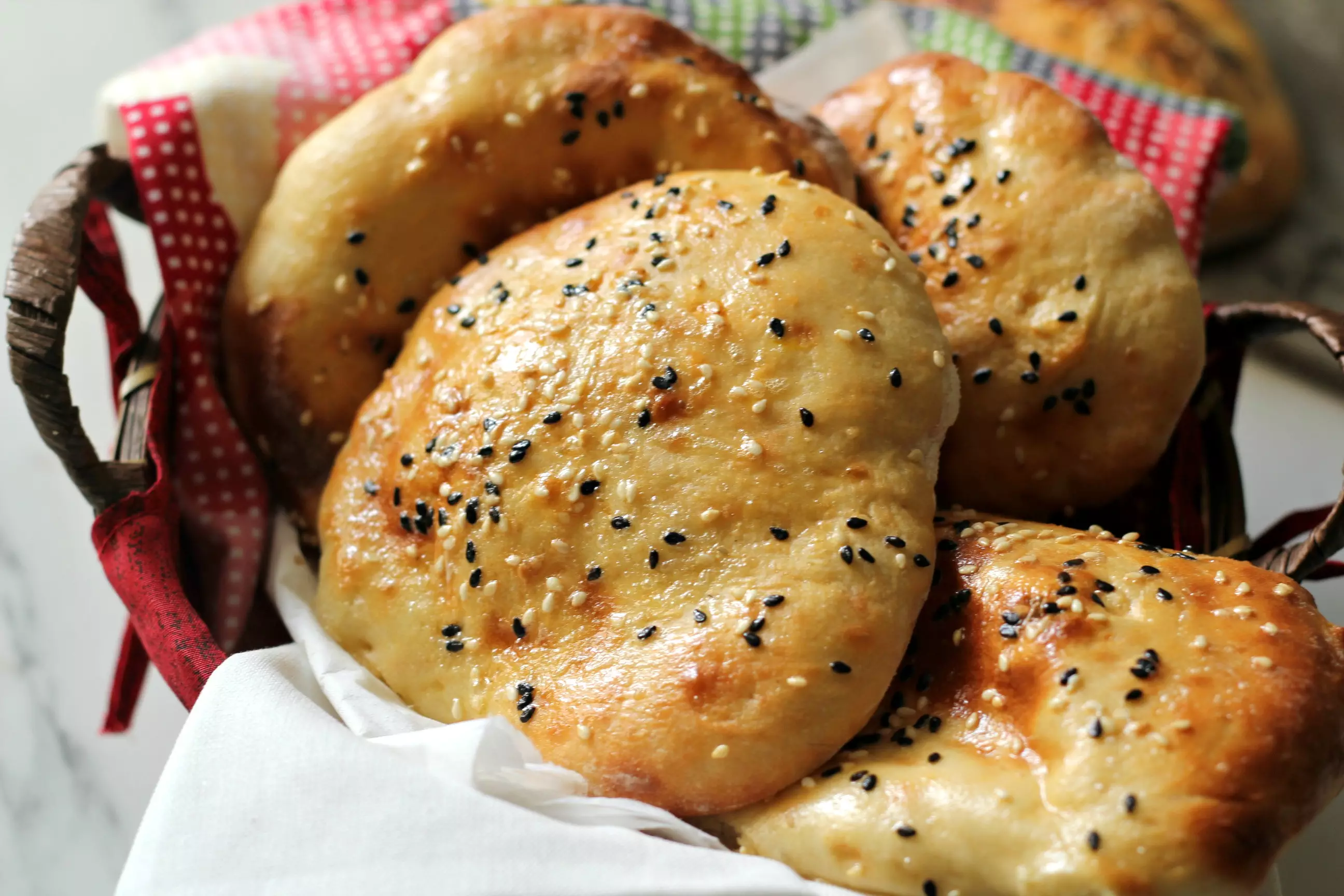 Pin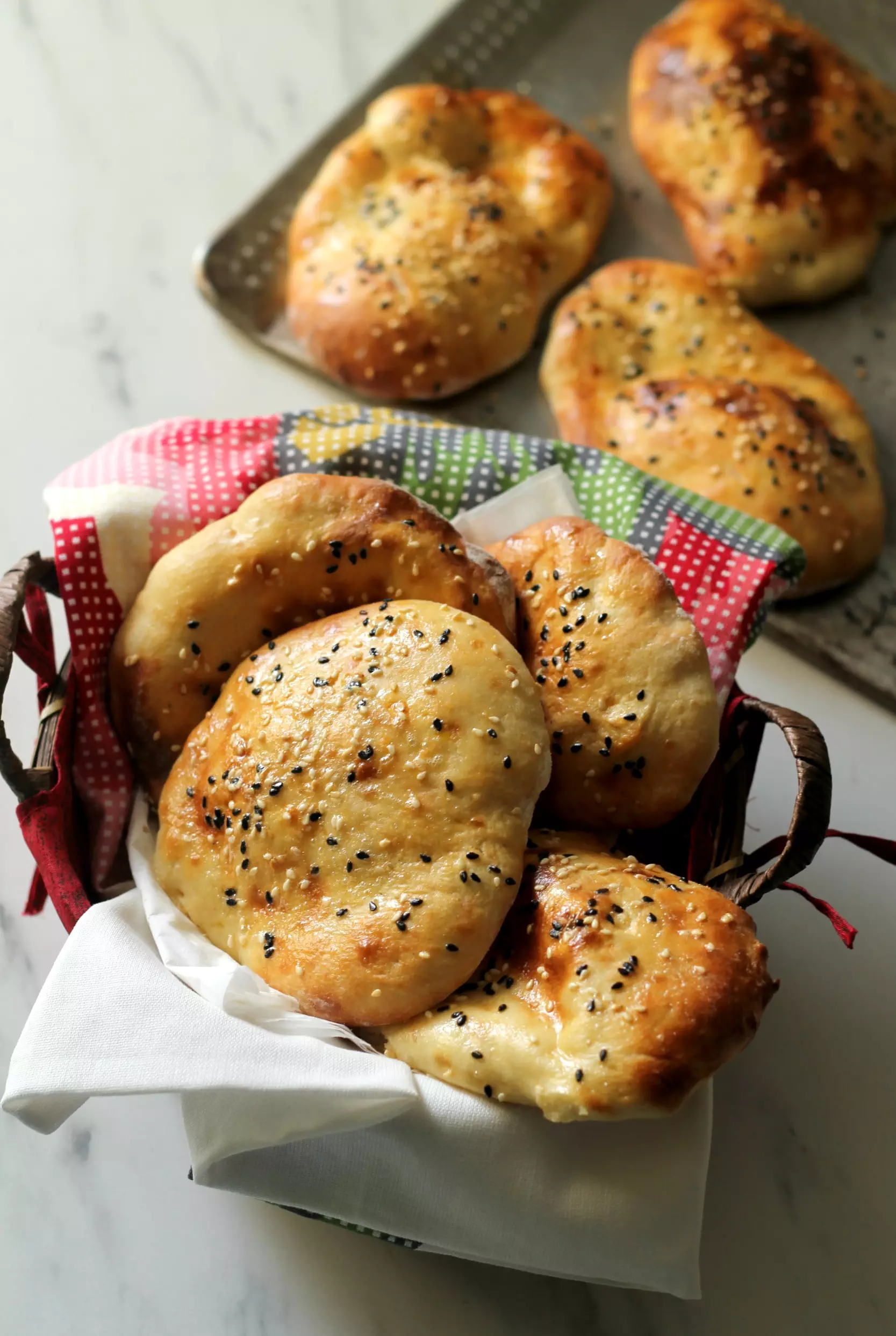 Pin
So for this month, the theme is 'Middle Eastern Breads' hosted by Karen Kerr who blogs at Karen's Kitchen Stories.  I was delighted with the idea that I could try out one of the breads from the local cuisine where I currently live – U.A.E. After a lot of searching I came across the Emirati Khameer bread or 'Khobz Al Khameer' as it is called. Khameer technically means yeast so this one is a yeasted bread – no prizes for guessing that. However, the Emiratis have a specially tool to make it which pretty much looks like an inverted frying pan to cook the base. Thereafter it is inverted into another tiny oven like apparatus, something like a small metal 'tandoor' that quickly helps the bread puff up like a thick 'poori' with a hollow inside. These are a kind of pita bread with pockets inside that allow you to stuff something delicious before biting into them.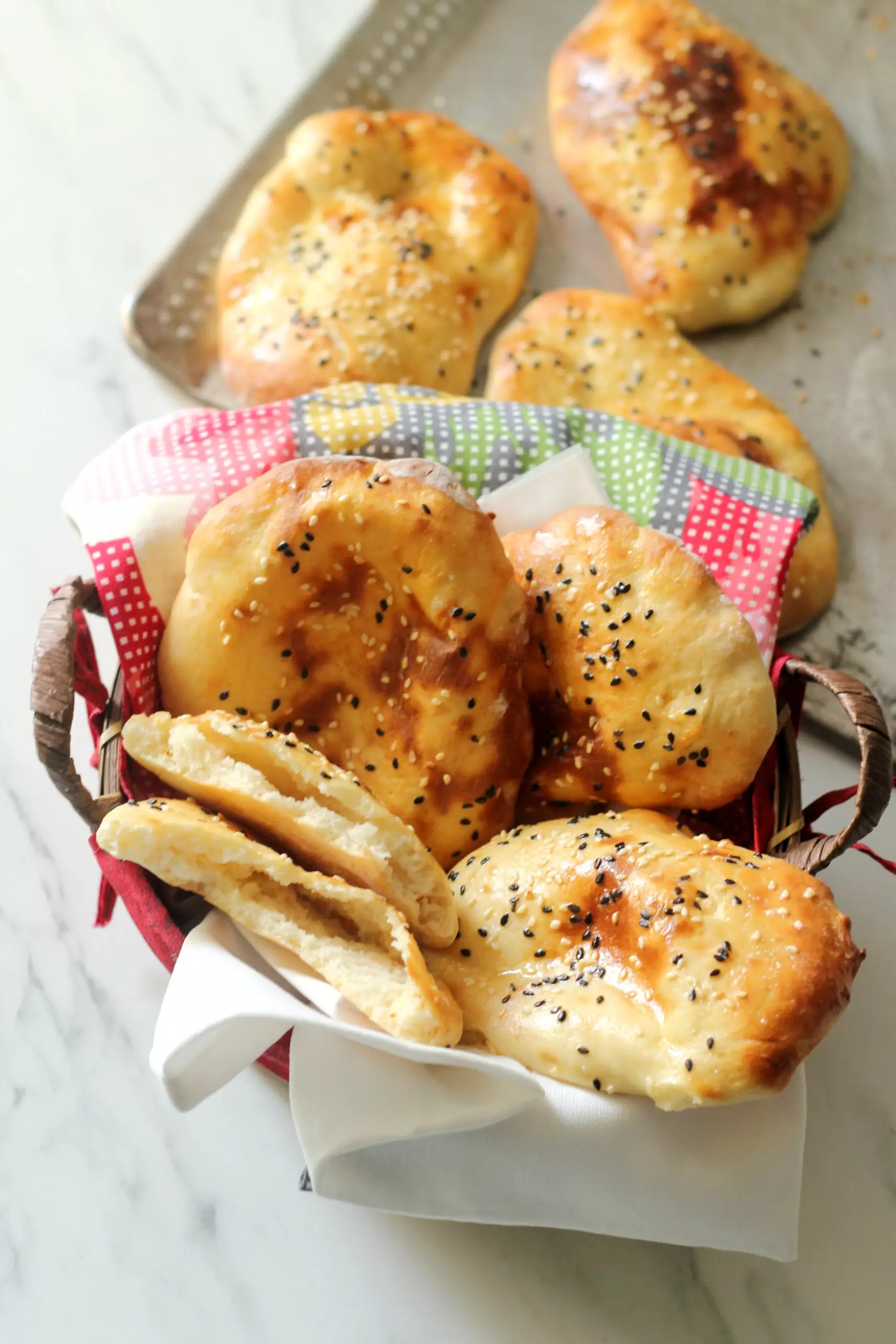 Pin
When I started to make this bread I wasn't sure of how much kneading would be required as I was trying to follow the instructions in Arabic given by Chef Latifa on her YouTube channel. This dough was super easy to put together as it was super sticky and hence required no kneading. I just mixed up the ingredients in the bowl, covered it and left it to double up in volume. The interesting part of this recipe is the addition of dried milk (milk powder) that lends its milky/creamy taste to the bread. With the right balance of sugar and salt you can get a bread that can be eaten with a sweet or a savory filling. While some people like to stuff their bread pockets with a date paste, others knead saffron into the dough for that amazing colour & flavour. I think this bread will taste fabulous with meatballs or cheese or a simple feta-lettuce-pickled gerkins kind of a filling.
I managed to get another slightly detailed recipe from my daughter's classmate's mum who is an Emirati. However, her recipe called for two types of flours which I didn't have and so I stuck to the recipe I already had. I will be trying out hers soon. For now, it's the beautiful bread from the country I temporarily call 'home'.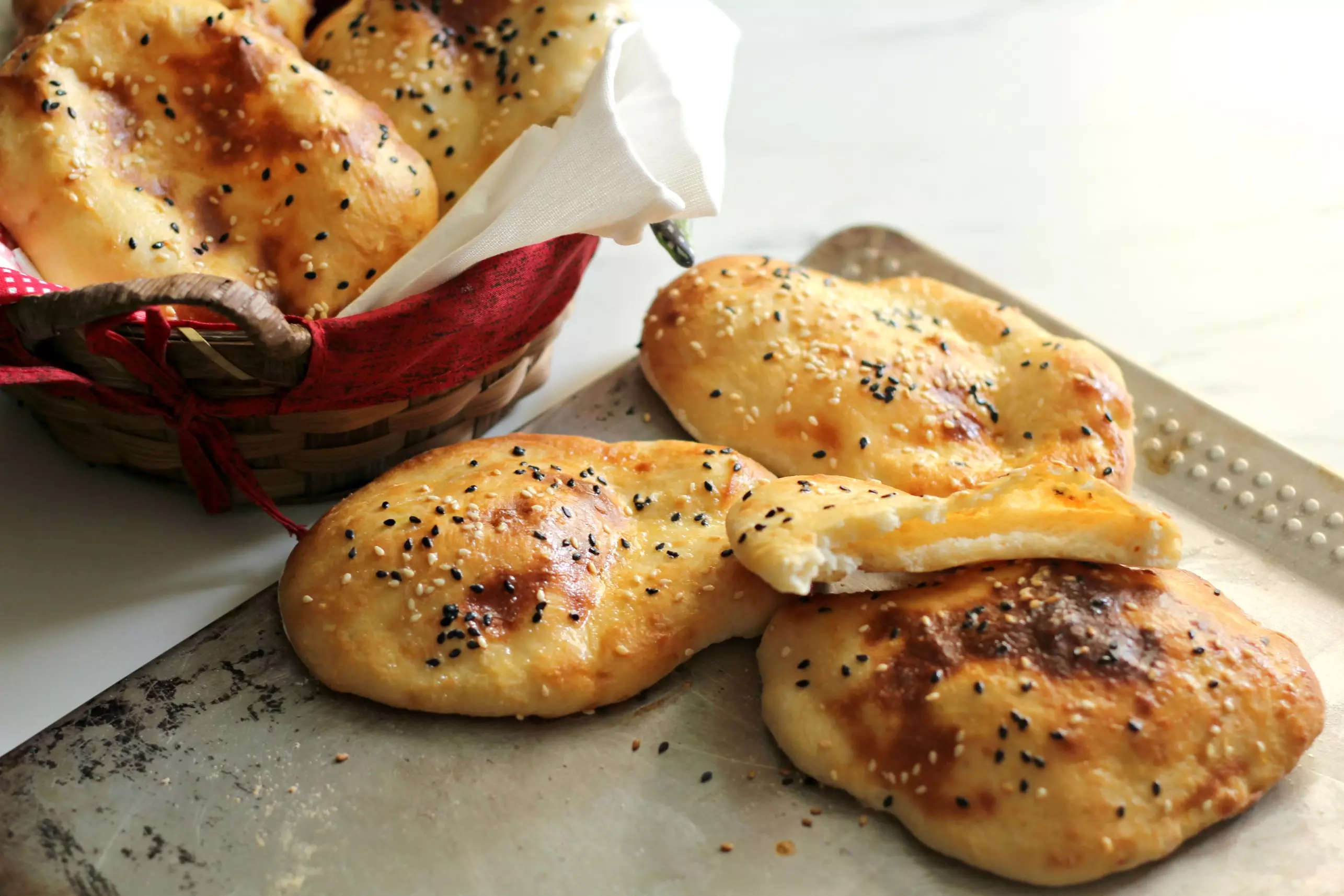 Pin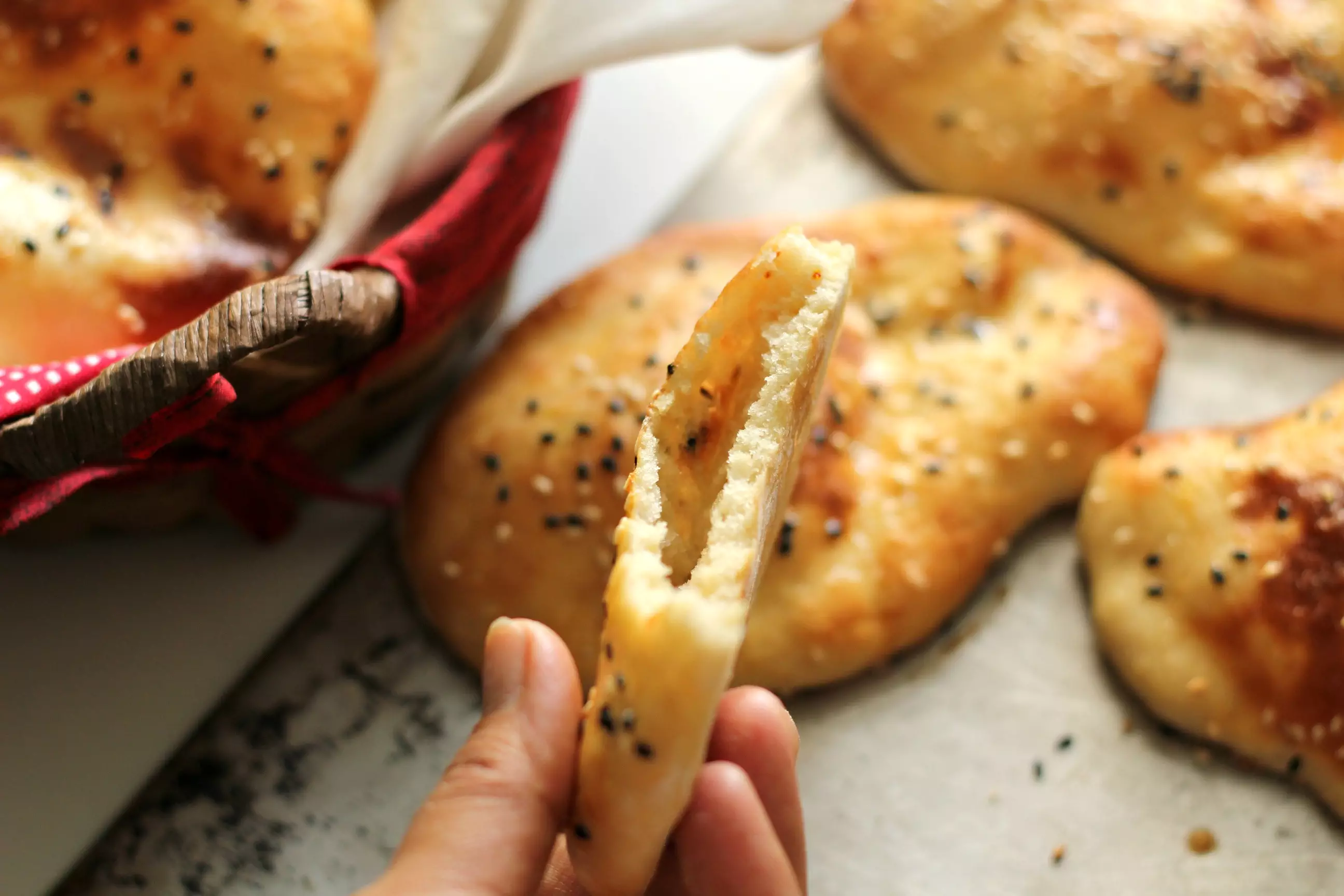 Pin
If you like this recipe, please click the image below to save it on Pinterest!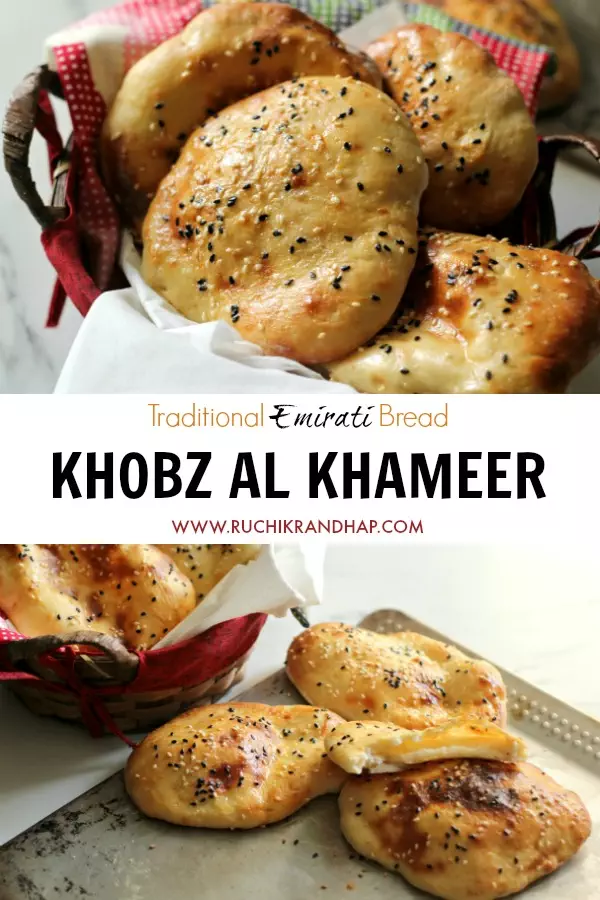 Pin
Khobz Al Khameer (Traditional Emirati Bread)
A rustic, golden hued traditional Emirati (Middle Eastern) bread that is eaten for breakfast. Tastes wonderful when filled with a sweet or savoury stuffing of your choice! 
Print
Rate
Ingredients
2

cups

all purpose flour

1-1/4

cups

of warm water

1

tablespoon

sugar

1

tablespoon

instant yeast

1

tablespoon

milk powder

1

teaspoon

salt

a pinch of saffron
For the topping
1

egg

1

tablespoon

water

1

tablespoon

white or black sesame seeds
Instructions
Place the instant yeast in a small bowl, add the sugar and 1/4 cup of the water and stir. Cover and keep aside for 10 minutes or till it turns frothy. If it does not, discard and start again with a new package of yeast.

To the remaining water, add the saffron and keep aside. Prepare the egg wash by mixing the egg with the water.

In a large bowl sift the flour, salt & milk powder together. Add the activated yeast and mix. Add the saffron water in parts till you get a very sticky dough. Do not knead. Leave the mixture in the bowl. Cover the bowl with a lightly oiled cling film and keep in a warm place till it doubles in volume.

When the dough has doubled, preheat the oven to 260 degrees C or to the highest setting of your oven for 30 minutes. Place a large baking sheet inside the oven. The baking sheet needs to be very hot.

While the oven is preheating, divide the dough roughly into 8 portions. Dust your fingers with flour and scoop out each portion, lightly roll into a ball and pat into a flat disc of about 3". Keep aside.

When the oven is ready, remove the baking sheet carefully and place the prepared discs of dough on it.

Quickly brush the surface of the discs with the egg wash and sprinkle the sesame seeds on top

Return the baking sheet back to the oven and bake for about 4-5 minutes or till the breads puff up. Keep an eye out after 3 minutes. Switch the mode of the oven from baking to grilling if you want evenly browned tops.

Remove and allow to cool completely. Serve warm with a dip of your choice.
Disclaimer
The nutritional values are only indicative.
Tried this recipe?
Please leave a comment & rate the recipe below or share a photo on Instagram and tag me @ruchikrandhap
See what other bread bakers have in store for you!
#BreadBakers is a group of bread loving bakers who get together once a month to bake bread with a common ingredient or theme. Follow our Pinterest board right here. Links are also updated each month on this home page.
We take turns hosting each month and choosing the theme/ingredient.
If you are a food blogger and would like to join us, just send Stacy an email with your blog URL to [email protected].
Pin