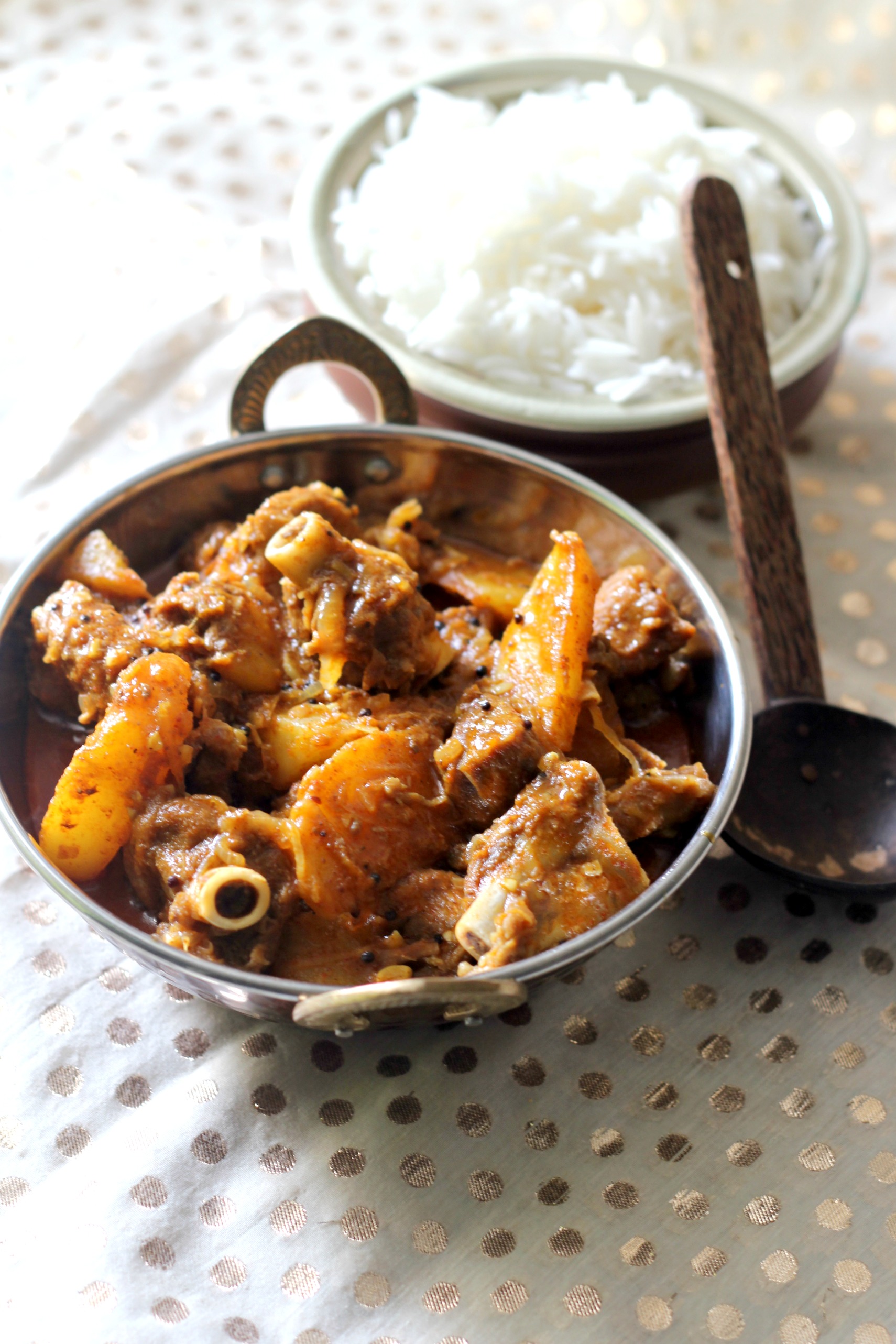 It is one of those few times when I am still awake after packing off my kids to school. I generally sleep late and wake up too early and try to catch a nap after they leave. Today I decided to finish off some pending blog work and was too tempted to post a recipe. This is a small treat for those of you who will come to check for a new recipe this week 🙂 I know I haven't been regular with my recipes but in the past couple of weeks I have managed to amass another bunch of new ones that I hope to post in the upcoming days. I have set a weekly target for myself. I just hope I can stick to it.
So earlier this week I made this easy mutton curry. I generally grab my favourite cookbooks when it comes to looking for non-vegetarian recipes. If I am not successful in finding one, then I turn to the internet. I try to avoid that unless I know for sure that I won't be shooting pictures that day and hence blogging that recipe is not a possibility. The reason is that I like to try and share recipes from long lost or almost forgotten cookbooks, especially my own collection of handwritten notes and recipes that belong to my family, something that I have painstakingly curated over the years. I avoid adding one more recycled recipe back on the internet when I could do much more than that. However, I break this rule if I have tried out something incredibly delicious and posting the recipe then becomes non-negotiable.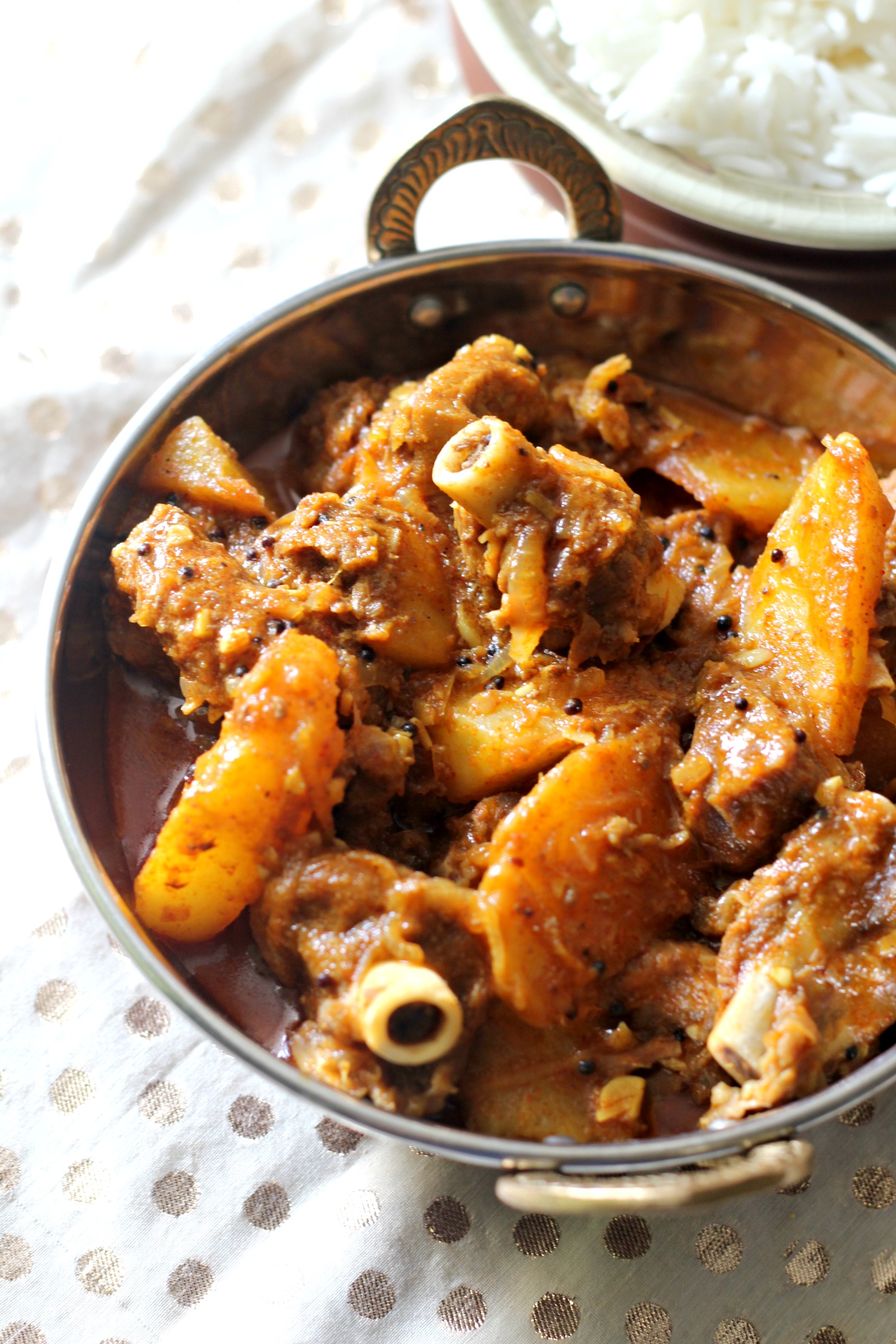 So, this recipe is from one of my favourite authors, Mrs. K.M Mathew who shares some brilliant recipes from Kerala. This was originally called as the 'Mutton Peralan' but I modified it too much to suit my tastebuds and ingredients available, so I renamed it as the Kerala Style Easy Mutton Curry.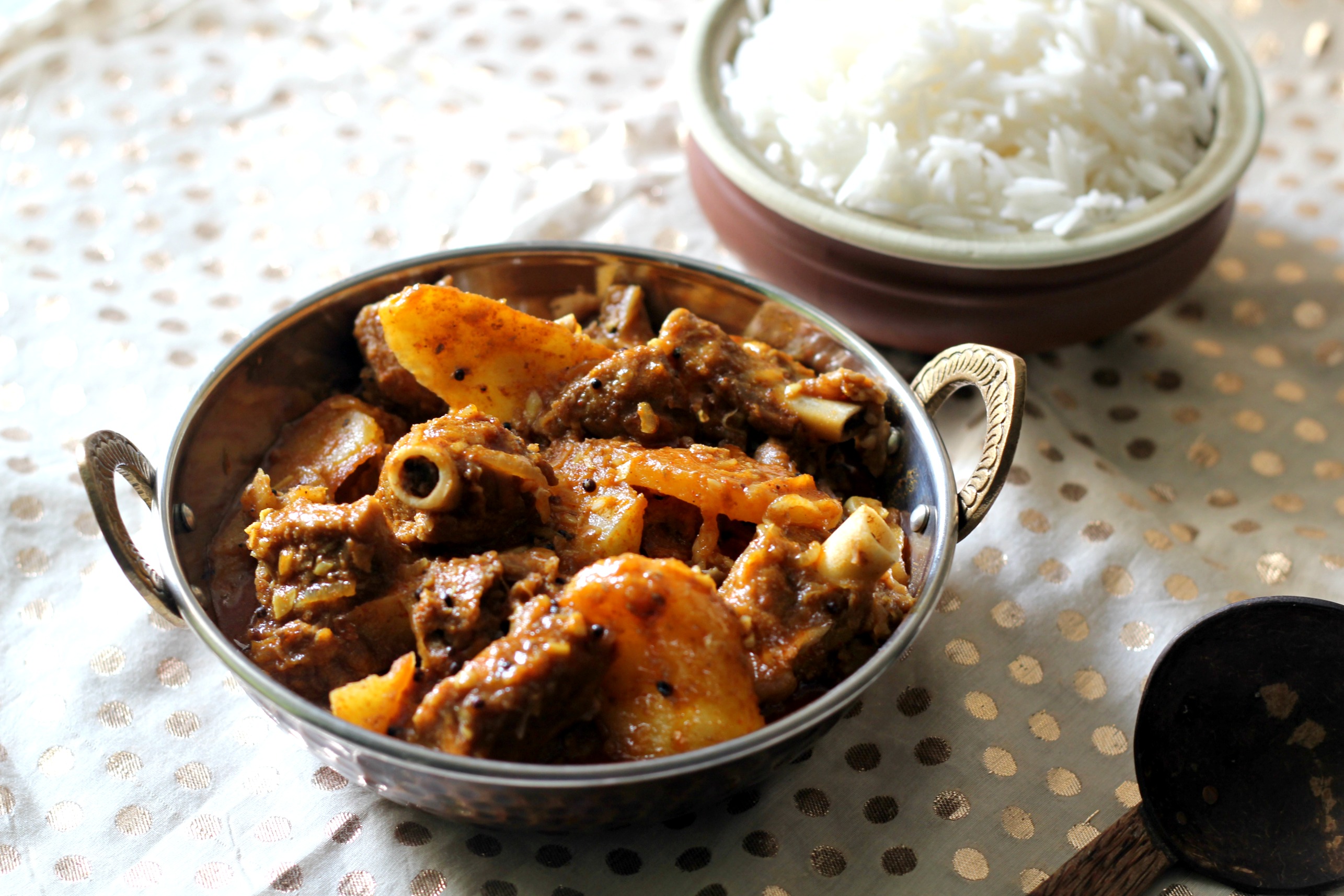 This recipe is easy because of a couple of reasons. One, you can pressure cook the mutton. Two, there is no grinding involved. I mean, these two reasons score over anything else for me. I personally detest the grinding and the elaboration involved in most South Indian dishes if I have to make them on a weekday. I mean, who has that kind of time right? I want to spend as little time as I possibly can in the kitchen henceforth – this is going to be my motto for 2019, but since everyday is January 1st in my calendar, it is never too late to make a new resolution and abide by it. So, starting today I am going to think of ways to minimize time spent in the kitchen and I hope to find easy and quick recipes that I can share with you all. For now, it's this curry which I hope you can make for a quick weekend lunch or weeknight dinner. If you do give it a try, please share a picture of it with me on Instagram. You can grab my attention by tagging me @ruchikrandhap or simply use the hashtag #ruchikrandhap and I will come find you 🙂
While you're at it, do save this recipe on your Pinterest boards too! It's just one click away!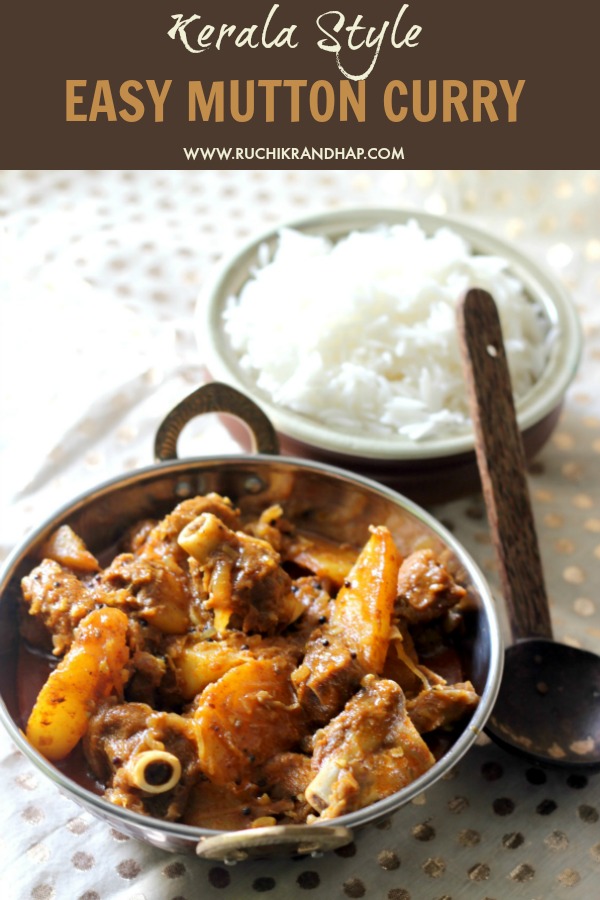 Kerala Style Easy Mutton Curry
A quick and easy recipe for your weekday meals. This curry goes very well with rice or chapathis!
Ingredients
1

kg

mutton on the bone

2

teaspoons

white vinegar

salt to taste

1

large potato

peeled and cut into thin wedges

1/2

teaspoon

mustard seeds

2

medium sized onions

sliced

1

" ginger

minced

8-10

cloves

of garlic

minced

oil
For the masala paste
1

tablespoon

red chilli powder

adjust to taste

2

teaspoons

coriander powder

1/2

teaspoon

pepper powder

adjust to taste

1/2

teaspoon

garam masala powder

1/4

teaspoon

fennel seed powder

if the garam masala powder doesn't contain it

1/2

teaspoon

turmeric powder

2-3

tablespoons

water

or just enough to make a paste
Instructions
Cut the mutton into medium sized pieces. Wash, drain and transfer to a pressure cooker. Sprinkle about 1/4 cup of water, vinegar, salt to taste and mix well. Cover the pressure cooker and place the weight and cook for 1 whistle on full heat. Then reduce the heat to sim and continue cooking for 8-10 minutes or till the meat is tender. Keep aside

Apply salt to the potato wedges and keep them aside for 10 minutes. Then shallow fry in a skillet till golden brown on both sides.

Heat oil in a heavy, wide based wok/kadai and add the mustard seeds. When they stop spluttering add the ginger & garlic and fry for half a minute. Then add the onions and fry them till they turn translucent.

Add the prepared masala paste and fry on a medium low heat for about 2 minutes. Then add the cooked mutton pieces and 2 ladlefuls of the stock. Don't add all the stock in one go. Mix till all the mutton pieces are coated with the masala. Simmer and cook uncovered for 5-7 minutes, adding ladlefuls of the stock in between.

When the gravy has thickened, add the fried potatoes and simmer for 2-3 minutes. Take the pan off the heat and serve hot with rice or chapathis