We are a minced meat loving family! My son loves it because he prefers eating anything non vegetarian without the bones in them! I prefer minced meat too as you can make so many different things out of it, most being child friendly. We either buy it readymade from the supermarket but I prefer having the keema (minced meat) made right in front of my eyes at the butcher's. I love pulaos and biryanis – I've confessed my love for them like a million times on this blog, so at every given opportunity my mind veers towards creating a one pot meal whenever I buy some keema. This time was no exception as I set out to make something simple, wholesome and tasty for my family using a little keema we had portioned and frozen a couple of weeks ago. My son walloped his meal without any complaints – which is as rare as the blood moon so I am going to repeat this often. The sad part of the whole programme was that my camera has started giving problems again and so I had to fall back on the pictures that I had taken almost 3 years ago but didn't post as I wanted to perfect the recipe. Sometimes the simplest of things require accurate measures to taste good, right?
By the way have you tried these recipes? Minced meat cooked in so many different ways!!
Chicken Mince Kurma (White Gravy)
Persian Style Yogurt-Meatball Soup
I do hope you enjoy yet another simple and easy keema recipe. Do share your feedback by writing in to me at ruchikrandhap@gmail.com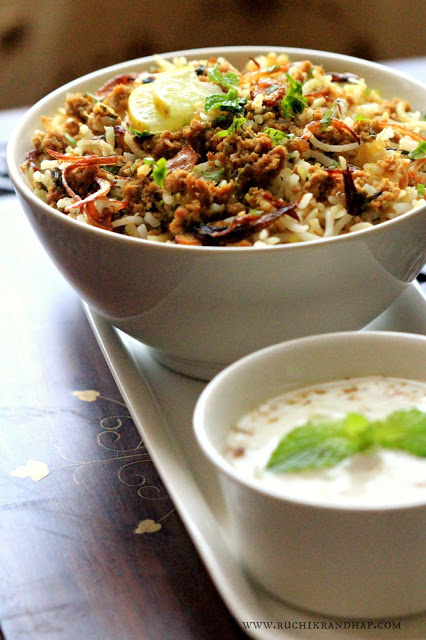 Keema Rice ~ Simple Mince Pulao
Prep time: 15 mins | Cook time: 20mins | Serves 4-6
For the mince:
750 – 800gm beef or mutton keema (mince)
1/4 cup ghee
2 medium sized onions, finely sliced
5-6 green chillies slit (adjust to taste) *see notes
2 tablespoons coriander powder
2 teaspoons red chilli powder (adjust to taste) *see notes
1/2 teaspoon turmeric powder
1 teaspoon garam masala powder
3 tablespoons ginger-garlic paste
1-1/2 cups curds/yogurt, whisked till smooth & creamy (curds should not be too sour)
1-1/2 loosely packed cups of mint leaves roughly chopped
2 loosely packed cups of coriander leaves roughly chopped
2-3 tablespoons lime juice (about 1 big lime)
salt to taste (about 2-1/2 teaspoons)
For the rice (1 cup = 240ml)
3 cups Basmati rice
6-8 cardamom pods
4-6 cloves
1 teaspoon shah jeera
1″ stick of cinnamon or cassia bark
3-4 Indian bay leaves
1star anise
1 teaspoon ginger-garlic paste
2-3 teaspoons of oil or ghee
1 bouillon cube (soup/stock cube) – optional
juice of 1/2 a lime
salt to taste
For the garnish
1 medium onion finely sliced
1/2 teaspoon saffron soaked in 2 tablespoons of warm milk
1/4 cup coriander leaves finely chopped
2-3 teaspoons of ghee to drizzle (optional)
Method:
1. Wash the mince once very lightly and drain on a fine slotted colander for about 5-7 mins. Wash and soak the rice for 20 mins. After 20 mins, drain on a large colander. Bring 6 cups of water to a boil and keep it ready.
2. Heat oil/ghee in a pan (large enough to accommodate cooked rice) and fry the spices mentioned under 'For the rice' for a few seconds. Then add the washed and drained rice and fry it on a low heat for a few minutes.
3. Add the freshly boiled water, salt to taste (or the stock cube) and lime juice and bring the mixture to a rolling boil. Cover the pan with aluminium foil and a lid firm enough to prevent steam from escaping. Reduce the heat to a simmer and keep a timer for exactly 5 mins. After 5 minutes, turn off the heat and cook for a further 15 mins. When done, open the pan and gently fluff up the rice with a fork. Keep aside till required.
4. In a large deep pan or wide based kadai (big enough to accommodate the pulao) heat the ghee and fry the sliced onions (meant for the garnish) till golden brown (keep an eye out as they will burn easily after that point). Drain and spread out on a plate. * see notes
5. In the same ghee fry the chopped onions till pale, then add the ginger-garlic paste and fry for half a minute (the mixture will splatter a lot! so take care) and then add the slit green chillies and saute for another minute. Add in the chopped mint leaves and saute again for a minute.
6. Toss in powders – coriander, red chilli, turmeric and fry well. Pour in the whisked yogurt and reduce the heat immediately. Stir continuously to avoid curdling.
7. Add the minced meat, mix well and cook on a high flame for 10 minutes (do not cover the pan). Now add the salt & garam masala cook for another 5-6 mins. Finally add the lime juice (skip this if the yogurt used was very sour), 3/4th of the chopped coriander leaves, mix and simmer. By this time your rice should be ready to be layered.
8. If you wish you can remove the cooked keema into a serving dish or leave it in the pan in which it was cooked. Place half the cooked rice over the keema curry, sprinkle half the fried onions, saffron milk and chopped coriander leaves. Drizzle a teaspoon of ghee all over the rice and sprinkle 1/4 cup of the reserved rice water. Repeat the layering with the remaining rice & rest of the ingredients.
9. Serve hot with raitha of your choice
Notes:
1. If you are using the small, very spicy variety of chillies, you may either reduce the number or deseed them.
2. To save time you may fry the onions mentioned in step#3 separately while the rice is cooking.
3. If you wish to make a 'dum' style biryani you may partially cook the rice (al dente) in plenty of water and then layer it over the cooked keema and cover the pan completely. Then cook for 40-45mins on a very slow heat.