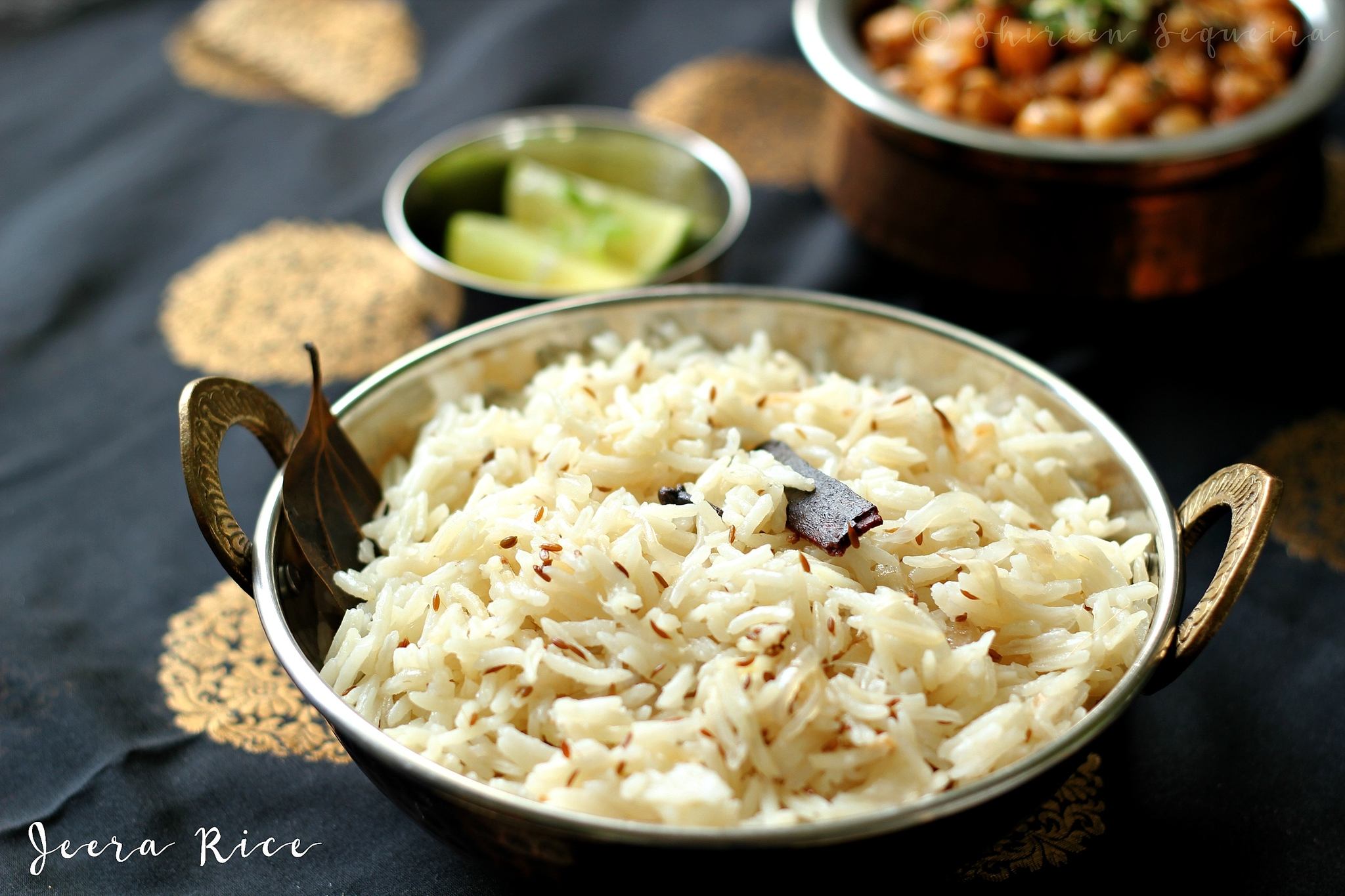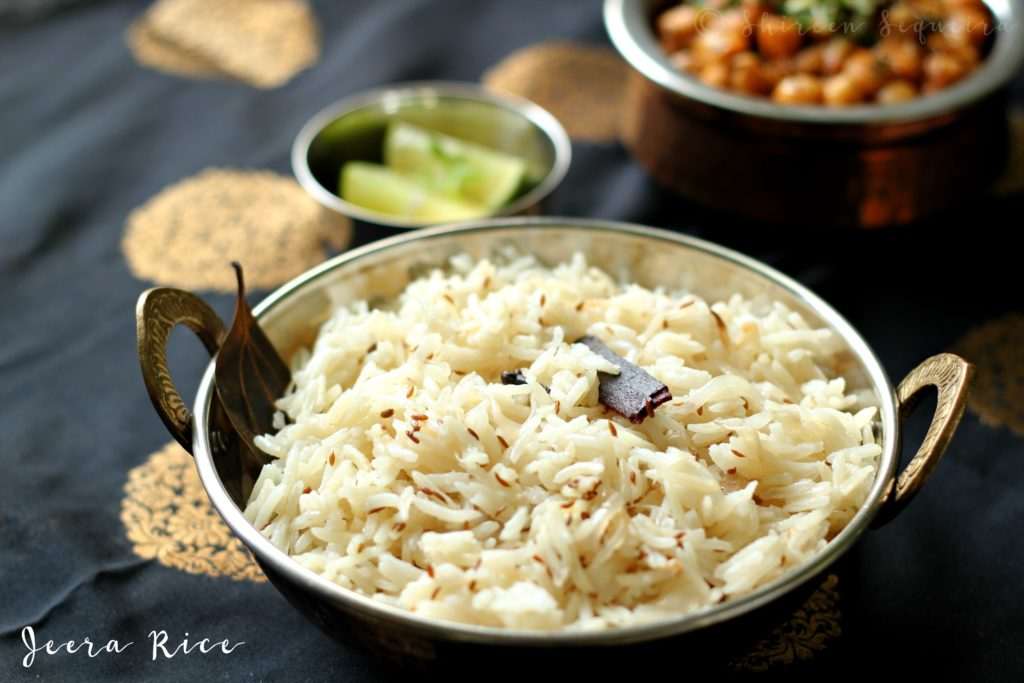 Jeera rice has got to be one of the most unassuming rice dishes ever. Isn't it? It somehow pairs beautifully with any side dish – vegetarian or non-vegetarian. You can even serve it with a simple raitha or eat it by itself. This is one of the most famous rice options served at simple parties, whether hosted at home or outside. Most people treat it as an easy and simple lunch box option too. I have made it several times before but never thought of posting the recipe. To be honest, it is one helluva simple recipe but I guess it's about time I shared it on the blog.
Since the past couple of months I have been experimenting a lot with sela basmati rice. Sela is parboiled basmati rice and hence is slightly dull in colour as compared to basmati. Sela basmati also takes slightly longer to cook but has a bite to it and the grains don't stick even if overcooked slightly. We totally love this variety and have been using it to make simple pulaos especially Arabic style. I decided to use the same variety for this recipe but you may use regular basmati rice.
Jeera rice (jeerakasala) is also a good option for jeera rice. Hey, isn't that confusing? Well, jeera rice is a variety of rice that falls under the short grained category of rice. Basmati is a long grained rice. Jeera rice is also known as 'jeersaal' in Konkani and khaima rice or jeerakasala in Malayalam and is used in Malabar cuisine especially in the preparation of Thalassery Biryani. Mouthwatering isn't it? Now that I've given you a crash course in the various rice varieties let's dive straight into today's recipe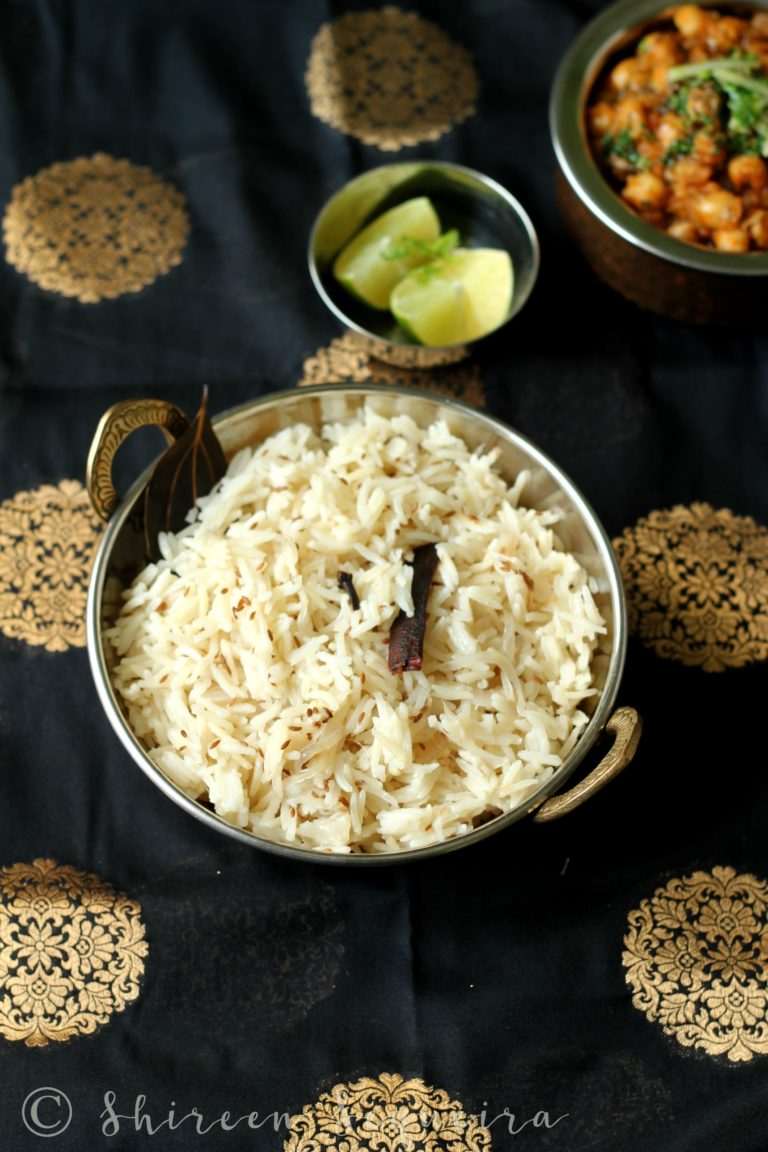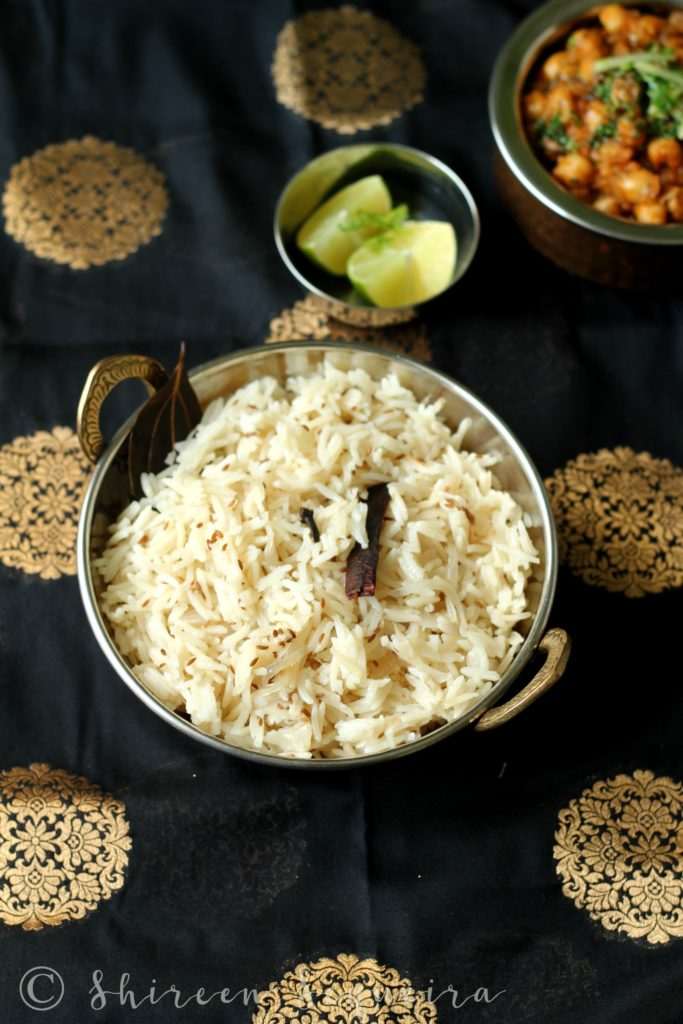 I made the jeera rice to accompany Chole Masala recently. Simple rice peppered with cumin makes for a simple, comforting meal that is easy on the tummy too.
If you'd like to try some really simple rice dishes, do check my entire collection of rice and one pot meals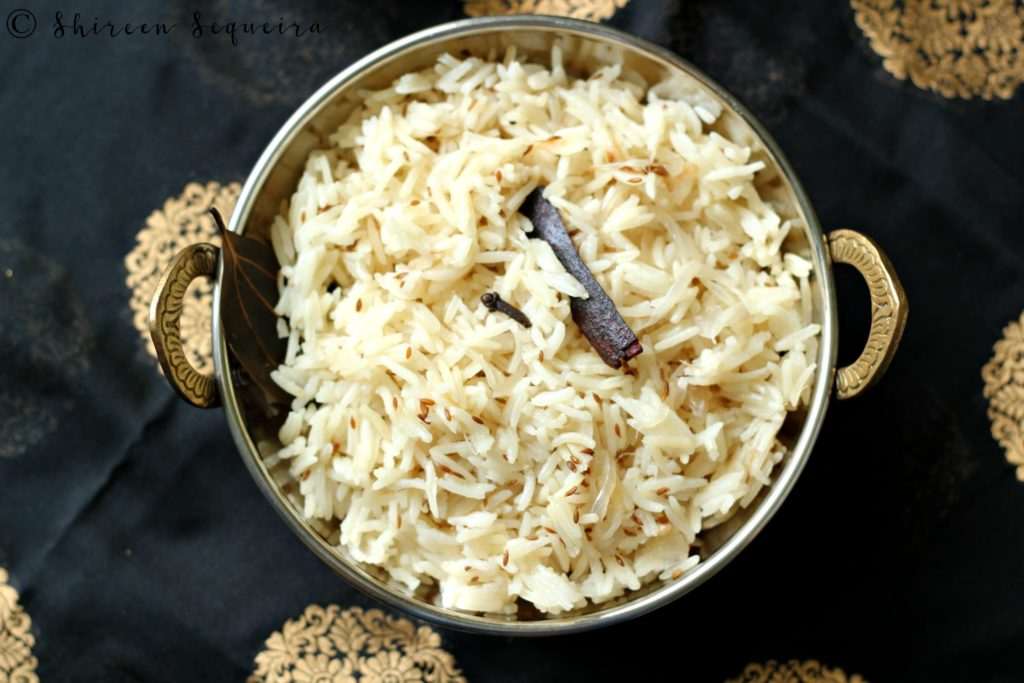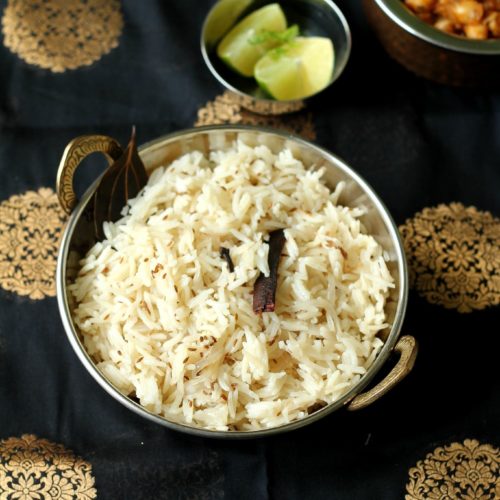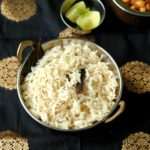 Jeera Rice
Delectable and aromatic cumin tempered rice that is simple enough for your daily lunch box and special enough to accompany your festive dishes
Ingredients
2

cups

basmati rice (I used sela basmati)

*see notes

1

medium big

onion, thinly sliced

2

teaspoon

cumin seeds

1

bay leaf

4

cloves

1

inch

cinnamon or cassia bark

1

black cardamom

a few drops of lime juice

4

cups

water, freshly boiled

1

level teaspoon

salt (or to taste)

2

tablespoon

ghee
Instructions
Wash the rice in 2-3 changes of water and soak in plenty of fresh water for 20 minutes. Then drain and keep aside. Bring the 4 cups of water to a boil and keep ready

Heat ghee in a heavy based kadai/pan, reduce heat and toss in the cumin seeds, bay leaf, cinnamon or cassia bark, cloves and black cardamom one by one and let them sizzle for a few seconds between each addition.

Add the sliced onions and fry till they turn pale/translucent. Add the drained rice and fry for a minute or two or until the ladle begins to feel heavy

Add the freshly boiled water, salt to taste and a few drops of lime juice (it helps brighten up the rice). Bring the mixture to a rolling boil, then reduce the heat to a simmer, cover the pan with a well, tight fitting lid and cook for 5 minutes. Keep a timer! Then turn off the heat and leave the pan undisturbed for 15 minutes (if you are using regular basmati rice) or 20-22 minutes for sela basmati

Once done, gently fluff up the rice with a fork and cover the pan for 1-2 minutes to help the flavours mix together. Serve hot with any accompaniment of your choice