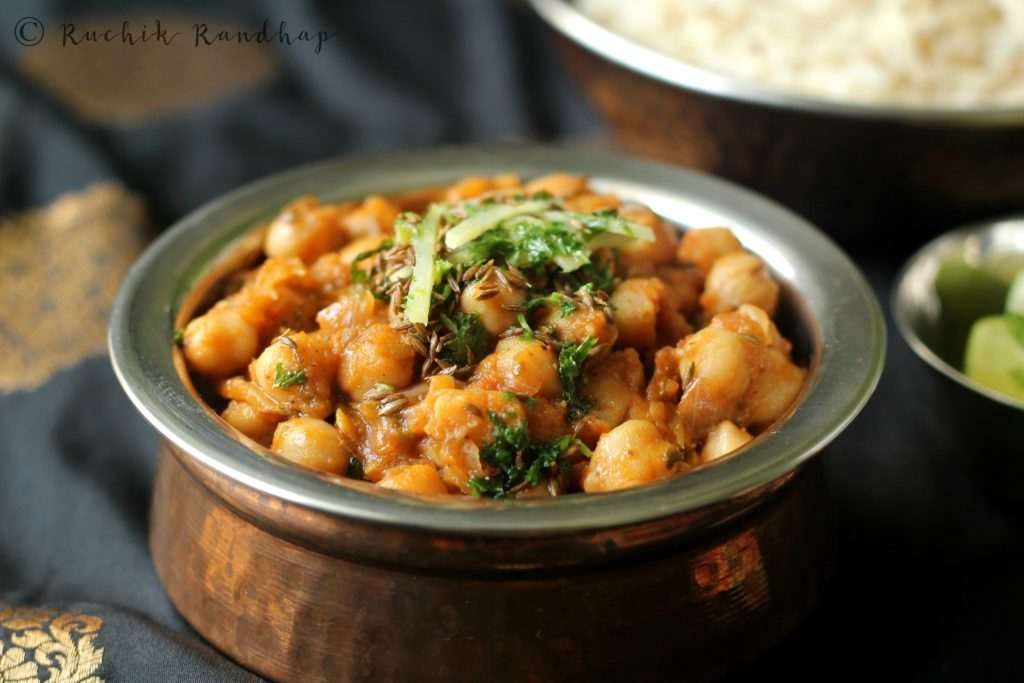 Pin
We are a family that loves lentils and pulses and although I don't have a designated day to cook them, we end up having them at least 4-5 times every week, mostly in the form of dals. Chickpeas (kabuli chana) are probably the most sought after form of legumes that come second only to split pigeon peas (toor dal). When I set out to make a particular dish last week that called for chickpeas I had not checked the recipe properly. Halfway through I realised that I was following the wrong recipe! Duh! This is something like Rachel from 'Friends' (sitcom) who starts making a trifle from a recipe book that has a page missing and continues to follow a different recipe on the following page. As a result of this, her trifle ends up having meat in it! Lol! (don't you just love Friends?, I do and can watch the episodes over and over again). Anyway, my dish was actually a hit perhaps because I didn't set out to make a dessert haha! I hope I can treat you with the original version of this dish which has a different name too (will reveal it soon).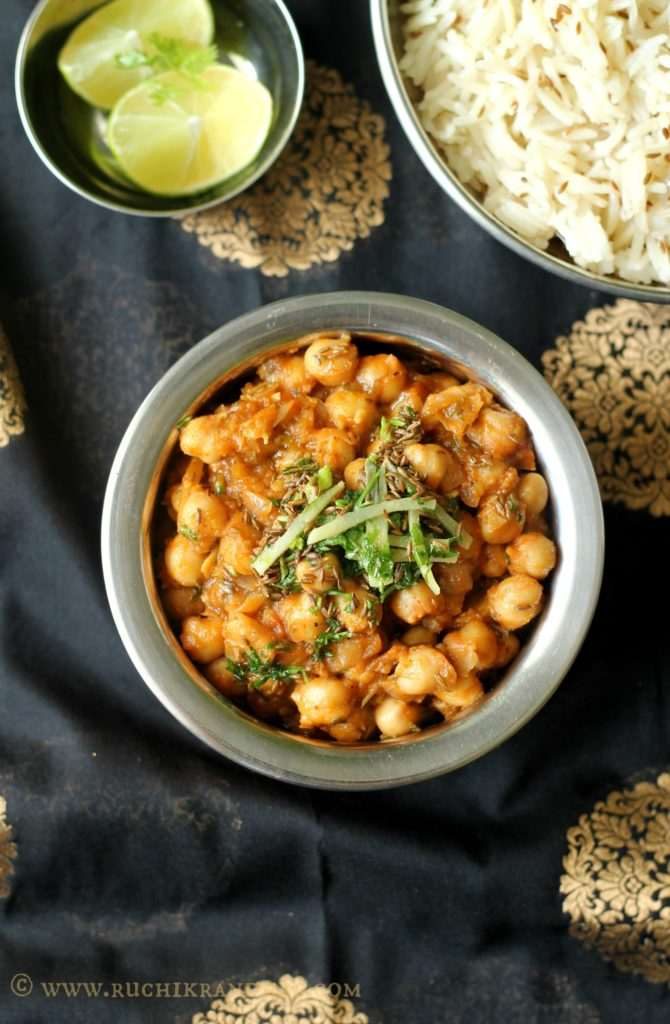 Pin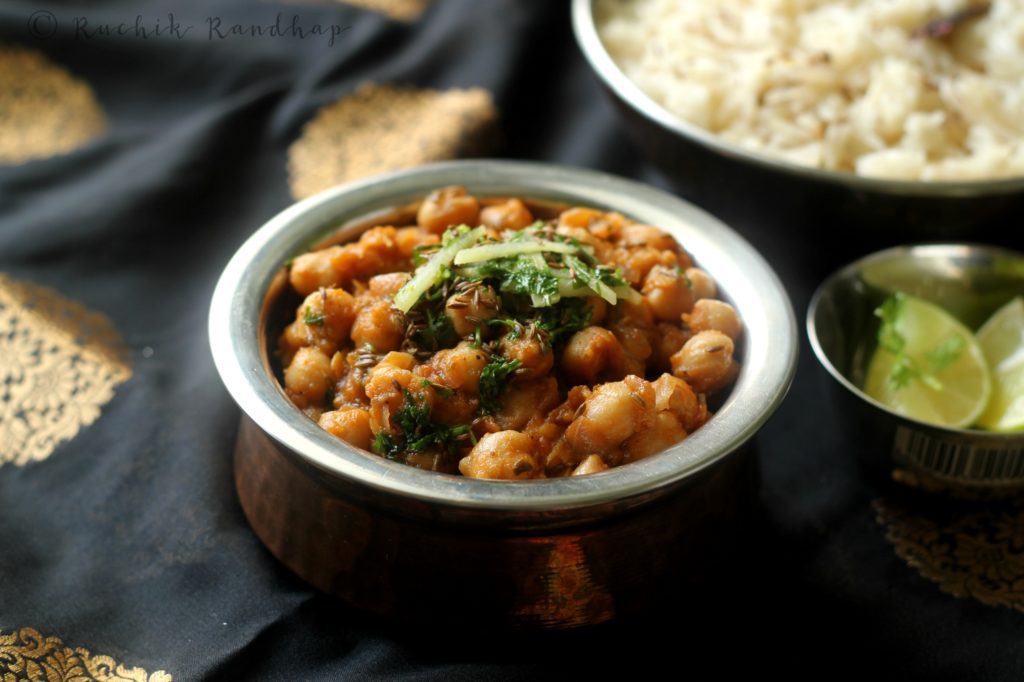 Pin
Anyway, the point is that the chole turned out delicious and the sonny boy loved it. He ate it the next day too when we had actually ordered some Chinese food and he preferred to have chole instead of Chinese, so that says it all. Sometimes kids just want something homemade and comforting and this dish fits the bill perfectly. This is a perfect lunch box item if you pair it with chapathis or jeera rice (recipe will follow).
Love chickpeas? Have you tried these recipes?
Chane Ghashi (Konkani Style Chickpeas Curry)
Ash-E-Mast (Persian Style Yogurt Soup with Meatballs & Chickpeas)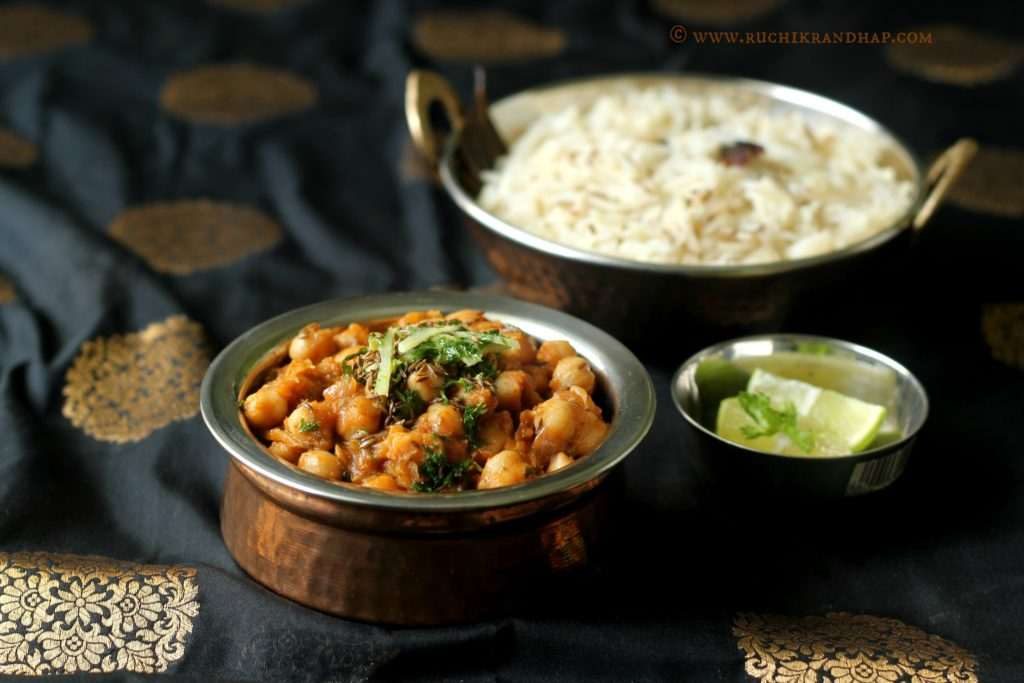 Pin
Chole Masala
Chickpeas cooked in a thick base of spices, onions & tomatoes make for a delicious accompaniment to chapathis, rice or pulao
Ingredients
1

cup

chickpeas * see notes

1

big

onion, finely chopped

1

medium-big

tomato, ground to paste

1

teaspoon

tomato paste (puree) (or tomato ketchup)

optional, but recommended

4

fat

cloves of garlic, minced

1

inch

ginger, minced

1

small

green chilli, minced (deseeded if you wish)

1/2

teaspoon

chilli powder

1

teaspoon

coriander powder

1

teaspoon

chole masala powder

1/2

teaspoon

garam masala powder

2-3

teaspoons

kasuri methi (dried fenugreek leaves)

optional

salt to taste

oil or ghee for frying
For the seasoning
1

teaspoon

cumin seeds

2

tablespoons

chopped coriander

1

inch

ginger, cut julienne

1-2

tablespoons

ghee
Instructions
Wash and soak the chickpeas for 10-12 hours. Then drain the water and refresh the chickpeas in a couple of changes of fresh water.

Transfer the chickpeas to a pressure cooker. Add enough water to cover them. and some salt to taste. Cook on full heat for 3-4 whistles (or longer if the chickpeas haven't been soaked adequately). Remove from heat and keep aside

In a heavy based pan, heat some oil or ghee. Toss in the ginger, green chilli and garlic and fry for half a minute. Then add the chopped onions and fry till they turn translucent (pale)

Next, add the ground tomato paste and fry on a medium-low heat for 3-4 minutes or till the oil begins to separate. 

Reduce the heat completely and add the powders - chilli, coriander, garam masala & chole masala. Fry for a few seconds and then add a little (approx 1/2 cup) chickpea stock (cooking liquid) and bring the gravy to a boil

Let the gravy thicken a bit. Check the taste and add the salt, spice and the tomato puree if required. The tomato puree is optional but recommendeda as it gives a good colour and texture to the curry

If there is more chickpea stock you can add it in parts and allow the gravy to thicken. Finally, add the chickpeas, rub the kasuri methi between your palms and stir in. Simmer for at least 5-7 minutes. 

Heat ghee in a small pan for seasoning. Reduce heat, toss in the cumin seeds. When they stop sizzling, add the julienned ginger and chopped coriander. Stir once and quickly pour this mixture over the prepared chole masala. Mix once

Serve hot with any accompaniment of your choice - rice, pulaos, roti, chapathi or naan
Recipe Notes
You can use 2-1/2 cups of canned (and drained) chickpeas (ready to cook)