A lot has been said about the Dubai summer and how it is sapping everyone's energy. The good part about summer vacations is that you get to relax, chill out, do things off-schedule and generally 'party'. At least mums of school going kids who aren't on vacation (like yours truly) will agree with me but on the flipside, the days are so hot that we actually wait for sundown before we get out of the house (which is usually to the little park nearby). Like somebody once said, walking on the streets of Dubai during the peak of summer is like having a giant blow dryer blow hot air in your face! So true!
While I am not a beverage drinker of any kind (that includes water – I have such poor water intake) this kind of weather makes me get up and make something cold to enjoy. As a result of this, I have been rummaging through a pile of recipe cutouts from old magazines and the like to come up with ideas. Today's recipe is from a little book with a ton of amazing coffee recipes that I totally love. If there's one thing I have to take with me before I run out of a burning building it would be this book. Or maybe my passport. Or my kids – Oh well! they are two of them and I can't just pick one! Gosh! decisions! decisions! Anyway, I need to stop this idle chatter and get on with the recipe.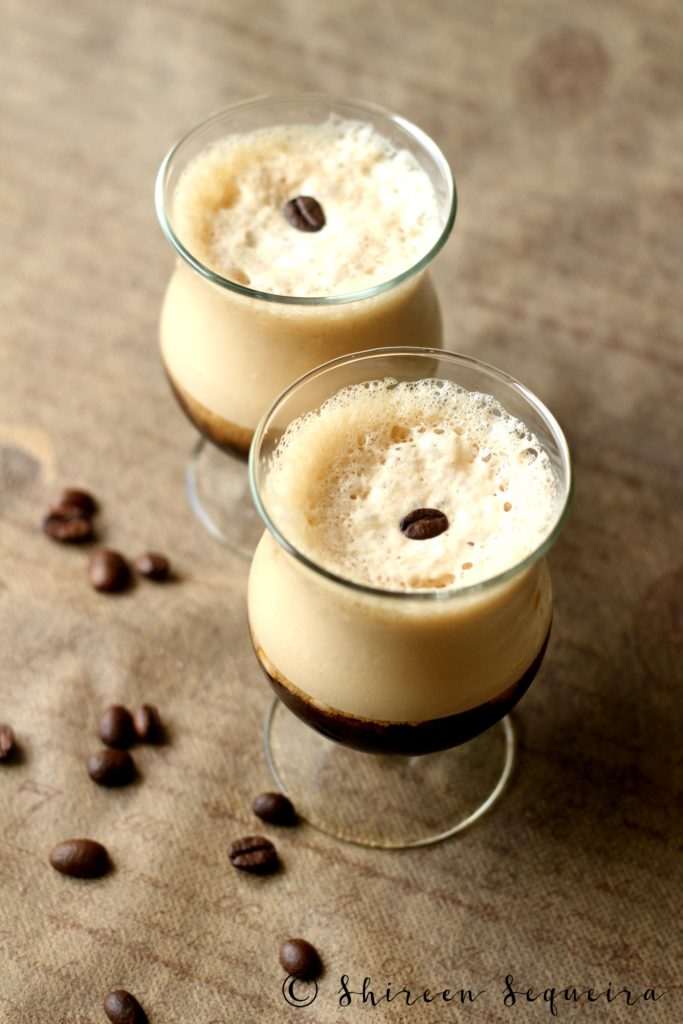 So, this is a simple yet brilliant recipe for cold coffee without milk. Isn't it going to be awfully bitter you may ask? The answer lies in the way you serve it. The garnish of fresh cream makes little difference to its taste but the trick lies in blending the black coffee with sugar & chunks of ice to a point where it turns frothy and pale and then serving it immediately. If you keep it for more than 5 minutes, the black coffee and the froth begin to separate and you will notice the taste. If you see my pictures, the froth had begun to go down and had already separated from the coffee, ideally, the whole concoction looks a shade of pale brown so it is important that you blend and serve it immediately.
This is a perfect cold coffee recipe for vegans and those looking to avoid dairy milk for various reasons. The best substitute for the fresh cream is thick coconut cream (not thin coconut milk although you may use your creativity and add some). If you want to add some regular milk, go ahead and do that.  I used soft brown sugar and Bru instant coffee powder as I love the taste of both. Use regular white granulated sugar if you wish and your favourite brand of instant coffee for best results. 
Iced Coffee with Cream
Refreshing cold coffee without milk! The cream is optional but recommended. Easy and vegan for those who wish to skip the cream (or replace it with coconut cream)
Ingredients
2

cups

water

2

tablespoons

instant coffee powder

I used Bru

2-3

tablespoons

(or to taste) granulated sugar

I used soft brown
To serve
4-5

ice cubes

crushed

single cream (fresh cream) * see notes for a vegan substitute
Instructions
First, brew the coffee - boil water and add the coffee powder and simmer for a couple of minutes. Remove from heat and allow to cool completely. Then cover the pan and refrigerate for at least 45mins or till chilled

When you are ready to serve, pour the coffee into a blender and blend until smooth (the colour will change from deep brown to soft brown). Add the sugar and ice cubes and blend again for 15-20 seconds.

Pour into serving glasses and garnish with the single cream and serve immediately
Recipe Notes
For a vegan version of this drink you can substitute fresh cream with thick coconut cream (canned). Just mix to remove any lumps to achieve a thick pouring consistency