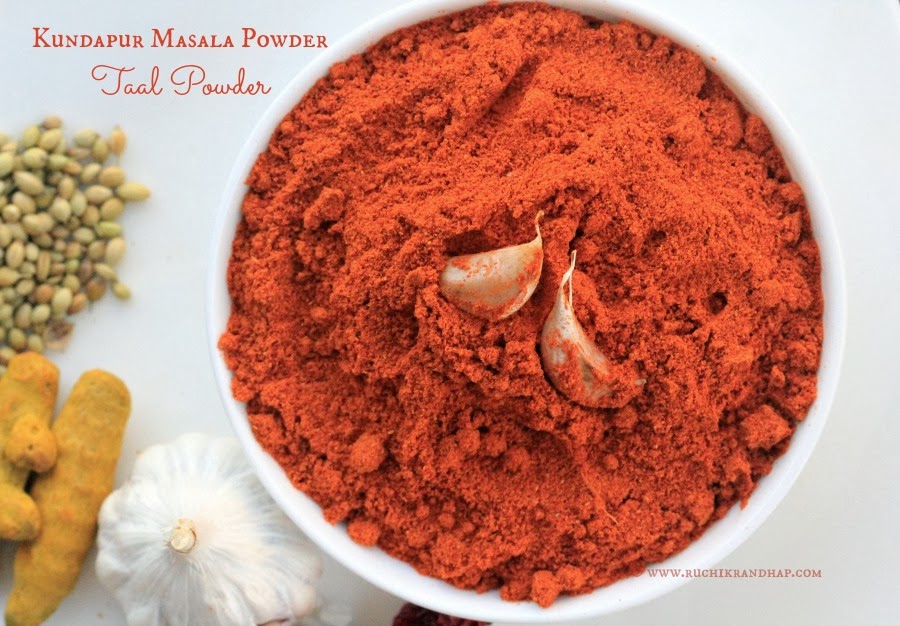 I have had the good fortune of meeting great people – many of them have stayed on to become great friends over the years. So also, I have been lucky of having friends from all walks of life and from almost all communities in Mangalore. Probably this has helped me learn a lot of their respective cuisines – the big differences, the similarities and the nuances.
When I was in college my dear friend Savri gave me a pack of Kundapur masala powder – a spice blend that is used by the Bunt community of Mangalore for almost all kinds of food preparations – seafood, chicken or mutton and sometimes veggies too, to make a curry or fry some fish. A very versatile blend of spices that lifts any dish in terms of flavour and aroma. It is something like the Bafat masala powder used by
the Catholic community. We loved the blend when she gave it to me like 15 years ago, it has been a staple in my house since then. You can actually substitute any spice blend, especially the Bafat masala powder with the Taal powder if you don't have the Bafat on hand. For those of you wondering what/where Kundapur is, it is a coastal town of Karnataka about 85 kms from the Mangalore airport.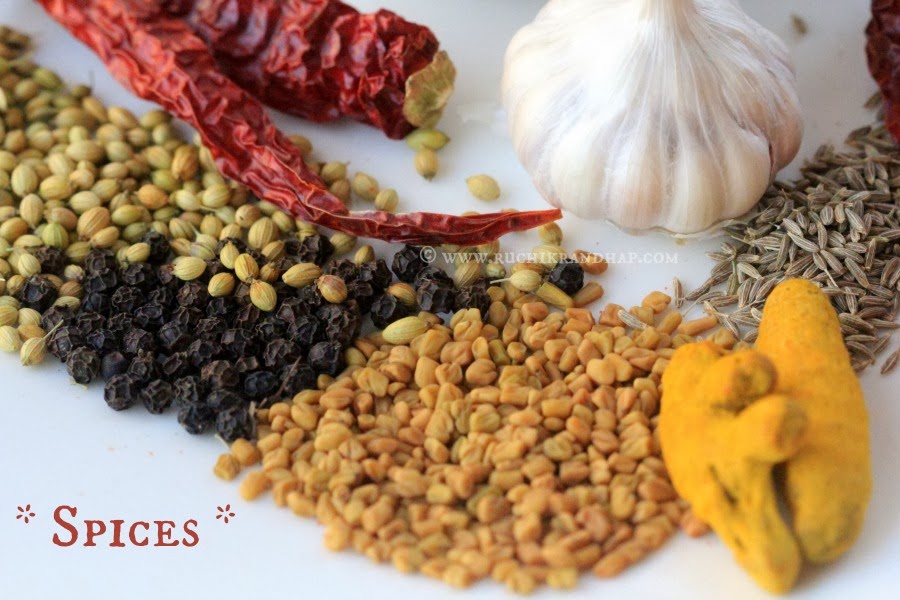 Pin
I made this spice blend at home when I ran out of the store bought one. I used to buy it without fail from that little spice and condiment store in Karangalpady, Mangalore, along with my other spice purchases of Bafat powder, Stew powder and Vegetable masala powder which I bought from Raysons, Don Stores or Konkan Traders, Mangalore. I adapted this recipe from the recipe shared by Mrs. Navanitha B Shetty on a food group on Facebook. Since the past few years I have started making my own spice blends. My MIL gives me my quota of the Bafat masala powder, but I do have the recipe on the blog for times when I want to make it at home. The links to the same are provided at the bottom of this mail. Next on my to-do list is to make the stew powder at home. For now, here's the recipe of the Taal powder, the recipe of which is an adaptation of several sources found on the internet. I have scaled it down to suit my mixer jar's capacity to powder it. If you wish to make a larger quantity you may have to get the spices powdered at your local spice/flour mill for a hassle free and fine texture of the blend.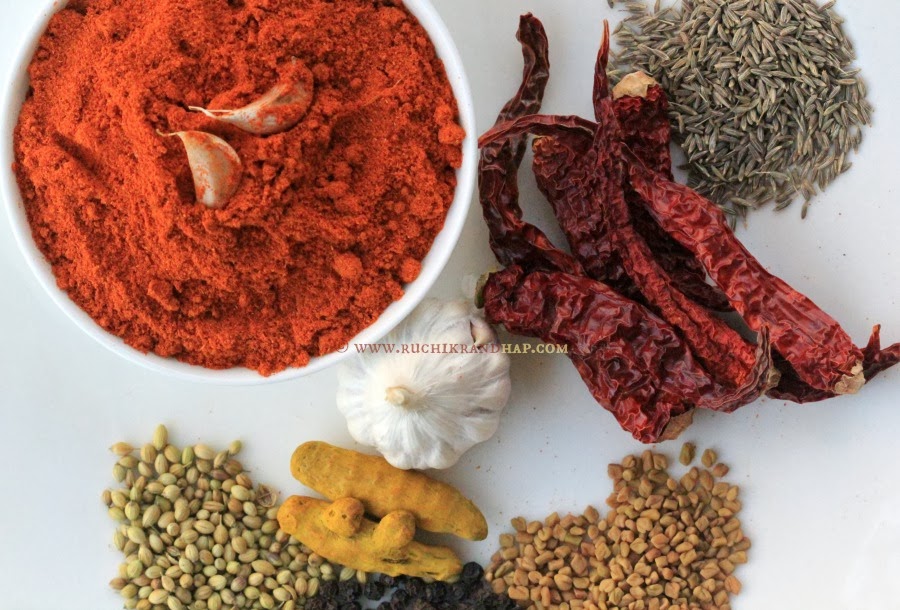 Homemade Spice Blend – Kundapur Masala Powder / Taal Powder
Prep time: 20-30 mins (wholly depending on the size of the dry grinding jar) | Cook time: Nil | Yield : approx 175 grams
You Need:
125 grams long dried chillies (Bedgi) * see notes
7 tablespoons / 30 grams coriander seeds
3/4th tablespoon / 5 grams pepper corns
1/2 tablespoon / 5 grams fenugreek seeds (methi)
3/4th tablespoon / 5 grams jeera (cumin)
1 teaspoon  / 2 grams turmeric powder (haldi)
8-10 / 5-6 grams small garlic flakes (Indian garlic)* see notes
Method:
Remove the stalk of the dried chillies and dry roast each of the ingredients on a tawa till you get a nice aroma – ensure that you do not burn any of them so heat the tawa on a medium flame. Remove and allow to cool completely. The chillies will turn crisp.
Powder all the ingredients except the garlic cloves in a dry grinding jar. Sift and re-grind the coarse mixture until you get a fine texture of the powder. If possible get the ingredients powdered in a flour/spice mill.
Finally add the turmeric powder & garlic and mix well. Store in an airtight container and use as required.
Notes:
1. You may use a blend of kashmiri & bedgi chillies for a toned down spice quotient. Alternatively you can use short (harekala) variety of chillies popularly available in Mangalore – these are very spicy though.
2. If possible dry all the ingredients in the sun for two days and then powder – it will remain fresh for a longer time when stored at room temperature
3. You may use readily available dehydrated garlic cloves if you wish.