Another month has come to an end and we are slowly racing towards the end of this year. Racing – well yes, before we know it the jubilation will begin and we'll be celebrating Christmas and preparing to usher in another brand new year. This realisation struck me when I was going through my drafts and came across many simple recipes that I had not yet posted. So I think it's time to do just that.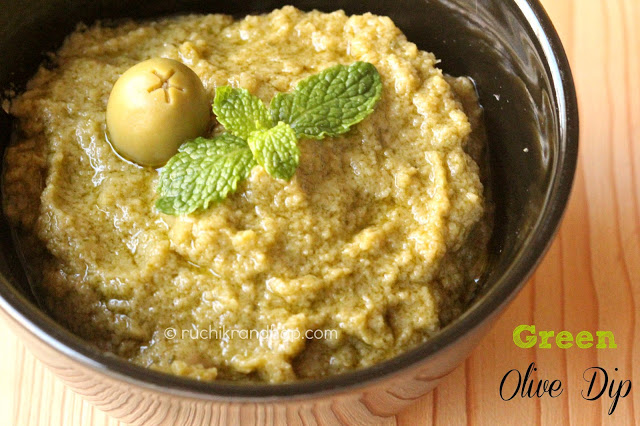 The green olive dip is simply a delight to make and serve because it uses readily available ingredients and doesn't take a lot of time to put together. Olives are stocked round the year in my refrigerator as they are great as a snack and taste lovely in any fresh salad. As they say, great things come in small packages – Mother Nature has proved just that. Each olive is a tiny package of a ton of goodness. Olives contain a plethora of health benefits. They contain mono unsaturated fats that fight bad cholesterol and keep our hearts healthy. They are high in vitamin E, an antioxidant that gives us greater immune power to fight against free radicals (the little rascals that destroy body cell structure and cause a host of diseases). However, olives that are available to us undergo a curing process they contain a lot of salt and hence we need to be mindful of the quantity we consume.
Olives taste wonderful in salads, sandwiches and soups. A dip/chutney is just another way to get the goodness of olives in your diet. This dip goes well with warm home made bread or with nachos/tortilla chips.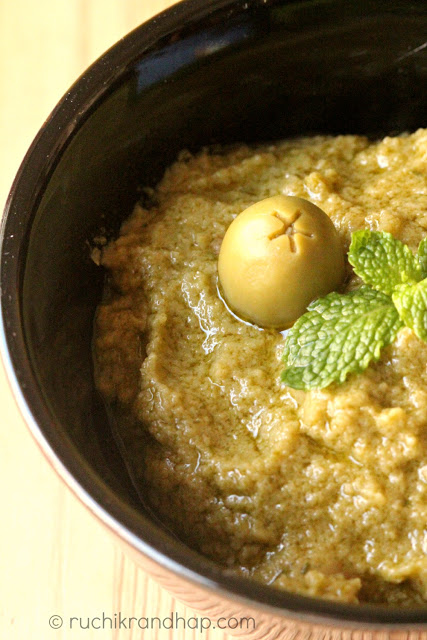 Recipe source: BBC Good Food India
Green Olive Dip
Prep time: 10mins | Cook time: Nil | Serves 2
You Need:
250gm pitted olives, chopped
2 green chillies (or to taste) chopped
juice of 1/2 lime + zest
5 tbsp extra virgin olive oil or melted butter
4 small garlic cloves without skin
2 sprigs of coriander leaves chopped
salt to taste (only if required)
Method:
Pulse all the ingredients to a coarse paste in a mixer. Serve in a bowl garnished with mint leaves.
Note:
If you are buying bottled olives (stored in salt water) – rinse them in clean, fresh water and then grind, else the dip will be too salty.