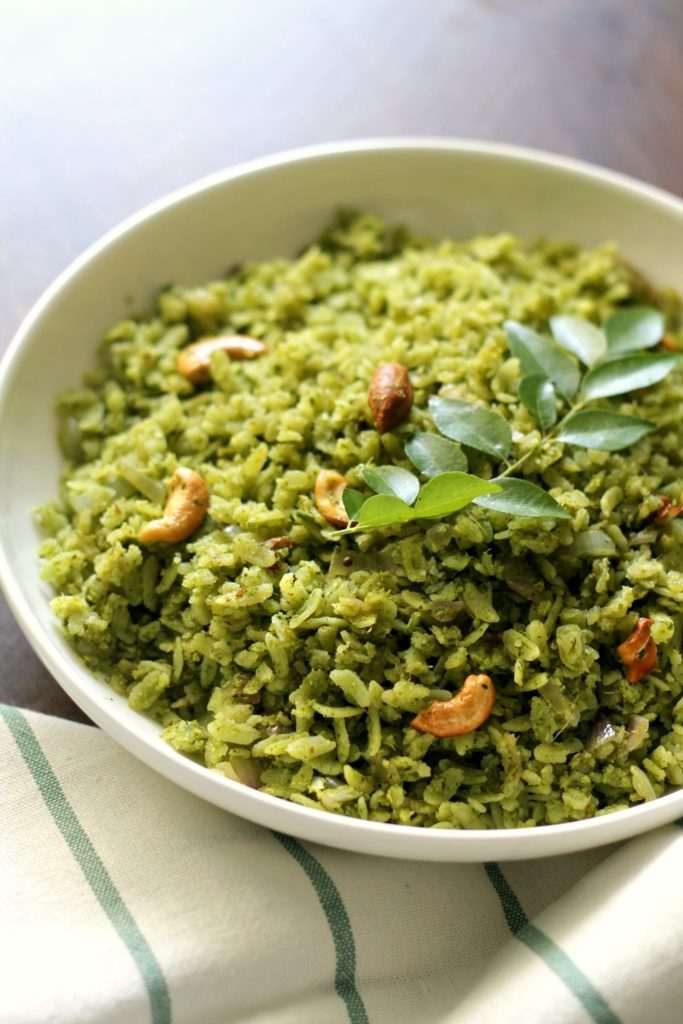 Pin
We are enjoying the last couple of weeks of vacations at home before the new academic year begins for my kids. I try to spend as much time with the kids as possible and use the computer and phone when absolutely necessary. A lot of 'spring' cleaning is happening too. Wardrobes, bookcases and shoe cabinets are being sorted and charity bags are being filled out. Books, uniforms and shoes for the new academic year have been bought. In the midst of it all I found a very old 1000 piece jigsaw puzzle that I had bought exactly 10 years ago when I was expecting my son and never got around to finishing it. The box was brought out on several occasions with a bid to finishing it, but then the kids were small and I risked losing the pieces so it would come out briefly for some fresh air and go back to sit in the cupboard. Now along with my two and my brother's two kids, we have solved almost 70% of it and I will be sharing my journey on Instagram soon.
Solving a 1000 piece puzzle has been a challenging experience but along with it comes a feeling of accomplishment and great satisfaction. I hope to complete this one soon and hopefully buy another one to jog my brains a little. I have put an ad link at the bottom of this post for the puzzle that I am currently solving. Please note that if you click to purchase it I may earn a small commission that will help me keep this website up and running!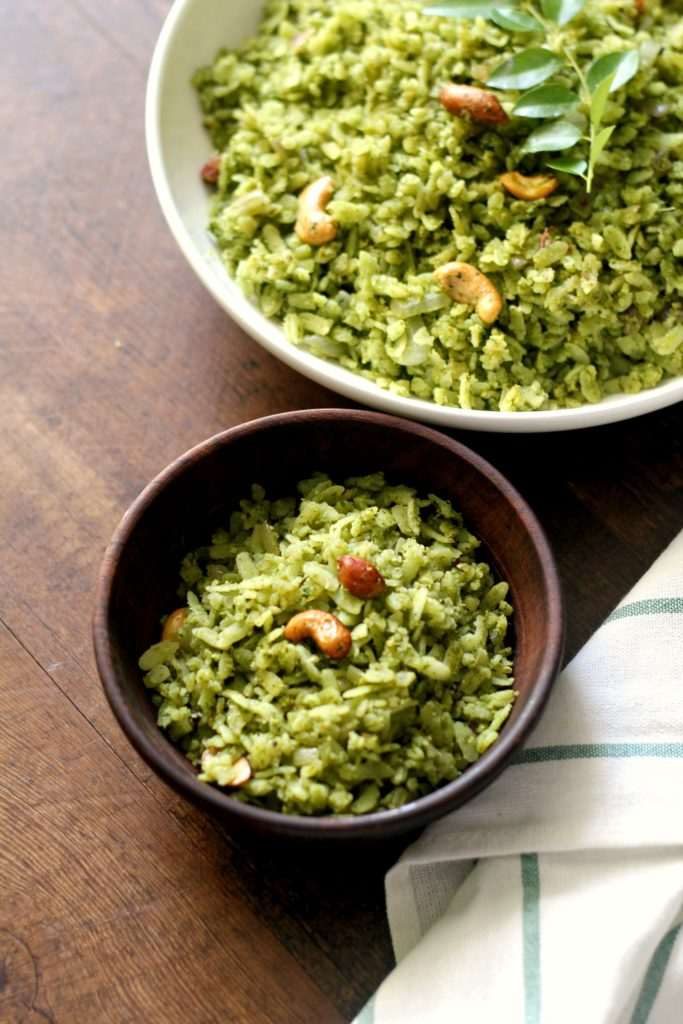 Pin
Coming back to today's recipe, you must be knowing by now how obsessed I am with green masala. This vacation I have tried umpteen number of recipes using it and I couldn't think of any other masala base that is so versatile! For those who are not familiar with it, green masala is a super simple blend of fresh coriander and mint leaves ground with some green chillies, ginger. These are the basic ingredients. Now depending on what you plan on making you can build the recipe to include onions (raw or fried), cumin seeds, peppercorns, tamarind, lime or yogurt. For meat dishes you can add garam masala (powder or whole spices of your choice). I throw in a few curry leaves at time to add a new dimension of flavour to the final dish. Grated coconut or coconut milk powder is also added to give the gravy base some texture and quantity.
From chutneys to curries, the green masala base reigns supreme in my house. Today's recipe is a lovely breakfast dish that you can make within 20 minutes despite the fact it calls for grinding of the masala. Over the years I had seen so many recipes online that I had bookmarked it in my ever growing list of recipes to try. However, when I finally got around to making it, I simply spun my own story and created something very humble, nutritious and satisfying. If you want to make the masala ahead of time, don't forget to cover it with some olive oil or add lime juice while grinding (as given in the recipe). This will prevent the masala from discoloration (turning too dark due to oxidization). I hope you enjoy it!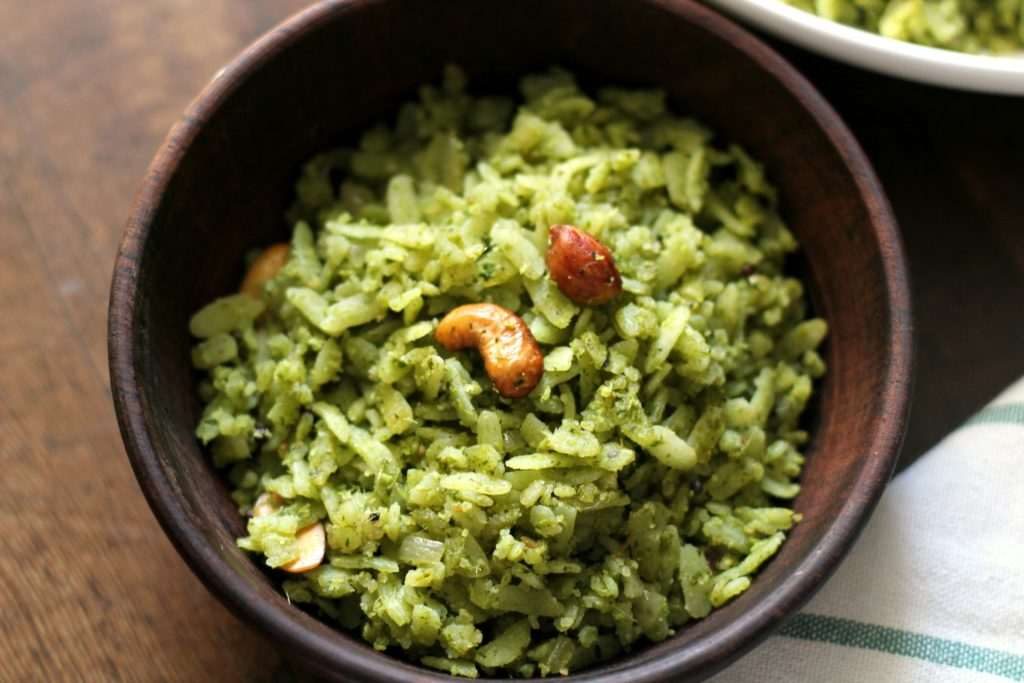 Pin
Green Masala Poha
Thick poha flavoured with green masala is a great way to start your morning!
Ingredients
2

cups

thick poha (beaten rice)

1

cup

water

1

teaspoon

sugar

1/2

teaspoon

salt
For the green masala
1

cup

coriander leaves

2

tablespoons

chopped mint leaves

7-8

curry leaves

1

" ginger

chopped

1-2

small green chillies

adjust to taste, chopped

1/2

cup

grated coconut

1/2

teaspoon

cumin seeds

juice of 1/2 lime

adjust to taste
To season
1/2

teaspoon

mustard seeds

1

medium-big onion

finely chopped

2

tablespoons

cashewnuts

halved

1

tablespoon

peanuts with skin

optional

1

tablespoon

ghee or oil
Instructions
In a wide bowl dissolve the sugar and salt in 1 cup of water. Add the beaten rice and gently mix until all the flakes are wet. Do not squeeze out the water from the flakes, instead place the flakes in a colander to drain off the excess water. Keep aside.

Using water sparingly (about 1-2 tablespoons) grind all the ingredients mentioned under 'For the green masala'. Keep it coarse

Heat the oil or ghee in a heavy based kadai/wok and fry the cashew nuts and peanuts one by one for a few seconds and remove. 

To the same pan, add a little extra oil or ghee and when hot add the mustard seeds. When they stop spluttering, add the curry leaves, toss for a few seconds and then add the chopped onions. Fry till they turn translucent (pale)

Now add the coarsely ground masala and fry on a medium-low heat for about minute or so. Then add the soaked poha flakes and give everything a good mix. Check taste and season with some extra salt only if required. Remove from heat

Garnish with the fried cashew nuts & peanuts and serve immediately
You may like these beaten rice varieties:
You may like this: