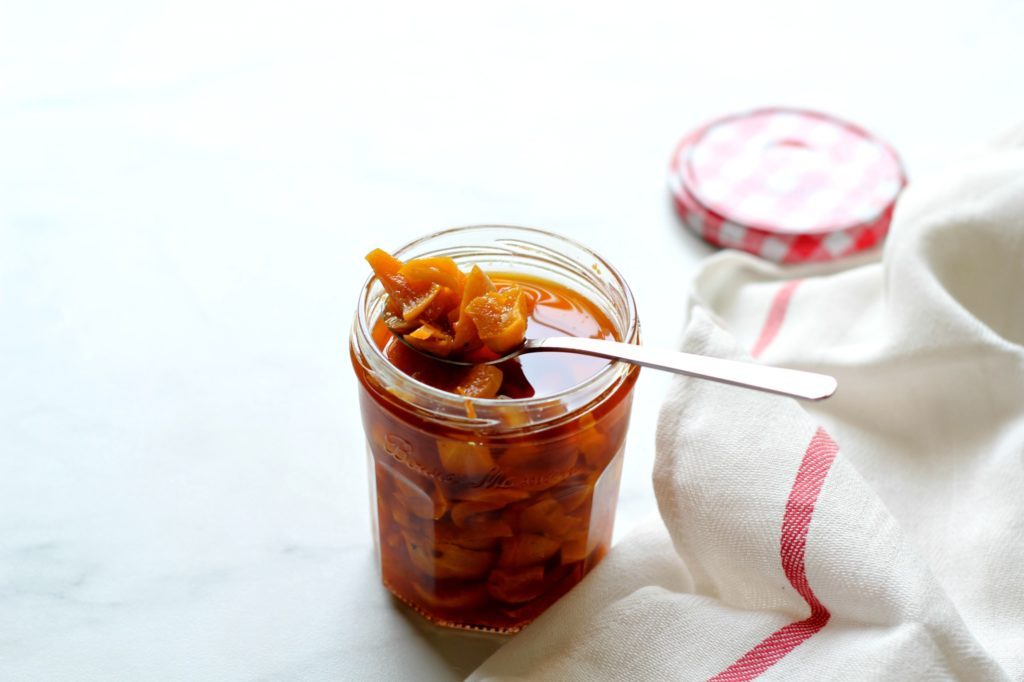 Pin
I have grown up enjoying gooseberries whenever they were in season. My grandmom would make a pickle or jam out of star gooseberries ('raaz avale' as they are called in Konkani) and I managed to get some to Dubai where I tried to make a sweet preserve out of them. The other variety is the more common one – the amla as it is called in Hindi and other Indian languages. They come in varying sizes, taste slightly bitter & tart and leave your mouth fresh. No wonder that it is popularly used in the preparation of 'mukhwas' ('mukh' meaning face/mouth & 'waas' meaning smell/aroma) – simply put, mouth freshner. The amla has a host of health benefits and is deemed to be a super fruit. From its diuretic properties to those that slow down ageing, it reduces blood sugar, boosts immunity, improves the quality of hair & skin, fights heart disease, improves eyesight & strengthens bones. These are just a handful of wonders that the amla brings to our lives, only if we care enough to incorporate it into our lifestyle. If fresh amlas are not easily available where you live, the best way to preserve them is to sun dry them. You can then add an amla or two in curries or pickles. You can also freeze them and grate some into your bowl of fresh salad or soup. Today's recipe is to enjoy them in a slightly sweeter form. When preserved in honey, gooseberries become an enjoyable option for kids to enjoy as they lose their bitterness as the preserve ages. If you have a sweet tooth, consider popping a sliver or two of the preserved gooseberries instead of reaching out for a sugar-laden sweet or candy. 
Pin
I found this recipe on one of the food groups (Euphoric Delights) on Facebook where someone from the US had asked for suggestions on what to do with gooseberries bought in bulk. The thread had a whopping 200+ responses and scrolling down through them all took a sizeable chunk of my free time, nevertheless I found this great tip of preserving amlas and I immediately soaked some that I had. The only catch is that I didn't know that one must not fill the jar to the brim with the gooseberries as they tend to ooze out a lot of moisture and you will end up with a leaking jar for the next two days! Use the best quality honey – pure and not the one that has been diluted with sugar or jaggery syrup (yes, that's what most brands of honey resort to). Pure honey will be super thick and to test if has been adultrated or not, let a drop it roll down your sleeve. If it rolls without being absorbed by your clothes, it is pure. If not, you have your answer.
The addition of saffron is optional. Don't add too much or it will leave a very strong scent of it and considering that saffron is the world's most expensive spice, too much of it will burn a hole in your pocket and may also cause other side effects. However, adding a few strands per layer will enhance the nutritive value as saffron is widely used in the treatment of cold and fever and some skin ailments. Lord Google will inundate you with so many great articles should you wish to do some research about the aforementioned ingredients. So read away 🙂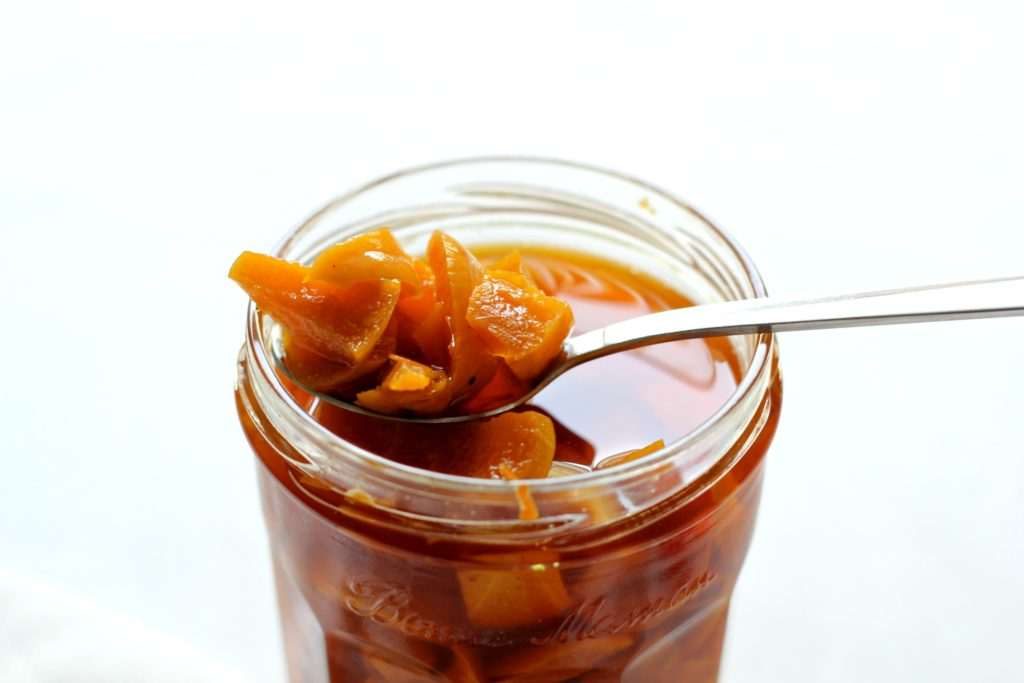 Pin
Gooseberry Honey Preserve
A simple way to preserve gooseberries is to soak them in honey. Healthy & delicious!
Print
Pin
Rate
Ingredients
250

grams

about 10-12 gooseberries (amla)

pure honey

as required

a few strands of saffron (optional)
Instructions
Wash the gooseberries well. Drain and pat dry. They should be devoid of any moisture so you can leave them to air dry for 20-30 minutes too

Using a clean & dry chopping board & knife cut the gooseberries into 3-4 chunky pieces. Discard the seeds.

Layer the glass jar alternatively with gooseberries and honey. Drizzle a few strands of saffron if using. Do not fill the jar up to the brim as the gooseberries will slowly begin to release their juices and the jar will overflow. So fill it upto 3/4th full 

Cover with a well fitting lid and keep in a cool and dry place of your kitchen. The honey will get diluted with the juices from the goosberries but that's okay. Enjoy some delicious gooseberry chunks every day!
Disclaimer
The nutritional values are only indicative.
Tried this recipe?
Please leave a comment & rate the recipe below or share a photo on Instagram and tag me @ruchikrandhap