I've always been fascinated with the idea of slow cookers and contemplated buying one many times. But then due to space constraints I never did. Sometime last year our family friends gifted us the airfryer which we have put to great use. We simply love frying kebabs and meatballs in it. It is great to reheat frozen chicken nuggets and strips too. I really believe that such innovative products really help simplify our lives by reducing the time taken to put a dish together and make it healthier by eliminating the use of excessive fat.
In the recent months I began to hear a lot about multi cookers. Just when I was wondering if it was a slow cooker in a new avatar I received an email from BetterLife, Dubai about their yet to be launched range of kitchen appliances by Euron that were aimed at making life easier for people on the go. I chose to review the Euron Multicooker as it came with a variety of features such as 'Warm', 'Boil', 'Steam/Slow Cook', 'Saute/Grill', 'Roast' and 'Deep Fry'. I was all geared up to give all the features a try one by one. If this appliance was going to help simplify my life in the kitchen, I was going to give it a shout out! And here I am, presenting to you my first recipe that I created using the Euron Multicooker.
A frittata is essentially an Italian style of an omelette or a crustless quiche which has a rich filling of eggs, milk, cheeses, meats and vegetables. The few basic differences between an omelette and a frittata is that the latter may contain optional ingredients such as pre cooked pasta or grated potatoes giving it a denser texture. Secondly, a frittata is cooked is usually slow cooked and is open i.e unlike an omelette it is not folded. Frittatas maybe placed under a grill after slow cooking but that step is eliminated if you use a multi cooker. The result is just as great though. The one that I made was slow cooked for slightly longer, perhaps 12 minutes resulting in a slightly browned base that added to the yum factor. If you like your frittata slightly under cooked you can remove it out earlier too.
I was super happy with the Euron Multicooker and have another few recipes up my sleeve that I will share with you in due course. The frittata was a hit as it makes for an extremely filling breakfast. Do try it for your suhoor/sehri meal this Ramadan.
Ramadan Kareem to everyone observing the Holy Month!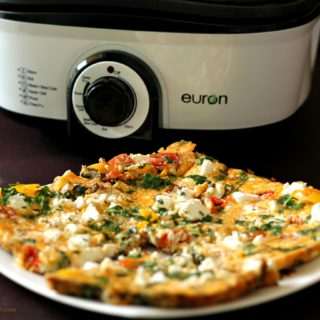 Ingredients
1

medium big

onion (finely chopped)

2

fat cloves

garlic (minced)

1

small

green chilli chopped (adjust to taste or skip)

1

cup

packed (spinach leaves)

8

cherry tomatoes

1/2

yellow bell pepper (deseeded and cut julienne)

6

eggs lightly beaten

1/2

cup

milk

100

grams

feta cheese (crumbled (substitute with fresh, soft paneer)

salt & pepper to taste

2

tablespoons

oil for frying
Instructions
Set the mode of the Euron multi cooker to 'Saute/Grill'. Let the pan heat for half a minute. Make sure that all the ingredients ready before you begin.

Heat the oil and add in the onions and fry them till they turn translucent. Add the minced garlic, green chilli and saute for another 10-15 seconds

Toss in the shredded spinach leaves and saute till they wilt. Toss in the bell pepper and lightly saute it to remove the raw taste. Spread out all the sauteed ingredients uniformly over the base of the pan.

Now add the milk to the whisked eggs. Add salt & pepper to taste. Pour this mixture lightly over the sauteed ingredients. Sprinkle the cherry tomato halves and the crumbed feta cheese. Do not touch the eggs at this point or they will scramble.

Change the setting of the multi cooker to 'Steam/Slow Cook'. Cover the pan with the glass lid provided and leave it to cook for 5-7 minutes. Check if the frittata is done by poking it with a fork. If the egg mixture is still moist and oozing let it cook for a bit. The frittata will still look undone but will begin to burn from beneath if you leave it unchecked for too long, so keep an eye out.

Gently remove the frittata from the pan and serve hot! (cutting it into pieces will make it easier for you to lift it off the pan)
Nutrition
Nutrition Facts
Frittata
Amount per Serving
% Daily Value*
* Percent Daily Values are based on a 2000 calorie diet.
Disclaimer
The nutritional values are only indicative.
Tried this recipe?
Please leave a comment & rate the recipe below or share a photo on Instagram and tag me @ruchikrandhap