One of my most prized possessions on my bookshelf is this lovely hard bound recipe book that belonged to my mother. It has a thousand recipes that are quick and easy with a significant amount of Keralan recipes typically Syrian Christian style. I have tried out just a few recipes although my mum had attempted a lot more. Sadly, I do not know the name of the author as the book was sent for stiff (hard) binding and returned with no cover page and most of the first & last few pages callously torn.
Recently my son displayed his sudden liking for vegetables. Before I could rejoice and distribute sweets to the neighbours I realised that he was giving up something else in the bargain. Fish! A child who would only eat fish till the age of 3 (to the extent that we thought of changing our professions toconsider fishing instead) had suddenly stopped eating fish. So now my latest challenge is to feed him fish in whatever form possible. Since he doesn't like fish in curries or in its fried form, I have started grilling it for him.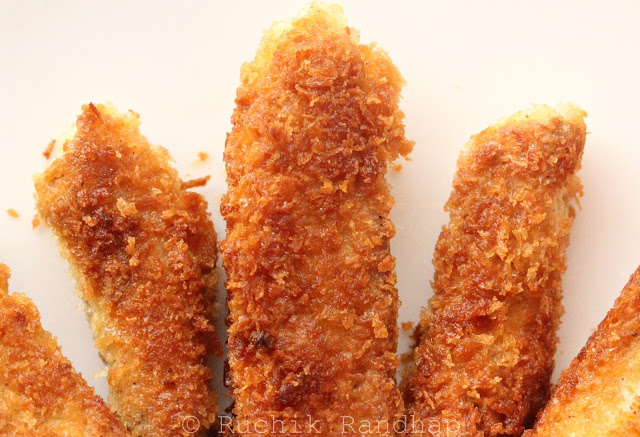 This particular recipe looked so simple that I was actually skeptical at first. Nevertheless off I went to the market and bought some fillets and it turned out to be a winner. I plan to try it again soon whenever we have a kiddie party as it serves well as a starter too.
PS: This tastes great with tomato sauce or along with potato wafers/chips as the typical 'fish n chips'. They work well even as an accompaniment to rice & dal or fish curry.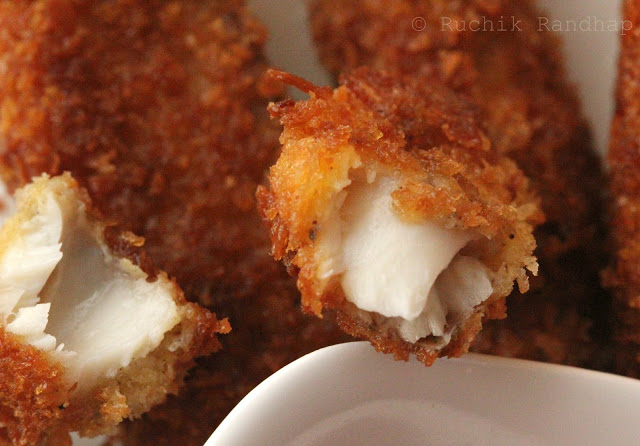 Fish Crumb Fry
Recipe Source: 'Recipes For All Occasions' by BF Varghese
Preparation time: 5-10min | Marinating time: 1 hour | Cooking time: 5-8min | Serves 3-4
You Need
250gm fish fillets (boneless) * see notes
2-3 tsp maida (all purpose flour)
1/2 tsp (or to taste) pepper powder
2 tsp vinegar
salt to taste (about 1/2 tsp)
1/2 cup bread crumbs
1 egg
oil to shallow fry
Method:
1. Wash and cut the fillet into finger sized pieces. Dry them on a piece of cloth to remove the excess moisture.
2. In a bowl, make a paste with vinegar, salt, pepper and maida. Marinate the fish pieces gently with this mixture. Keep aside for a minimum of 1 hour
3. Heat oil in a frying pan on a medium flame. Beat the egg lightly in a small bowl and dip the fish pieces in it and  then coat them with bread crumbs. Smoothen all the sides with a knife or pat with your fingers
4. Fry on both sides till golden brown.
5. Serve hot with tomato sauce/ketchup
Notes:
You can use any fillets made out of any fish. Especially if you get ready made ones. If you need to get them made then large Pomfrets (white or black) work best because the meat is very flavourful. Buying large sized fish makes sure you get proper fillets and the wastage is minimised.