When I saw this theme I was quite fascinated – I had no idea what kind of a bread I would bake as I had jumped into this joyous activity of bread baking just a few months ago and was still getting acquainted with the different varieties and techniques of bread baking. So far I had only worked with breads that could be made within a matter of 3-4 hours and I couldn't think of anything out of this comfort zone. I fell back on my experiences of making Indian breads that are fried on a skillet, the batter of which is usually rice based and fermented the night before. As I was hovering around this technique and idly flipping through the recipes saved in my book I came across one lovely recipe that I had bookmarked a few months ago from the 'Step-by-Step Baking Book by Caroline Bretherton' which had a footnote that recommended letting the dough rise overnight if one wished to have the bread for breakfast the next morning. Bingo! I had finally found my recipe for the month.
This is one bread that those of you who have no ovens should definitely try! If you don't want to use the sourdough (starter) you can skip it and just go with the dough for the muffins. If you are in a hurry this bread takes just under 2-3 hours from start to finish (you needn't refrigerate or prepare ahead of time) but I really liked the idea of making the dough and refrigerating it as it keeps well for upto 3 days in the fridge. All you need to do is remove it out of the fridge and let it come back to room temperature and voila! you have some lovely, toasted, English Muffins waiting to be enjoyed for breakfast or tea time!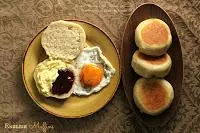 English Muffins ~ No Bake, Skillet Bread
English muffins are small breads made that are sliced horizontally, toasted and served with bread & jam. This is a popular breakfast in Britain, one which does not call for an oven and can be easily made in a skillet
Print
Pin
Rate
Ingredients
For the dough starter (to be made at least 12-24 hours before making the muffins)
3/4

th cup all purpose flour

1/2

teaspoon

instant yeast

1/2

cup

warm water
For the muffin dough:
1

cup

240 ml warm milk

1

teaspoon

instant yeast

2

tablespoons

sugar

1

teaspoon

salt

2

tablespoons

unsalted butter

softened at room temperature

3 – 3-1/4

cups

all purpose flour

plus extra for dusting
Other ingredients:
cornmeal

polenta, semolina or rice flour

butter

2-3 teaspoons per batch
Instructions
First prepare the dough starter at least 24 hours before you intend to make your muffins. Place all the ingredients mentioned under 'For the dough starter' in a bowl that is big enough to accommodate the mixture when it has doubled in volume. Mix everything vigorously for a minute. Cover with an oiled cling wrap and place it in a warm place of your kitchen. Keep the dough starter anywhere between 1-12 hours to ferment

When the dough starter has fermented, transfer it into a large mixing bowl, add the warm milk and yeast and mix everything vigorously with a whisk until you get a cloudy, almost frothy mixture.

Add the sugar and butter and mix well. Then add the flour in parts and mix with your hand until you get a rough dough.

Turn out the dough onto a clean working surface dusted with a little flour. Knead for 5-6 minutes or till smooth. Place the dough in a bowl and cover with cling wrap. At this point you can either place the dough in the fridge for an overnight rest (if you intend to make the muffins for breakfast the next morning or you can carry on and let the dough rest until it doubles in volume, about 1-1/2 to 2 hours.

When the dough has doubled, turn it onto a work surface and divide it into 12 equal pieces and gently shape into round balls and flatten them. Place them onto a baking sheet dusted with cornmeal/semolina or rice flour. If you have muffin rings you can use them and place the dough balls inside these rings to get a perfect shape. Dust some more cornmeal on top of the muffins

Let the dough rise for another 30-40 minutes (or about 1-1/2 to 2 hours for dough that was refrigerated.

Heat a heavy based non stick/cast iron or stainless steel frying pan/skillet and grease it with the butter (just enough to prevent the dough balls from sticking). Maintain the heat on a medium and place as many dough balls as you can comfortably accommodate. Reduce the heat to a medium low or low and fry on both sides till golden, about 7-8 minutes in total. Take care to see that the skillet is not very hot or the outside will burn before the inside is cooked properly. Cover the pan with a dome shaped lid if required to help cook them faster.

Remove and let them cool slightly on a wire rack, then cut them horizontally and serve warm, slathered with butter or jam or as a side to fried or poached eggs.
Nutrition
Nutrition Facts
English Muffins ~ No Bake, Skillet Bread
Amount per Serving
% Daily Value*
* Percent Daily Values are based on a 2000 calorie diet.
Disclaimer
The nutritional values are only indicative.
Tried this recipe?
Please leave a comment & rate the recipe below or share a photo on Instagram and tag me @ruchikrandhap