I just can't believe that the first quarter of this year has been kissed goodbye. Three whole months have come and gone and I wonder if I have achieved anything substantial at all but in my defence, I did make some resolutions despite telling you guys that I wouldn't be making any this year. One of them was to tell at least 10 people who made a difference in my life that I was grateful to them for their presence/encouragement/love/support. I managed to tell 5 and this was in Feb. In March I decided to pick up my habit of reading which I had sadly abandoned when motherhood encroached into my 'me time'. While I am glad that my blog kept my writing skill (or the lack of it) alive, reading books completely took a backseat. While I voluntarily gave up watching TV after moving to Dubai, I would still manage to watch movies and shows on YouTube once a month or so. I would still read a lot of articles on my phone or computer but curling up with a nice smelling book (yeah, books need to smell right for me) seemed like a thing of the past. I think this changed for the better when our family friend arrived last month from Oman and gifted me a book written by his brother-in-law.
I was thrilled to feel a book in my hands (yeah, I know I am exaggerating it) but, trust me, I have been reduced to only dusting the unread books on my bookshelf all these years and so being gifted and flipping through one gave me such a thrill. Needless to say, this 'book-reading-programme' got shelved (pun intended) and it took me a few more weeks before I hurriedly grabbed it from the bookshelf, packed it into my hand baggage just minutes before I left to the airport to catch a flight to Mumbai. I must say that for someone who hadn't read a book in a long time, this novel was a perfect place to start. It kept me entertained throughout my three and a half hour flight from Dubai to Mumbai and for a couple of days after.
Rohan's style of writing can be best described as lucid, contemporary and very honest. You don't have to grab a dictionary to understand a word lest you lose the plot. While the book successfully helps you get into a self-introspective mood every now and then, it doesn't let you stay there for too long. It nudges you to trod along and discover (and rediscover) so many things from the author's perspective. From climbing a mountain to getting up and close with a hungry shark in the deep blue sea, the author shares his adventures and useful tidbits of life and travel and subtly tells you that your life is what you make of it.
I hope I have convinced you enough to grab a copy of this book TODAY! To make it easy for you to order the book online I have provided an affiliate link to Amazon & Flipkart (see the right side of this web page) Just click on it to order your copy (paperback or Kindle version) now! You can also find buy your copy at your favourite bookstore in India and abroad. Once you read the book it would be wonderful if you could spread the word and while you're at it, do take a minute to rate the book on
Good Reads
 too!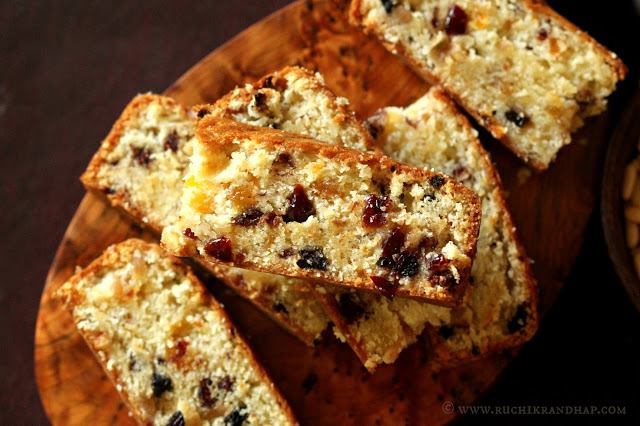 So let's head to today's recipe. Here's a simple yet delicious cake for you to enjoy. I made this for Christmas and procrastination made sure that I posted the recipe in time for Easter. This lovely, moist cake is eggless and uses olive oil instead of butter . Having said that, this cake does not masquerade as 'healthy' because cakes are not healthy no matter what you replace with what. It is definitely suitable for those looking to avoid eggs and butter for reasons that vary from religious observances to food intolerances or lack of the aforementioned ingredients in one's pantry.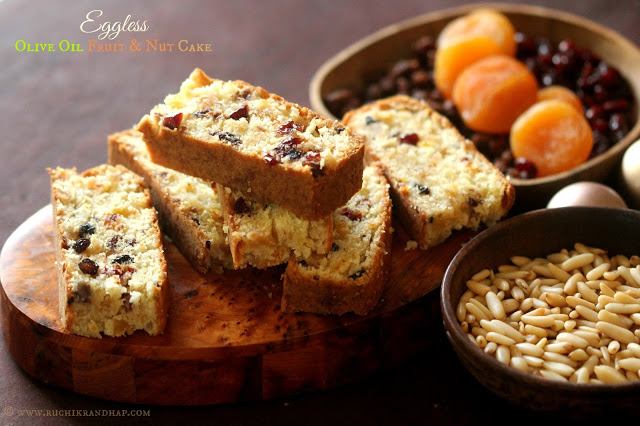 I sum up – A cake must be eaten occasionally and while you are at it, indulge and enjoy it to the fullest, guilt free! This cake is festive but can also be served along with your evening cuppa. So go ahead, make this cake and grab a copy of 'Keep Calm and Go Crazy'  and enjoy the little pleasures of life. Sometimes, life can be a piece of cake, if you intend it to be.
Eggless Olive Oil, Fruit & Nut Cake
Prep time: 15 mins | Baking time: 40-45 mins | Yield: 7″ round cake
Ingredients:
225 grams all purpose flour (maida)
2 teaspoons baking powder
pinch of salt
150 grams caster sugar * see notes
125 ml milk
4 tablespoons orange juice
150 ml olive oil (not extra virgin)
100 grams mixed dried fruit
25 grams pine kernels (or chopped walnuts or peeled almonds)
Method:
1. Grease and line a 7″  or 8″ round cake tin with baking parchment. Preheat oven to 175 degrees C
2. Sift the flour, baking powder and pinch of salt into a bowl. Stir in the caster sugar
3. Make a well in the centre of the mixture and add the milk and orange juice. Use a whisk to mix everything together making sure that there are no lumps. Add in the olive oil and whisk till smooth.
4. Roll the dried fruit and nuts in a little flour and add these to the batter. Gently fold till incorporated and pour into the prepared pan and smoothen the surface using the back of a spoon or palette knife.
5. Bake in the preheated oven for 40-45 minutes or till the skewer inserted comes out clean.
6. Remove and place the tin over a wire rack to cool. After 10 minutes unmould and let the cake cool completely before slicing.
Notes:
This recipe uses very little sugar (50grams), I increased it upto 150 grams. Do taste the batter and increase it by another 50 grams (total 200 grams caster sugar) if you like a sweeter. Do not exceed 200 grams as the cake contains mixed dried fruit which will let out some sweetness too.
Full Disclosure: I was not asked to review the book but did so at my own discretion as I enjoyed the book a lot. All opinions expressed above are my own.
Please note that this post contains an affiliate links to Amazon.in and Flipkart.com, which means that I may earn a commission when you click on the link and make a purchase. Affiliate links are provided only for products that I have used and enjoyed or firmly believe will benefit my readers as much as I have benefited from them.