The first month of this year has flown by so quickly and as I do every year, this year too I exclaim "Wow! Wasn't it the 1st of Jan just the other day?" How many of you are thinking on the same lines as me? Well, it's time to get into a retrospective mood and see if we've really achieved anything that we set out to achieve. Anyway, whether or not we've done things we should have we must applaud ourselves for the small goals we have achieved. So here's a really simple, delicious and healthy (almost!) cake for you!
When I came across this recipe in Raji's blog – Vegetarian Tastebuds my eyes were glued on that one picture which made me drool. Literally! I have a weakness for chocolate cakes even though I can't go beyond a couple of bites or a slice at the most. And owing to the fact that I have a fussy toddler (who's getting better) and his tastebuds to deal with, I am on the prowl for cake recipes which have some way of sneaking in otherwise unpalatable veggies – Bottle Gourd included! So I was actually pretty amazed and amused that someone had actually thought of sneaking this humble veggie into it. True to what Raji said, nobody could guess that this cake had a vegetable in it – my son and my friend's kids happily ate it bite after bite thoroughly enjoying the moist cake with a deliciously thick sauce dribbling from all sides. My friend warns me never to disclose the secret to her kids and send the same cake every month!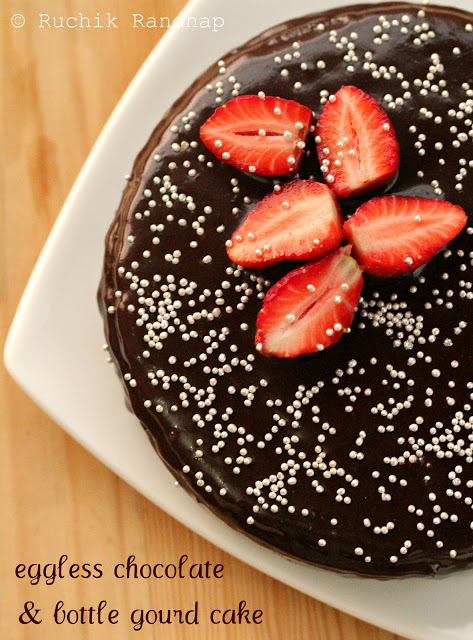 What I loved about this cake is that it can be made with simple (and cheap!) ingredients without any fuss – all you need to do is sift the dry ingredients once and then 'dump' them along with the wet ingredients,  combine well & then bake it. The best part is that it adheres to a vegetarian or vegan's diet. Veganism is a practice that abstains from the use of animal products and includes foods such as eggs, meat (and all animal-derived products), dairy milk (and all its by products) & honey. Even the sauce/ganache does not require you to buy expensive bars of chocolate and then go through the drill of having to melt it in a double boiler and such.
My only regret is that I made this pretty late in the evening, when the sun was about to set and ended up with a whole bunch of blurry pictures. I have selected the best ones for you. Couldn't help decking up the cake with strawberries that are so much in season and in abundance here in Mumbai. I hope it doesn't mislead you into thinking that it's strawberry cake or something like that. But then you see, deception is the whole idea here 😉
P.S: This cake is especially for Usha D'Silva-Rego who requested me for recipes of easy to make cakes with veggies sneaked in them and which made no use of butter. Don't we all love cakes made with oil?
Ingredients
1

cup

125gm all purpose flour (maida)

6

tbsp

unsweetened cocoa powder

I used Hintz dark cocoa * see notes

1/2

cup+2 tbsp powdered sugar *see notes

1

tsp

baking soda

1

tsp

instant coffee powder

1/8

th tsp salt

1/4

cup

odourless oil

olive or canola

1

tsp

white vinegar

diluted

1

tsp

vanilla extract/essence

3/4

cup

approx water

1

cup

grated bottle gourd

dhoodhi or lauki in Hindi/sorekai in kannada/boblein in Konkani
For the chocolate sauce:
1/2

cup

sugar

1/2

cup

warm dairy milk or soy milk

1/2

tbsp

unsweetened cocoa powder

pinch

of salt

1/4

tsp

vanilla extract

3

tbsp

maida/all purpose flour
Instructions
For the cake:
Preheat oven at 180 degrees C for 10-15mins.

Grease a 7" round cake tin with oil and line it with parchment paper - or just grease it well & dust it with flour. Keep aside.

Sift all the dry ingredients - flour, cocoa, sugar, salt, baking soda & coffee powder together in a large bowl

Make a small well in the centre of the dry ingredients and add the wet ingredients - oil, vinegar, vanilla & water. Mix well.

Squeeze out excess water from the bottle gourd and add to the mixture and combine. Pour the contents into the prepared cake tin and bake for 30-35mins or till the skewer inserted in the centre comes out clean.

Remove the cake from the oven and allow it to cool in the tin for 10-15 after which you can gently invert it onto a wire rack and leave it uncovered to cool completely.

Serve as it is with a cup of tea or served with a dollop of vanilla ice cream. Or slather with sauce and enjoy!
For the chocolate sauce
In a saucepan combine all the ingredients and whisk so remove lumps if any. Bring the mixture to a boil and stir to avoid burning at the base. Boil for a couple of minutes till the mixture appears to thicken. Remove from the heat. The sauce will thicken as it cools.

Pour the sauce over the cake and spread using a spatula. Cover sides too. Decorate as desired and serve.
Notes
For the cake, increase the sugar with upto 3/4th cup if you are using dark unsweetened (Dutch processed) cocoa like Hintz. My cake turned out a wee bit bitter. If you are using regular unsweetened cocoa like Cadbury's in India, the above mentioned quantities are just fine
Disclaimer
The nutritional values are only indicative.
Tried this recipe?
Please leave a comment & rate the recipe below or share a photo on Instagram and tag me @ruchikrandhap