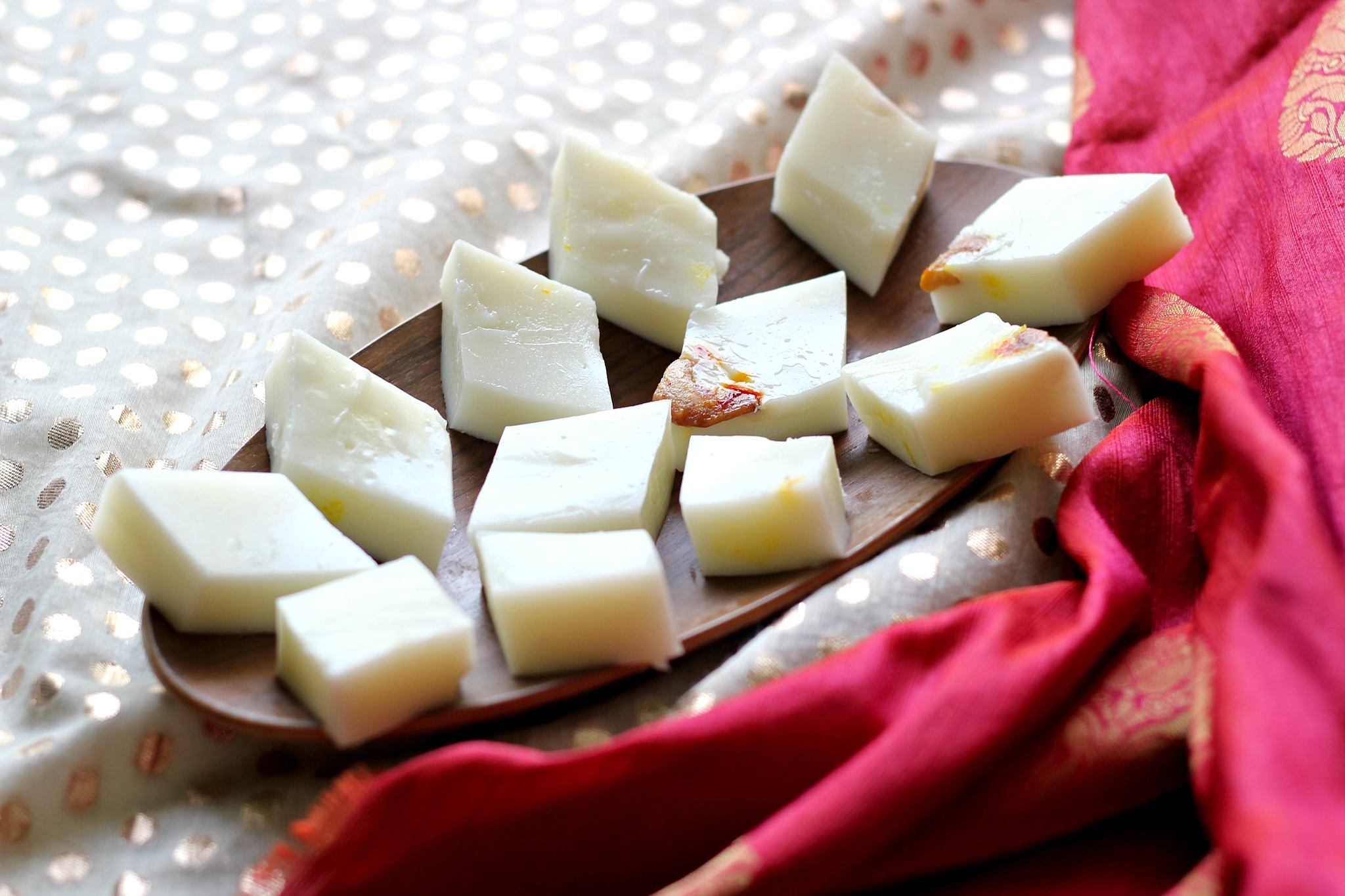 Pin
Duddali ~ Little bites of heaven. A super delicious, melt-in-the-mouth kind of a dessert. A few years ago, when I was visiting Mangalore, one of my dear school friends invited me to her home. As usual she had a divine tea time spread prepared for me and we enjoyed chatting and catching up on stories. As I left she handed me a small box with some goodies inside. She asked me to refrigerate it and I did. The wait was worth it as the dessert tasted so good the next day as it had chilled adequately. Duddali is prepared from 'kuve peet' as the Konkani's refer. There is still some ambiguity regarding what it is called in English but even after extensively searching and asking many sources I am not able to conclude that it is arrowroot.
However, what I do know is that this dessert is very cooling for the body and is recommended to be eaten during the summers. The other day when I was sifting through 'Randhpi', an old cookbook written in Konkani by Isidore Coelho, I found a similar recipe called as 'arootachi mani' which is nothing but a pudding made out of arrowroot powder and allowed to cool until set in a steel plate. The recipe was almost the same but since I first discovered this lovely sweet in the form of 'duddali' I will stick to the same name and thank my friend Sapna Shenoy for generously sharing her recipe with me!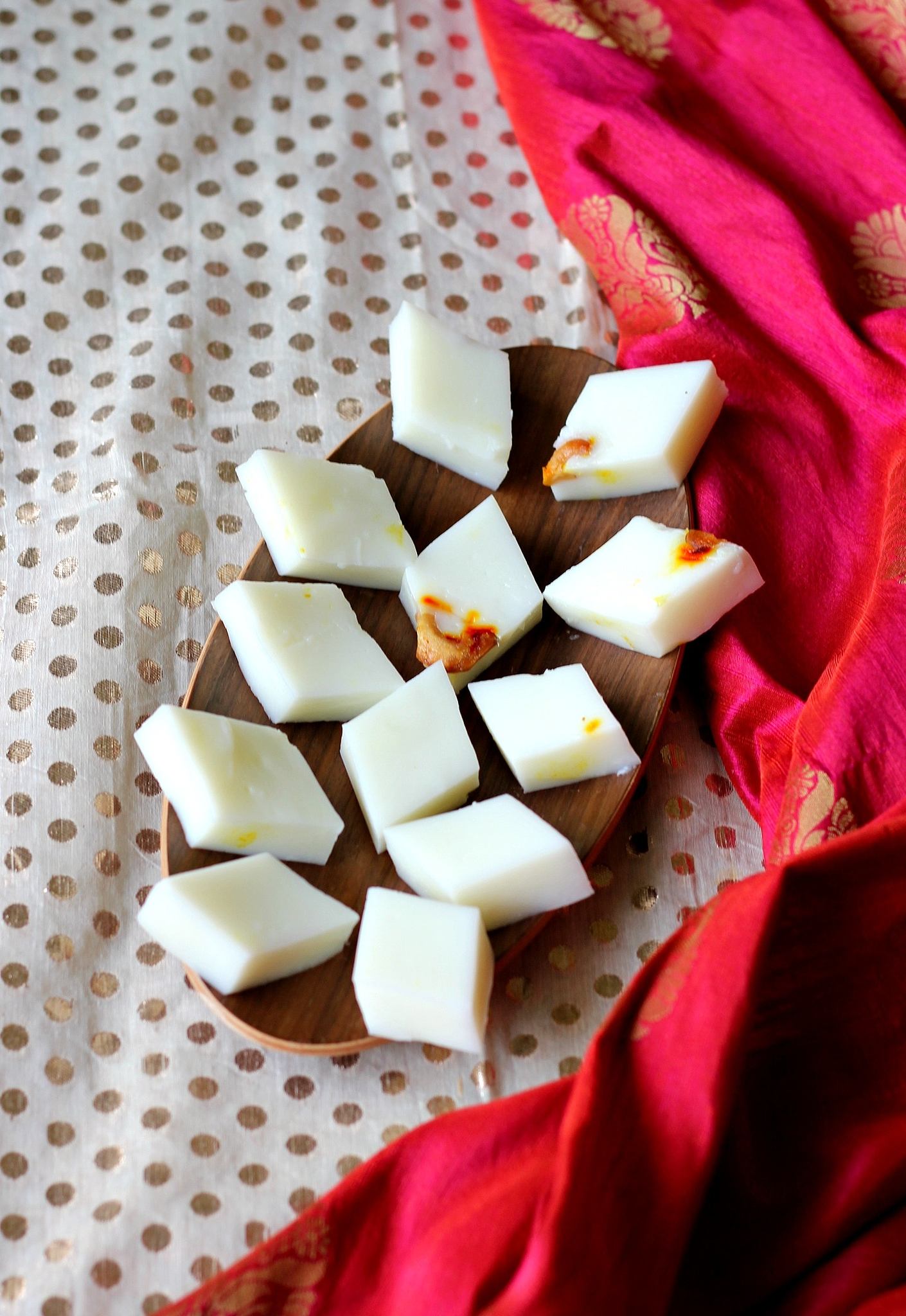 Pin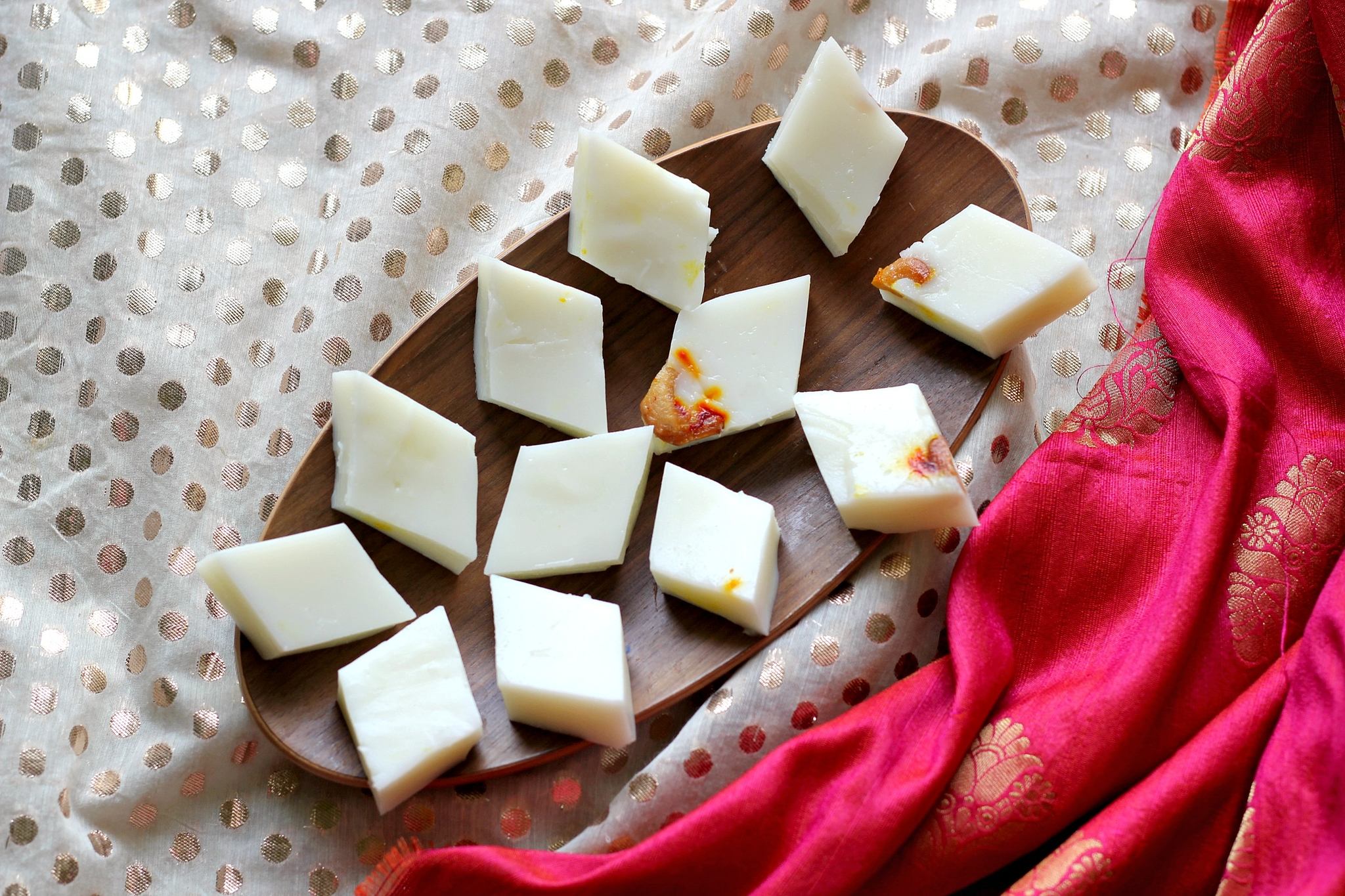 Pin
Duddali | Arootachi Mani | Arrowroot Pudding
An absolute melt-in-your-mouth kind of a dessert that tastes best when chilled. A perfect treat to cool your body during the summer months! A must try recipe!
Print
Pin
Rate
Ingredients
1/2

cup

arrowroot powder

1/2

cup

granulated white sugar

1/2

cup

water

1-1/2

cups

milk  * see notes for vegan options
To garnish
10-12

cashewnuts

a sprinkling of saffron strands

Other things you will need

a 7 or 8" round plate with tall edges or a baking dish

ghee for greasing
Instructions
Place the arrowroot powder in a bowl and add the 1/2 cup of water. Keep aside for at least 15-20 minutes. Then add the milk and sugar and stir till the sugar is almost dissolved.

Grease a 7 or 8 inch round pan with ghee. Vegans can use oil instead.

Transfer the mixture into a non-stick saucepan or kadai and cook it over a medium-low heat. Do not be tempted to increase the heat to hasten the process. If the milk gets burned you will end up with brown bits of the arrowroot mixture so have patience. You need to maintain the same level of heat throughout.

Stir every few seconds. This dish requires utmost patience. Use a non-stick balloon whisk or a wooden ladle to stir constantly until you achieve a lump-free mixture

Cook until the mixture thickens into a porridge-like consistency. The mixture will begin to look slightly translucent and will begin to bubble heavily in the centre of the pan. The pudding is ready when you notice the bubbles, the mixture is pretty thick yet runny and leaves a trail when you pour with the ladle. Also the ladle will be thickly coated with the mixture.

Pour the mixture into the prepared pan. You can sprinkle saffron strands on the plate or the milk mixture just before taking it off the heat. Also, you can either place the nuts on the greased plate before pouring the mixture on it or garnish it after it has been poured.

Once the mixture has been poured quickly tap the plate a few times to help spread the mixture evenly. You can also use the back of a tablespoon dipped in hot water or greased with ghee to smooth out the lumpy surface. Cool completely and then cover the plate with cling film and refrigerate for at least 6-8 hours or until the pudding firms up.

To serve, cut the pudding into diagonal or square shapes. Duddali tastes best when served chilled.
Notes
To make a vegan version of this dish you can use coconut milk (not too thick & creamy) in the place of regular milk.
Disclaimer
The nutritional values are only indicative.
Tried this recipe?
Please leave a comment & rate the recipe below or share a photo on Instagram and tag me @ruchikrandhap