Are you often lost when it comes to chutney ideas? Idlis, Dosas, Sannas or Neer Dosas – all set to be steamed/fried and the chutney is missing – aah! This scene pretty much unfolds itself almost everytime I make something for breakfast. But thanks to my mother-in-law who has arrived from Mangalore – her ideas seem to be flowing like water out of the tap!
Like I mentioned in my previous post she arrived with bags full of goodies, sweets, vegetables, meats and even plants! (that have found home in my kitchen garden). She brought loads of Kadipatta (Bevaso Palo as it's called in Konkani, Kari Bevina Soppu in Kannada) or Curry Leaves as it's called in English. The fresh and tender Mangalorean variety of curry leaves were a welcome change from the thicker and darker shade available in Mumbai (and sometimes slightly wilted)
Kadipatta is undoubtedly the wonder plant of India especially South India. Used mainly for tempering (seasoning/tadka) a dish – fish, meat, vegetables or other preparations like chutneys, raita, soups, upma, vadas etc. It is even used to flavour spiced buttermilk. It aids digestion and is very beneficial for people who have diabetes.
When I was little, I didnt quite like the taste of the Kadipatta, but as I grew up I took to it's flavour strongly and love the fragrance of fresh leaves. While it was unthinkable to add a whole handful of leaves into a chutney, the taste was balanced quite nicely by the grated coconut that went into it. So here's the recipe – highly recommend you to try it at least once in a month or two – just so you & your family can reap the benefits of this rich source of good health!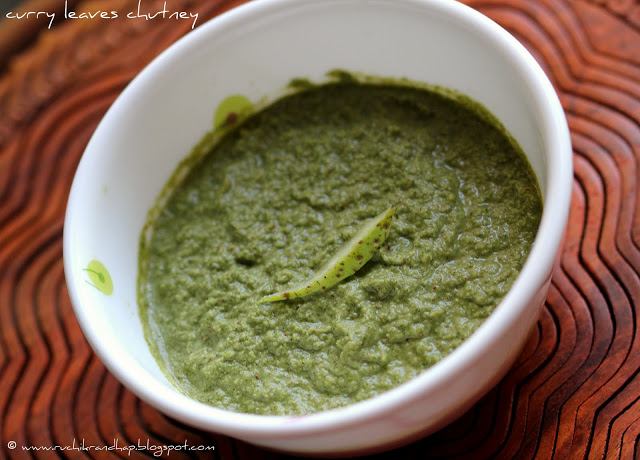 Kadipatta Chutney
Recipe source: My mum-in-law
You Need:
A handful of kadipatta leaves (stalks removed, washed & air dried)
1 green chilli (increase it to 2 chillies if you prefer it spicy)
1/2 cup grated coconut
1 inch ginger
1 small slice of raw mango (or you can even use 1/2 a marble size ball of tamarind – or to taste)
salt to taste
Method:
1. Heat a tawa/non stick pan and gently toast the kadipatta without using any oil. Dont burn them, just toast them on a slow flame till you get a nice aroma.
2. Grind the rest of the ingredients together with the leaves by adding about 1 tbsp water or slightly more if required. Grind it thick enough to achieve the consistency of a chutney (it should feel coarse if you rub the chutney between you index  finger & thumb)
3. Serve it with idlis, dosas, sannas, neer dosas or as a dip 🙂