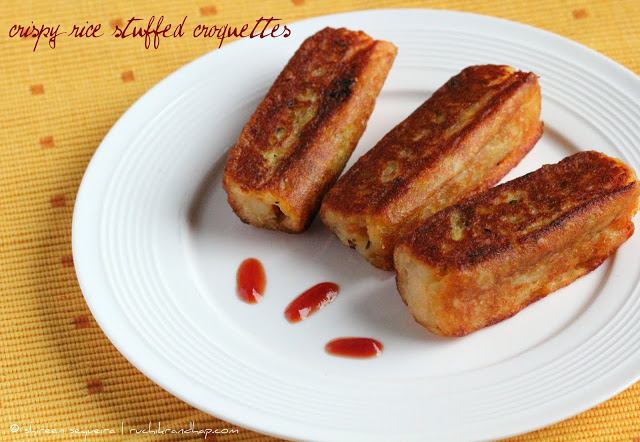 Crispy Rice Stuffed Croquettes are not only a great way to get some healthy veggies packed in an interesting way, but also a very innovative way to use up leftover rice as that is what you need for the stuffing. The potato covering gives the mealy taste which makes you grab for more. The shallow frying required for these croquettes makes it a wee bit more healthy than deep frying it. You can even bake these croquettes if you do not wish to fry them.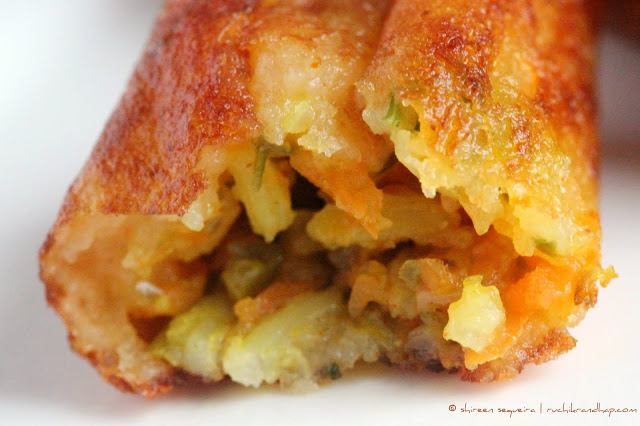 Crispy Rice Stuffed Croquettes
Yield: 7-8 large croquettes
You Need:


For the filling
1 cup lightly packed cooked rice
1/4 cup peas
2 bulbs spring onion whites finely chopped
1 small carrot finely chopped
4 french beans finely chopped
2 sprigs coriander leaves chopped
1-2 tbsps lime juice
1 long green chilli (adjust as per taste) minced
3-4 curry leaves finely chopped
1/4 tsp mustard
1/2 tsp coriander powder
1/4 tsp cumin powder
1/2 tsp turmeric powder
salt to taste
oil
For the covering
250gm -300gm potatoes
3-4 tbsp cornflour (cornstarch)
2-3 pinches chilli powder (adjust as per taste)
For frying
Method:
1. Pressure cook the potatoes with a little salt for about 5-6 whistles. Peel them and mash them well to avoid any lumps. When it is cool enough to handle add the cornflour, chilli powder and salt if required and knead it into a smooth dough. Keep aside
2. In a pan or wok heat some oil and toss in the mustard, when they splutter add the green chillies and the finely chopped carrots & french beans. Stir fry for a couple of minutes & sprinkle some water, cover and cook on a slow flame for about a minute. Add the spring onion whites, masala powders and sauté for a few seconds. When the mixture has cooked, add the cooked rice and mash it up a little. Add the chopped coriander, lime juice & salt to taste, mix well, turn off the flame and allow to cool.
3. Take a lemon size ball of potato mixture and flatten it into a circle in the centre of your palm. Place a small portion of the rice & vegetable filling in the centre & work towards covering it with the potato mixture. Gently flatten this croquette and shape it into a rectangular block (resembling a log). If you wish to deep fry it you can retain its round shape. Repeat till all the mixture is used up
4. Heat a tawa with oil and shallow fry the croquettes till golden brown on all sides. Remove & place on an absorbent kitchen tissue to absorb excess oil.
5. Serve hot with ketchup or chutney of your choice