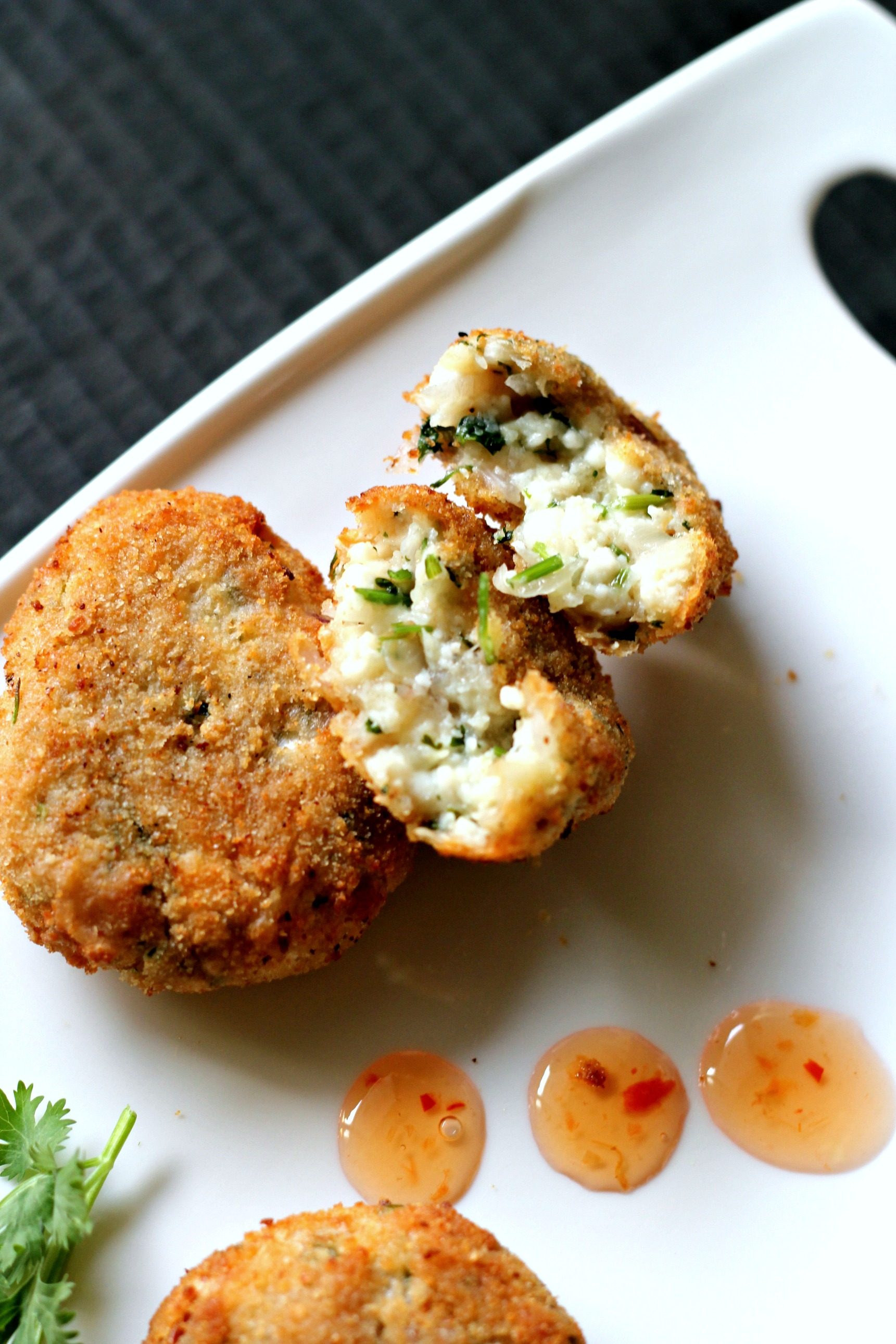 Pin
Crispy paneer (cottage cheese) is just what you need for this gorgeous weather in Dubai! Well, I know folks, I have been away from the blog for almost 3 weeks now and life has just been so very busy. I am juggling with too many things at home and I simply don't find the time to dedicate to the blog and plus I love taking mini vacations from the blog too. It always helps me clear my thoughts and come back with a bang. Just what we need for the upcoming Christmas season! I know that in most countries the season has already started. With Christmas trees and decorations everywhere, Dubai is no exception. It is just that the carols haven't started playing yet. Maybe I should play some to get into the mood. That should help me gear up and make some goodies too although I have a few ready to be posted.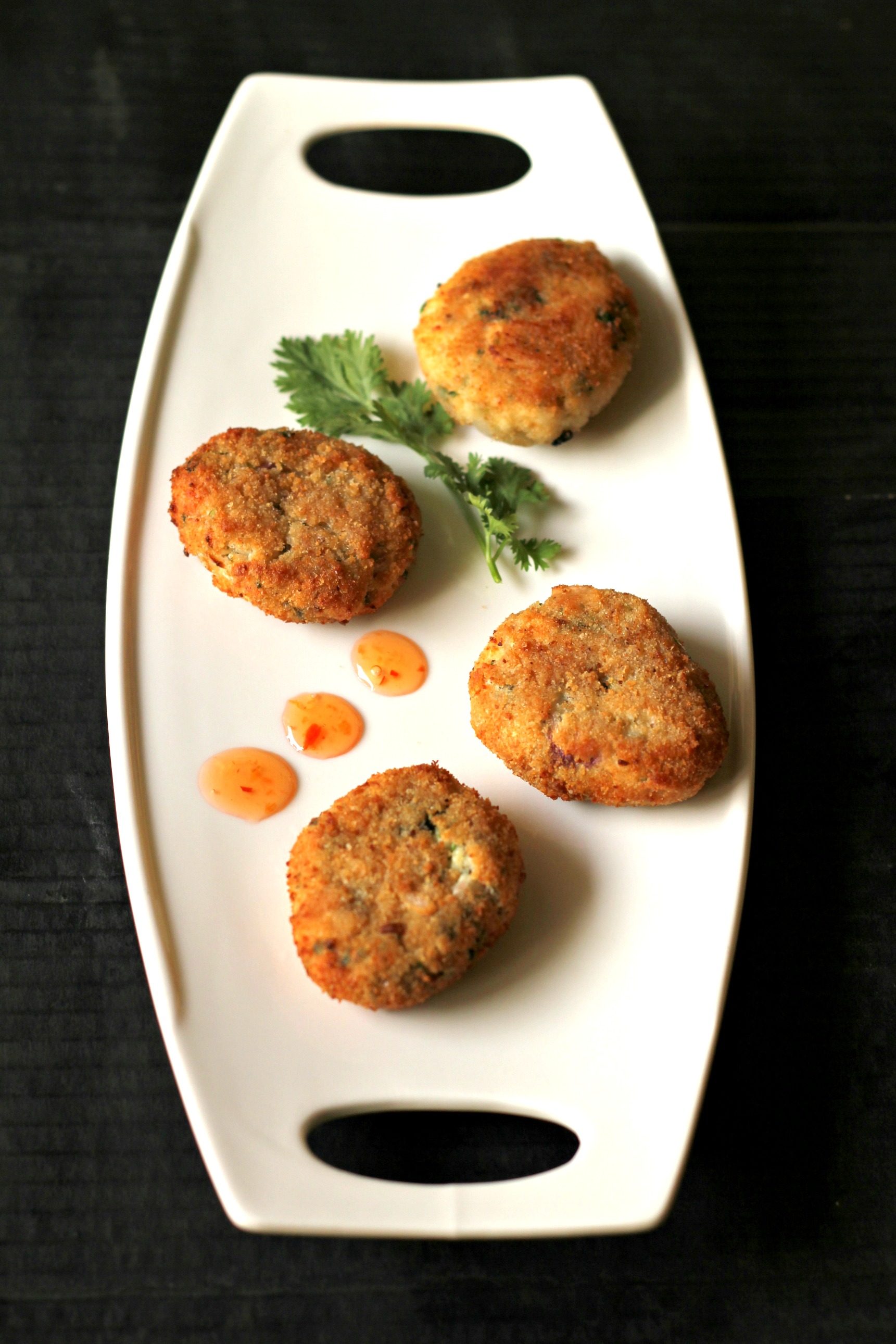 Pin
So those of you who celebrate Christmas, what yummy recipes have you been trying? Have you finalised your menu for the big day? What are the goodies you plan to serve people if you are going to be hosting parties? So many questions!
Well, if you are looking for vegetarian options, how about trying these little delightful patties made out of paneer? Paneer is something I buy regularly at my place as my son loves it. Apart from trying out different dishes for his meals, I also like to try something different. I haven't been successful with desserts yet but I am sure I'll crack that as well. These crispy paneer discs were fried in the airfryer by the way which is such a healthy way of eating fried goodies. Plus you can't tell the difference. For those of you who want to make it the regular way, feel free to shallow or deep fry them and drain them properly on an absorbent kitchen tissue before serving.
Pin
Click this image to save this recipe on Pinterest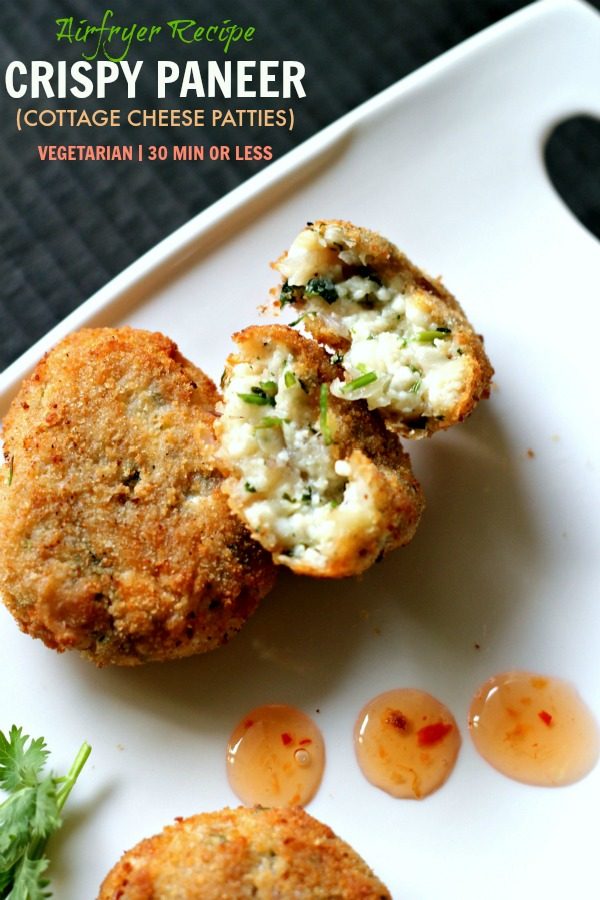 Pin
Other Airfryer recipe you may like
Crispy Paneer - Airfryer Recipe
Crispy Paneer (cottage cheese) is a great party starter/appetizer and can also be served as a snack to kids!
Ingredients
250

grams

fresh malai paneer

crumbled

1

medium sized onion

finely chopped

2

cloves

of garlic

minced

1

" ginger

minced

1-2

green chillies

minced (adjust to taste)

2

tablespoons

chopped coriander

1/4

teaspoon

chat masala or a few drops of lime juice

salt & pepper to taste
For the coating
3

tablespoons

of flour

maida

1

tablespoon

approx water

1/2 - 3/4

th cup

or as required breadcrumbs or semolina
Instructions
Heat oil in a wok and fry the ginger, garlic & green chillies one by one. Add the chopped onions and fry till they turn translucent. Add the chopped coriander too.

Remove the wok from the heat and add the crumbled paneer, chat masala or lime juice, salt & pepper to taste. When the mixture has cooled down sufficiently, divide it into 12 portions and roll each portion into a ball and flatten it to form a patty

Mix the flour and the water into a small, wide based bowl. Spread out the breadcrumbs into a plate

Dip each patty carefully into the flour paste and roll it in the breadcrumbs. Set aside.

Preheat the airfryer to 200 degrees c for 5 minutes. Then place the prepared patties in the wire basket and cook for 6 minutes. Flip them and cook again for approx 4-5 minutes or till they turn golden brown.

Remove and serve immediately with mint chutney or ketchup
Recipe Notes
If you wish you can brush the patties with some oil before airfrying. To make them the regular way, you can shallow fry or deep fry them according to your wish.
In India, cottage cheese is synonymous with paneer. However, the difference is that cottage cheese is salted & may contain cream leading to a creamier texture than paneer which is unsalted and slightly firm. The process to make both is the same but may be packaged differently. If you are using cottage cheese for this recipe, omit or add salt according to taste.